Key takeaways:
China is home to more than 410 million homemade animation fans with the majority from Gen Z, a key consumer group driving domestic consumption.
Brands in China are partnering with Chinese animations, the goal being to increase engagement with a younger demographic.
Chinese retailer Miniso collaborates with four of China's most popular animations, recreating the featured animated worlds in an immersive, real life environment.
---
Brands in China embrace "anime marketing"
Anime has become a common aspect of language for the Gen Z of China. According to research by AdMaster, references to animation pepper the conversation of China's youth in daily life, including social scenarios. When communicating with the generation of "泛二次元", or "pan two-dimensions" – a term describing the animation, comics, games, and novels subculture (ACGN) – speaking their language is now the rule of thumb.
Hence, the "anime marketing" strategy. By collaborating with popular animations, brands bring elements of the 2D world to life for fans to enjoy in everyday reality, allowing the further celebration of popular anime elements. The rise of domestic animations also coincides with the popularity of the guochao movement, a celebration of all things Made in China.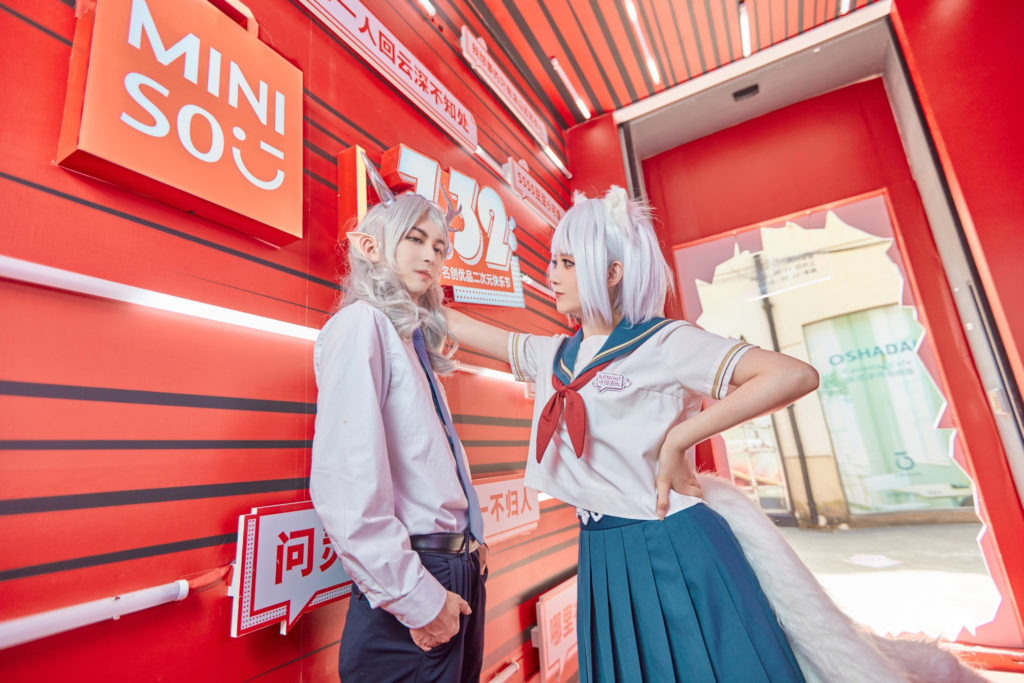 Examples of embedding animation characters in a brand's range include:
Ecommerce Lifease (网易严选 in Chinese) and Calabash Brothers, a classic animated TV series.
Mobile communications company OPPO and Uproar in Heaven, first animation of The Monkey King, one of China's Great Four Novels.
Fashion brand Burberry and Wu Huang Wan Shui, also known as The Emperor, a 2014 Chinese comedy comic featuring arrogant cat Wu Huang (His Majesty).
Miniso brings to life manga worlds from four famous animations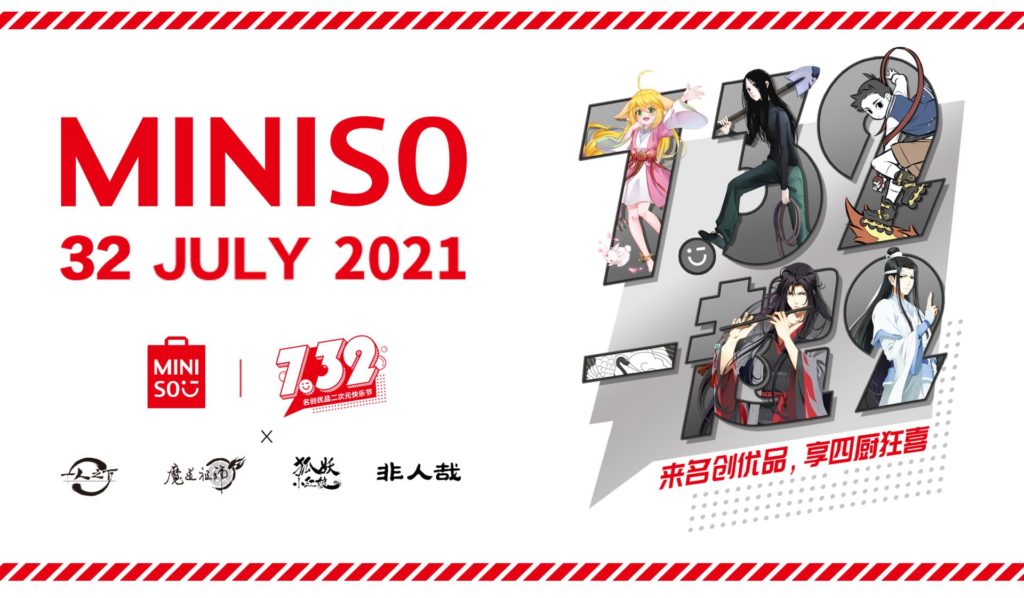 Chinese-born, Japanese-inspired retailer Miniso specialises in household and consumer goods. In a recent move beyond standard visual representations, the brand recreated the settings and plots of four popular Chinese animations, inviting anime fans to visit their interpretation of a two-dimensional world. The campaign is known as "7.32 Happy Two-Dimension Festival" ("7.32二次元快乐节"). Having used a non-existent date in the campaign, the name acknowledges the fictional nature of anime, while simultaneously celebrating the festival's contrasting physicality. The figure 2 is also a nod to the animated world, a space commonly referred to as the realm of two dimensions. Such an unusual and eye-catching name resulted in online speculation of a possible typo.
Miniso's choice of featured Chinese animations were: Fox Spirit Matchmaker 狐妖小红娘, a romance comic; Grandmaster of Demonic Cultivation 魔道祖师, a fantasy (Xianxia) animation; Non-human 非人哉, a comedy animation; and Under One Person 一人之下, a comedy webcomic. The carefully crafted world of anime by Miniso was exhibited at this year's China Joy Expo, held at the Shanghai New International Expo Centre.
The campaign allows fans to physically explore fictional worlds
Imagine the entrance to the "world of enchantment" as a two-dimension tunnel decorated with lines from the four animations. At the end of the six-meter-long tunnel, a giant clock gate awaits, creating an impression of time travel. On the other side of the gate are re-creations of settings from the animations, with posters of keywords, and main characters in the background.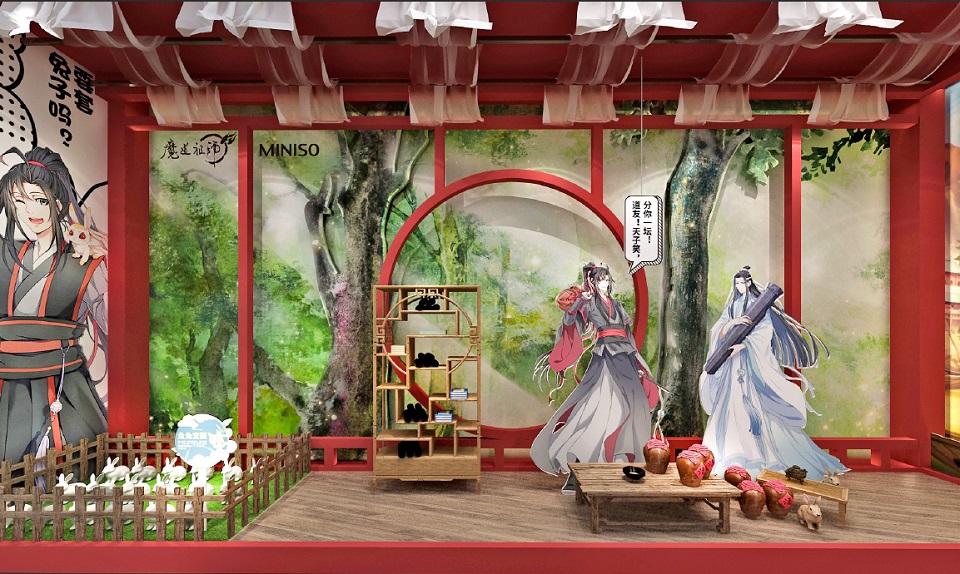 From the classroom setting of Non-human, to the fortune stick picking in Fox Spirit Matchmaker, and the special power test from Under One Person, each scene displays objects from the animes. To increase fan engagement, a four-day Shop Owner's Day for each animation was introduced, with popular cosplayers invited to represent anime characters. Visitors could also win gifts by playing games based on the animations. Over 40 merchandise options were available for pre-sale on site.
In terms of exposure, the campaign evoked a phenomenal reaction. Hashtags relating to the campaign such as "#store that only opens on 32 July" (#只在7月32日开的店#) and "#7.32 Happy Manga Festival" (#7.32二次元快乐节#) have drawn a total of 540 million views, generating hundreds of thousands of discussions on China's microblogging platform Weibo. Miniso's campaign also attracted a considerable turnout on-site, inspiring even more user-generated content.
Scandal-free collaborations with fictional characters
By 2020 there were more than 410 million "pan two-dimension" Internet users in China. And over half belong to the Gen Z crowd, a generation believed to be the beacon of national consumption, according to a CBN Data report.
In addition to vastly appealing campaigns for targeted consumers, animation marketing turns out to be a safer option for brands, given the present climates. Fictional character collaborations are scandal-free. In the wake of idol scandals (i.e. Kris Wu, Zhang Zhehan) and subsequent cancellations by brands, combined with the crackdown on "unhealthy fan culture" that targets celebrities, homegrown animations solve a unique marketing dilemma.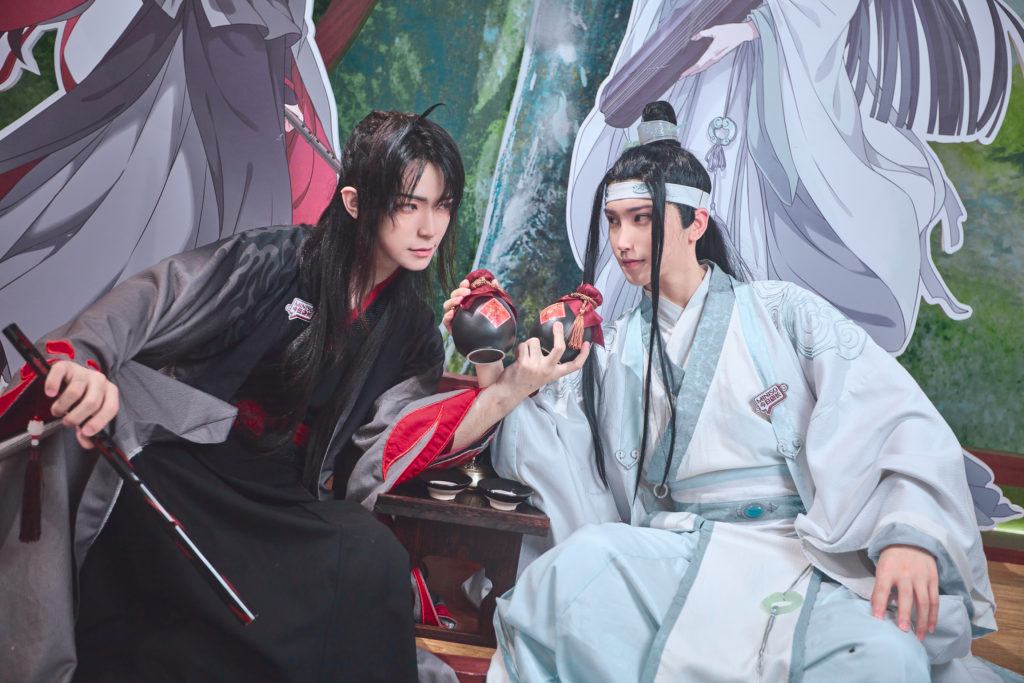 By creating an unforgettable immersive "two-dimension" experience, Miniso effectively introduces the brand to animation fans. The innovative campaign engages with visitors by bringing the visual 2D world to real-life while flavouring the physical re-creation with a layer of mystery inspired by the four featured animations. An offline physical event that also markedly boosts the exposure of the brand in the digital sphere.
Read more: