TikTok is one of the most popular social media apps in the world with 689 million users globally, but how much do you really know about the short-video platform and what the future holds for it?
TikTok's Chinese counterpart which is also owned by ByteDance, Douyin, has been leading the way when it comes to social commerce, livestreaming, and content creation for brands and individuals. And so, it offers some key pointers about how TikTok is evolving and the direction it will move in the next few years. From my experience creating content on both platforms (read more here), I've outlined the main things that I think you should keep your eye out for on TikTok.
#1 Understanding your content with completion rate and analytics
TikTok recently added completion rate as an additional metric for its analytics. This enables creators to check the average time users spend watching their videos, as well as seeing how many people have viewed their video until the very end.
But, why does this information matter? These analytics highlight the quality of content and the extent to which viewers value it. A breathtaking campaign of 1 million views may in fact only have 3% of viewers watching until the end. Whereas a campaign with only half the views could be worth much more to a brand if it has a significantly higher proportion of people viewing it all the way through. Access to this data provides content creators with more opportunities to measure the effectiveness of their content and thereby improve their editing styles and narrative.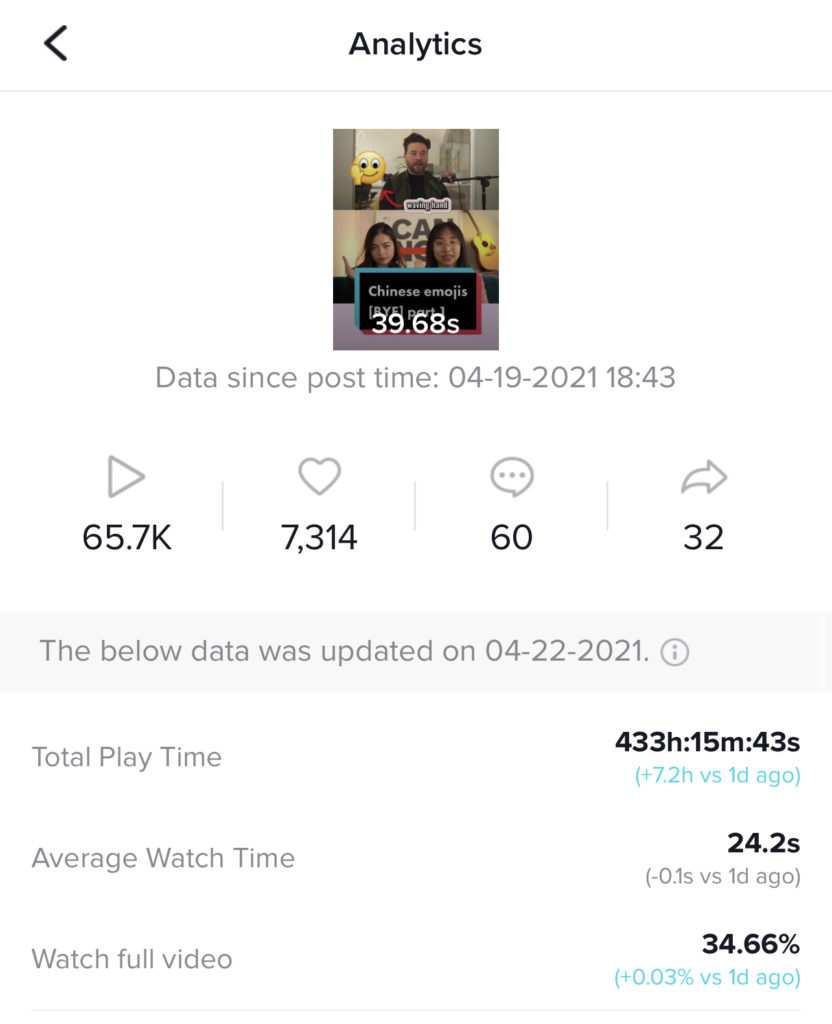 Yet, the recent addition of completion rate on TikTok is just a fraction of the information that users can view on Douyin. Creators can see how their audience react second by second and at which exact moment the most people drop off, along with a direct benchmark to compare themselves to similar creators. 
These analytics not only support creators to make specific changes to improve their content but also aids them to understand the unique behaviour of users. By checking the data available on Douyin, I realised that most of our videos are liked within the first second. At first, I struggled to understand why people would like a video before they had even seen it. However, many users equate liking a video with saving it as they know they can quickly find it in their 'liked' section. Therefore, a video might have a huge number of likes but not many views because users like your video to save it for later but never actually watch it to the end.
TikTok also doesn't show you how many followers you have gained per video. For me, this was a gamechanger as it allowed me to understand which Douyin videos were bringing in the most success in terms of growth. I was shocked to see that a video of one million views resulted in an increase of 10,000 followers, whereas a video of three million views gained us just 1,000 new followers. This shows that the aim of creating a 'viral' video is not guaranteed to boost other metrics in the same way. Without the availability of this information, interesting and useful insights like these are difficult to pick up on TikTok. 
The benefits that analytics provides for content creators and brands are endless, and it seems like TikTok is edging in the direction of offering more information to its users.
#2 Introducing social commerce and livestreaming
Selling products on Douyin is one of the main revenue streams for creators. Just as Instagram has introduced a shopping function, TikTok will do the same and it's coming soon!
TikTok has announced a partnership with e-commerce platform Shopify to develop its social commerce features. This is a very positive development for small business owners, as well as larger retailers, and they should start building their audience now to get ahead.
The addition of stores is also likely to bring live commerce to the platform. While livestreaming is not a major part of e-commerce in the west, TikTok could help to build up the industry outside of China given its prominence on Douyin. Livestreaming is huge in China with over 562 million users, and sending gifts to creators during a stream is very common.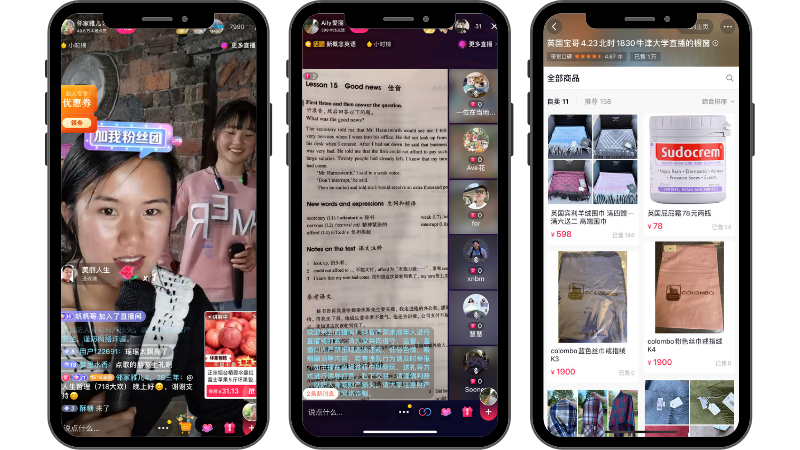 Livestreaming features add more opportunities to engage your audience. On Douyin, users can sing karaoke for their audience who, in turn, can request the song that they sing. A host can invite up to eight users to livestream together which is especially beneficial for educational content. Users can also schedule a stream so their followers are aware of their upcoming events. 
In this respect, TikTok has a lot to learn from Douyin and I'm sure the next year will bring upgrades regarding social commerce, livestreaming, and gamification. 
#3 Improved communication to discourage users from switching apps
At the moment, it is quite hard to communicate between users or reach out to creators on TikTok as individuals can only send messages if they follow each other. This means that most users reach out to others on Instagram, YouTube, Discord or another third-party platform.
As well as being inconvenient for users, this is disadvantageous for TikTok as it encourages people to leave the app. The platform surely wants to avoid this so I'm certain that they will adopt Douyin's instant messaging features in the future, which allow users to DM people, create groups and even call each other via audio or video.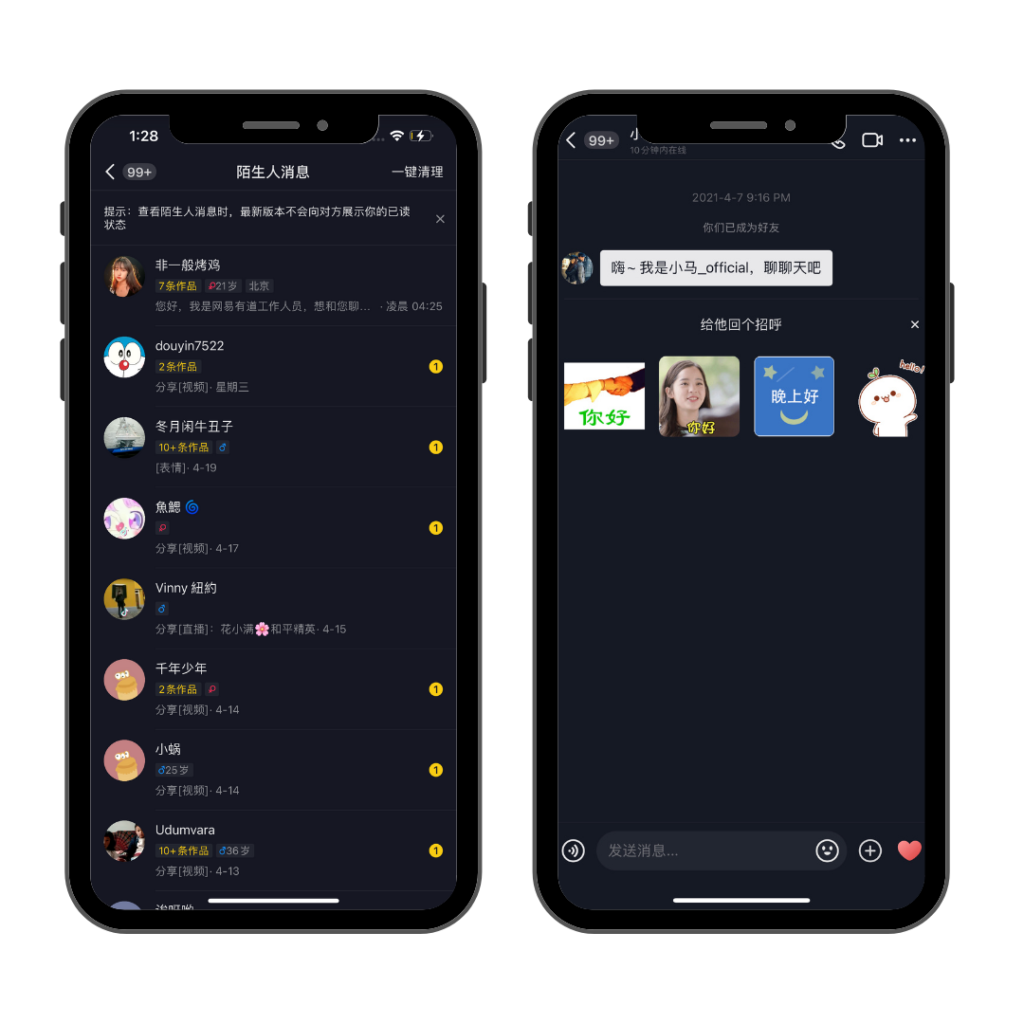 Douyin has also introduced a feature that allows creators to have 'fan groups' to discourage users from migrating to WeChat, which has previously been the hub of fan communication in China. The new function enables individuals to create multiple fan groups which automatically notify followers when a new video has been posted. The user can even set requirements to enter the group, for example, they must have followed the account for ninety days, or liked and shared a video in the last week.
This feature helps creators to develop a loyal community on the platform and eliminates the need for fan groups on third-party sites. As Europe and the US do not have the same 'fan culture' as China, I don't envisage this feature coming to TikTok this year but it could be something to look out for in 2022.
#4 Pay to boost videos through DOU plus
DOU plus is a promotional tool on Douyin and a major source of revenue for the platform. It enables users to promote their videos and boost their views and is especially popular among brands to highlight their campaigns. The unique part of DOU plus is that it's not just the creator who can promote their own video, but any of Douyin's almost 700 million users. Many brands on Douyin promote videos on their own account as well as boosting the content of creators that they collaborate with to develop more awareness for their product.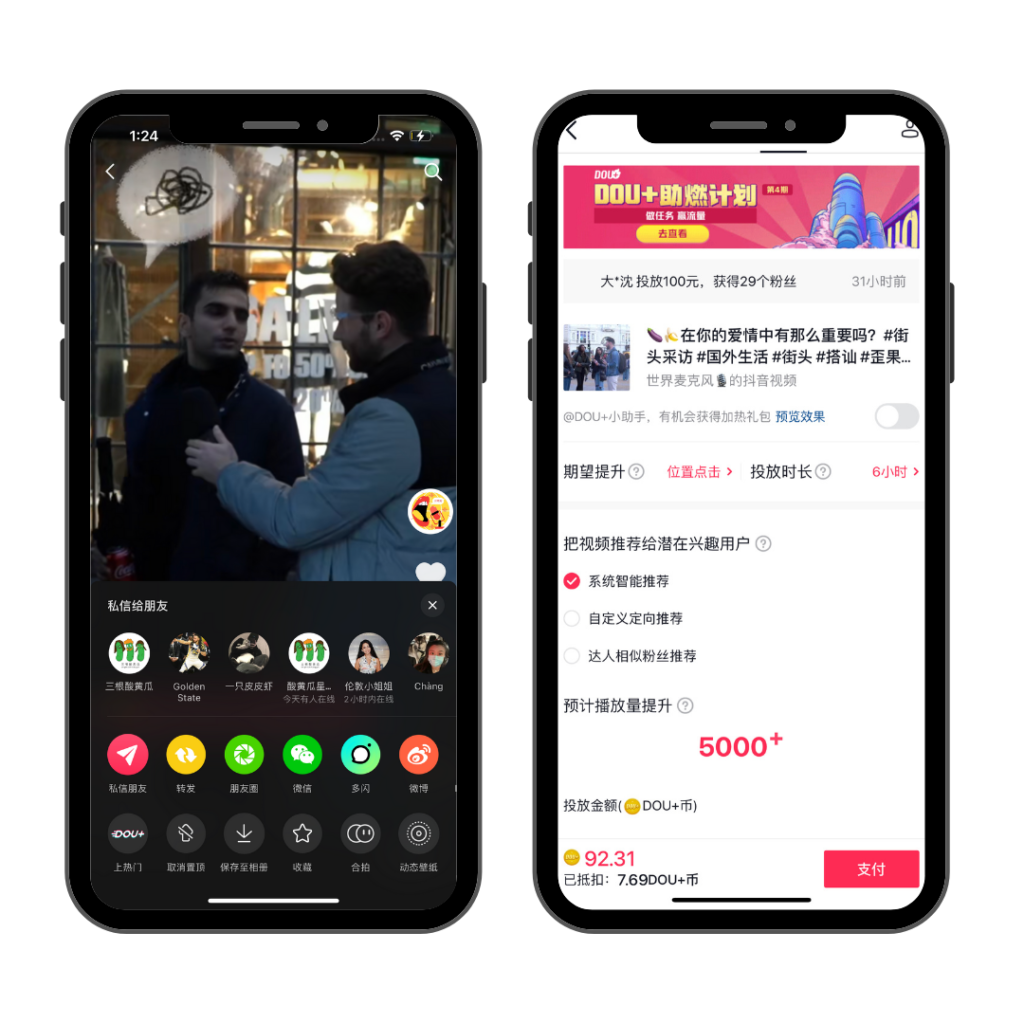 This feature plays into China's 'fan culture' and highlights the benefit of creating a community of loyal followers. Currently, TikTok is in its growth phase but once the platform reaches a more mature status, this will be a part of its monetization strategy.
#5 Categorise content through video playlists  
The feature of creating video playlists, which has been available on Douyin for years, has just recently been introduced to creators with large followings on TikTok. If a creator or brand shares a variety of content, it can be hard for the audience to find more videos about the specific topic that they are interested in. Therefore, playlists can be used to organise content thematically and help users navigate it and find the videos best suited to them.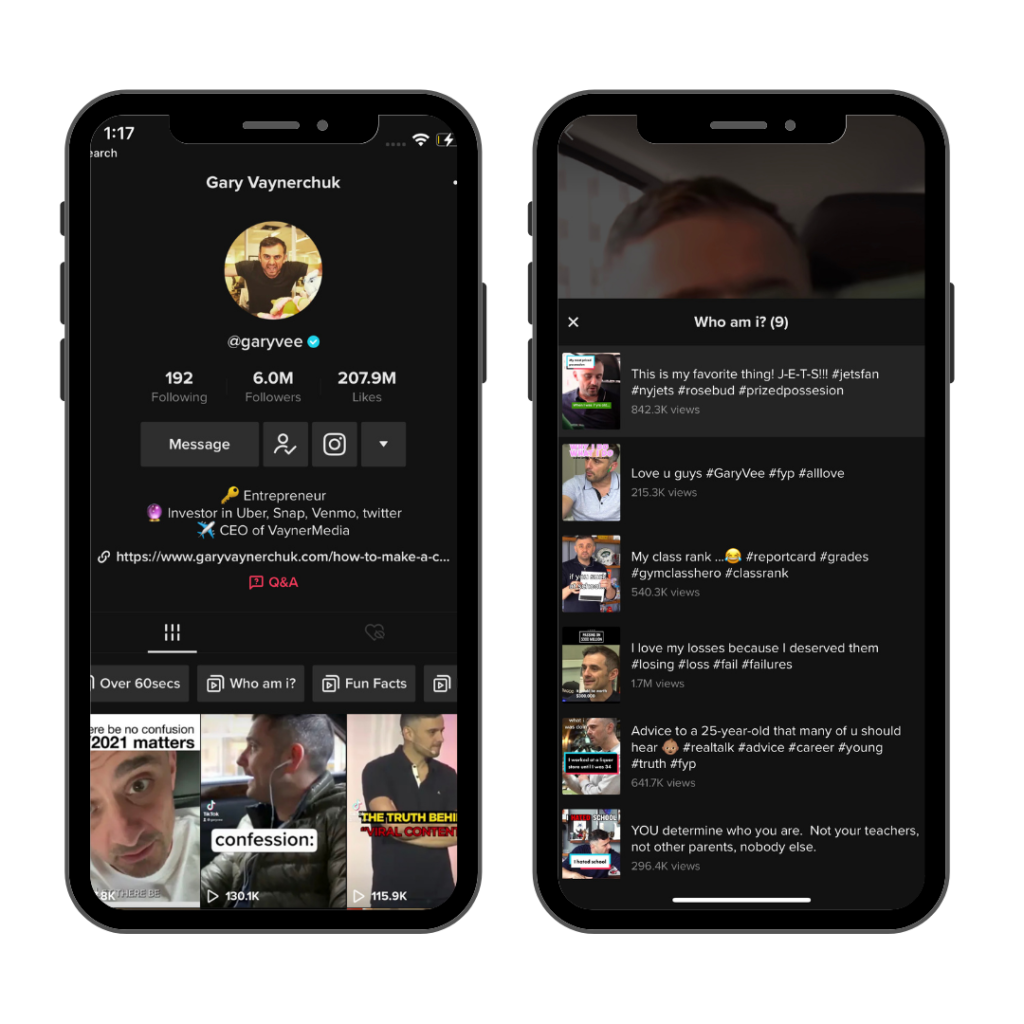 Look to Douyin for the future
China is pioneering many of the latest technology developments and the same is true when it comes to social media. China's short video industry is booming and it has overtaken instant message as the most popular form of mobile entertainment. Platforms have seamlessly integrated e-commerce, livestream and other monetisation features into their businesses to make short-video apps money-making machines.
As a relative of Douyin, TikTok has an advantage. It can learn the lessons from its Chinese counterpart and pick and choose the most successful ones to maintain its superstar status among its non-Chinese audience.  
---
If you enjoyed this article and want to contribute a piece to Dao, please get in touch with the team at [email protected]
---
Read more: