TikTok has become an essential part of my life, and my enthusiasm for the platform even got me my current job and resulted in me moving country! I've had a unique position in being part of TikTok's journey from the beginning and seeing it grow, adapt and shift.
Discovering TikTok (and accidentally going viral!)
In 2018, during my exchange semester in Shanghai, I first came across the Chinese version of TikTok, Douyin. I noticed that everybody was using this short-form video platform and I wanted to get in on the action!
My girlfriend showed me a video that she had made which had gained 200,000 views through people responding with 'duets' (videos in which other users imitate your content). I was shocked at how she could pick up so much traction despite not having many followers – this was unheard of on the network-led platforms I used, like Instagram. While browsing through Douyin, I saw people posting sketches, dancing and singing and gaining a huge number of views. I thought to myself I can do that too!
Around six months later, I returned to Germany and heard the announcement that TikTok was buying the lip-syncing and dancing app Musical.ly. At the time, nobody really knew about TikTok or took it seriously. However, knowing how big it was in China and its extensive features (Douyin already allowed for e-commerce at this point), I downloaded it straight away and started posting videos. After sharing several videos related to the events business I worked in, I posted a TikTok showing four simple dance steps in mid-2019. I didn't even have 100 followers, but, out of nowhere, the video gained 1.6 million views.
The fact that I could inspire people from across the world to copy my dance moves in 'duet' videos shocked me and made me realise that TikTok had a huge potential. I didn't know about or understand the algorithm, yet, the views on my videos were constantly growing.
However, despite trying to get all my friends on board, they still thought that it wasn't worth their time and was just for teenagers. That was not the case two years later when TikTok became a household name.
The global influence of TikTok's algorithm
TikTok is more relevant than ever and is disrupting both the Chinese and Western worlds. Influenced by TikTok and Douyin, the social media industry is progressing in the same direction towards short-form content.
In contrast to older network-based social media sites, like Instagram and Facebook, TikTok is focussed purely on content. Its algorithm is recommendation-based and relies on different metrics to decide what content is shown on a user's feed.
TikTok is unique because you can never be 'caught up' on all content as the platform will display videos until they are fully saturated. As a result, you don't need to be a celebrity or influencer with a large following to reach people. Users with zero followers can reach one million people, while people with one million followers can only reach 1,000 users. The focus is purely on whether your content is good and this requires creators to consistently provide high-quality videos.
The unique algorithm of TikTok and Douyin has a lot of potential for brands to gain high reach at a lower cost. In contrast to other platforms which require investment in content and paid media reach to promote posts, good content in itself can lead to reach on TikTok. Indeed, brands can develop unpaid brand ambassadors by launching fun challenges which motivate users to make videos that simultaneously promote their campaigns or products.
TikTok v Douyin: two different cultures
Douyin has been around for longer and is a more advanced platform. However, some of Douyin's features will be difficult to transfer to TikTok because of the differences in culture on the two platforms and between their audiences. One simple distinction is that Douyin has no language barrier as it's only for users in mainland China. Therefore, videos can reach all users on the platform; whereas, content is somewhat classified into countries and languages on TikTok.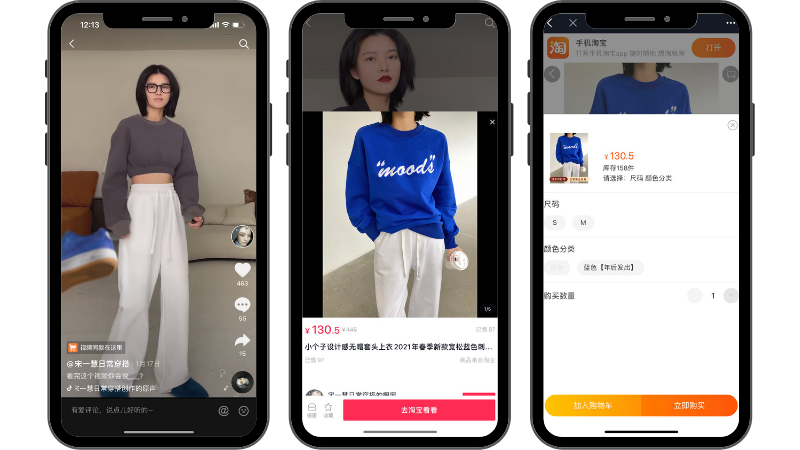 Douyin has a large focus on social commerce through livestreaming, merch stores and features to promote products. But, why is e-commerce so integrated on Douyin and not yet on TikTok?
Firstly, the culture and attitudes towards online shopping and livestreaming are very different. The penetration of online shopping is so much higher in China than in the West. Even before COVID-19, e-commerce was an essential part of consumers' retail experience and livestreaming was also popular. The relationship with livestreamers and KOLs is culturally very different in China. Chinese consumers tend to trust word-of-mouth over advertising and give weight to influencers' opinions so KOL campaigns and livestreams have been present in China for a while. Douyin allows users to send gifts to livestreamers and also has a feature called DOU plus where people can pay to promote their own or others' videos.
The second aspect is convenience. All you need to do is click to make a purchase on Douyin and you can then pay directly with WeChat or Alipay, or be sent straight to Taobao. Whereas the West doesn't have these kinds of 'super networks' so users would need to pass through multiple websites and enter their payment information to make a purchase. The only way to make social commerce on TikTok convenient would be to have a direct link to Apple Pay or Google Pay in the video, however, there are probably issues with data privacy. Generally speaking, Chinese people prefer convenience over privacy, whereas the opposite is true in the West.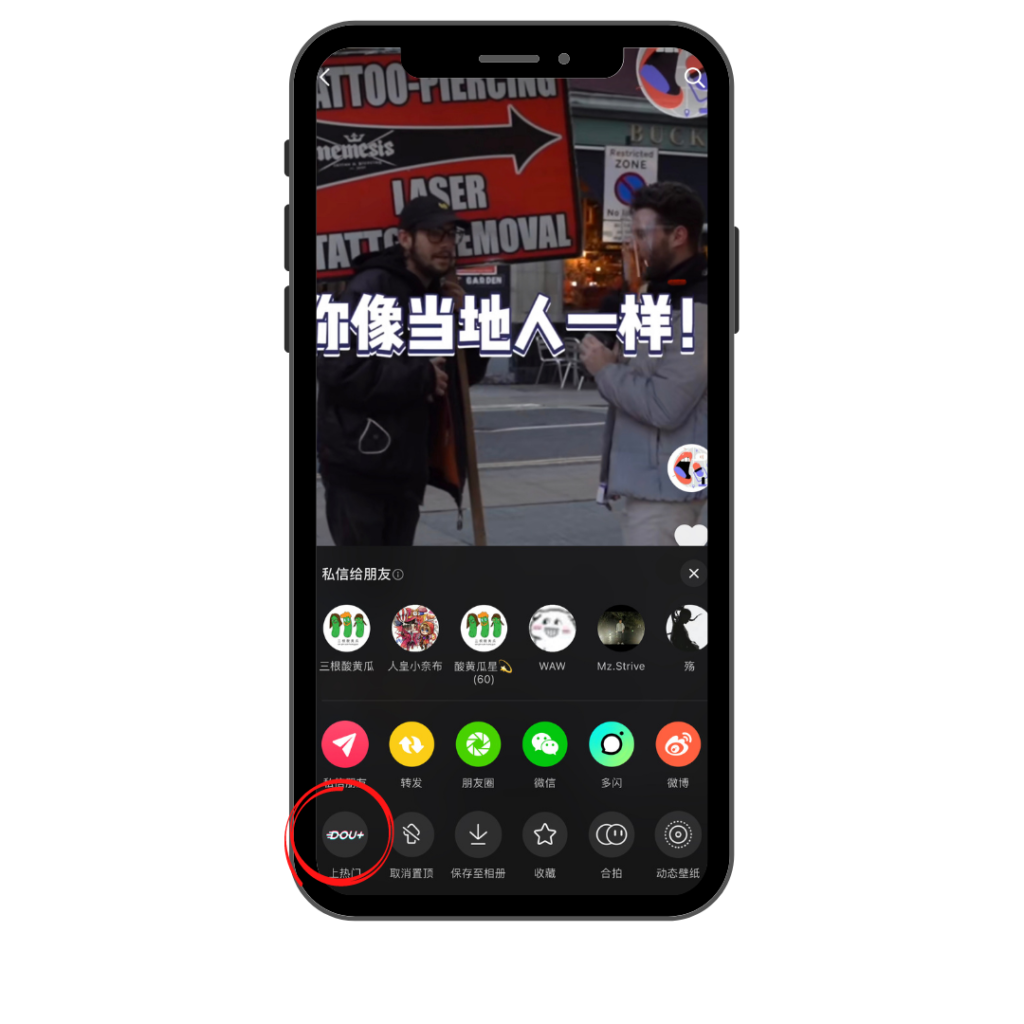 These two factors make the integration of social commerce into TikTok more difficult. Nonetheless, direct shopping features will come to the platform. There are currently a lot of fashion KOLs on TikTok and I envisage that they will be sponsored by brands in the future and provide links which offer direct purchase in their videos.
If TikTok introduced an equivalent to DOU plus, it would revolutionise the monetisation of the platform and could lead to a huge cultural change in regards to influencers and livestreaming in the West. A feature similar to DOU plus would also impact brand marketing on the platform. Brands could simply push videos that influencers make, therefore, simplifying and speeding up the marketing process. Video boosts are also an important feature for fans to show their support for an individual or brand. I am unsure whether DOU plus would succeed culturally in the West, but it is certainly the next step of monetisation for both.
Douyin has a 'brand rating' for every industry to show how brands are performing on the platform in terms of views and engagement. The ranking incentivises brands to create good content and could certainly come to TikTok if enough brands join the platform.
Key lessons for brands: invest in content and consistency
On both platforms, creating content is not about making one viral video. I've seen lots of brands invest in promotion and gain over 500,000 views on their videos but then their engagement plummets because they are inactive.
Brands or creators need to post regularly and have a consistent format which provides value to the viewer. One viral video shows that people like the content but the majority won't have an interest in the brand. The ultimate key to success is creating formats that people enjoy and can recognise, and making people understand the benefits of following the channel.
I think there's a lack of understanding of what the platform is really about and many brands are driven by results and numbers, rather than what is behind them. Indeed, there is no point in having 500,000 views if users have scrolled through within the first second. TikTok is all about authenticity and the power of good content on the platform can't be underestimated. TikTok itself says:
Furthermore, the nature of both platforms is changing: Douyin is no longer just for short-videos and their length has been extended up to five minutes. Users in some countries can already access three-minute videos on TikTok. However, when this is rolled out more widely, it will raise the quality of content on the platform. Many YouTubers will repost their (longer-form) videos on the platform to gain more traction and, therefore, will raise the bar of quality. As content improves, the longer brands or individuals wait to build a presence on the platform, the harder it will be to gain access and reach. The later you start, the less time you have to experiment and get to grips with TikTok and its new features, like social commerce.
TikTok's potential as an education platform
For brands, the most important thing going forward is authenticity. To reach and communicate with the next generation of Gen-Zers, brands need to speak their 'language' which is TikTok videos, challenges and other short-form content.
I see the future of TikTok in a very educational format. People will follow creators who provide value whether that's through entertainment or educational and motivational content. For example, a German law-based content creator 'Herr Anwalt' (My Lawyer) has gained over 2.6 million views by answering young users' questions about the legality of certain situations, such as "is it legal for my teacher to tell me I'm not allowed to go to the toilet during class".
TikTok is currently investing heavily in educational content and has worked with content partners to develop a 'Learn' feed and 'Learn on TikTok' hashtag.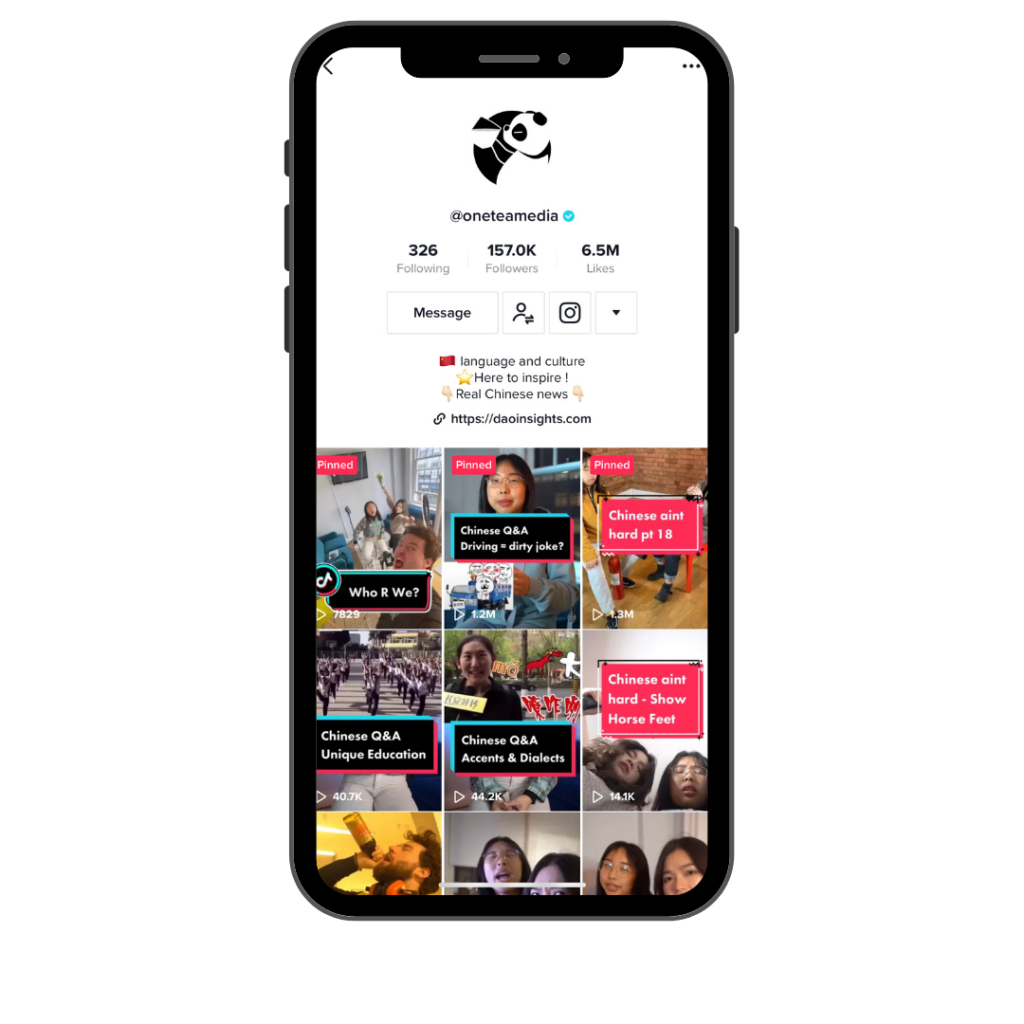 From my experience, TikTok has a huge potential for brands and individuals alike. ln less than a year, our TikTok account about Chinese culture and language has gained over 150,000 followers and inspired people to learn Mandarin and understand China's culture.
TikTok provides an opportunity like never before to reach a huge audience. I would encourage people to take advantage of this to create purposeful content which will make a change, create awareness and help other people. Inspiring content is worth a lot more than the ten minutes of fame from a viral video.
---
Mark's team operate 4 channels and generate a weekly growth of 22-30k followers and 5 million views across them. Check them out:
TikTok: Oneteamedia (157k followers)
Douyin: World Microphone (153k followers)
Douyin: 3 Pickles (57k followers)
Xiaohongshu: World Microphone (8k followers)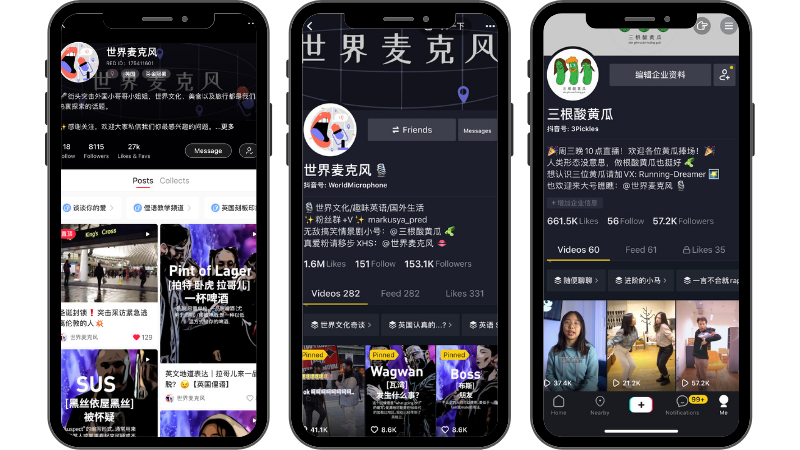 ---
If you enjoyed this article and want to contribute a piece to Dao, please get in touch with the team at [email protected]
Read more: