Key takeaways:
The coffee market in China has been booming in recent years and many young urbanists are gradually becoming coffee enthusiasts.
Dove teamed up with McDonald's coffee brand McCafé to launch a series of coffee-infused beauty products.
In collaboration with Dove, McCafé offered consumers a bubble latte and the chance to win their co-branded gift box.
---
The rise and fall of China's coffee market
China is regarded highly for its drinking of tea, but in more recent times coffee consumption has risen. It is projected that from 2021 to 2026, China's coffee market will witness a Compound Annual Growth Rate (CAGR) of 10.15%. According to the report "2021 Youth Coffee Consumer Trend Insights" released by CBNData, it shows that the scale of domestic coffee consumption has been expanding year by year, with the market size expecting to exceed over 100 billion RMB in 2021.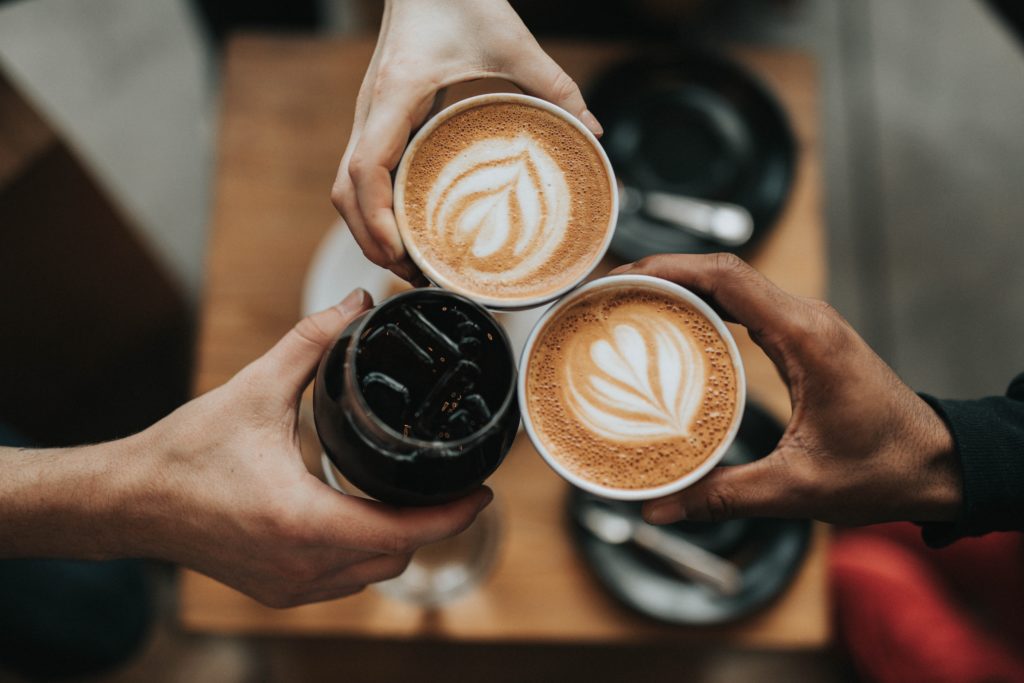 Yet, whilst the overall growth of the coffee market has been slower than other regions such as the US whose revenue amounts to $81,166, new trends have begun to emerge. Coffee in China is mostly consumed by middle to high-class urbanites aged 20 to 30. These young millennials place emphasis on quality and as the market has matured and their expectations have increased.
China's coffee market has a lot of untapped potentials as the market is still underpenetrated. Alongside the rise of disposable income amongst millennials, the market presents huge opportunities for producers and roasters looking to enter. With more young Chinese willing to pay more for better coffee, many foreign brands such as Mcdonald's has aggressively expanded the development of its 'McCafé' coffee shops.
Despite the loss of its initial growth momentum, there are still many Chinese coffee enthusiasts that are willing to pay more than the average price of around 7 RMB ($1.10) for a cup of coffee. And so, jumping on this societal trend, Dove partnered up with McCafé to develop coffee-infused products.
Dove and McCafé team up to target coffee enthusiasts
In September of this year, Dove teamed up with McCafé to jointly launch coffee-infused products on Tmall Little Black Box (a new platform, part of Tmall created for product debuts). The new products include a coffee-scented bubbly shower gel and a facial cleanser.
They also launch a co-branded gift box that not only contained the new products but a new limited-edition bubble latte from McCafé. The idea behind the campaign was aimed at 'driving' away from the tiredness of staying up late studying or working. By launching a coffee-infused skincare range together with McCafé's coffee drink, consumers could look and feel refreshed.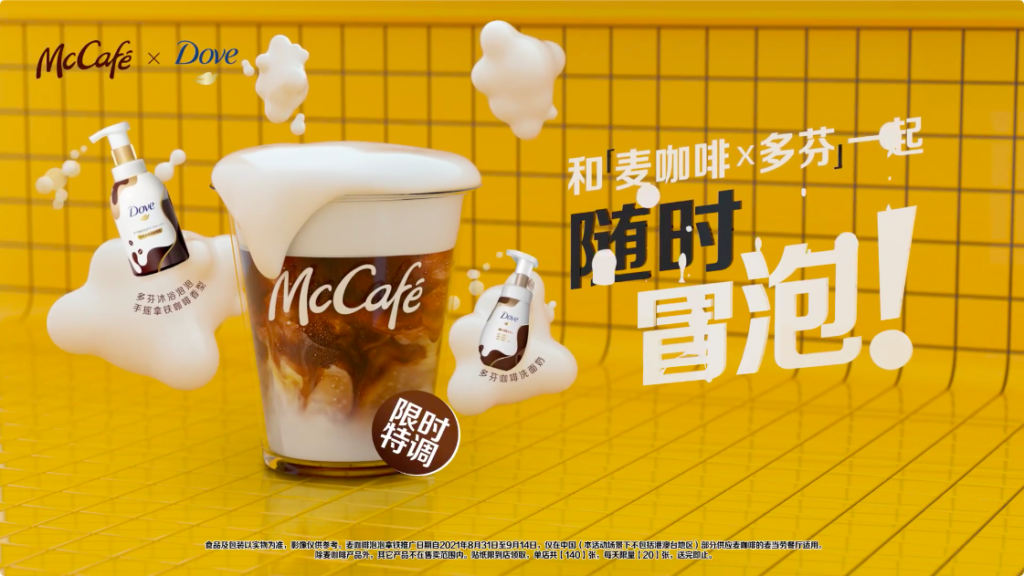 The campaign went further to launch pop-up stores in 13 cities across China in different shopping centers and plazas, such as Shanghai, Beijing, Shenzhen, and Guangzhou. Consumers could win prizes and make coffee in its coffee bars. These so-called 'Bubble Bath Houses' were filled with large ball pits imitating bubbles and had beauty stations to try the products.
The creative collaboration of two very different western brands
Although working in two very different industries, food, and beauty, these two western brands creatively worked together to target the coffee market. In doing so, they were able to create a trendy campaign that connected to the young audience through their favorite drink.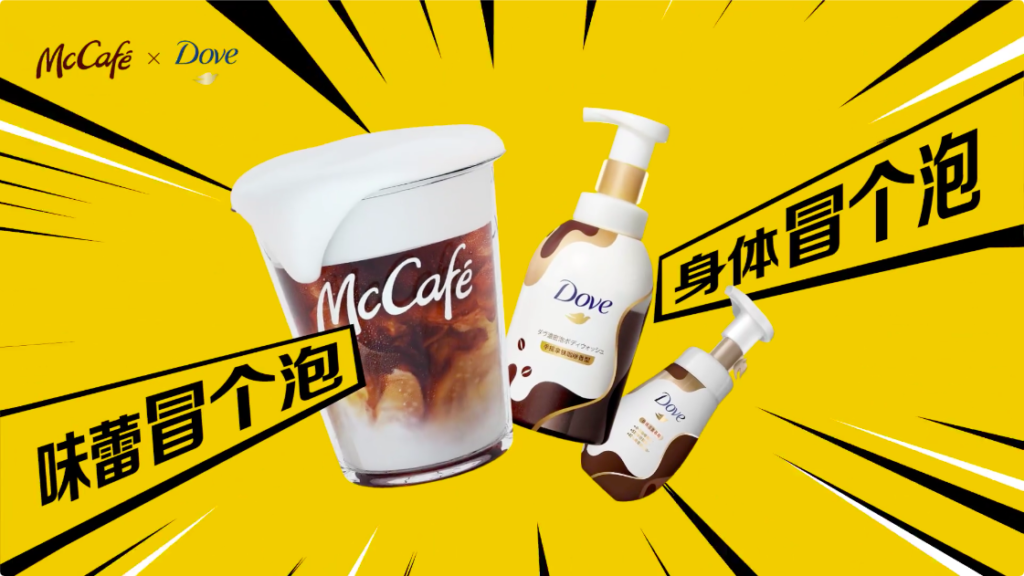 They are not the first to partner up and market through a sensory experience. Prior to this, the Chinese detergent brand White Cat launched a soda fragranced dishwashing liquid. Likewise, IKEA also experimented with this by trying different aromas in their China stores. When the IKEA store in Shanghai Xuhui district recently reopened, IKEA tried to create a coffee-infused smell in their kitchen display areas to further market their home appliances.
The future of Dove and McCafé collaborations
This could be the first of many collaborations of the two companies we may see in the upcoming years. Indeed, it will be interesting to observe the continuing trend of brands using scent marketing. As the coffee market in China remains fiercely competitive with the likes of Luckin Coffee and Starbucks, more fast-food spin-off brands such as K coffee (KFC) could be influenced to imitate McCafé's campaign strategy with Dove to build stronger brand recognition in the market.
Overall, whilst the coffee market may take some time for it to regain the level it was in previous years, it is clearly a budding sector that more urban millennials will continue to develop a liking for.
Read more: