Think back to a childhood treat and, for many, a happy meal springs to mind and the excitement of opening the surprise toy inside. Ronald McDonald, the mascot clown who would sit in McDonald's stores, and his fantasy land McDonaldland are also reminiscent of trips to the fast-food chain. McDonald's has often featured both in its adverts to remind adults of their fond memories of childhood trips to the store.
McDonald's coffee shop subsidiary McCafé has used the same nostalgic marketing strategy to appeal to its audience in China.
So how has a coffee shop gained popularity within China's tea culture?
China's booming coffee culture
Coffee has grown in popularity among Chinese consumers as income has grown and diets have changed. According to a report by Qianzhan Industry Research Institute, the size of China's coffee market is estimated to grow by an average of 10% between 2021 and 2026 to approximately 170 billion RMB.
"The Chinese coffee market is booming. Consumers understand coffee better and like coffee more."

McDonald's China CEO Zhang Jiayin
By the end of 2020, there were approximately 1,500 McCafé stores in China which employed 6,000 baristas. Following the café's success in Beijing, Shanghai, Guangzhou and Shenzhen, it will expand into seven more cities, including Nanjing and Hangzhou, in 2021.
McCafé recently announced that it plans to expand considerably in the Chinese market over the next three years with a 2.5 billion RMB investment plan. It aims to open 4,000 new stores across the country by 2023, as well as improving its delivery service and developing new products.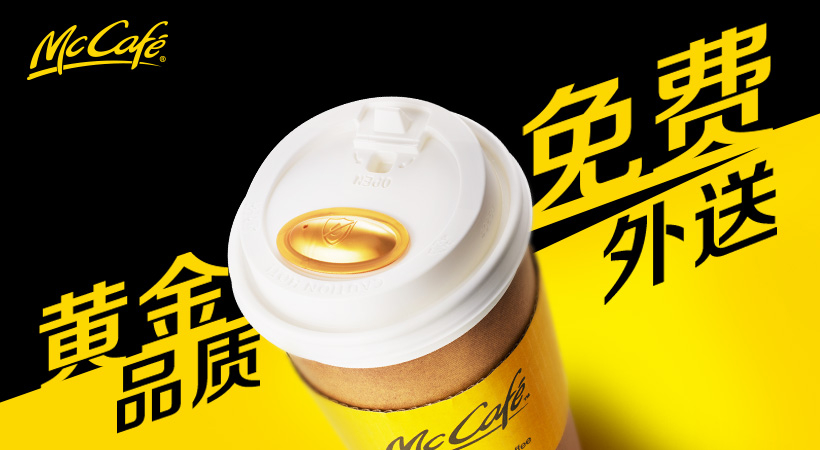 The downfall of Luckin Coffee and Costa Coffee has left a gap in China's coffee market and McCafé is hoping to fill this with its low prices, delivery services and through Chinese consumers' existing awareness of the McDonald's brand. However, this represents significant competition to coffee giant Starbucks which currently has 4,700 stores across China.
McCafé works with popular children's TV show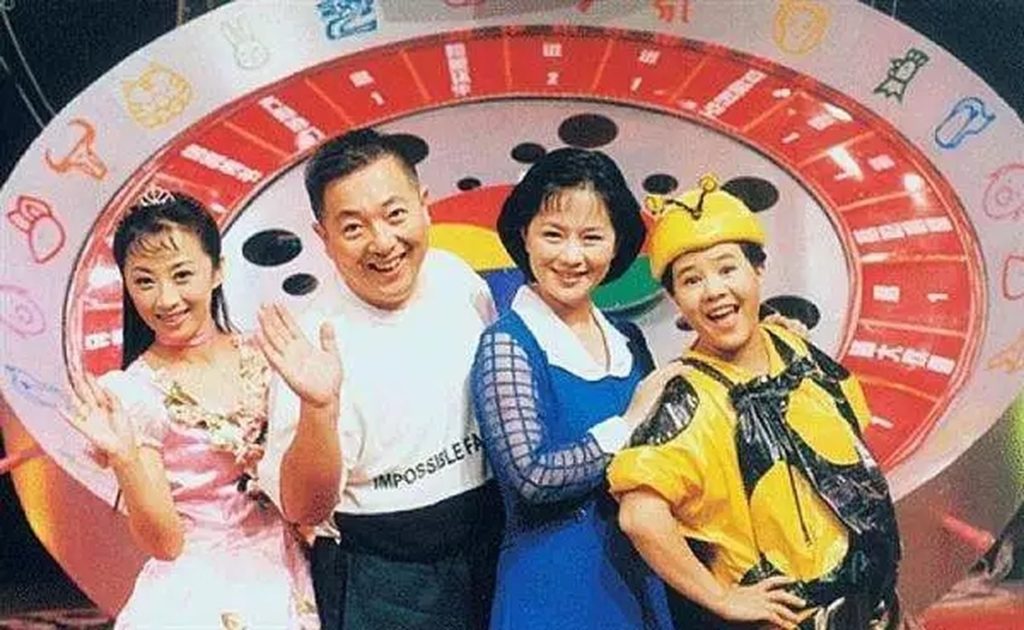 McCafé's latest campaign featured a popular children TV series in China called The Big Pinwheel 大风车. Produced by China Central Television, it first premiered on June 1, 1995, and was one of the first widely viewed children's TV series in China. The show, which still airs today, integrates knowledge, education, and entertainment through its four sections: cartoons, series, preschool programs and children's games.
Dong Hao, known as Uncle Dong Hao 董浩叔叔, was the original host of The Big Pinwheel and post-95s who grew up watching the show strongly associate him with their childhood.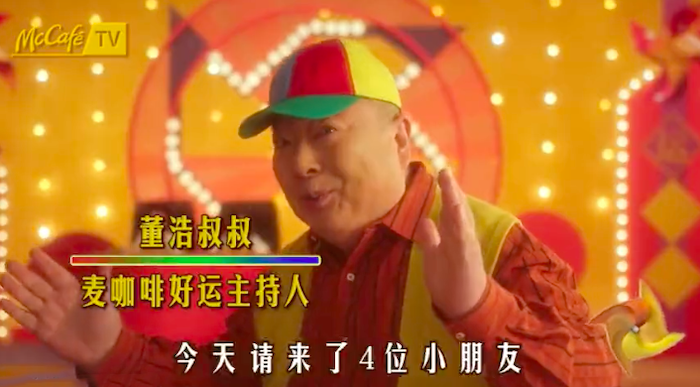 McCafé simulates childhood memories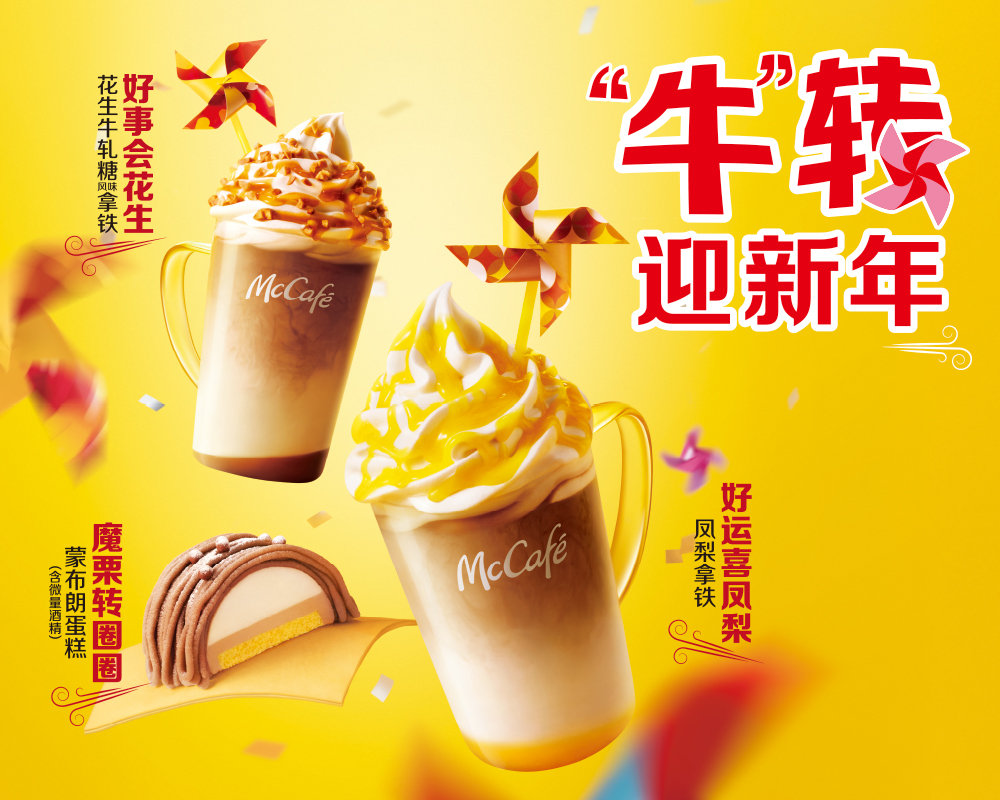 McCafé involved Uncle Dong Hao into its campaign video which launched on January 19 to promote Chinese New Year. The brand is launching three new drinks for the festival: Peanut Nougat Latte, Pineapple Latte and Montblanc Cake.
In McCafé's campaign "Ox welcomes the new year", the childhood role model spins the pinwheel to wish for good luck, mirroring the format of The Big Pinwheel. The design and subtitles are presented in a retro style with the McCafé TV logo featuring on the upper left-hand side of the screen.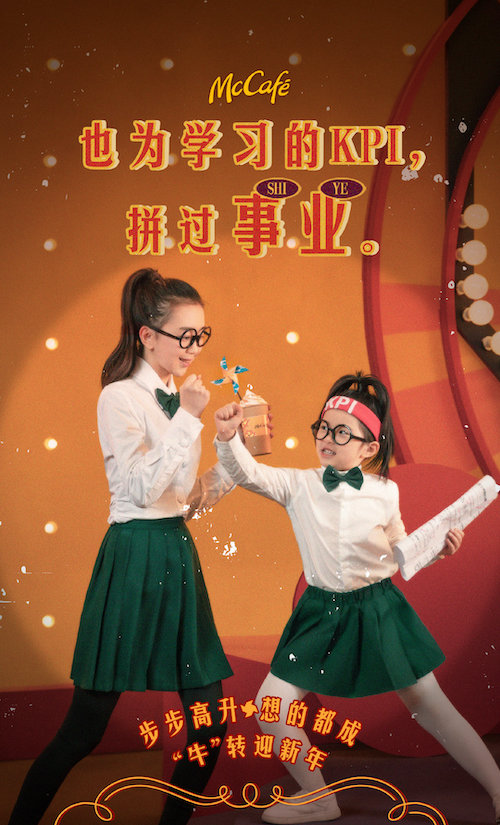 The four children who participate in the show raise their concerns about the future and Uncle Dong Hao gives his blessings to each of them as he hands over a pinwheel. The topics raised reflect common concerns among Chinese young people and are themes that often arise when children are reunited with their families during Chinese New Year – career, marriage, fortune and health.
The four characters and problems illustrated in the campaign are:
An ambitious girl who wants to be successful in her career path.
A wealthy boy who has too many fixed assets which can't be converted into cash in the short-term.
A boy who wants to find a partner for his uncle who has been single for 28 years.
A girl who is worried about hair loss.
McCafé's simulation of the TV series won over its audience by evoking childhood memories. The video gained 51,900 views on Weibo and the WeChat article hit over 100,000 views.
"When I was young my dream was to grow up as fast as I could, but now I regret that I can't go back to my childhood. However, I have Uncle Dong Hao to help me remember my childhood happiness."

A netizen's comment on Weibo
Reimagining childhood memories
Finding the right marketing message to resonate with Chinese consumers is extremely important, especially around the country's most important festival, Chinese New Year. McCafé's campaign has taken full advantage of nostalgic marketing in the Chinese market which has resulted in increased brand awareness. Developing a video in the style of The Big Pinwheel and featuring its famous host connected with many young people and enabled them to take a walk down memory lane.
---
Read more about nostalgia marketing: