Key takeaways:
China's metaverse-like social app Zheli became the No.1 free app in Apple's App Store, beating WeChat, in less than a month.
On 16 February, the viral application paused registration and announced an overhaul check.
This so-called China's first metaverse social app provoked debate on the balance between immersive, realistic virtual experience and privacy protection and copyright infringement.
---
Zheli, a Chinese proto-metaverse social app, was launched on 19 January and instantly beat WeChat – China's No.1 app with over one billion active users, jumping to the top of iOS free app rankings in China on 11 February. On the platform, users can create their 3D avatars and share their daily lives with friends. This pioneering metaverse application immediately became a social media buzzword – you would easily come across friend invitations and avatar images posted on Chinese mainstream social platforms such as WeChat, Little Red Book and Weibo.
However, unexpected traffic overwhelmed this new platform, which faced users' complaints about unstable internet connection and constant crashing. What was even more challenging was merging the real and virtual worlds. Many real-life elements were duplicated into the platform to create an immersive metaverse-like experience but ended up causing controversy over personal data breaches and copyright infringement.
The development team quickly accused whomever the person was of spreading such nasty rumour. On 16 February, they paused user registration and decided to use that opportunity to fix bugs and boost user experience.
Here comes the question, how did this uncomplete metauniverse app suddenly go viral and overtake WeChat – which has been the No.1 in IOS App Store since 2019. More importantly, what can we learn from Zheli's hit and fail?
What is the current metaverse world like in China?
Virtual 3D avatar is no longer news after Alibaba, Tencent and ByteDance – the owner of TikTok –leverage the virtual fest to boost their traffic. But Zheli took it one step further, making it a common practice for everyone with a smartphone. Every user on Zheli can reinvent their look in this "new" world with 115 nuanced facial features and 455 pieces of handpicked clothes and accessories free of charge.
It indeed is like a rehearsal for entering the upcoming metaverse. Some of the items looked so similar to certain fashion and luxury collections that many young people fell for the dress-up feature; they spent time on their virtual outfits every day. What was most exciting for them was saving their avatars to a poster and posting them on other social media to present a fashion show.
What made Zheli stand out was its immersive experience – it was still far from perfect but offered a bit of the taste of metaverse. Each user on the platform can invite up to 50 friends into their own virtual space, where all avatars are "alive", busy doing something. From working and studying to playing games on the sofa and using the toilet, Zheli offered 28 types of daily business that one can be busy with; the 3D avatars act accordingly. Another engaging feature is that the user's surface changes colour according to the time of the day, so does the avatars' shadow.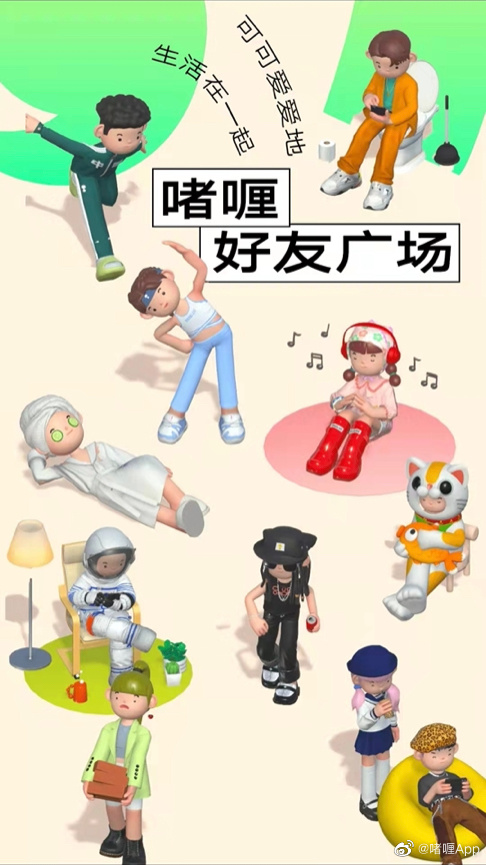 The location-sharing function is also different from most social apps. You can choose to display an approximate location, such as "near XX art museum, XX company or XX neighbourhood", to spark conversations.
In real-time location sharing, moving speed is also demonstrated, and you will get a notification when you and your friend are about to bump into each other. Zheli aims to offer a virtual space that extends close friendship to every second of life, compensating the distance in the pandemic times and the growing pretentious and superficial nature of social media interactions resulting from the world competition for attention.  
The crucial signals read from Zheli's hit and fail 
Gen-Z's new demand in virtual socialising
For years, WeChat has been dominating most online social scenarios in China. But the blurred boundary between work and life on the platform and its increasingly powerful functions for enterprises weaken the sense of intimacy. That is where Zheli was trying to fit in. It aims to offer exclusive virtual space for intimate friends, where the digital era-born Gen-Z feels most comfortable and free to be themselves. Moreover, Zheli gives its users a 24/7 best friends company. They are always there, and everyone is kept in the loop of each other's daily lives, something that is particularly valuable in the post-pandemic world.
Rights issues that matter to you and me
An immersive and realistic virtual world must be built from elements in the paralleling physical one, in other words, data. From dressing style to lifestyle, everyone's daily life is distinguishable in many ways. In metaverse, customised space that makes one feel accepted and comfortable takes private information as an exchange. Would everyone be happy with that deal?
One user quitted Zheli after noticing that one piece of avatar dress on the platform looked almost the same as the one in her wardrobe. The balance between looking real and protecting privacy should be a major debate throughout the creation of this exciting new world.
Can you imagine a future where people snap up luxury products for their metaverse avatars? It sounds crazy, but nothing is impossible. Before Zheli halted downloads, it was accused of copying signature designs from established fashion brands and independent designers. Including fashion into metaverse is almost unavoidable, but who will be paying the price in the end? This probably is a good question to start thinking about now.
Metaverse captures the world's imagination; apart from the sci-fi fantasy attached to it, how many practical questions have you tried to ask and figure out? What kind of equipment can run such a huge virtual system, and how would mobile devices look like in the upcoming metaverse age?
Companies and investors have made a huge bet on metaverse, and its arrival seems to be just a matter of time – after all, those who put the most money on it will decide what metaverse really is. Yet whoever you are, every case of attempt towards metaverse reveals some excellent insights into this new world that is beneficial for you; they help you understand it better and discover untapped areas of moral dilemmas and legal issues. Getting prepared is acquiring wisdom that will guide you through this unprecedentedly complicated battle. Remember, the market is there; it is only a matter of how to take advantage of it.