Chinese New Year is that time of the year to showcase brands' creative and culture-focused marketing campaigns. Last year, we collated a selection of 2021 campaigns, highlighting their cultural significance. As usual, we would not miss any top-notch Chinese New Year creative video adverts this year for marketers and for those who are looking for inspiration from best-in-class campaigns.
Apple – A short film "The Comeback"
It has become a tradition for Apple to launch its Chinese New Year short film every year, something that the brand pours their hearts and souls into. Although it is advertising, it is also an inspiring and powerful video, giving hope to those budding filmmakers that they don't need to spend a fortune to buy professional filming equipment; an iPhone 13 Pro can make your dream comes true. By playing on the hope of young filmmakers Apple is able to emotionally connect and motivate buyers beyond pure practicality.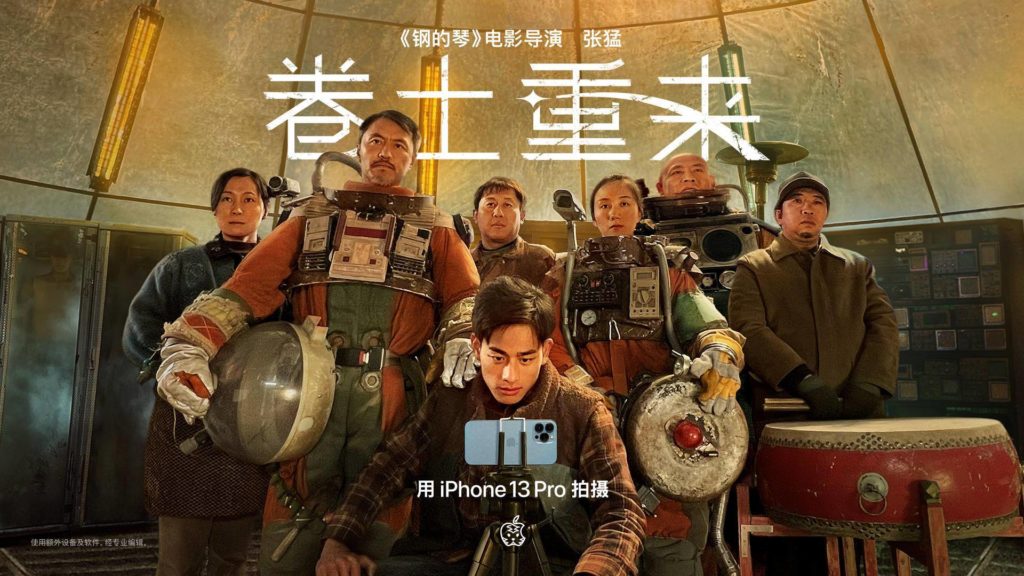 Apple kicked off the year of the tiger with the story of making a village famous by filming a movie set on Mars with villagers. A young man, who is a stunt double, dreams of being behind the camera and comes back to his hometown to celebrate Chinese New Year. His dad and the villagers believe he can guide them to film a video of their village, in order to attract more tourists to see the natural beauty of this place.
With everyone putting effort into the filmmaking process – coming up with the theme, making costumes and props, they finally created the short film by shooting it on an iPhone and the young man achieved his dream of being a "Movie Director". This is naturally inspiring to the young consumer base in China Apple has, with ambitions a large motivation for those starting their careers and, in a generation, where the video is taking a larger daily significance.
iPhone 13 Pro and iPhone 13 Pro Max's technical features, such as Cinematic Mode and Ultra-Wide, are well-presented in the video, showcasing the iPhone's filmmaking prowess.
McDonald's – An ink wash painting animation showing the beauty of traditional Chinese culture
Guochao trend has been a widely discussed trend in China over the past two years, across all markets from fashion to food. More and more big-name brands have tapped into the trend, in order to capture the hearts and minds of Chinese consumers, with McDonald's Chinese New Year campaign one of these examples.
McDonald's partnered with the Shanghai Animation Film Studio to launch two Chinese New Year hamburgers, with a Chinese ink wash painting animation video.
It usually takes ages to shoot an ink and wash painting animation, with, there being only 4 completed ink wash painting animations in China so far, due to its labour-intensive format. This shows McDonald's determination to showcase the beauty of traditional Chinese culture and to strike a chord with local consumers, who will appreciate the cultural and historical respect coupled with the extreme effort of their Chinese consumers.
The one-minute video evokes old and young generations' memories of how they celebrate Chinese New Year, with most people going back to their hometowns during the festival. These are usually located in China's countryside, where there is natural beauty – swallows, plum trees, tadpoles, and river shrimps, some of the things depicted in the ink wash animation.
Red Bull – Being a social butterfly during Chinese New Year
It is that time of the year that you need to brush up on your social skills for the annual visit of your relatives, meeting your partners' family, and the most special tradition – giving and receiving red envelopes.
Redbull's latest witty Chinese New Year advert features 3 Redbull "social butterflies", to deal with the three scenarios mentioned above, giving young people examples of how they can handle the situations.
The advert begins with a mom trying to reject a red envelope filled with money from his son, just like Nike's 2020 Chinese New Year video advert, which puts a twist on red envelopes tradition. When the son and his mom push each other, his brother – Red Bull's "Social Butterfly" shows up to help put the red envelope in the mom's pocket. By helping circumvent the awkward situation, it helps make the young generation feel easier about gift-giving.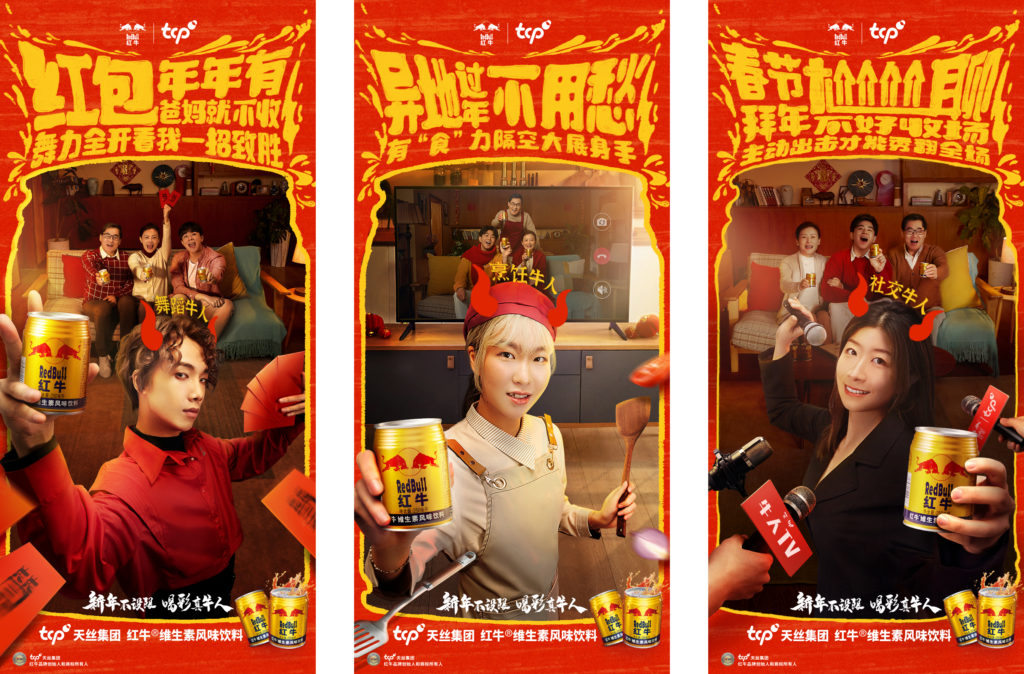 Another scene in the video is answering relatives' questions. Since some relatives always ask awkward questions to young people about their marriage, relationship, children, and salary, especially those post-95s who just started their early career. Red Bull's "Social Butterfly" comes as an "official spokesperson" to answer all the embarrassing questions for young people, being a guide and helping those that have difficulties and concerns.
The entertaining video identifies young people's pain points during Chinese New Year and truly connects with them in a way that builds trust and understanding.
iQOO x King Pro League – How an esports player celebrates Chinese New Year
iQOO, a Chinese smartphone sub-brand of Vivo, collaborates with King Pro League (the premier Honor of Kings tournament in China) to launch its esports-themed Chinese New Year advert.
The video features an esports player called "Braveness", who has been winning esports championships for 2 consecutive years. However, he is not the champion at home during Chinese New Year, instead, his family members hold champions in different activities, such as playing mahjong, writing "Fu", making dumplings, and stocking up spring festival snacks, which are four most typical entertainment that family does during the festival. Once again bringing the social and traditional aspects of Chinese New Year is important, showing due respect and care from brands.
At the end of the video, "Braveness" is getting ready to participate in the King Pro League, all of his family members come to his room to give him support and encouragement. The video ends with "family is my best support", presenting the meaning of Chinese New Year – it's all about love and reunion.
Douyin – What a energetic Chinese New Year looks like
Chinese New Year is a large social gathering, where you get a chance to see your old friends and family. Douyin leverages this social feature, creating the campaign with A-list celebrities, encouraging people to use the platform to record memorable moments.
With Douyin's Chinese New Year hashtag challenges, tiger-themed stickers, and filters, the platform can be used for various scenarios. Whether it's for hanging out with besties to take videos, showing off your mobile game performance with your mates, or sharing your Chinese New Year's Eve dinner cooked by your family.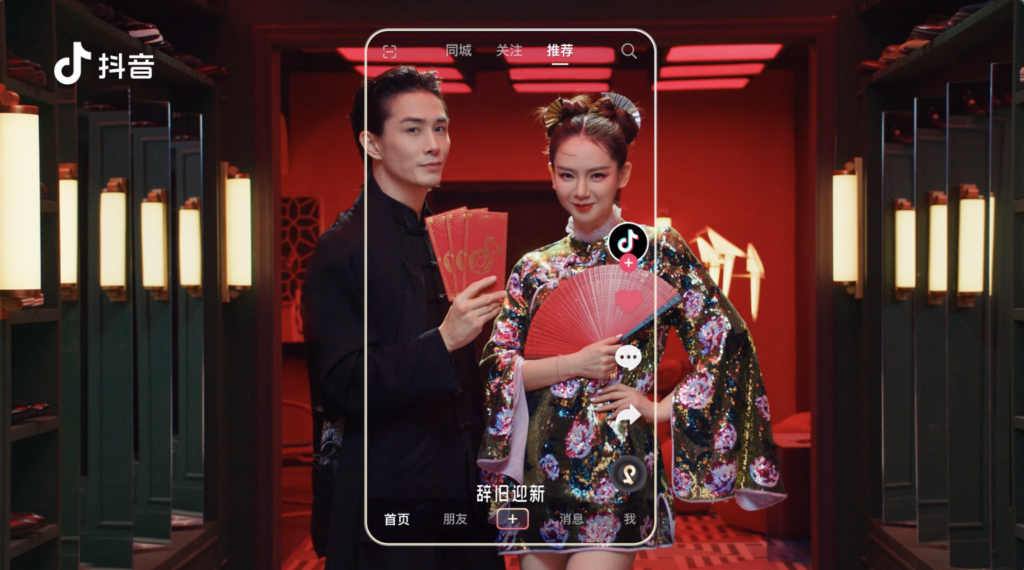 By blending the social aspect within the platform, Douyin is able to seamlessly show themselves as an aspect of Chinese New Year, a way to celebrate and show your love for the festival, family, and friends. The advert once again shows Douyin's vision – record beautiful moments of life.
Read more: