Key takeaways:
Double 11 is becoming fiercely competitive and companies such as Tmall are already winning the race!
Tmall showcases its creativity as they design "virtual" streets to display new products in "open windows".
Apart from real celebrities and Key Opinion Leaders, a virtual influencer Ayayi was also invited to the exhibition in Shanghai.
All the visitors have a chance to upload their selfies with the virtual streets to the interactive installation, enjoying once being a celebrity.
---
Tmall heads start on Double 11
If you are familiar with "Black Friday", it will be easy for you to understand what Double 11 Shopping Festival is because they have the same purpose – many stores and e-commerce platforms offer highly promoted sales during the shopping festivals.
In 2009, Alibaba launched its first large-scale shopping event on 11 November – Double 11. This event offered heavy discounts on its e-commerce platforms, such as Tmall and Taobao and since then, other Chinese e-commerce platforms have followed suit. Due to its large success on this day, shoppers go wild buying all kinds of products!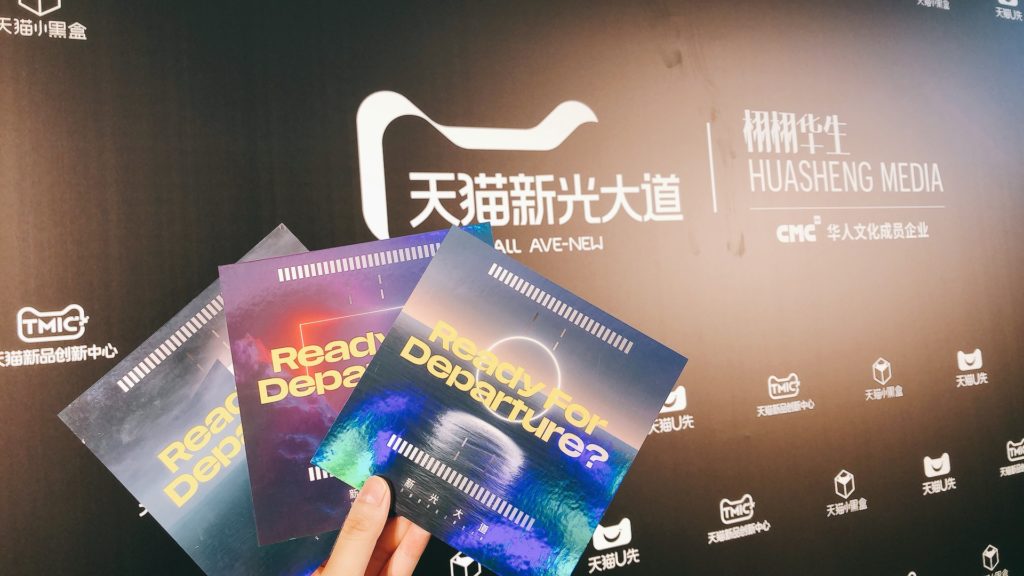 Double 11 sees consumers breaking record spend levels year on year. This is even true considering the impact of COVID-19, Chinese consumers are still willing to increase their spending, something perhaps accelerated by a pandemic inclined world.
According to Pingan Securities, the overall Gross Merchandise Value (GMV) across the duration of Double 11 last year (Nov. 1st to Nov. 11th) surpassed 900 billion RMB (US$137 billion). The top platform, Alibaba Group's Tmall, made 498.2 billion RMB (US$76 billion) and was the original company that created Double 11.
Due to its exceptional success, it is no surprise that this cyber festival has become extremely important for overseas brands in the Chinese market and is a springboard for Chinese brands introducing new products. It is for many, an anticipated period to kickstart sales and increase revenue sizably before the end of the year.
In 2021, to warm up the "shopping party", Tmall got a head start with its spectacular offline marketing campaign ahead of the festival.
The Tmall Ave-New
On 28th September, joining hands with pioneering artists, Tmall created an immersive offline exhibition hosted at Shanghai's World Expo Centre. Utilising the venue's space, Tmall designed a "virtual" neighbourhood. In the "streets", Tmall propped large "non-glass" shopping windows to display thousands of new products from a host of different international and domestic brands.
Whilst the avenue was created in the mind of Double 11, to showcase new products ahead of the festival, it also allowed consumers to hunt for the most "in-new" items from around the world in New York, London, Paris, and Shanghai.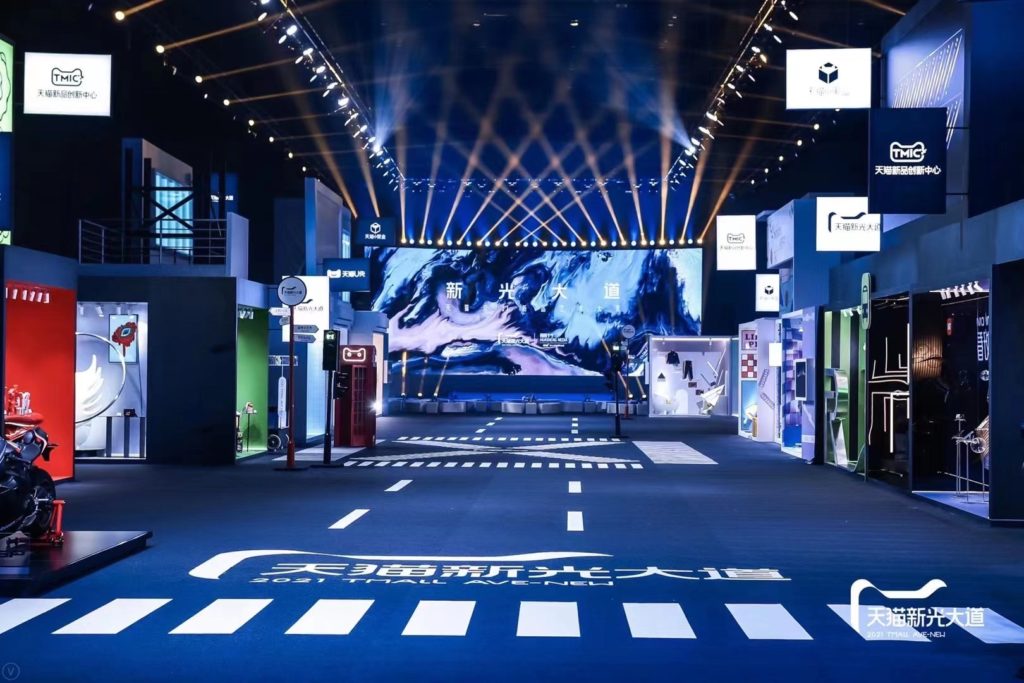 The exhibition was divided into five major themes: (1) 'Yimeng Planetary System' (2) 'Gravity-free intimacy' (3) 'Cyber Different World' (4) 'Source lab' and (5) 'Players Mobilisation'.
These concepts were designed by different artists and each window showcased a certain group of brands. For example, in the window 'Cyber Different World' created by WM Studio, it displayed the latest electronic products from brands such as Xiaomi. Likewise, the window 'Source Lab' unveiled new brands of skincare products from luxury beauty companies such as L'Oréal and Estee Lauder.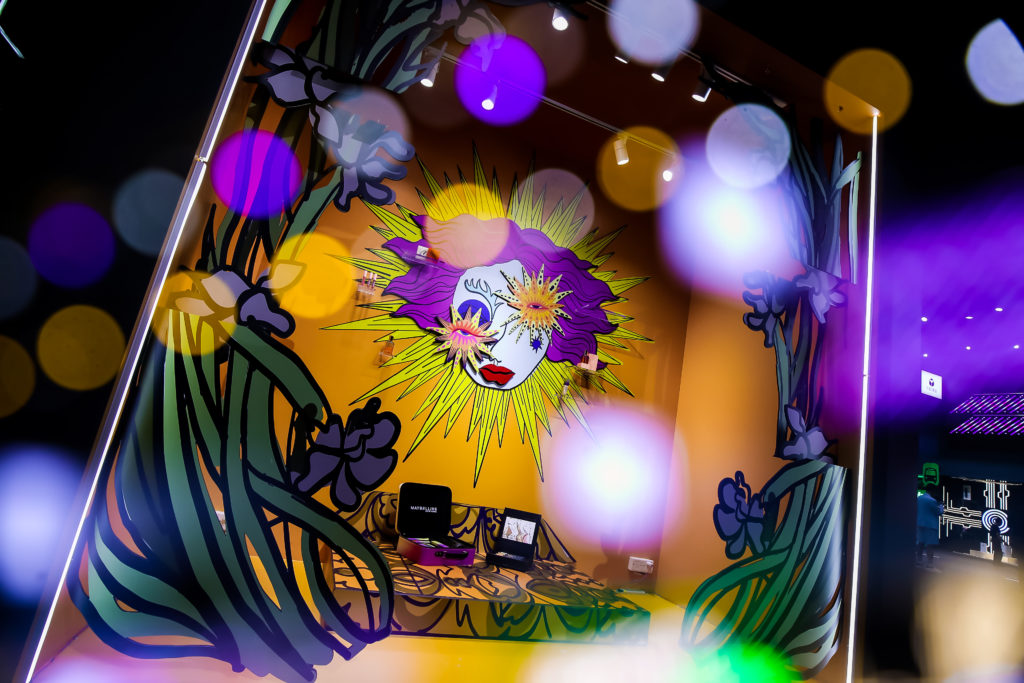 To further engage with the young consumers, Tmall allowed visitors to "enter inside" the shopping window to take pictures for social media and to enjoy the chance of being a celebrity for once. By allowing these different forms of interactive experiences, including an electronic booth to take photos, the exhibition was a massive hit with young millennials.
In addition, the campaign invited the first meta-human virtual influencer Ayayi to the exhibition, and in turn, this generated a lot of hype about the "virtual" streets. Indeed, prior to the exhibition, Tmall created a short 3D film portraying their brand mascot wandering down the streets travelling amongst the windows.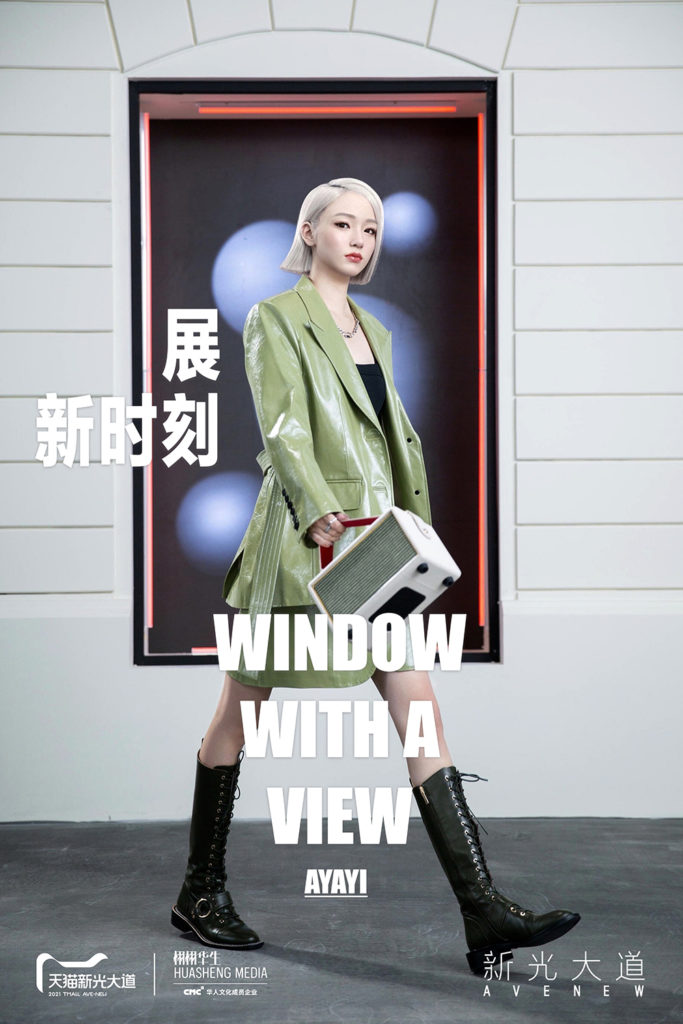 The overall purpose of the campaign was to promote new products prior to this year's Double 11 shopping festival in a new way. The campaign achieved its targets, as consumers could start making shopping lists of products to buy before the festival. Just in figures alone the related hashtag #Tmall Ave-New was circulated over 320 million times on Weibo.
An Unforgettable Shopping Experience!
By creating an immersive "block stage" for all the new products, they were able to design innovative visual presentations for all the participating brands.
The design of the avenue was futuristic, allowing it to connect with young people, as they tend to be more technology orientated than their elders. For instance, the 'Cyber Different World' window proved to be immensely popular amongst the Gen-Z demographic, owing to their high interaction on the internet.
More importantly, the concept of the "display windows" was not only to present the new products but to allow the consumers to discover their new selves. Hundreds of millions of Gen-Z are looking for their own unique lifestyle and these offline "windows" was an opportunity to allow consumers to explore their individuality.
Brands should prepare early for this year's Double 11
This year's Double 11 is predicted to break new records again. One key lesson that Tmall's campaign has taught other brands is to "plant the grass" early. Double 11 is a critical moment for brands and being prepared for China's biggest online shopping event is vital for success.
Read more: