Key takeaways:
• In collaboration with the Chinese stylist and designer Guo Pei and with the support of the Asian Couture Federation, Barbie has created a doll dedicated to the celebration and enhanced the most important festival on the Chinese calendar.
• Guo Pei is China's most well-known couturier. She is the designer of the CNY Barbie doll and successfully brought the doll to life.
• This initiative shows the brand's recognition of its audience's Asian heritage. The Barbie wears a traditional Chinese wedding dress with Guo Pei's signature embroidery detailing.
---
Mattel and the release of the doll
From a commercial and marketing standpoint, the Spring Festival, or Lunar New Year, is becoming increasingly focused on children.
Several Western toy brands have captured the emerging trend, and this year it was Barbie's turn. Barbie has created a doll dedicated to the celebration in collaboration with Chinese stylist and designer Guo Pei and with support from the Asian Couture Federation, enhancing the most important festival on the Chinese calendar.
The Lunar New Year is a 15-day celebration marked by festive performances and lucky red decorations. On New Year's Eve, families gather to celebrate with food, fireworks, and time-honoured traditions; and collecting Barbie Lunar New Year dolls may become a treasured tradition in future celebrations.
Barbie is a fashion doll manufactured by Mattel, Inc., an American multinational toy manufacturing and entertainment company founded in 1945. Headquartered in California, they own one of the world's most advanced portfolios of children's and family entertainment franchises.
Unlike last year when another doll was released, this Barbie set is definitely worth considering since it has been designed by Guo Pei, China's only officially recognised couturier.
Could China's most famous couturier benefit from the collaboration?
Guo Pei, who was born in Beijing during the Cultural Revolution, creates magnificent architectural pieces that combine traditional Chinese aesthetics and exquisite handwork.
The Chinese designer, a graduate of the Beijing School of Industrial Fashion Design, founded her atelier Rose Studio in 1997. For more than 20 years, the home-grown talent has led a team of 500 skilled embroidery artisans in the creation of stunning customised costumes for China's social and political elite.
Guo Pei is the most well-known couturier in China. She has been dressing celebrities, distinguished ladies, royalty, and the political elite for over 20 years. They come to her for show-stopping, magnificent creations when they want to look stunning and grab attention.
Guo is best known in China for designing dresses for the hosts and performers at CCTV's New Year's Gala, a televised annual event with 700 million viewers, as well as the ceremonial clothes used in the 2008 Beijing Olympics.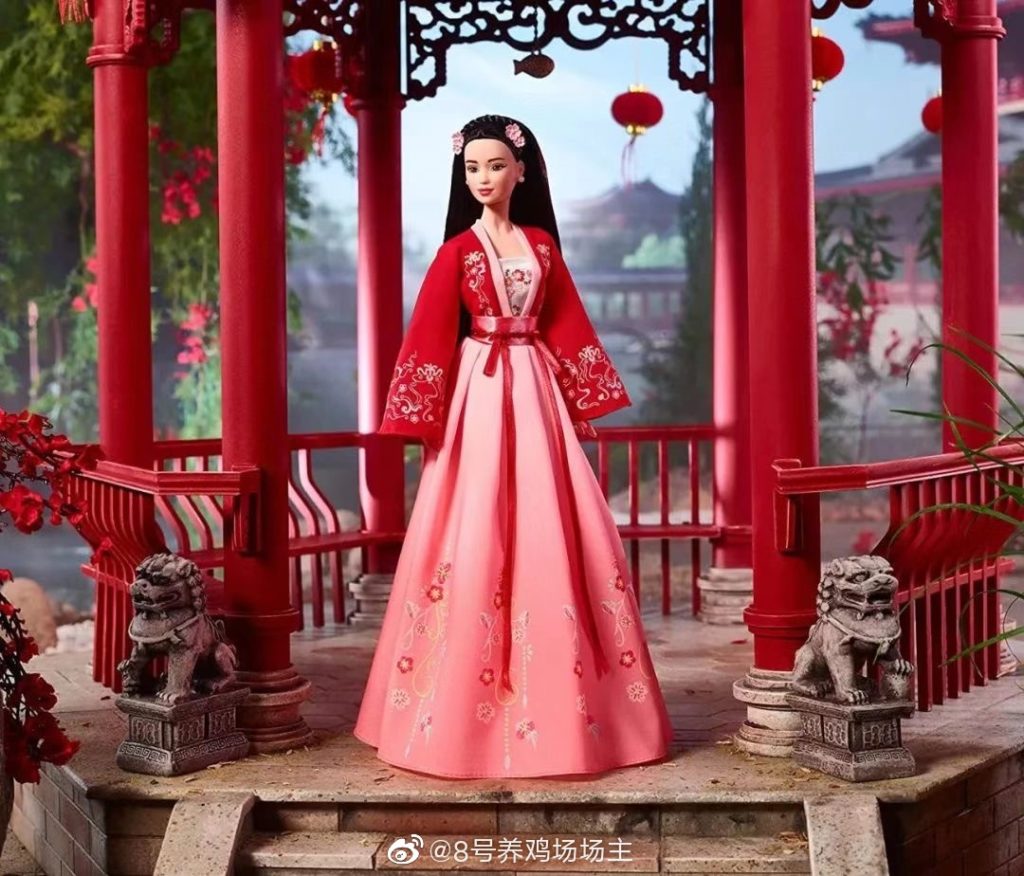 As previously stated, she is the designer of the CNY Barbie and was involved in bringing the doll to life. Guo Pei brought new life to the brand while remaining loyal to her Chinese heritage, from choosing Barbie's special features to her hair accessories.
This year, in a collaboration facilitated by the Asian Couture Federation, she brings her vision to Mattel with an exclusive design paying tribute to the phoenix; a traditional symbol of rebirth and rising from the ashes that speak to the optimistic mood of the New Year. This theme can be observed in every characteristic of the collectible doll.
The company's mission is to develop innovative products and experiences that use play to inspire, entertain, and develop children. Mattel has frequently experienced difficulties in getting exposure of its products in China, and the numerous failures have frequently demonstrated that Chinese customers prefer tailor-made products, and their purchasing decisions were not always guided by the price but rather by quality.
With Mattel's recent move to diversify and inclusively expand the Barbie collection, the collaboration with Guo Pei is a welcomed addition. By partnering with local talent, the brand can not only enhance her influence at home but also incorporate Chinese elements into their products with the contribution of the local artist. Expansion into new countries can result in enormous profits but it also comes with a much greater risk. Mattel still believes in the potential of the Chinese toy market and is constantly looking for new ways to reinstate Barbie to Chinese consumers.
It is critical for a company to understand how cultural differences influence their customers' purchasing habits; companies that actively seek out new markets are on a never-ending experience curve.
Barbie's company also recognised the importance of conducting research, consulting with culture experts, and learning from mistakes. The Guo Pei collaboration will be critical in understanding the typical Chinese customer, because customers differ from one country to another. Furthermore, this collaboration will assist with cultural and language barriers, which can be difficult for companies to overcome when looking to expand globally.
What are customer perceptions on Barbie's Lunar New Year doll?
This initiative shows the brand's recognition of its audience's Asian heritage. Indeed, as Barbie wrote on Instagram, Lunar New Year festivities bring an occasion to honour one's heritage and wish for good fortune in the coming year for many Asian communities around the world.
The doll is dressed in a traditional Chinese red dress with Guo Pei's signature embroidery detailing; the dress comes to life with symbolic golden phoenixes representing femininity and grace in Chinese culture. Water and wave representations, which have traditionally been seen on royal clothing, represent wealth, nourishment, and resilience.
The traditional Chinese wedding dress worn by the Barbie consists of two pieces: a brocade jacket, a long skirt, and she is accessorised with a phoenix-themed headpiece. Her dress is finished with delicate teal trim and Chinese knot style buttons, and she completes her look with gold and teal tassel earrings, a stylish bracelet, and chic heels.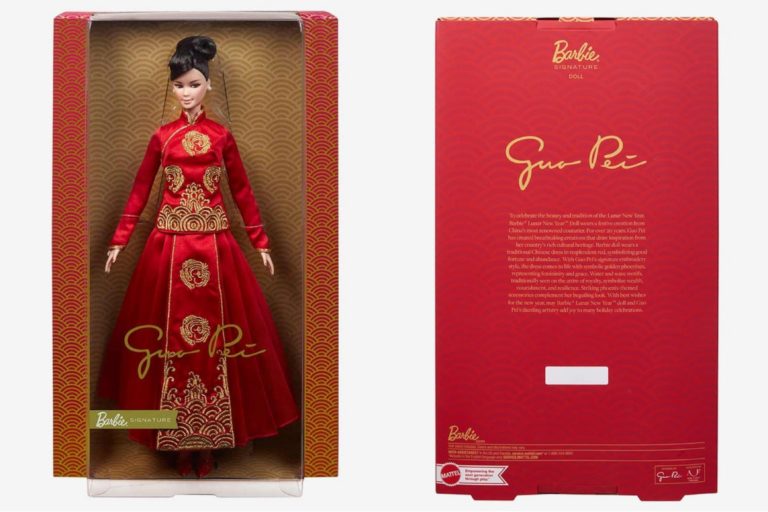 The doll comes in packaging that matches the elegance of its traditional Chinese dress, a sophisticated box that is ideal for display. The doll's packaging, designed by Senior Packaging Designer Laydiana Chiv, features an extruded window that stands out from the doll box, as well as some gold accent foil for a touch of luxury.
Currently, following the release of the Barbie news, we find conflicting opinions on Chinese social networks such as Weibo; there are people who truly appreciate the doll and are fascinated by the accuracy of the typical Chinese details, the fabrics of the dress are considered rich. Some are also influenced by their admiration for Guo Pei, proving that she was most likely a winning weapon. However, there is no shortage of opposing views from those who do not see many ornaments, few accessories, and Chinese characteristics, which are outside of Guo Pei's usual memorable style.
The doll became available for pre-order from 24 January, and perhaps once in the hands of consumers, thoughts and perspectives will change? Will Mattel's new strategy be successful? It remained to be seen how it would perform better in the Chinese market.