China is of increasing importance to luxury brands, and so, they must devote resources to understanding the market, rather than entering uninformed and treating it like a 'goldmine'.
The continued backlash against D&G's 2018 insensitive chopsticks campaign shows the importance of being respectful of Chinese culture and people.
Due to the negative ripple effect of social media, celebrities and influencers are unwilling to associate with a brand that falls out of favour with Chinese consumers.
If a global brand gets involved in political affairs or makes racist or culturally insensitive comments in China, the consequences can be irreversible. The experience of luxury brand Dolce & Gabbana illustrates how NOT to act in the Chinese market and just how damaging poor-thought out campaigns can be.
D&G's chopsticks campaign hits a nerve with Chinese consumers
D&G had been in China for over a decade before it lost favour: it opened its first boutique store in Shanghai in 2006 and launched on China's e-commerce channels in 2015. But, the brand's popularity in China was short-lived as it has faced a backlash ever since it launched a controversial advert three years ago.
In 2018, D&G posted three short videos on Weibo to promote its Shanghai fashion show and "#DGLovesChina" campaign. The videos featured a Chinese woman wearing a dress by D&G and using chopsticks to eat several Italian delicacies, including pizza, spaghetti and cannoli. To the accompaniment of Chinese folk music, a mocking voice announced in Mandarin: "Welcome to the first episode of 'Eating with Chopsticks' by Dolce & Gabbana".
Netizens were quick to criticise the advert and pointed out several elements which they found racist and insensitive. They commented that the model's performance was very exaggerated, and the line "Let's use small these small stick-shaped things to eat our great traditional Margarita pizza" sounded arrogant.
D&G's insincere response makes little difference to consumers' attitudes
Although D&G removed the viral videos from Weibo within 24 hours, a fashion blogger shared a screenshot of the brand's co-founder and designer Stefano Gabbana calling China "a country of shit" and "ignorant dirty smelling mafia". The picture went viral on Weibo and almost all the Chinese celebrities attending or involved in the brand's Shanghai runway show immediately withdrew from the event. Gabbana apologised on Instagram saying that his account had been hacked and that the brand has "nothing but respect for China and the people of China".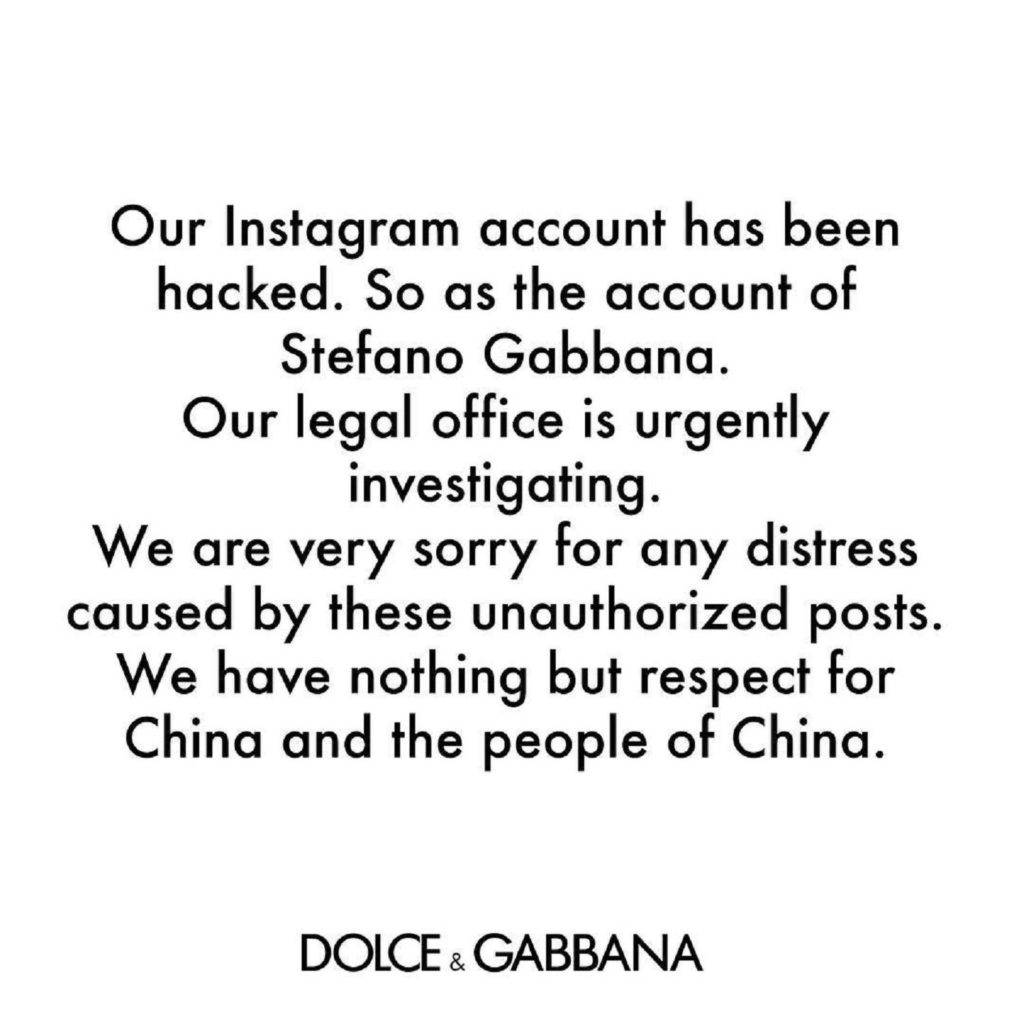 The reaction forced D&G to close some of its stores in China and its products were removed from all the main e-commerce platforms as well as blogging site Xiaohongshu. While other brands have criticised by consumers for 'mistakes' (for example, Balenciaga's tacky campaign or a Dior employee showing a map of China that excluded Taiwan), none have had as long-lasting a backlash as D&G.
Chinese consumers are more forgiving of brands that make distasteful campaigns, like Balenciaga's, or scandals where an individual employee rather than the whole team is involved. However, Chinese consumers draw the line at campaigns that insult them and their culture, and in which a whole creative team is involved as this shows that the brand lacks respect as a whole. Indeed, D&G's attitude following the blow-up and insincere apology have contributed to consumers' unwillingness to forgive them.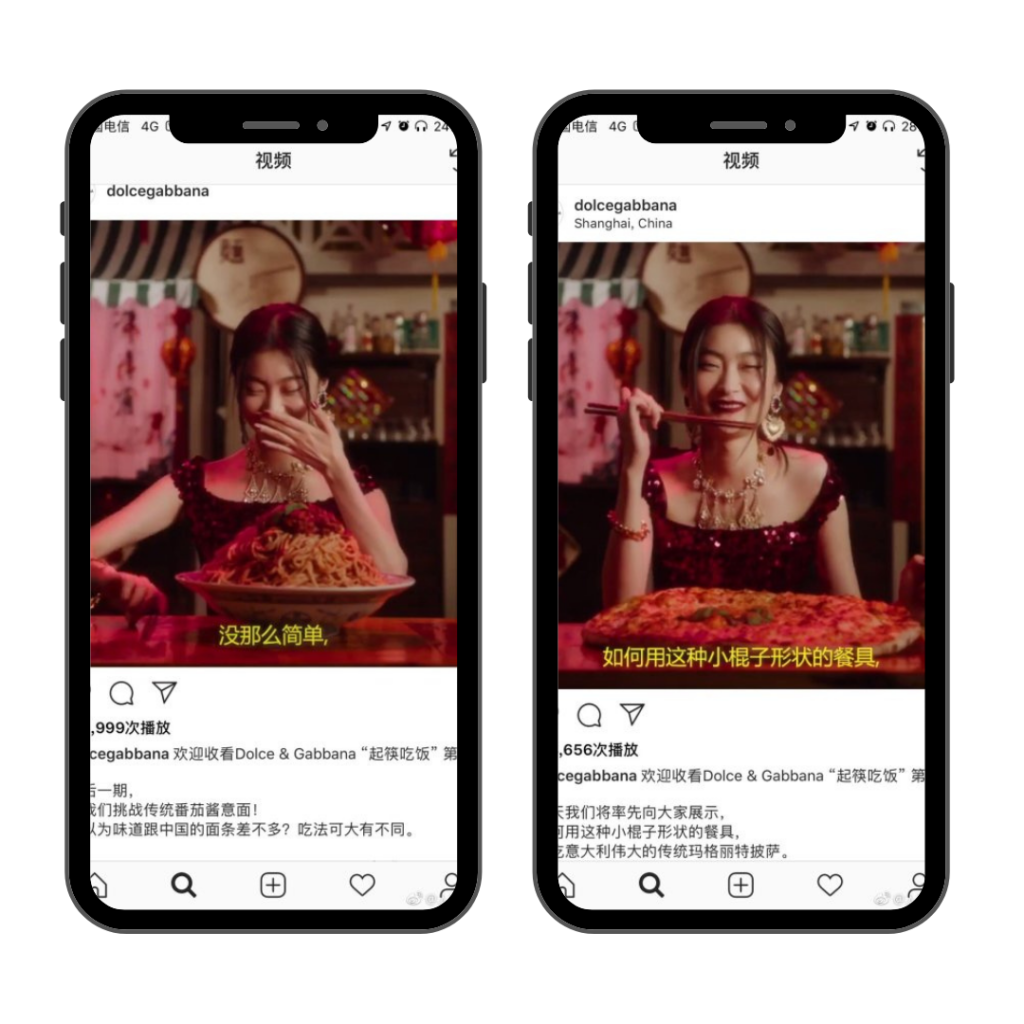 As a result, Chinese consumers have continued boycotting D&G products no matter how hard the brand tries to win back the market. A report by Gartner's L2 found that D&G's Chinese social-media engagement had dropped 98% in Q1 2019 from the same period the year before. The brand has continued to promote sales in its offline stores (although several have been closed) and through advertising in offline fashion magazines, such as Elle. Aware of the negative sentiment towards them, D&G had avoided large-scale advertising campaigns until a renewed attempt to break back into the market for Qixi last year.
D&G attempts to win back favour with high-cost Qixi campaign
Last year, the brand paid a huge sum of money for Weibo pop-up adverting (at least 1.8 million RMB) during Qixi, i.e. Chinese Valentine's Day, hoping to win over consumers. Yet, the brand did not gain the reaction it hoped for when Chinese netizens flooded the page with comments, such as "ugly", "get out of China", and "stop trying to make money in the Chinese market".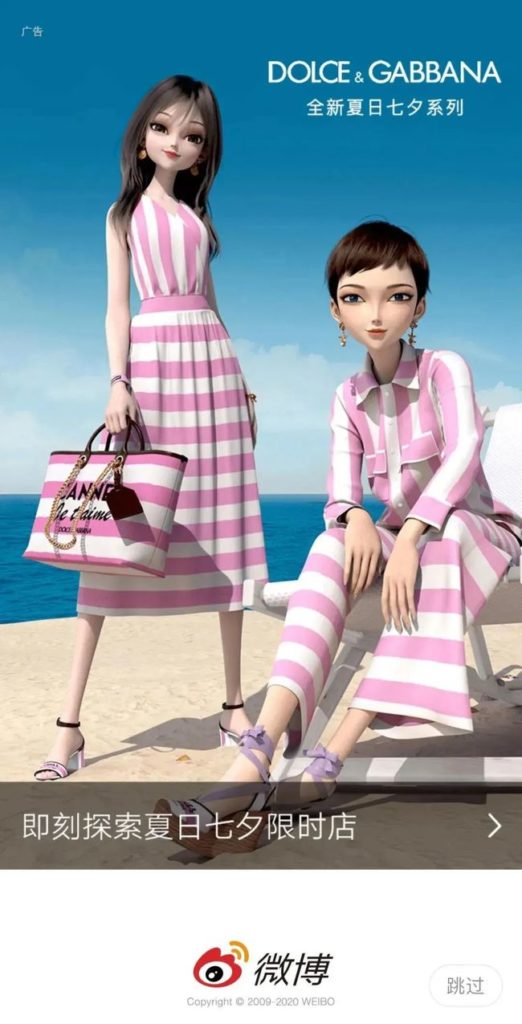 Aware of the sensitivities among consumers, no Chinese celebrity or influencer would work with the brand for its Qixi campaign. Thus, D&G brought on digitally animated models. The campaign posters showed the virtual female-only duo relaxing at the beach to highlight that Qixi could be celebrated with friends as well as romantic partners. Chinese consumers were unimpressed with this messaging which they regarded as cheesy and lacking meaning. While several brands are marketing love-themed festivals as a celebration of all forms of love (not just romance), consumers felt that the Qixi campaign seemed misplaced and that D&G had failed to do its research.
"Do boys not celebrate Qixi?"

Comment on Weibo
Netizens were not shy to show their feelings towards D&G's attempt to return to the market and used extremely strong language (滚) against the brand. As well as questioning D&G's knowledge of Chinese festivals, they also criticised the brand's understanding of Chinese consumers with one netizen commenting:
Singer Mo Wenwei discovers the continued resonance of the D&G scandal
The scandal surrounding D&G resurfaced again in June when Mo Wenwei became the first high-profile Chinese celebrity to publicly wear the brand since 2018. The Hong Kong singer promoted her new song on Weibo while wearing a kaftan dress made by D&G. Her outfit choice caused a storm online as netizens criticised the singer for choosing to represent the brand.
Mo Wenwei's studio issued an apology immediately and the singer claimed that she had been so busy preparing for her new single that she had left her team to choose her outfit. Many consumers refused to accept her apology, viewing any association with D&G as an insult to Chinese consumers. Some online users also commented that, as a public figure, she should have understood the sensitivities surrounding the 2018 scandal.
However, some Weibo users defended her and commented that they didn't think her team had chosen the brand to purposefully upset Chinese consumers. Nonetheless, the blow-up was big enough to cause her team to take down the new song and Weibo post.
"I believe that they didn't make this mistake on purpose and they apologised sincerely, why don't we give her a second chance?"

"Mo's team and her know her market value. There is a chance that D&G is using her to test the water for entering the Chinese market again. I don't believe her."

Comments from netizens
Luxury brands must appreciate that the Chinese market is not a 'goldmine'
The latest controversy surrounding D&G with Mo Wenwei has proved once again the irrevocable impacts on global luxury brands that act arrogantly and don't show respect for Chinese culture and people. A negative association with D&G is so deeply ingrained in Chinese consumers' mind that it will be hard for the brand to ever restore a relationship with them. Furthermore, China's 'cancel culture' has become so powerful that celebrities and influencers are fearful to have any form of association with the brand due to the potential repercussions on their own career.
China is of huge importance to the luxury industry and is predicted to be the largest market globally by 2025, and so, brands are likely to view it as a 'goldmine'. Nonetheless, Chinese consumers can see through this and identify brands that are purely entering the Chinese market for profits and have little willingness to understand or engage with them. As local brands continue to grow in popularity, only global brands which truly make an effort to understand Chinese culture and localise to the market will be successful.
---
Read more about luxury in China: