In modern-day China, menstruation is no longer considered taboo in the same way that it was in the past. However, women still use discrete terms to talk about their period and often try to hide it in front of others. Many Chinese women refer to their 'time of the month' as 'aunt' (dayima 大姨妈), comparing it to a relative who visits frequently. In a similar vein, women often feel a sense of embarrassment and hide their sanitary towels in the workplace or classroom, many even use black plastic bags to cover packs when shopping.
According to the "Teenage Girls Physiology Health Insight Report" (少女生理健康洞察报告) released by Meiyou (an app focus on period health and knowledge) and Maple Women's Psychological Counselling Centre in 2020, 50% of teenage girls have limited knowledge about menstruation. Indeed, shame surrounding periods is very much prevalent among young females with 87% saying they feel uncomfortable during them and that they lack guidance.
Shifting social attitudes contribute to taboos breaking down
Nonetheless, in recent years, Chinese women have become more proactive in speaking out about gender norms and societal expectations in terms of marriage, pregnancy, and career. More and more films, TV series, and marketing campaigns are supporting women to express themselves and fight for equality.
In line with wider social shifts, the taboos surrounding periods are also breaking down and women are speaking up more. The increasingly popular app Mei You 美柚 enables women to record their period cycle and provides access to free resources.
Indeed, those from outside China may even be surprised to find that periods are more openly spoken about with female friends, colleagues, and family members than in their home countries.
Celebrities inspire a more open debate about periods
Celebrities have also fuelled a more open conversation about the topic. In 2018, Chinese actress and influencer Angelababy spoke about her period to her 85 million social media followers after being criticised for not being soaked in freezing cold water during a TV game variety show.
Furthermore, swimmer Fu Yuanhui also brought the issue to mainstream media. She commented, during a televised interview, that her disappointing performance at the Rio Olympics was due to feeling lethargic from her period. Her comments caused menstruation to become a trending topic on Chinese social media and she was praised for not only breaking the taboo around sports and periods in China but also across the world.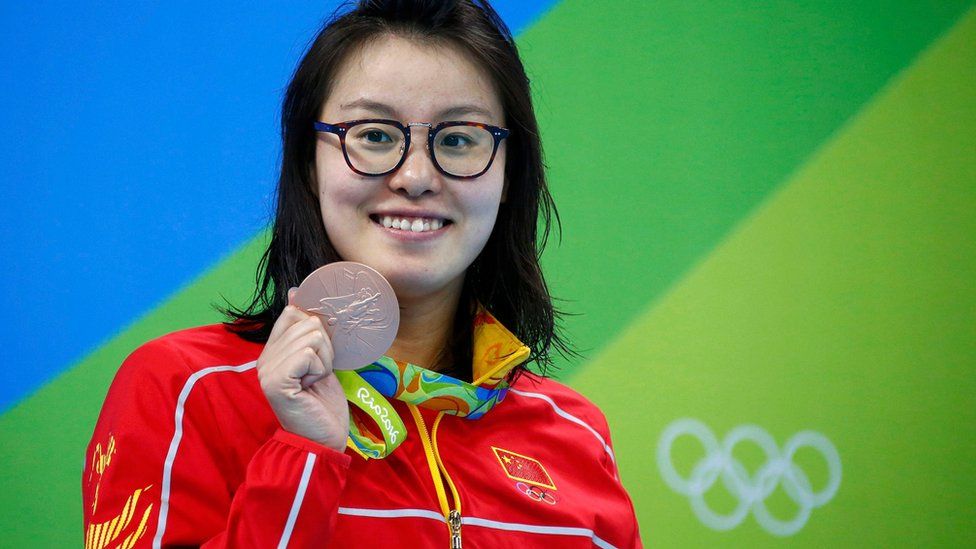 A change in attitudes towards women's health has also been reflected in policy; several provinces in China, including Ningxia and Liaoning, have implemented one to two days paid menstruation leave.
The influence of TCM on attitudes towards menstruation
Traditional Chinese Medicine (TCM) has had a large impact on attitudes towards women's health. Huge importance is placed on the concept of qingre jiedu (清热解毒), which can be translated as 'clearing away heat and toxic materials'.
It is widely believed that consuming cold foods and drinks or certain TCM treatments can contribute to having a 'cold uterus' (gonghan 宫寒) which can cause delayed or abnormal periods and infertility problems. Many women place hot water bottles or heat patches on their lower stomach and take specific TCM treatments to help the temperature balance in the womb and prevent 'cold uterus'.
China's menstrual market is dominated by sanitary towels
When it comes to menstrual products, sanitary towels dominate purchases and reached a market size of 5.47 billion RMB ($845 million) in 2020.
Tampons have not yet been widely accepted by Chinese consumers due to concerns over hygiene and a lack of knowledge about how to use them. In addition, data from Tmall Supermarket showed that tampons were much more expensive than other alternatives, costing 6.19 RMB each, compared to 0.68 RMB per sanitary towel. As a result, research by DT Finance found that tampons made up just 2% of the market in 2020.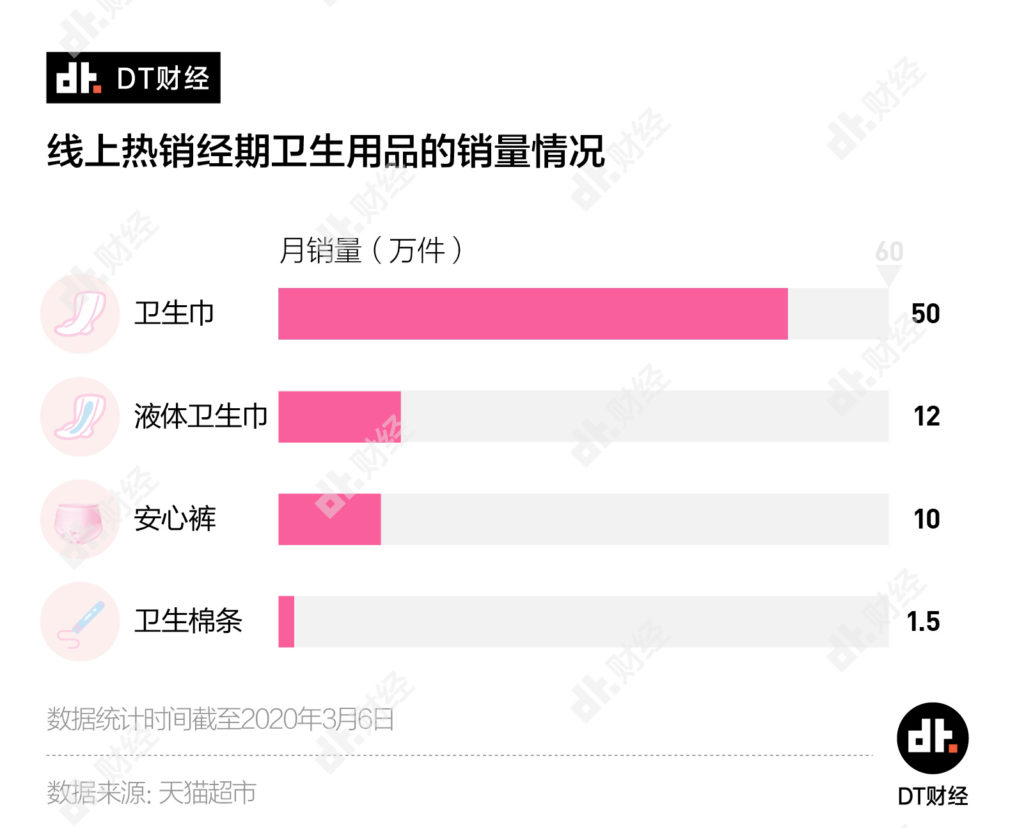 While many international sanitary towel brands have a presence in the Chinese market, period liberation is still a relatively 'untouched' topic and one which hygiene product manufacturer Libresse seized on its latest campaign.
Libresse shines the light on periods with a livestreamed exhibition
Since Libresse entered the Chinese market in 2017, it has been trying to empower women to live the life that they want. The brand wants to break taboos by normalising periods and, by doing so, encouraging women not to hide or avoid talking about them.
The national "stop hiding your period" (月经不隐藏) campaign has been running for three years in China. This year, it focused on encouraging women to prioritise themselves instead of trying to please others and fit in with society's expectations.
Libresse launched a private offline exhibition in April which was shared with the public via a livestream on Taobao. As well as explaining the brand's history and how its products combine comfort and protection for women, the exhibition also featured artwork from Chinese female artists. One artist submitted a self-portrait to signify that women should be comfortable in their own appearance.
The event focussed on giving a voice to the unseen, unspoken truths about vaginas and menstruation. The hashtag "#Stop hiding your period" #月经不隐藏# hit 570 million views on Weibo and gained positive feedback from netizens.
"Brilliant"

"Amazing"

"Looking forward to it"

Comments from netizens on Weibo
Libresse shares 400 stories for Menstrual Hygiene Day
28 May is International Menstrual Hygiene Day, a global awareness event that calls for the end to menstrual shaming and which raises awareness of the importance of good menstrual hygiene. Libresse used the occasion to inform and inspire by asking women to share their period stories. To symbolise the fact that, on average, a woman will have 400 periods in her whole life, the brand launched the hashtag "#400 periods, 400 women" (#400次月经,400个她 ) and shared 400 stories from 400 women, gaining 6 million views.
"During the last few years, I actually felt happy when my period arrived, and I would show my excitement in front of my family. My mum said, "Why are you letting everyone know that you are on your period?! Weird." After a few months, she accepted it. My cousin, who is studying in secondary school, visited us and lived with us for a while. She was surprised that my family has this kind of culture. We talked about how to be more hygienic during your period and how to use tampons together.

A story from @Arbeiterin Wang Qiang
Empowering China's increasingly liberated women
Many women across the world think that talking about their vagina and menstruation openly is embarrassing and so rarely discuss it with others. While the conversation is evolving, it is still considered a taboo topic by many Chinese women, especially when in the presence of men.
Libresse's "stop hiding your period" campaign has built on the more open discussion about periods in the media and online and is aiming to stop periods bringing shame, pressure, and embarrassment to women's daily lives. By sharing experiences of menstruation and encouraging others to do so, the brand has positively contributed to breaking the stigma surrounding periods.
Considering China's vast population of women, the market for menstrual products has huge potential and brands have a unique opportunity to empower and inspire the country's increasingly liberated women.
Agency: Blue Digital
---
Read more: