Key takeaways:
POP MART's Beijing theme park opened to high enthusiasm both online and offline.
However, the launch was also plagued by complaints about price and resale.
How effectively POP MART is leveraging its IPs remains to be seen, as more IP brands enter the theme park market.
---
POP LAND, POP MART's hotly anticipated Beijing theme park, opened its doors to the public on 26th September in time for the National Day holiday between 29th September and 6th October.
POP MART is a toy retailer that specialises in 'blind boxes', which are trading figurines sold in randomised boxes from a set, without showing which model they are. With a giveaway of 100 preview tickets through its announcement livestream on Tmall in late August, POP MART built considerable hype around the park ahead of the launch.
LAND of POP
Situated within Chaoyang Park in Beijing, it is the toymaker's first foray into China's theme park market. The 40,000m2 park is divided into three areas: POP Street, where interactive installations and shopping happen, LABUBU Adventure Forest where THE MONSTERS (a group of characters that LABUBU belongs to) and games live, as well as the centrepiece of the park, MOLLY's Castle, containing several eateries with varying menus.
The opening was met with great enthusiasm, both online and on site. The hashtag #泡泡玛特城市乐园# (#POPLAND) gained 31 million views and 72,000 interactions in total on China's Twitter equivalent Weibo. Offline, not only was the park met with long queues every step of the way on launch day, the limited and exclusive figurines also quickly sold out. The park also enjoyed a long-tail attendance at the end of the National Day holiday. With stamp-collecting, photo spots to tick off, diverse shopping and dining locations, POP LAND remains a popular destination on Xiaohongshu (RED).
Mixed Reactions
However, the popularity did not come without scrutiny. One of the main complaints is the price. With a 150 RMB (20.5 USD) entrance fee, most of the park can be 'ticked off' in under 30 minutes if you are not queueing for attractions or blind boxes. The indoor children's playground and the immersive experience will cost extra. Although whether it is worth the ticket is subjective, many have noted that the main purpose of most (adult) visitors is to nab the exclusive figurines that attracted the long queues.
Which brings us to the next complaint – resale. Before the official opening, those with advance access to the park had already been stocking up on the exclusive blind boxes for resale, sometimes buying the whole set of 10 figurines. POP MART's 2-per-person restriction after official launch further inflates the price for the scalpers, especially for the complete sets. The fleecing online also makes queueing a more frustrating experience for regular fans.
From IPs to …?
Despite early ambitions of Wang Ning, the brand's CEO, of making POP MART 'the closest thing to Disney China has', POP MART avoids comparisons to Disneyland or Universal Studios. POP MART clarifies that the park aims to be a 'brand mecca' similar to Ghibli Museum in Mitaka, Tokyo, to 'deepen and solidify' its IPs while providing experiences to visitors. Along with opening more shops abroad, the theme park is one of the first steps in POP MART's plan to diversify its business by leveraging the popular IPs.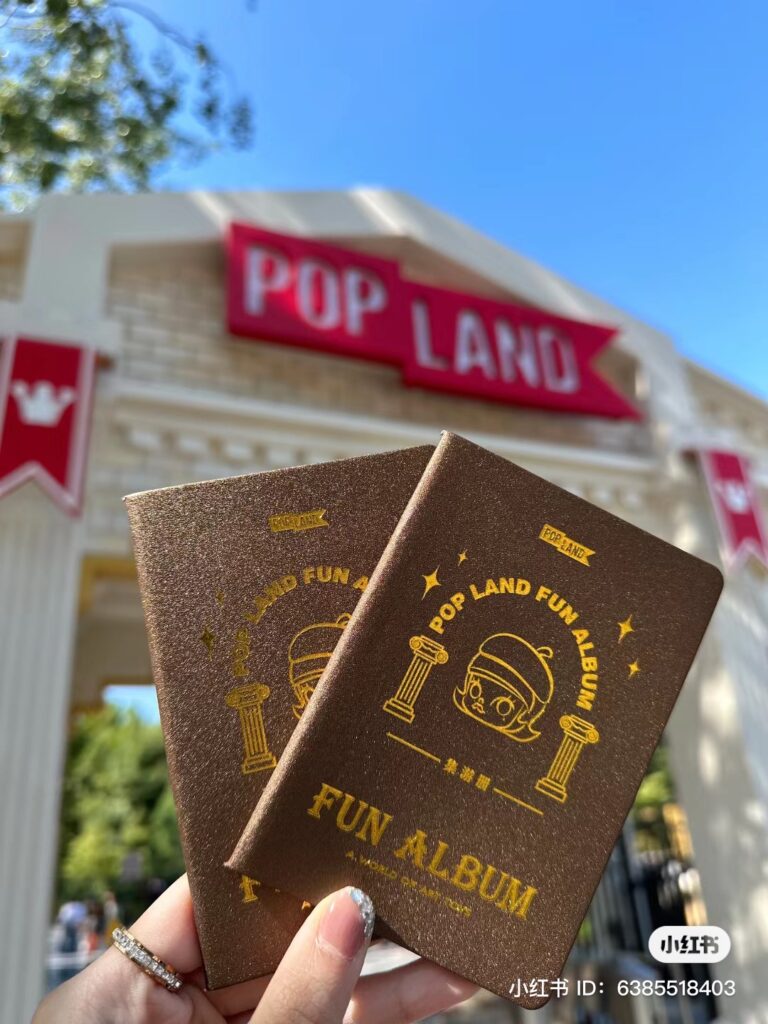 The diversification is out of necessity, as much as ambition. POP MART released its half-yearly report in August. The brand's revenue grew 19.3% from 2022, to 2.8 billion RMB (383 million USD). With a 477 million RMB (65 million USD) H1 net profit, surpassing the whole of 2022, POP MART has recovered quickly after the return of in-person shopping. The Classic IPs MOLLY, SKULLPANDA and DIMOO make up 46% of its turnover. However, with slowing growth of 1.75%, 13.99% and 21.30% from these 'big three' IPs respectively, newer characters have yet to reach the level of popularity to fill the gap.
But there is also concern that POP MART lacks stories for its IPs. Popular theme parks such as Disneyland and Universal Studios all have narratives for their characters. Lin Huanjie of Institute for Theme Park Studies China argues that without adequate content, IPs alone cannot establish an emotional connection with visitors.
Partially addressing this issue, POP MART announced its first ever mobile game Dream Home, featuring classic characters from POP MART's line-up, earlier this year, with a playtest slated for Q4 this year. The game will feature AR functions to bridge the online and offline for the park. The immersive and interactive nature of the game has the potential to fulfill the need for greater storytelling and emotional engagement.
POP MART is not the only IP-centric brand trying to move into the theme park market, as the snack brand Want Want has also announced a plan to build an amusement park in Changsha. A McKinsey report on China's theme park market estimates that the size of the market is set to expand to 90 billion RMB (12 billion USD) in 2025 from 40 billion RMB (5.5 billion USD) in 2019. McKinsey stresses that '[s]trong brands with associated IP are critical to theme park success'. With more IP-based amusement parks joining the fray, China's theme park market looks to become more bullish and competitive.