Key takeaways:
A series of "country fair" documentaries were produced by short video platform Kuaishou in partnership with online travel agency platform JD Travel.
Kuaishou blended popular cultural trends including comedy, fashion, food, and folk arts into this highly localised campaign.
By connecting with folk cultures in different regions of China, Kuaishou is embracing the brand strategy of being "down-to-earth".
---
Some say that the essence of China can be found in "gǎn jí (赶集)" or country fairs. These traditional weekly or monthly street marketplaces in rural areas bring people together to sell local or home-made products – from food to livestock to agricultural tools. But how can these deeply local traditions be integrated into brand marketing?
Kuaishou, a short video platform recently addressed this question. During this year's National Day holiday, in collaboration with JD Travel, Kuaishou released a series of themed documentaries titled "Everything Gathers in Country Fairs" (wàn shì dà jí "万事大集", same pronunciation as "everything will go well" in Chinese), highlighting diverse folk cultures in various Chinese provinces.
The charm of small towns
Set in different small towns across China, Kuaishou captured the unique charisma of diverse regions. From the humour of the North to the vibrancy of the South and from the delicacy of the East to the spiciness of the West, Kuaishou produced four episodes focusing on country fairs in Xi'an, Guizhou, Shenyang and Qingdao, each guided by a local Kuaishou influencer.
Shenyang: Zaohua Fair – An immersive comedic experience
The first episode, featuring the Zaohua Fair in Shenyang, emphasised comedy as a response to the rising trend of humour culture amongst Chinese youth. Filled with laughter, the Zaohua Fair was portrayed as an immersive comedy talk-show experience, where stall owners attracted customers by telling witty jokes.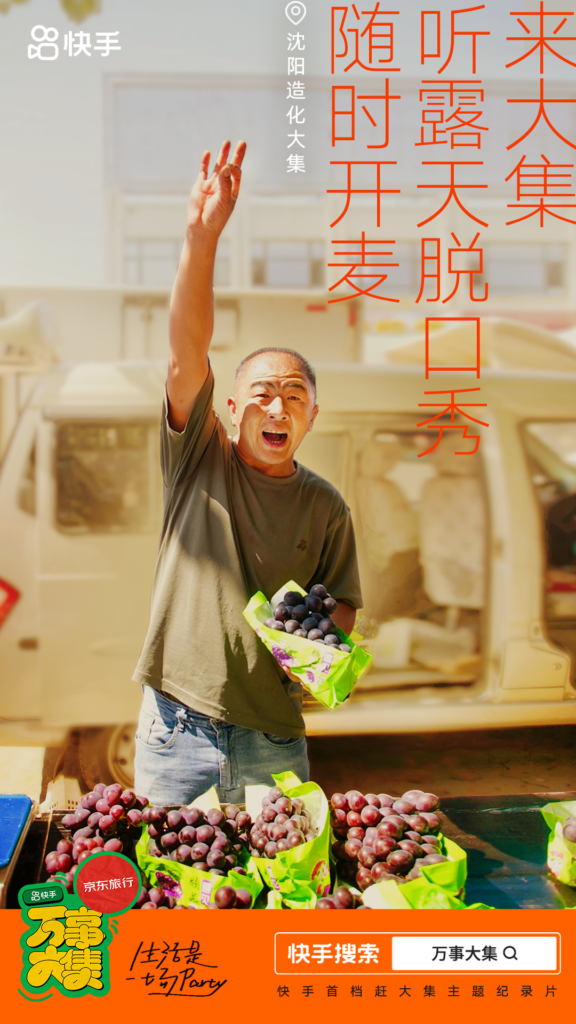 "The main downside of my product," a stall-owner proudly stated in the documentary, "is that it's simply too delicious." Such clever remarks were peppered throughout the episode, making it particularly appealing to young audiences.
Shenyang people, as well as other Northeastern Chinese, are well-known for having humour in their blood – even their accents and dialects contribute to the comedic culture. Moreover, Northeast China is the birthplace of the traditional comedy form known as "Er Ren Zhuan", where two individuals team up as performers, making it an ideal backdrop for this campaign.
It is not surprising that Kuaishou chose comedy and humour as the starting point of this campaign. Over the last few years, comedy standup shows such as "Rock & Roast" have piqued the interest of young people in China. Originating as a form of monologue humour in American bars, in China, standup has been repackaged as a trendy, Western-style variety show.
Kuaishou has broken down the formalities of stand-up comedy with the Zaohua fair, as articulated in their documentary: "Humour can be found everywhere in life; there is no need to go out of your way to seek laughter."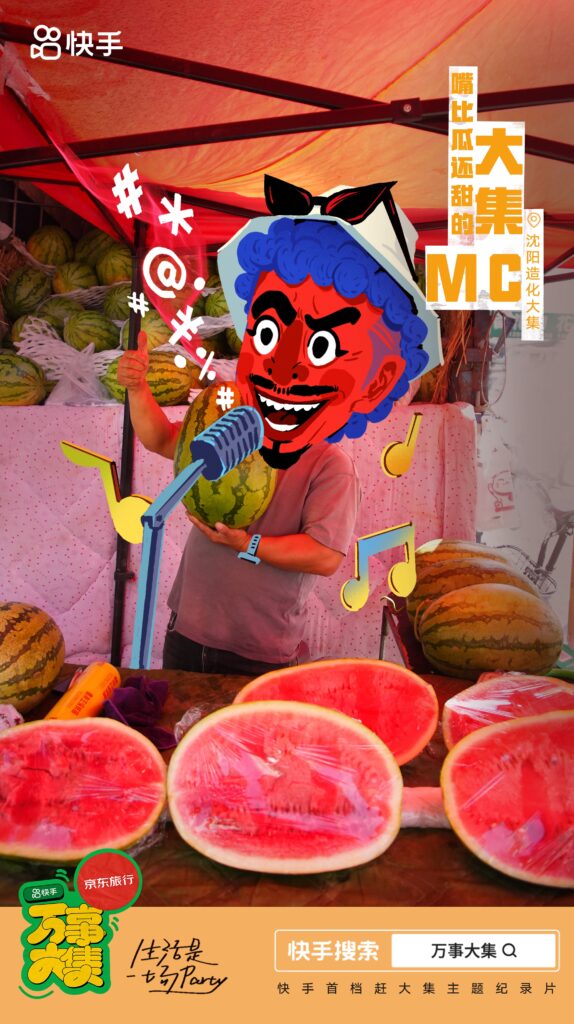 Guizhou: Kaili Fair – A fashion show of Chinese folk arts
In Kaili, Guizhou, the focus shifted to fashion and colours. Closely related with local ethnic minority groups, traditional costumes, and handcrafts took centre stage at the fair.
Kaili is said to be a place where "the God pours dyes up from the sky". With vibrant bamboo baskets, silver headpieces, embroidered costumes, carpets, and dyed fabric featured in this episode, audiences will be mesmerised by the kaleidoscope of saturated hues and ever-changing forms.
Kuaishou has transformed the fair into a lively fashion show, celebrating Kaili as a hub of folk arts and crafts: "They may not understand high-end customisation, but each of them wears exquisitely handcrafted custom Miao embroidery traditional clothing, which is the true luxury of their own culture."
As the growing appreciation for Chinese traditional cultures and folk arts takes hold, Kuaishou is demonstrating its commitment through this campaign. Here, tradition can also be alluring and desire-driven, just as the episode title suggests: With all the colours in Kaili, this is "a country fair infused with dopamine".
Xi'an: Jiaodai Fair – A food lover's paradise
Food is another essential element of a country fair. The final episode showcased Jiaodai, Xi'an, as a haven for carbohydrate enthusiasts in China.
In Kuaishou's campaign, the Jiaodai Fair stands out for its countless choices of local street snacks: Pepper soup with a Chinese doughnut, douhua (a silken tofu pudding), hand-sliced beef, fried spring onion pancakes… The Kuaishou food vlogger "Shi Xi'An Feng Wei" guided audiences through a feast which is unique to Xi'an alone.
Beyond food, Kuaishou highlighted a carefree lifestyle represented by the fair, echoing the local saying, "go to Jiaodai, have half a pound of beef and three ounces of alcohol!" Likewise, this sense of joy underscores what Kuaishou aims for its users to discover on its short video platform.
Down-to-earth branding strategy
Despite their differences, connecting with ordinary people was the overarching theme of this campaign, particularly those often underrepresented, as rural residents and small business owners became the protagonists of these documents. In addition to documentaries, Kuaishou created the hashtag "Everything Gathers in Country Fairs" as an interactive topic within its app, amassing around 1 billion views since 20 September. The term even briefly reached the top spot on Kuaishou's primary list.
Stepping back in time, Kuaishou's journey began as a short video platform brimming with visually striking yet low-quality content. Although it gained popularity in rural areas, Kuaishou faced the stigma of being considered a "vulgar" platform, in particular because it ventured into urban markets.
However, just as a double-edged sword can have both positive and negative outcomes, this profound connection with a vast user base has evolved into Kuaishou's distinctive advantage, setting it apart from other short video platforms.
Kuaishou's country-fair themed campaign has undoubtedly proved it. By spotlighting country fairs, Kuaishou has provided a stage for representing the lifestyles and values of everyday people, strengthening its connection with users. It also serves as an example for other brands seeking to tap into various aspects of ordinary people's daily lives. By exploring diverse, locally-rooted cultural events, brands can promote novel ways to resonate with the Chinese audience, from urban dwellers to those living in the countryside.