How has a Chinese toy brand made designer toys popular and won over adult consumers across the world?
According to global consultancy firm Frost & Sullivan, China's designer toy retail market was estimated to reach 20.7 billion RMB in 2019. This is almost four times its 2015 value of 6.3 billion RMB and shows the growing potential of China's toy market.
Founded in 2010 and opening its first store in Beijing the same year, toy brand POP MART has expanded with over 200 stores and more than 1000 roboshops (toy vending machines) in 22 countries and regions. POP MART is famous for its collectible anime and cartoon figures which are often bought in "blind boxes". It has been a hit among the younger generation, aged 18 to 35, and 75% of its customers are female.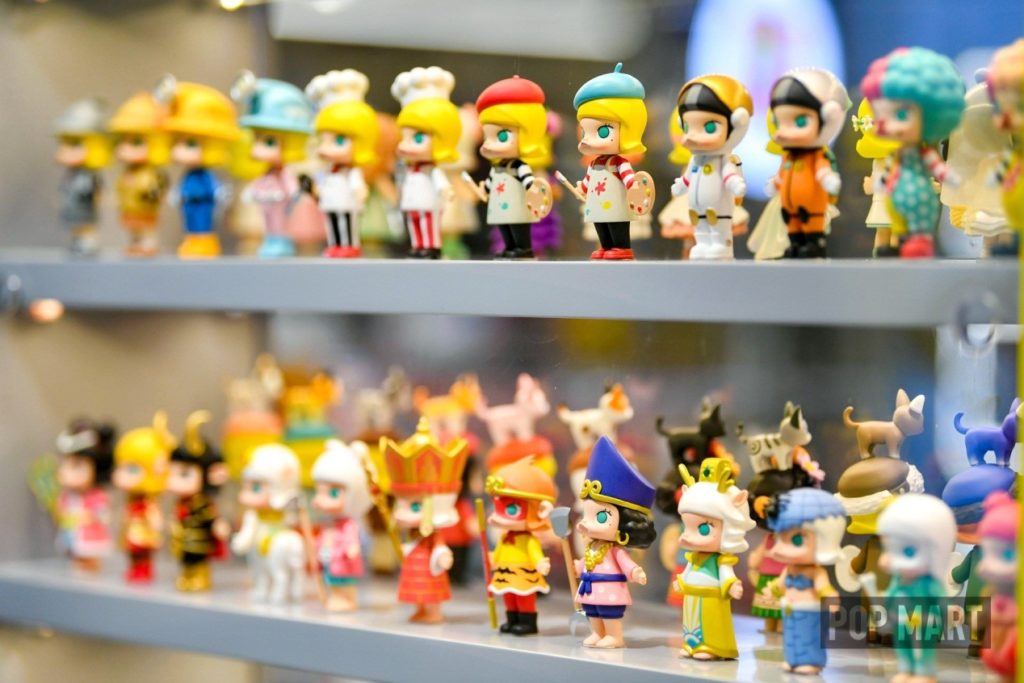 Responding to increasing demand, POP MART held the first large scale exhibition for pop culture toys in China, The Beijing Toy Show, in 2017. A year later, it hosted another exhibition, but, this time, appealing to fans from around Asia. The Shanghai Toy Show was the largest exhibition of pop culture toys ever held in Asia.
As the POP MART name spread so too did its sales. The brand's total sales reached 82.12 million RMB on Tmall during 2019 Singles' Day shopping festival, which represented a 295% year-on-year increase. Earlier this year, it announced that it would file for an IPO on the Hong Kong stock exchange and raised $674 million. Stocks were sold on the higher-end of the range initially announced of HK$31.5 – $38.5, and began trading just last week on December 11. POP MART plans to use the revenue gained from its listing to open more stores in China and internationally.
Indeed, it has already begun expanding its presence overseas: a pop-up store opened in London's Westfield Stratford shopping centre in early December marks the first time that British consumers will be able to directly purchases POP MART's products. The brand has also signed licensing deals with Walt Disney and Universal Studios.
POP MART becomes top designer toy brand in China
POP MART has reinvented the idea that toys are purely for children with their sought after designer products. The brand integrates art, design, fashion, modern sculpture and painting to form figures with a unique design which have become hugely popular among Chinese consumers. In a sense, the toys are a work of art with the model's design and creative process being a crucial part of their production.
To attract talented Chinese designers, POP MART worked with China's Central Academy of Fine Arts to offer seminars about designer toys and encouraged famous artists to share their experience of the industry with up-and-coming designers.
POP MART has five main designer toy series: Molly, The Monsters, Pucky, Dimoo and SATYR RORY. The most popular being the Molly figurine which was designed by Kenny Wong, a top illustrator from Hong Kong. Each of the models has a story behind it: Wong created the toy based on a girl he met when he was young who left a lasting impression on him due to her bright green eyes, pout and identifiable appearance. To begin with, POP MART just focussed on original models produced by designers, but its range has expanded to include figures based on film characters and cartoons to appeal to a wider audience.
POP MART closely follows the latest trends and they provide the creative inspiration for the brand's new products. After the cartoon film Ne Zha broke all box office records, the brand launched a series based on Ne Zha 哪吒 (a teenage deity in Chinese folk religion), helping them to appeal to more young consumers. POP MART also launches themed toys for special occasions and festivals, such as Christmas, Chinese New Year and its recent "Double 11 Heart Selection Gift Pack" for Singles' Day.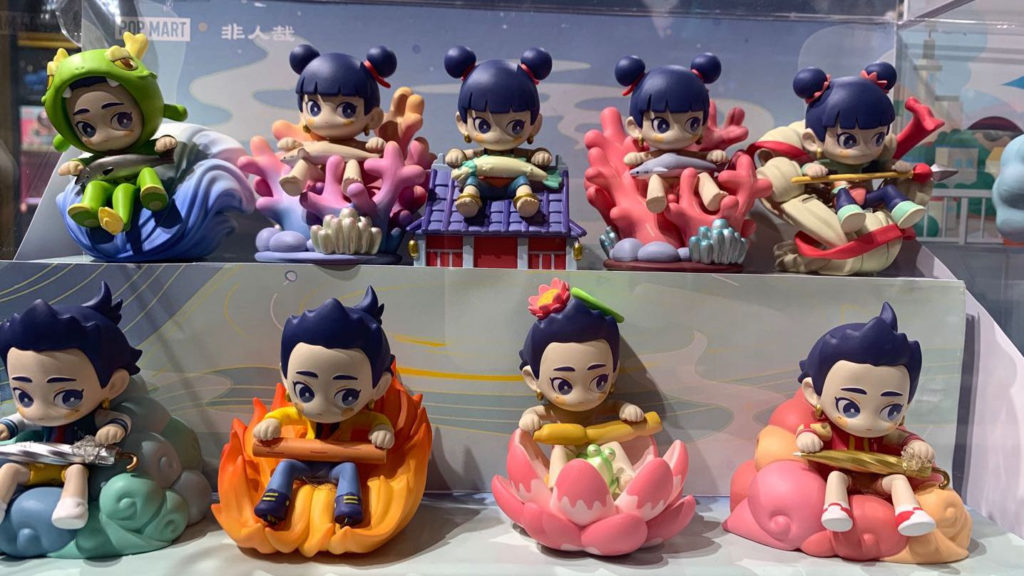 Appealing to young consumers' obsession with "cute" items has helped drive the brand's success, and, as a result, POP MART has become the most famous toy brand in China. Its main competitor, tokidoki, has earned the title of the second most popular blind box in China. However, the Japanese-inspired lifestyle brand, which also sells small cartoon characters, entered the Chinese market six years later than POP MART. Consequently, it has not established the same following as POP MART and has just 135,000 followers on its Tmall store.
POP MART's blind boxes a hit with Chinese consumers
POP MART has become especially renowned for its blind boxes which offer a variety of unknown toys and models inside. Blind boxes have taken off with Chinese consumers, especially post 90s and 00s. Their low price has made them a popular entertainment option: each blind box is 59 RMB (approximately £7) which encourages consumers to purchase several and collect a range of toys. Blind boxes have become an extremely popular purchase, not just in the case of POP MART. Brands, such as Karl Lagerfeld x Tsingtao Beer, the Forbidden City and McDonald's have also released mystery gift boxes in China.
Consumers enjoy the feeling of opening a "surprise" and finding out what the mystery item is inside. The chance of getting a limited edition product or one-of-a-kind model adds to consumers' sense of satisfaction, a behaviour which is known as delayed gratification in psychology. POP MART's most dedicated fans spend a large amount of money on blind boxes in order to collect a range of models and in the hope of getting an exclusive limited-edition toy.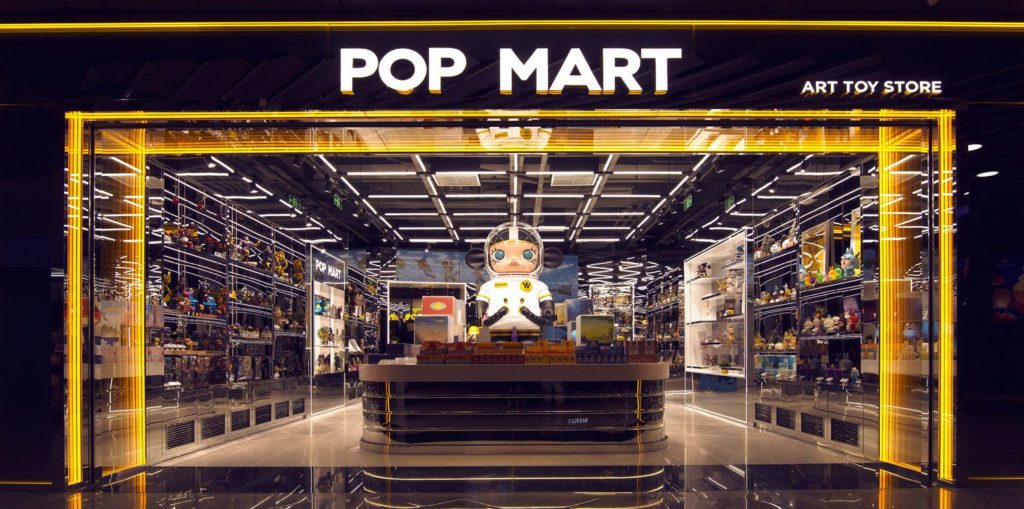 POP MART's Tmall store, which has 3.4 million followers, offers a unique service where you can open your blind box online. This allows impatient consumers to unveil the toy without waiting for their delivery to arrive and has helped drive online sales. At the time of writing, 18,000 of POP MART's most popular blind boxes had been sold on Tmall.
POP MART's mystery marketing drives popularity
POP MART's designer figures have reinvented the idea of toys in China – they have shown that toys can be creative and a popular entertainment option for adults. The brand uses psychological insights to attract consumers by appealing to consumers' sense of delayed gratification. POP MART's focus on creativity and the latest trends has meant that it has become an extremely popular domestic brand with young Chinese and is expanding its popularity internationally.
---
Check out more of our recent case studies: