Key takeaways:
Kuaishou is the first short video platform globally to become an official broadcaster of the Olympics, amassing 154.48 billion views of its Winter Olympics video content.
Broadcasting rights are integral for Kuaishou to fully leverage the sporting events.
The platform also scores big by engaging lesser-known athletes in its live streaming sessions.
---
While the curtains may have closed on the Beijing Winter Olympics, live streams hosted by athletes who just landed on Kuaishou during the winter sports event are still ongoing, and therefore, continue drawing in follows. In the two years since it first set foot at a sports event in 2020, Kuaishou, the Chinese short-video platform has already seen the fruits of its labour with sports collaborations, and has been cashing in more to further the synergy between sports events and short videos.
Broadcasting rights are the key to success for short video platforms at sports events
With spectators barred from watching on-site for both the postponed Tokyo 2020 Olympics and the Beijing Winter Olympics due to the pandemic, a digital battle ensued as the sports events kickstarted.
Video-sharing platforms were in a race to keep the general public updated and entertained throughout the Games with broadcasting rights for these events at the core of the race. In May 2021, Kuaishou decisively secured short-form rights (including secondary creation) to both the Tokyo Olympics and the 2022 Beijing Winter Olympics from state broadcaster CCTV, making it the first short video and live streaming platform globally to become an official broadcaster of the Olympics. 
"Broadcasting right is the backbone for short video platforms who want to leverage sports events," Zhu Yi, managing director of the sports unit at Kuaishou, "content including news updates on the competition, information about athletes as well as corresponding user-generated content are flesh that enriches the ecosystem…The missing of copyright cannot be compensated by self-produced content based off life stories of athletes," Zhu added.
A space for user generated content to grow
The deal has allowed Kuaishou to realise China's goal of "engaging 300 million people in ice and snow sports" in the digital space. In fact, the outcome goes far beyond that. The platform had reported an accumulated 154.48 billion views of its Winter Olympics video content by the end of the Games. Among them, on-demand content of competitions had hit a total of 7.94 billion plays over the sports season.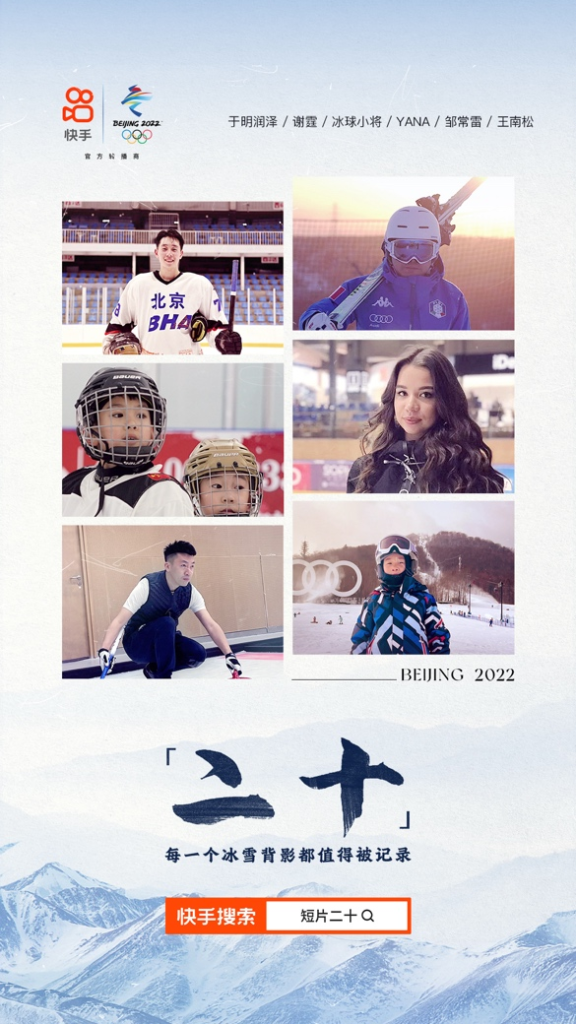 Thanks to access to the original footage, Kuaishou had also brought a series of self-produced programmes including mini-documentary series Twenty, talk show Winter Sports Heroes, and reality show Winter Sports Faced Up, which generated more than 4.2 billion views.
In addition, the campaign known as "the nation cheers for the Winter Olympics" where users are encouraged to post videos that are related to the sports event has produced a total view of 70.8 billion. With such levels of participation, Kuaishou has truly brought the international event to its users' doorstep and ultimately pulls up the growth for the platform.
"We are making the concept of Winter Olympics Plus…copyright is a lever that we can use to prompt recreation among ordinary users, and therefore, add more value to the platform's overall content."

Zhu Yi, managing director of the sports unit at Kuaishou
A stage to celebrate being ordinary
By doing so, it also strengthens the platform's bond with existing users. This is when athletes come in and play a key part in enhancing Kuaishou's Lao Tie (or 'buddy' in English) ecosystem. To align with the close ambiance, Kuaishou has its own philosophy when it comes to engaging with athletes.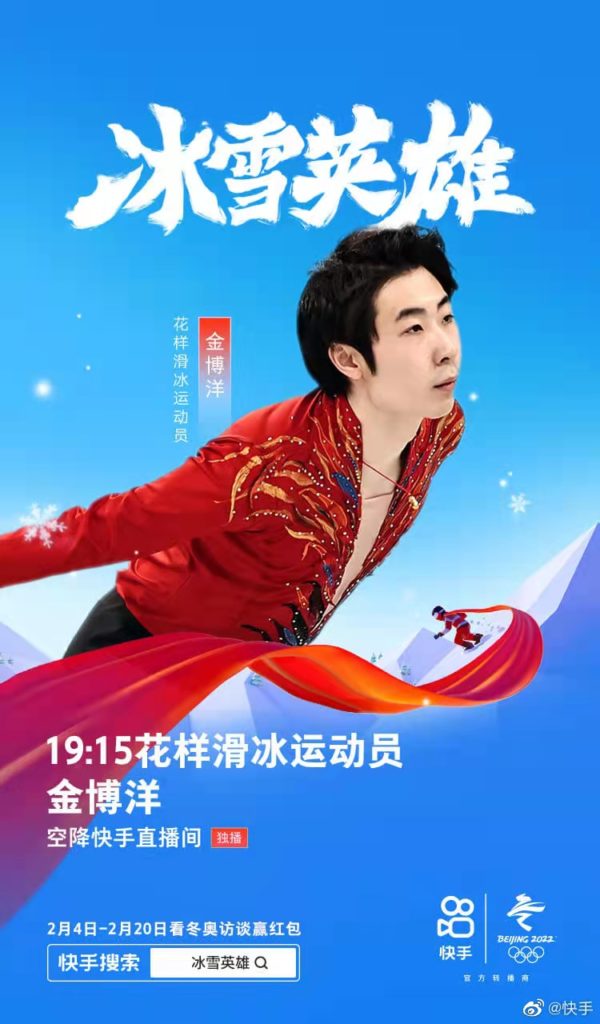 Unlike other social media channels that have been craving talents such as gold medallists, Eileen Gu and Su Yiming, Kuaishou appears to have distributed its resources more evenly to athletes across different levels and invited lesser-known athletes to its live streaming events too. Here they could show their real personalities and communicate with an audience like close friends or even families as Kuaishou has been encouraging its users to do.
This down-to-earth environment has allowed the platform to be more diverse and inclusive. While the lived experience including struggles and failures of these lesser-known heroes have resonated with many of Kuaishou's users who are more likely to be ordinary people living in lower-tier cities, and who believe a life successful like Eileen Gu's or Su Yiming's is a faraway dream.
Kuaishou has once again unlocked the potential of sports events driving growth for short video consumption. With the strategy helping the platform gain further traction in the digital space, just one day after the conclusion of the Beijing Winter Olympics, Kuaishou is already geared up for the next sports season, nabbing live streaming and secondary recreation of short videos rights of the upcoming UEFA Champions League.
"Sports collaboration is a marathon," said Zhu, "to keep users on the platform, it can't rely on a one-off success from one Game, rather it's a long-term project."