With the opening ceremony on 4 February firing the first shot of the Beijing Winter Olympics, where athletes are competing to make the podium, a digital fight is heating up between China's Internet giants who seek to leverage this hit international sports event.
To pull off the ambition, social media platforms, once again have brought this event to the forefront. Whilst traditionally available on TV, this event has moved to the vertical screen following the success of the new feature during the Spring Festival Gala. With the efforts that have been put into social media being more diverse and multi-layered, to draw in China's more than 800 million Internet users, who prefer to watch such events through mobile devices.
Major social media platforms, such as Weibo (China's biggest microblogging website), Douyin (China's Tik Tok), and Xiaohongshu (China's biggest lifestyle-sharing platform), have launched a page dedicated to the hashtag of the Beijing Winter Olympics.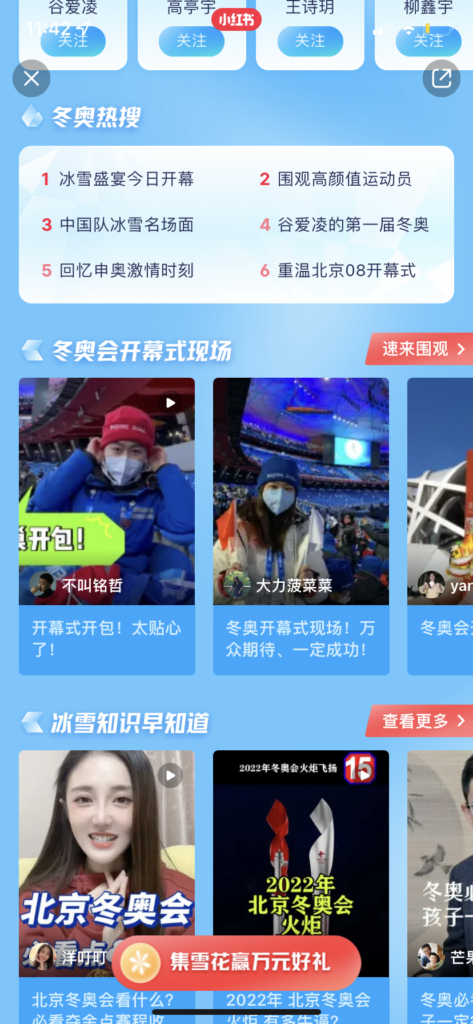 They have also featured a medal tally and a popular athletes list displayed at the top, pushing the event into typical trend styles. The page is also enriched with content such as hot searches relative to the event and a section for breaking news. Such layout, with a range of features, allows easy navigation and provides the audience the latest updates with biteable information, catering to the fast consumption of news online.
Moreover, to set themselves apart from rivals, all platforms have also injected a twist of their own platforms' characteristics. For example, along with its normal text and image-based news feeds, Weibo also enables Lianmai (a format of co-hosting in a live broadcast on the platform), allowing media accounts and social media influencers to collaborate with athletes for a live show. Furthermore, the platform "lures" participation in live discussions of the events with digital red packets up to 888 RMB ($139.6) per head, adding financial incentives to further draw in the consumer base.
On the other hand, Xiaohongshu has created an Olympic ambiance for its lifestyle community, with content such as family winter outdoor activities and tutorials on how to do the same style makeup as that of Gu Ailing, a Chinese American freestyle skier. Gu turned into an emerging superstar in China after she converted her American nationality to Chinese so that she can compete at the Winter Olympics on behalf of China.
On top of that, the platform even creates a section where users can make cartoon portraits of those athletes and a section displays athletes' individual profiles. A similar practice has also been introduced on Douyin, where Chinese athletes and former medallists are also invited for live talks, sharing their career experiences.
By doing so, these platforms have brought those athletes closer to ordinary people, therefore, encouraging more participation while also making the sports event participable for their users, and ultimately benefiting the growth of those platforms themselves. Being able to utilise such major events, and one China as a nation has a lot of pride in, is a key scenario which social media companies need to take advantage of in thoughtful ways. Such ability to penetrate these events naturally leads to an increase of capabilities but more importantly user base.
Read more:
Join our newsletter