Founded in 2015 by Shanghai Shizhuang Information Technology, Dewu 得物 is a popular e-commerce platform that established its name as a resale shopping community. It is home to a diverse range of categories with shoes, clothing, watches, accessories, games, home appliances, beauty product and cars all being for sale on the platform.
However, fashion is at the core of the platform, of which limited-edition sneakers are particularly popular. Dewu's young audience – 75% of the platform's consumers are born after 1990 – view it as a trustworthy platform that is trying to tackles China's vast market of counterfeit goods.
Dewu tackles mistrust in fakes
China's 'fake economy' has caused huge mistrust among consumers. The multitude of fake items, especially luxury goods, has resulted in many customers conducting considerable research to find genuine products and only using 'trusted' platforms. Due to Chinese consumers paying increased attention to the authenticity of goods, there has been a crackdown on fake goods by some platforms in recent years. LVMH, Prada and Richemont have recently announced that they will cooperate to build a blockchain that will verify the authenticity of luxury items, in order to target the 'fake economy' in China.
However, Dewu's dedication to stopping counterfeit goods has been longstanding. It has differentiated itself from other e-commerce platforms by offering an "authenticity check" which allows consumers to "identify first, ship later". This service helps Dewu stands out from online shops on Tmall, JD.com and others, especially when it comes to luxury products from Western brands.
Yet, its "authenticity check" is not without criticism. As of June 2020, the complaint resolution platform Black Cat had received 33,072 negative comments about the Dewu App. Many of these criticised the platform of poor product quality, unreliable identification services, and fake goods. However, Dewu has admitted that it will not catch every fake and the platform promises to reimburse ten times higher than the original price if a consumer receives a pair of fake shoes.
Regardless of the fact that fakes still manage to slip through Dewu's net, the platform is still a well-liked choice among brands and is only becoming more so.
An increasingly popular choice for product launches
Dewu launched almost 10,000 products from 400 brands, of which 100 items were exclusively debuting on the platform worldwide in June 2020.
Many well-known brands choose Dewu as their preferred platform to launch new products, including the likes of New Balance, Casio, Champion, Huawei, DJI, Dyson and Beats. Just last month, the Italian football club Juventus FC became the first European football club to launch on the platform in order to sell merchandise and sportswear to a Chinese audience.
Several Chinese celebrities, such as William Chan, Zhang Yixing, Xue Zhiqian and Li Chen, have also cooperated with Dewu. When William Chan brought his fashion brand CANOTWAIT_ onto Dewu in April 2020 to debut new products globally, the items sold out within three hours. Even more impressive was Hua Chenyu's fashion brand BORN TO LOVE, which saw products sell out within one second of launching in September 2020.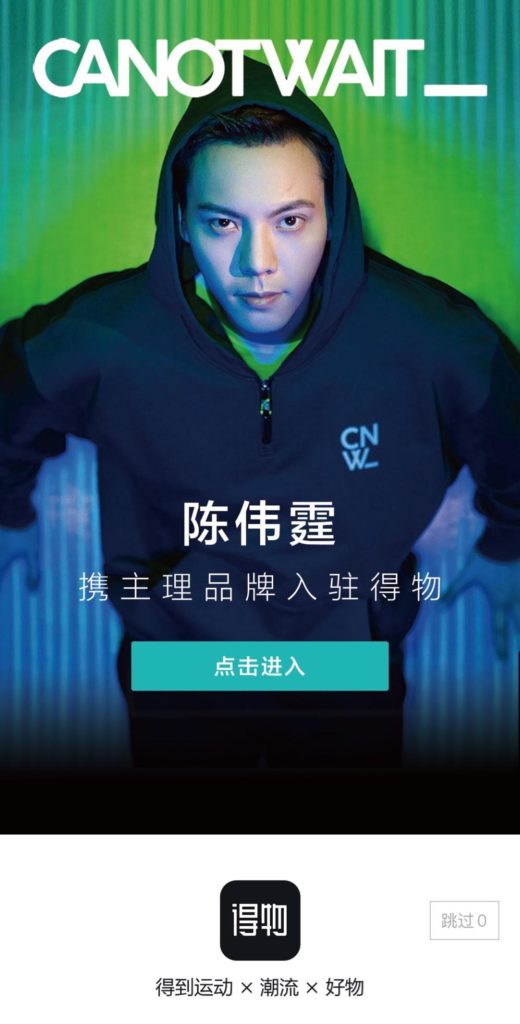 The platform is a popular sales spot for limited-edition co-branded items and, in 2020, among those to be exclusively launched on Dewu were:
Louis Vuitton and Nigo's co-branded clothing line
Hermès holiday series zip cardigan
Dior and Air Jordan 1 co-branded sneakers
Fendi's limited-edition items for Qixi
Nike SB Dunk ice cream sneakers
Lego x Lamborghini co-branded toys
However, despite its popularity among international brands, Dewu has increasingly been catering to local brands as a response to consumers' demands.
Dewu responds to consumer demand for domestic brands
In recent years, China has witnessed a surge in young consumers' interest in domestic brands that combine traditional Chinese culture with modern style, which is a trend known as guochao. Dewu has reacted to the guochao wave by putting domestic brands at the forefront.
Dewu has been quick to respond to the Xinjiang cotton uproar which saw many international brands fall out of favour with Chinese consumers. In its 'latest shoes' section, the platform has replaced Nike, Puma and other Western brands with homegrown companies which have pledged their support for Xinjiang cotton, like Li-Ning and Anta.
Dewu digs out a unique spot in the growing e-commerce market
Focusing on streetwear and offering an authenticity check, Dewu stands out from other e-commerce sites. Appealing to the guochao trend has helped the platform become one of the main online communities for young Chinese consumers. Thus, making it a perfect platform for brands to reassure consumers they are getting the 'real deal' and connect with China's Gen-Z and millennials.
---
Read more: