According to McKinsey, Chinese consumers bought 33% of the world's luxury products prior to COVID-19. Yet, only a quarter of Chinese consumers bought luxury products domestically, the rest made purchases overseas.
Due to restrictions on global travel, however, Chinese consumers have been forced to change their habits. Indeed, this is the perfect opportunity for luxury brands to enter, or expand their presence in, the Chinese market.
Louis Vuitton has showed how to harness the situation presented by COVID-19 to develop their relationship with Chinese consumers.
Louis Vuitton launches its first menswear show outside Paris
Louis Vuitton's menswear show in Shanghai launched online and offline on August 6 and was the brand's first menswear fashion show outside of Paris.
But this was a fashion show with a difference…
Nobody from Louis Vuitton's Paris headquarters travelled to China, even the creative director stayed at home in America. Only the clothes crossed continents.
The livestream of the fashion show took place on several platforms, including Weibo and Douyin, and gained over 100 million views.
So how did Louis Vuitton make its menswear show so successful in China?
Unique travelling fashion concept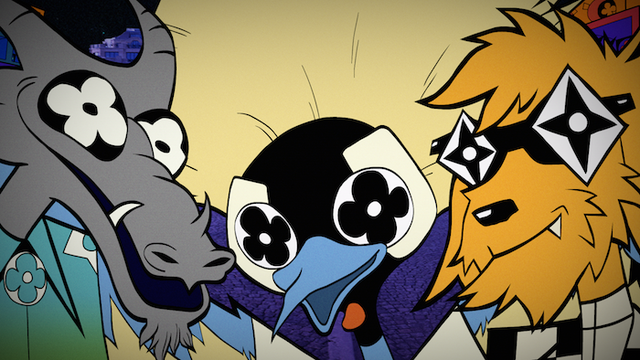 Restrictions on international travel have presented a challenge for luxury brands hosting a fashion show. With celebrities, buyers, influencers and fashion designers unable to attend a live show, the traditional physical format was unattainable.
However, Louis Vuitton didn't let that stop them and launched an offline show in China where the artistic director, Virgil Abloh, shipped clothes directly to consumers.
The new menswear collection featured a group of original design cartoon characters called "Zoooom with Friends". They were shown boarding a vehicle filled with Louis Vuitton cargo containers.
However, China is not the only stop on their journey… after Shanghai, the cargo will reach Tokyo on September 2. The travelling fashion show concept is called "Message in a Bottle" and will last until the end of the year.
Over a month promoting on social media channels
Before the show, Louis Vuitton spent over a month promoting the event on various Chinese social media sites, including Weibo, Xiaohongshu, Douyin, WeChat and its own e-commerce platform.
Without even posting on their newly-opened Douyin account for the show, the livestream hit 87.5 million views and the brand ranked as top luxury brand on the platform.
On the day of the show, Louis Vuitton did several real-time livestreams on social media which, collectively, amassed over 100 million views.
Weibo – 69 million views
Douyin – 19 million views
Tencent – 8 million views
WeChat Mini program – 26k views
After the show, the brand also released several videos in collaboration with celebrities to review the show and the new products on Weibo.
Working with local celebrities to increase brand awareness
One of the most effective and simple ways for luxury brands to localise their products in China is to work with Chinese celebrities. The brand worked with high-profile celebrities with over 100 million followers, including Kris Wu, Ouyang Nana, Liu Haoran and Dili Reba.
Louis Vuitton posted pictures and videos of every single celebrity they worked with which brought huge engagement and traffic to the brand's social media sites.
Louis Vuitton uses post-COVID situation to win over Chinese audience
Louis Vuitton's menswear show demonstrated how a luxury brand can successfully engage and interact with Chinese consumers in the post-pandemic era.
Now is the perfect time for international luxury brands to focus on the Chinese market, but they need to understand how to utilise the current opportunities to attract Chinese consumers. Teaming up with high-quality content co-creators and creative agencies, as Louis Vuitton did, can help brands achieve this and produce content tailored to the Chinese audience.
Brand: Louis Vuitton
Agency: GQ China
How can luxury brands enter China post-COVID? Register for our event on September 2.