Qingming Festival, also known as Tomb-Sweeping Festival, Ancestor's Day or Spring Outing Festival, is a Chinese festival to pay respect to ancestors. Along with Spring Festival (Chinese New Year), Dragon Boat Festival, and Mid-Autumn Festival, it is one of four traditional Chinese festivals dating back to ancient times.
Qingming traditions…
Its timing depends on the lunar calendar but it usually falls on April 4, 5 or 6. On this day, Chinese families usually visit the graves of their ancestors to offer sacrifices of joss paper (paper money), incense, baijiu and other gifts. Another important ritual is cleaning, and removing weeds from, the tombs of their elders, and sticking willow branches on them. Aside from paying respect to ancestors, many people use the three-day holiday to travel, hence why Qingming has also adopted the name Spring Outing Festival.
… during COVID-19
Paying reverence to past generations was not hindered by last year's COVID-19 outbreak, which restricted peoples' ability to travel. Along with many other sectors, China's afterlife industry adapted to the country's rapid digitalisation. In 2020, many chose to take part in online tomb-sweeping activities. Offerings and tomb-cleaning services could be ordered online with graveyard staff cleaning tombs during the festival.
It might seem like an odd festival for brands to commemorate but a number have effectively appealed to Qingming traditions and customs and have resonated with Chinese consumers. We have picked out several Qingming campaigns that struck a chord in 2020 during a difficult period for many in China.
Floating willow branches
During Qingming Festival, people plant willow branches in front of their door and wear short snippets as a broach to ward off wandering evil spirits. Willows also represent the emergence of spring as it is the time in which they bloom. Both Pepsi and baijiu brand Wuliangye integrated hanging willow branches into their Qingming campaigns. The latter included a poem that highlighted the arrival of spring and set out the perfect scene for drinking baijiu.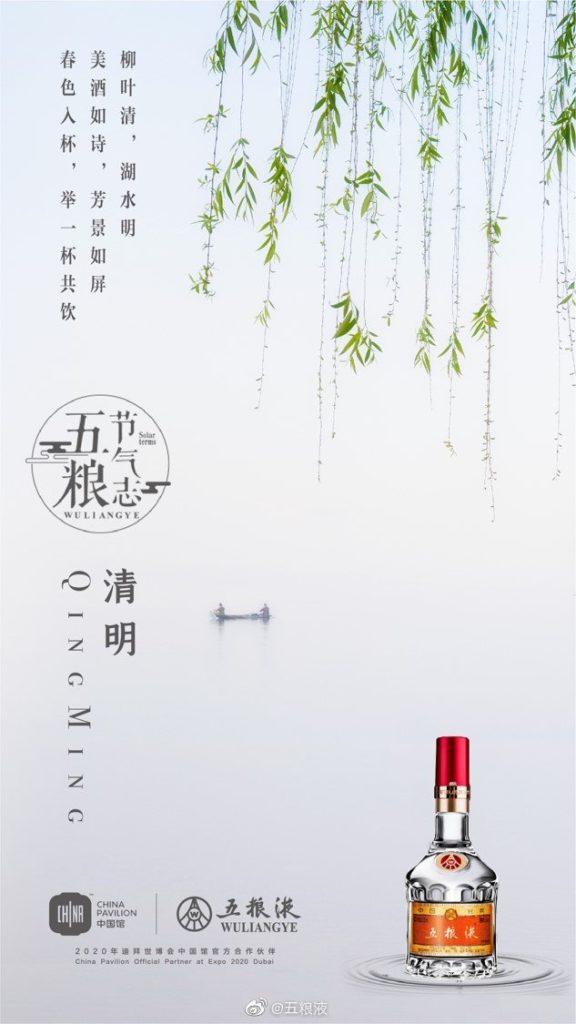 Flying swallow-shaped kites
Flying kites during Qingming is a tradition that dates back to ancient times. Kites were used to send greetings to ancestors as people thought that the gates of hell and heaven would open during the festival. Nowadays, people cut the kite's string instead of reeling it back as they believe that kites in the sky can remove misfortune, bring good luck and eliminate ill-health.
Soft drink brand Jiaduobao and food producer Baijia Chenji featured swallow-shaped kites in their campaigns as the swallow has become a symbol of Qingming due to its inclusion in a famous ancient poem. Baijia Chenji shared the hope that consumers could satisfy their stomach's cravings at home with local delicacies supplied by the brand, despite not being able to travel during Qingming.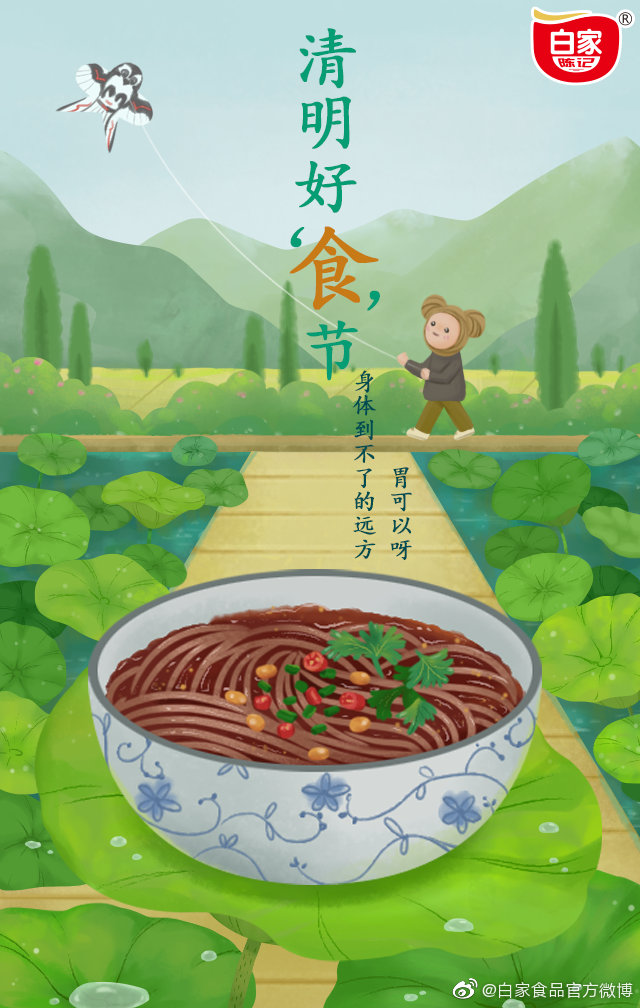 Eating festive delicacies
Qingtuan (青团), sweet green rice balls, are traditionally eaten during Qingming Festival. They are made of a mixture of glutinous rice flour and wormwood juice and are stuffed with sticky rice and sweetened bean paste. Jinrongyu displayed a floating bamboo steamer filled with qingtuan, while the e-commerce platform JD showed a family preparing and enjoying the sweet festive snack.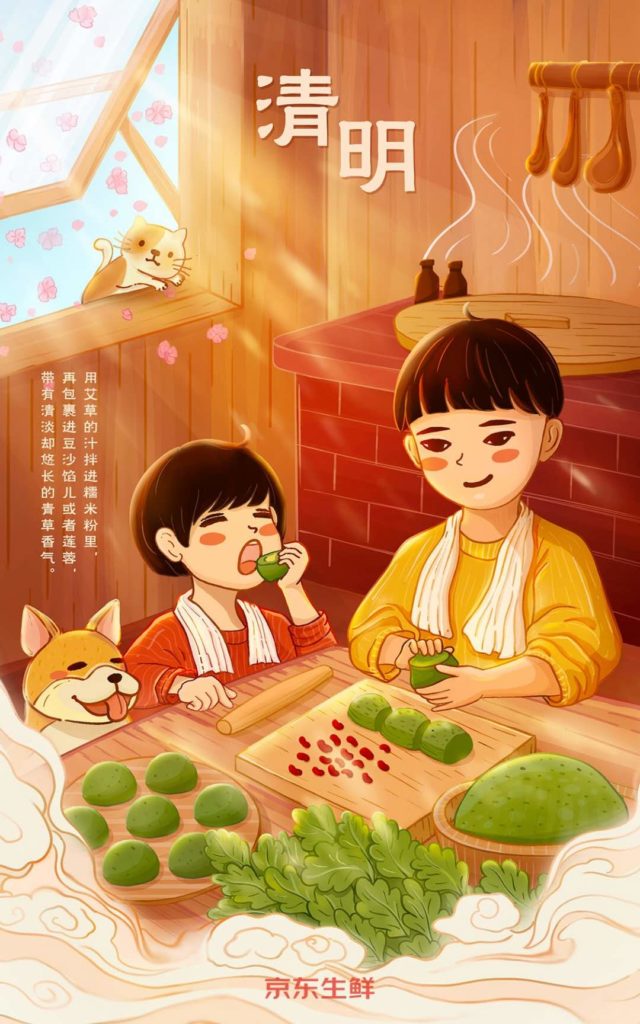 Travelling to enjoy Spring
Qingming festival falls in April when the weather is warming up and it coincides with the blooming of cherry blossoms. Thus, the three-day holiday provides the perfect opportunity to visit scenic areas and enjoy nature, spend time with friends and family, and travel. The surge in travel has resulted in it being known as Spring Outing Festival or taqing 踏青, which quite literally means 'use your feet to experience Spring'. Travelling during the festival is seeing a surge in popularity this year as China's domestic tourism industry recovers. According to online travel agent Qunar, flight bookings for the Qingming holiday increased by 25% on March 28 compared to the day before.
Phone manufacturer Motorola and home appliance brand AUX embraced nature and the outdoors in their Qingming campaigns.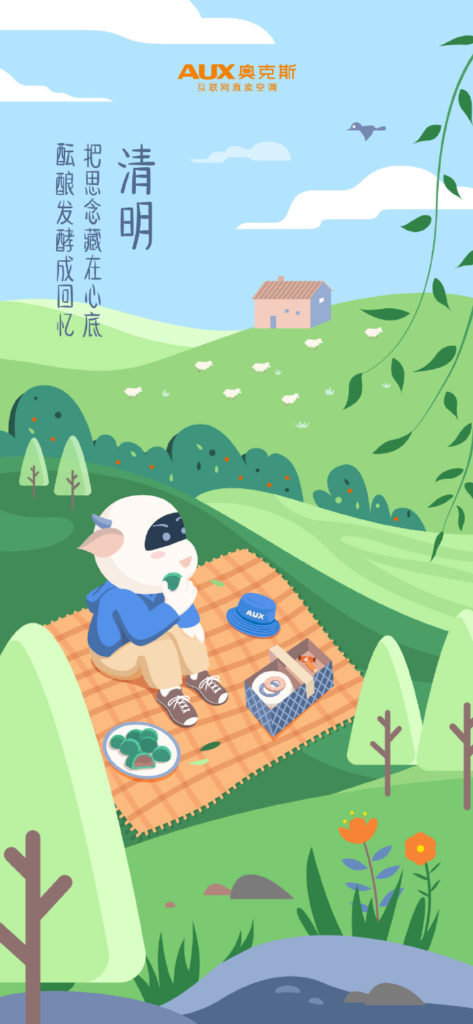 Mourning for the victims of COVID-19
In 2020, Qingming Festival was different from previous years because of the losses suffered due to COVID-19 in the several months prior. A day of national mourning was held on Qingming to commemorate and pay respects to those who died from the virus. National flags were flown at half-mast across China, and the country observed a three-minute silence.
Many brands used this opportunity to mourn the lives lost in the fight against COVID-19 and highlight their empathy for the losses that their customers had faced. Siki and dairy producer Bright Dairy expressed their sympathies with dark, solemn images. Bright Diary showed the shadows of key workers with the message: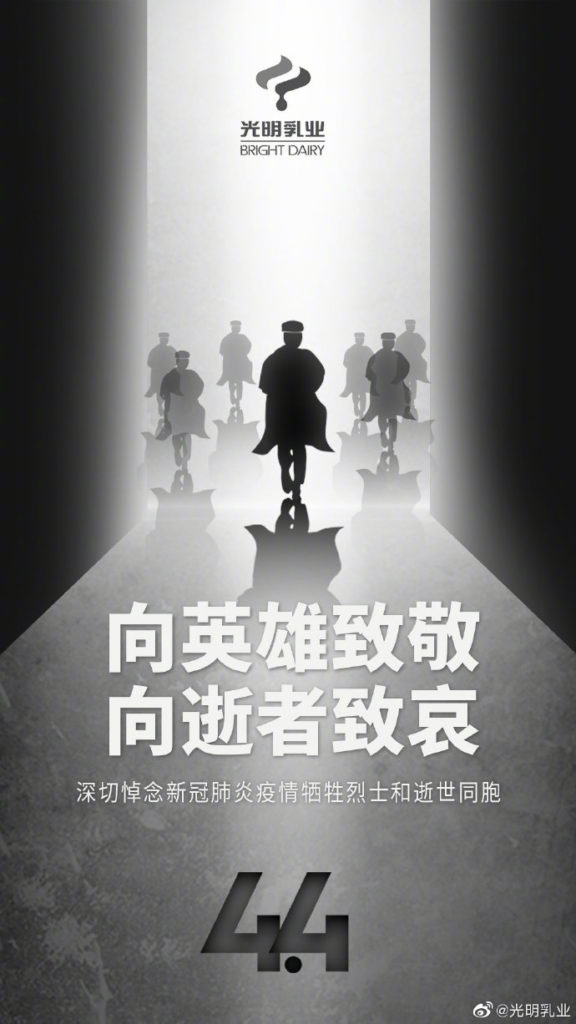 Celebrating Qingming with reflection and hope
In the midst of a challenging period for many Chinese people, a number of brands chose to celebrate Qingming Festival to engage with consumers. While some chose to highlight the emergence of spring and joyful moments of the festival, others reflected on the losses and solemn moments which had engulfed the nation at the beginning of 2020.
Yet, the key to all of the above posters is an in-depth understanding of the traditions and ancient roots at the heart of Qingming and the unique circumstances of last year's festival.
Want to know what kind of campaigns brands will launch for this year's Qingming Festival? Keep your eyes on Dao Insights for updates next week!
---
Read more: