This article is part of our weekly series shining the light on an influential Chinese brand.
Alibaba's 'new retail' supermarket offers a digital experience
Hema Fresh 盒马鲜生, or Freshippo, was founded by Alibaba Group in 2016 as part of the tech giant's 'New Retail' strategy to integrate online, offline and logistics within just one supply chain. The supermarket chain has combined grocery shopping with a digital experience which includes:
Scanning QR codes on items to access more detailed product information
Automated checkouts
Direct mobile payment through Alipay
Customers who live within 3km of a Hema store can receive free home delivery in 30 minutes
Being part of the Alibaba brand, as well as their convenient digitally integrated experience, has earned them a large following. They have also become known for the quality of their fresh food, which is highlighted in their name, '鲜生' means fresh and raw.
As a result, Hema has grown to have over 214 stores as of June 2020. This figure will expand rapidly over the coming years with Alibaba planning to have opened 2000 Hema stores by 2022 and cover 200 Chinese cities by 2030.
As Hema's stores multiply across the country, it is seeking new ways to develop brand awareness and appeal to more consumers. One way to do this is to launch co-branded products which will be noticed online. While a German sports brand and a Chinese supermarket might seem like an odd combination, often the most outlandish collaborations attract the most attention in China.
Hema X Puma's space-themed hotpot service
In November 2020, Puma and Hema worked together to launch their 'high energy planet' campaign (高能星球). Puma designed a limited-edition bag for Hema's hotpot takeaway service. Yet, although the items were marketed as a warm jacket to transport hotpot during the winter, the bags were, in fact, only carrying hotpot ingredients rather than the warm meal itself. The unique hotpot bags, which could be ordered by searching 'high energy hotpot at home' (高能火锅到家) on Hema's app, were in high demand.
Apart from the bag, Puma also provided an exclusive uniform for delivery drivers who were distributing Hema's hotpot. The outfit, which resembled a spacesuit, included a helmet and Puma's newly released trainers.  In addition, one of Hema's Shanghai stores hosted a 'high energy planet' exhibition which was open to the public and featured Puma's latest products and the special spacesuit that it had designed.
Many consumers took to social media to share their experience of the exhibition and out-of-the-world hotpot delivery. The campaign post on Hema's Weibo gained 3,400 shares, 1,800 comments, and 1,600 likes, and Puma's WeChat article hit 25,900 views.
"Wow, the most fashionable bag this winter is probably the takeaway bag!"

A netizen's comment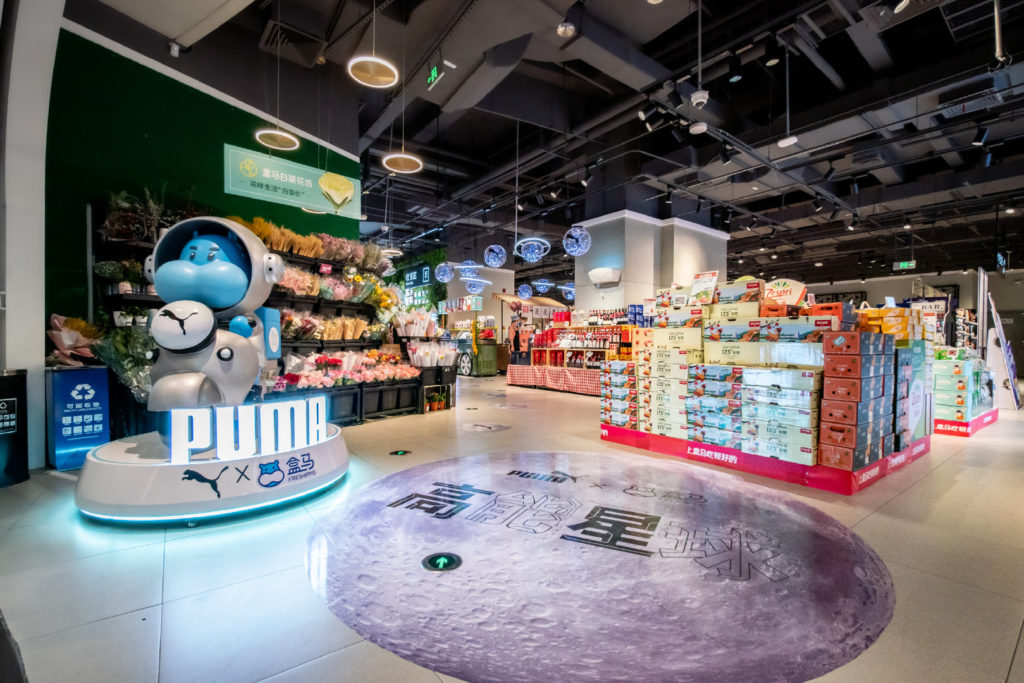 In reference to Hema's hippo logo which also looks like a pig, one netizen commented that they thought the slogan would be 'PIGUMA', a combination of the words 'pig', 'Hema' and 'Puma'.
Appealing to young consumers' love of space
Space-themed campaigns are becoming increasingly common in China due to their futuristic appeal. Similar to the craze for AR/VR, the sense of escapism evoked by exploring other planets and worlds has resonated with China's young consumers who are experiencing growing social and work strains. Space advertising has also been used to reflect a form of national pride in China's achievements in the realm of space technology.
Eleme and Koubei included a time-travel and space theme in their 'Restart 2020' campaign last year, while Kuaishou and KFC chose to focus on subverting time and space with their AR filter. In Puma and Hema's campaign, the unique space-themed designs helped to appeal to China's younger consumers.
Quirky campaigns develop broader reach
Cross-industry collaborations are popular among Chinese consumers, and brands that launch limited-edition quirky products can create a buzz on social media. By combining their audiences, brands can gain a broader reach and appeal to new audience segments. Indeed, in the case of the 'high energy planet' campaign, working with a popular Chinese company helped Puma obtain more exposure.
---
Read more: