Chinese New Year, the largest celebration in China, is not only an immense opportunity for Chinese people to gather together for a feast with their loved ones but also a huge chance for brands to authentically integrate Chinese culture into their creative work in order to connect and resonate with their audience.
Every year, brands face creative competition during this crucial time because this is a date that both homegrown and global brands have long marked out in their marketing calendar for their culture-focused Chinese New Year campaigns. Before we dive into the brands' campaigns, let's talk about what the new trends are, that marketers should know for the festival.
Beijing Winter Olympics – The biggest surprise of Chinese New Year
While 1 February marked the first day of Chinese New Year, and with it a two-week-long holiday, the opening ceremony of the 2022 Beijing Winter Olympics was set to begin on 4 February. It is the only time in history where Chinese New Year and the Winter Olympics have coincided.
To make the celebration more joyous, Beijing 2022 will launch a special "Spring Festival" edition of Bing Dwen Dwen, after the chubby panda mascot became a smash hit at the Winter Olympics. Hundreds of people queued for hours in the harsh winter in Beijing to get the plush toy. Restrictions on the number of purchases of the mascot per person were soon introduced amid the buying frenzy, and some have been reselling online for hundreds of dollars, showing a wide craving for the ice-glazed toy.
Apart from celebrating the Winter Olympics, watching the Chinese New Year gala with family on Chinese New Year's eve is another way to take the festive atmosphere to new heights.
A poetic dance performed during the Chinese New Year gala went viral on social media for its synthesis of an in-depth understanding of Chinese history and stunning visual presentation. The dance was inspired by one of the greatest ancient landscape paintings called "A Thousand Li of Rivers and Mountains". It has been highly applauded on Weibo with over 430 million views under the hashtag #只此青绿 (the name of the dance).
This year, WeChat turns out to be the biggest winner as over 120 million users tuned in to the gala through WeChat Channels (a short video platform within WeChat), during the first-ever vertical screen livestreaming with more than 350 million online engagements.
With WeChat taking such a stride, the other two leading short video platforms, Douyin and Kuaishou, also joined in on the festivities, introducing interactive games and opportunities to win digital red envelopes, to keep users entertained and engaged throughout.
These features have made the traditional TV show more playful, and therefore, naturally catered to social media savvy users, especially the younger generation. It is reported that more than 50% of those who watched the gala via mobile phones were people under 30.
Now it is time to showcase some of the best-in-class 2022 Chinese New Year campaigns and understand why they were such a huge success.
Apple – A short film "The Comeback"
It has become a tradition for Apple to launch its Chinese New Year short film every year, which is something that the brand pours its heart and soul into. It is an inspiring campaign that gives hope to budding filmmakers who are pursuing their dreams but don't have the budget to buy professional equipment. All the footage in the short film was shot on iPhone 13 Pro and iPhone 13 Pro Max.
The story is about a young man who is a stunt double and dreams of being behind the camera. He comes back to celebrate Chinese New Year and helps produce a short film of his hometown – a small village that looks like Mars. The villagers aim to make the village famous via the short film, in order to attract more tourists to see the natural beauty of this place. With everyone putting effort into the filmmaking process, they finally created the short film and also turned the forgotten village into an Internet sensation.
The video resonates with the Chinese audience because it features hyper-local issues such as urbanisation where young people tend to leave their hometowns and pursue their dreams in big cities in China. It also highlights the value of being together with family – one of the main aspects of Chinese New Year celebrations.
McDonald's and Vans – exploring traditional ink painting
McDonald's one-minute campaign video combines Chinese ink painting with modern fast food, showing the beauty of traditional Chinese culture and also tapping into the Guochao trend, which refers to a new mix of contemporary design and nostalgic cues.
Collaborating with Shanghai Animation Film Studio, McDonald's campaign evokes old and young generations' memories of how they celebrate Chinese New Year, with most people going back to their hometowns which is usually located in China's countryside filled with natural beauty – swallows, plum trees, tadpoles and river shrimps, some of the things depicted in the ink painting animation.
It normally takes a long time to shoot an ink painting animation, with there being only 4 completed ones in China so far, due to its labour-intensive format. This shows McDonald's determination to strike a chord with local consumers.
Similar to McDonald's campaign, Vans also featured ink painting design in its Year of Tiger collection. By collaborating with the contemporary Chinese artist Chen Yingjie this year, Vans continued its 10-year tradition of creating Chinese zodiac-related new drops. The brand has gone beyond "packaging its products with tiger motifs" and decided to bring out the spirit that the animal symbolises.
The new series, known as "Hungry Tiger", is inspired by the artwork titled "Stay Hungry". Delivering the spirits of being hungry for new challenges, not being afraid to break the stigma, and with the courage carried by a tiger, the campaign has showcased the individuality and a sense of rebellion that the foreign brand withholds.
Oppo and Loewe – tapping into traditional culture
Oppo, a homegrown smartphone maker in China, has captured the Chinese love of red, and draped the colour into its New Year Edition Reno 7, reminding users of the year of the tiger with a small tiger logo etched on the back panel.
However, simple visual changes to the product are far from satisfying the young generation of Chinese consumers. Thus, Oppo created limited edition gift boxes featuring the same red colour. In collaboration with Zhi Yu Ji 织羽集, a Chinese clothing brand specialising in the Han costume, the gift box contains a Han-style outfit in velvet red and a tiger-shaped pillow.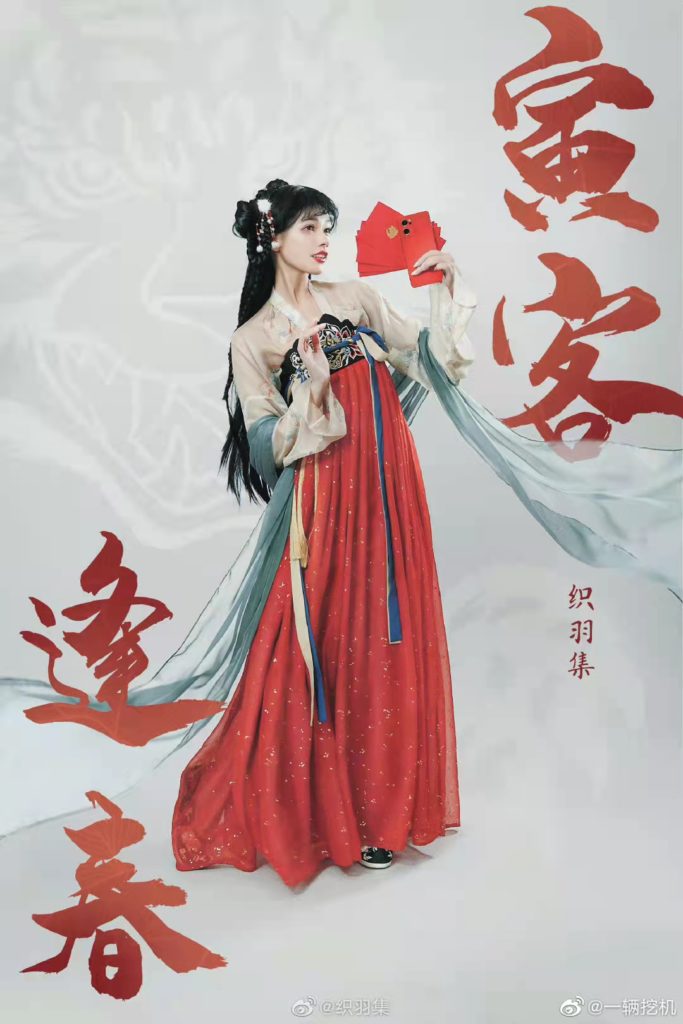 Both items have skilfully tapped into the Guochao trend. The tiger pillow is one of China's traditional folk handicrafts, carrying good wishes for safety and longevity. The Han costume worn by people in the Han dynasty has been growing in popularity among today's Chinese Gen Z because of its elegant designs. Not to mention that the Guochao wave undoubtedly fuelled the enthusiasm for this nostalgic costume. This exclusive offer to the Chinese market has borne fruit, with many impressed with the new look. In this trendy campaign, Oppo showcased their knowledge of more than just the festival but the market in general.
Loewe is another brand that pays tribute to China's traditional culture during Chinese New Year – rich and diverse craft traditions. "Marking an auspicious start to the Year of the Tiger, Loewe presents a festive campaign starring acclaimed pastry chef Mr. Zhu Limi 朱厘米 and actor Leo Wu, who explore the unique art of crafting traditional dumplings for the Lunar New Year holiday," Loewe wrote on its official Instagram account.
By exploring traditional craftsmanship, the brand showcased the craftsman's expertise and is also helping the young Chinese audience learn more about their country's intangible cultural heritage.
Gucci and Prada – raising awareness of tiger protection
Prada and Gucci decided to take its Chinese New Year campaigns one step further with a good cause by raising awareness to protect endangered tigers.
In the name of "Prada's Action in the Year of Tiger", the project aims to raise money for the "Walking with Tiger and Leopard" program that was initiated by the China Green Foundation. This has endeared consumers in China, who are also showing growing concern about the environment.
But the financial contribution is not the full story of Prada's campaign. They have also been involved in part of the project for an artwork competition, in which the brand has invited art students under-30 from universities in China as well as across the globe to enter with their creations under the theme of the tiger.
With the competition bringing young talent together to act for the environment, Prada has got the ecological crisis call across, and moreover, the brand has the opportunity to build up relationships with young people; a consumer segment that many brands are keen to get more engagement with. By taking this internationally they have also managed to include others within the celebration and push their Chinese market-focused product line to a wider audience.
Another leading luxury brand Gucci launched the Year of the Tiger collection, including ready-to-wear and accessories featuring the animal motif in various iterations. Under the theme of "Gucci Tiger", the brands' Chinese New Year campaign featured real tigers, which were shot separately from human models. In addition, through the campaign, Gucci emphasised its contribution to supporting wildlife as part of the Lion's Share Fund, which the brand joined in 2020, committing to protecting endangered species and their habitats.
Prada, Gucci, and Loewe are not alone in their celebration of the Chinese New Year in the luxury industry. Louis Vuitton, Valentino, Dior, Burberry, Balenciaga, and Cartier also dropped their tiger-inspired collections and campaigns. Some of Dior's 2022 Year of the Tiger Spring Festival Limited Series available on its official website "soon sold out", including a pair of earrings priced more than 10,000 RMB (£1,170) and a men's collection zodiac scarf priced nearly 9,000 RMB (£1,050).
Each year brands come up with extraordinary Chinese New Year campaigns which never cease to amaze their audience. Whether it's Apple's inspiring short film, McDonald's and Loewe's exploration of traditional Chinese culture, or Prada and Gucci's ecological crisis call, many brands have promoted the universality of the Spring Festival range this year and they were able to strike a chord with their target audience. The secret lies in their respect and expertise in understanding the country's culture, history, and consumers.