Key takeaways:
French high-end sportswear brand Lacoste has tapped into the growing appetite for street dancing amongst China's Gen Z by becoming an official sponsor for season 5 of the hit TV show Street Dance of China.
The vernacular dance style has grown into a craved subculture in China, drawing in an average of 5 million to cut their teeth into the activity every year, with teens being the main consumers.
The shrewd move allows Lacoste to rejuvenise its brand image and win over the lucrative young generation of consumers.
---
Having boasted expertise in crafting "relaxed elegance" in active apparel with its "chic and formal" style polo shirts earning worldwide fame, Lacoste, an accessible French luxury sportswear brand aroused public curiosity in China following its announcement to become an official sponsor for the season 5 of the Street Dance of China.
The latest season was aired on 13 August, drawing in an impressive 2.3 billion accumulated views on China's biggest microblogging site Weibo with the grand finale hashtag hitting 130 million views on 29 October.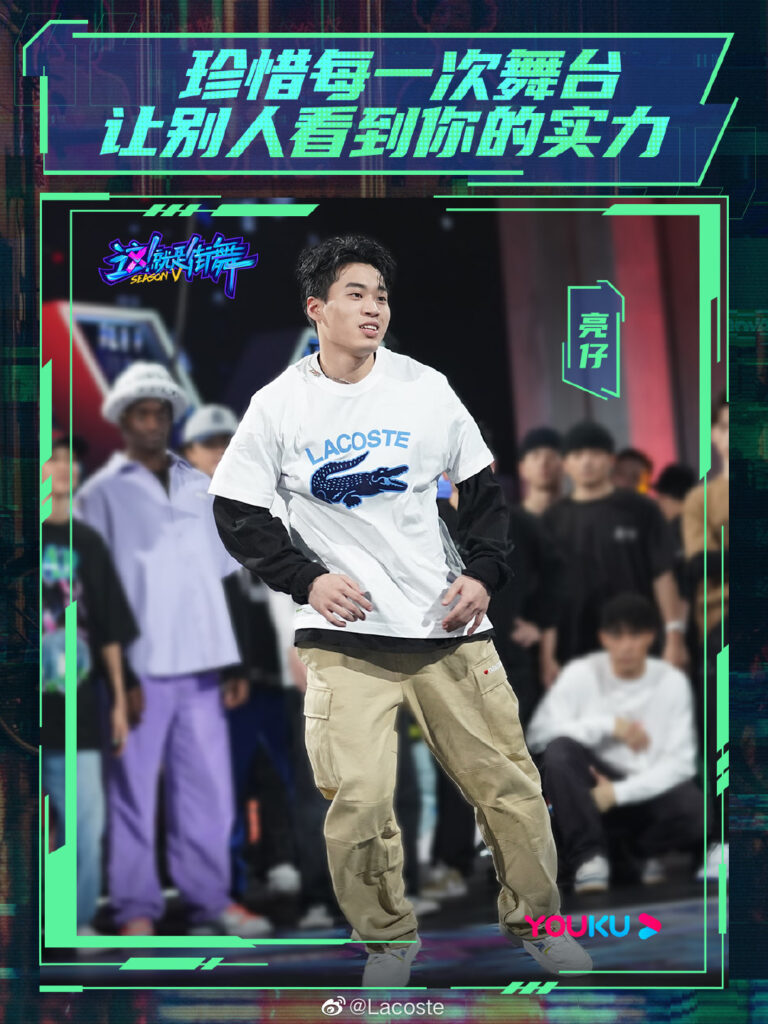 Born in 2018, the show was first broadcast on Youku, China's YouTube-like streaming platform and soon gained popularity amongst China's post-95s and post-00s with its mentor line-up consisting of some of the country's top hip hop figures such as Han Geng, a Chinese Mandopop singer and former lead dancer of the South Korean boy group Super Junior, as well as emerging dance personalities including the beloved actor and rapper Wang Yibo and Liu Yuxin, a post-95 dancer who rose to fame after finishing 1st place on the Chinese survival reality program 'Youth with You 2'.
Regardless of the celebrity endorsement, street dance has grown into a craved subculture amongst China's Gen Z crowds. Its varied, stylish, and high-energy routines such as break dancing, popping and locking, and waacking are being used as a way of empowering young people in their pursuit of personal uniqueness and individuality.
Such dynamics have also given the sport wider recognition, leading it to become mainstream. It has been driving the transformation of modern youth sports, with this vernacular dance to be included in traditional sporting events both at home and worldwide, including the National Games in China, the Asia Games, and the Olympics.
Meanwhile, China's Double Reduction policy, which aims to take away students' academic burden and, therefore, place more emphasis on physical health by encouraging "fun fitness" activities, has further fuelled the development of this once niche sport.
According to China's Hip-Hop Union Committee, the country recorded over 300,000 street dance professionals as of 2020 and approximately 5 million are newly trained every year. Young people aged between 10 and 15 years old are believed to be the most enthusiastic with those dwelling in major cities such as Beijing, Shanghai and Shenzhen riding the wave.
Therefore, by tapping into the street dance show, Lacoste is able to rejuvenise the brand's image in China and more importantly plug itself into the youthful community and paving the way for further engagement with the target demographic. Arriving in the Chinese market in 1984, the brand established its premium identity with its enthusiasm for gearing up players of mainly upper-class sports like tennis and golf.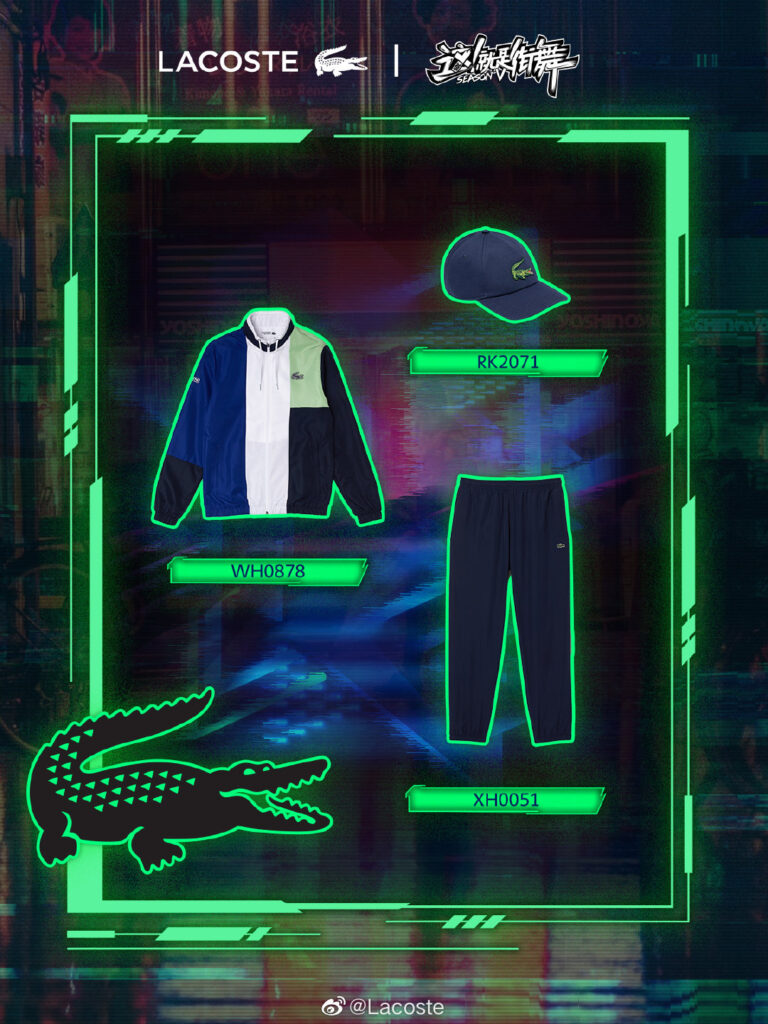 While those sports remain a luxury consumed predominantly by the rich, urban sports like street dance draws in a wider following and are engaged by their target audience who are also the market backbone. The move helps Lacoste's revival in the Chinese market as its once-prided "smart chic" design is losing appeal amongst the rising consumer cohort of Gen Z with the country's fashion evolving into a more individualised and expressive style.
The luxury brand was even labelled as "old-fashioned" by Chinese consumers due to its limited style and perceived as being for middle-aged men, as Eric Tosello, CEO of Greater China and APAC at Lacoste confessed in an interview with WWD in 2021. It was also when the brand started stepping up its refashion, infusing its emblematic elegance with an open and wild twist, drawing inspiration from contemporary subcultures.
Although the street style seemingly goes against Lacoste's sartorial heritage, the retro-modern sub-fashion style that creates a sense of both nostalgia and contrast has been pursued by the savvy generations of consumers, paving the way for Lacoste to capitalise on the rise of street dance.
The stylish nature of the subculture provides an opportunity for the brand to bring out the synergy of fashion and sports to resonate with China's young consumers. With "Street Dance Style Outfit" drawing in more than 812,000 views on the fashion vanguard Xiaohongshu (China's largest lifestyle-sharing platform), the partnership with the hit dance competition show is a shrewd move to refreshing Lacoste's brand image while diversifying its product lines, therefore, staying relevant to the lucrative generations.