Key takeaways:
The LVMH-owned cosmetics retailer Sephora unveiled five of the latest beauty styles that makeup brands should watch out for in order to grab a slice of the Chinese beauty momentum.
The platform has been proactively embracing Chinese brands, which has also sped up the upgrade of local market players.
The "China Accelebrate" Program launched by the retailer is set to help five local premium beauty brands achieve over 100 million RMB ($13.92 million) in annual revenue in the coming three years.
---
Decoding the latest beauty trends in China
"Mad Eyes with Rich Lip Colour, Delicate Skincare, Fragrant Wonderland, Radiant Skin and Shine Oriental Beauty" are the five main styles that beauty brands who want to strengthen their foothold in the Chinese beauty sensation (C-Beauty) should not miss out on, signalled by the world's largest prestige beauty retailer Sephora at this year's Autumn/Winter Global Beauty Trends "Omni-verse" Press Conference in October.
Hosted in the base city of Shanghai, the predicted trends, were unveiled for the first time through Augmented Reality (AR) digital intelligence, which enables collaborative interaction at selected physical storefronts installed in other cities including Beijing, Shenzhen, and Chengdu.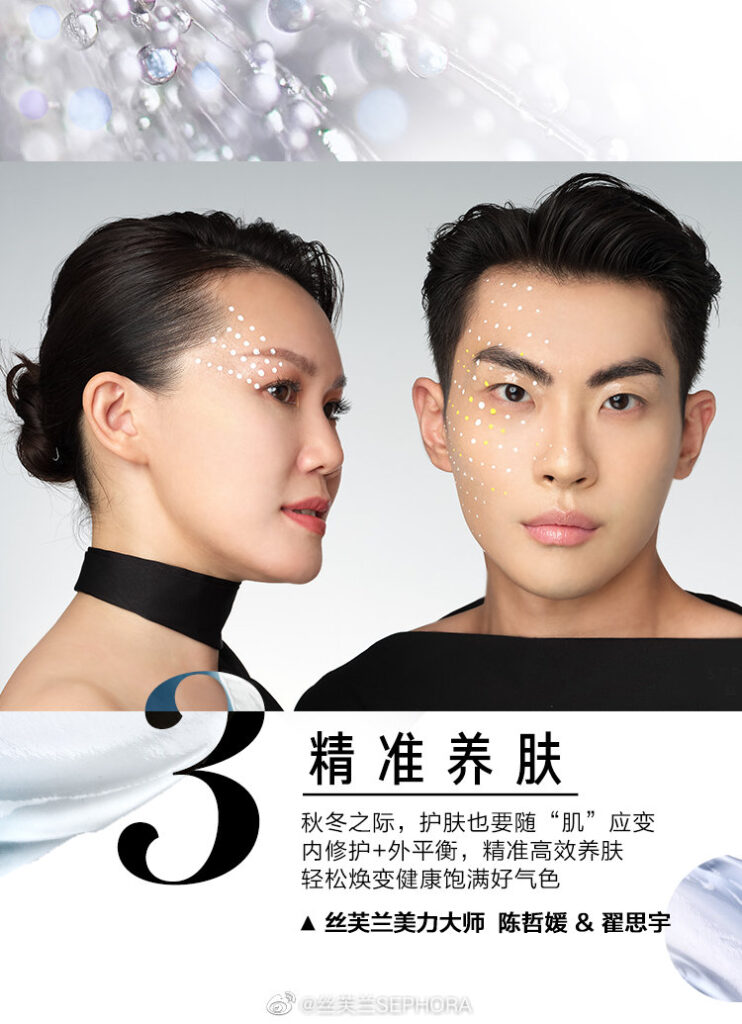 With the assistance of the brand's intelligence system, visitors can explore stories and value behind more than 40 beauty brands across the globe that have landed in Sephora's digital ecosystem and unlock beauty inspiration through virtual makeup try-ons of over 230 products exclusively presented by Sephora. Covering anything from colour cosmetics to skincare, hair care, and fragrances, it is a nod to the platform's vision of the "Endless Dimension of Beauty".
"De-westernisation" of China's beauty landscape
Having been a key player in China's beauty sector for 17 years, the LVMH-owned retailer has lived through the emergence and rise of Chinese beauty. In 2005, the brand broke into the Chinese market with the country's high-end cosmetics buyers in Tier-1 and Tier-2 cities being the target. Leveraging the parent's luxury resources, Sephora obtained exclusive sales rights from several internationally renowned labels, presenting Western beauty solutions to Chinese consumers over the counter.
This successfully caught the attention of regular shopping mall visitors in the metropolis including Beijing and Shanghai, while allowing the brand to establish brand recognition amongst the consumer cohort who at the time were more attracted to foreign products.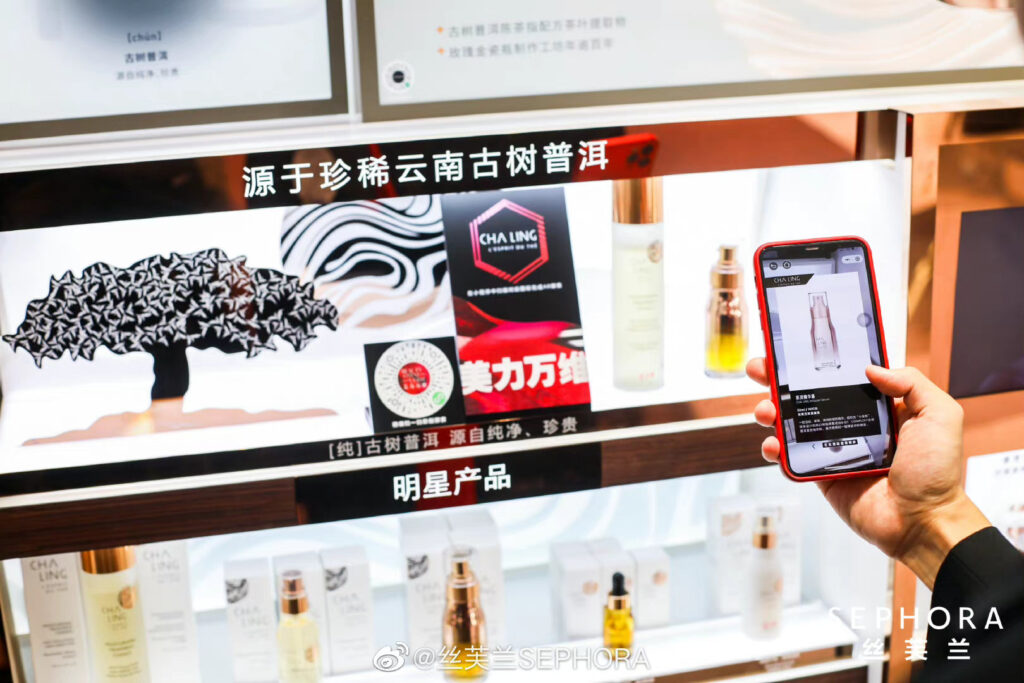 But the tables have turned in the last few years. The birth of the Guochao (national wave) movement in 2018 has been a major driver of the change. Although initiated by the Chinese sportswear icon Li-Ning as a new fashion style that peppers contemporary designs with a nostalgic twist from traditional Chinese culture, the trend soon swept across the beauty landscape due to its close association with fashion. As a result, the country not only saw a mushroom of domestic beauty brands but also a "Chinesenisation" of Western counterparts in a bid to tap into the Guochao sensation.
Sephora, unsurprisingly, was one of them. Faced with Chinese beauty's strong catch-up, the French retailer has been phasing out some of the global household beauty names and replacing them with more homegrown partners such as Colour Studio by Marie Dalgar, Inoherb and Maogeping. As well as new brands with mixed genes. Cha Ling, for example, is a brand launched by LVMH which draws inspiration from Pu'er tea, a fermented tea produced in China's Southwestern Yunnan province and saw its China debut in 2018 and subsequent partnership with Sephora in 2021.
In return, these Chinese brands also have the opportunity to broaden their product lines by introducing high-end sub-brands to leverage Sephora's luxurious marketplace, which has acted as the push Chinese beauty makers needed in order to upgrade. "Sephora is a platform with a double vision of international and Chinese markets. It enables the breakthrough of high-end beauty brands with its sharp grasp of trends and a mature online retail space that well integrates Western and Eastern athletics," observed Mao Geping, founder of Maogeping Light.
Accelerating the globalisation of C-Beauty
The effort has been doubled down in an age where cutting-edge technology has been levelling up the beauty retail experience. Earlier in June, Sephora announced the launch of the "China Accelebrate" Program, which is set to incubate more premium Chinese beauty brands. The announcement followed the introduction of "The Rising Powers" initiative, an incubation and growth camp designed to offer development support to niche beauty brands, which is in collaboration with the Chinese tech giant Tencent's Smart Retail arm.
The project aims to explore high-potential and high-quality brands and help facilitate them with market exposure and further growth with "end-to-end" executional guidance from Sephora and Tencent, including training on resource matching, business model development, and management of private domains on Tencent's super app WeChat, which has played a crucial role in enabling Sephora to fend against domestic challengers amid the Chinese beauty sensation.
"As a renowned global leader in beauty retail, Sephora will not only offer these brands commercial support and expansion but also help them develop their international visions," said Ms. Maggie Chan, Managing Director of LVMH – Sephora Greater China.
Through the "China Accelebrate" Program, Sephora strives to empower up to five local premium beauty brands to achieve over 100 million RMB ($13.92 million) in annual revenue in the coming three years. Meanwhile, it also vows to help selected brands gain traction in the global market while boosting the profile of Chinese beauty and "demonstrating the power of the new beauty style."