Key takeaways:
In Shanghai, Tesla launched a pop-up event with Chinese coffee chain Manner Coffee, cleverly linking Manner's energising cups of coffee to Tesla's ultra-efficient supercharging stations. 
Tesla's target market of aspiring middle and upper-class consumers perfectly overlaps with Manner Coffee's consumer base of white-collar workers and young people.
Not only must foreign brands keep local culture in mind when seeking out business partners, but they also must prioritise companies with a similar target market.
---
Hopping on China's burgeoning coffee boom, Tesla joined hands with up-and-coming Shanghai coffee chain Manner Coffee to launch a pop-up event featuring its limited-edition "Autumn Rose Latte" along with a flurry of sweet deals.
During the launch, Manner and Tesla launched five activities for consumers to enjoy. From September 26 to October 7, customers who purchased Manner's Autumn Rose Latte and posted a photo on Wechat Moments would win a free Tesla card bottle opener. On September 29, Tesla owners across the country who went to a supercharging station would also receive a free seasonal cup of joe.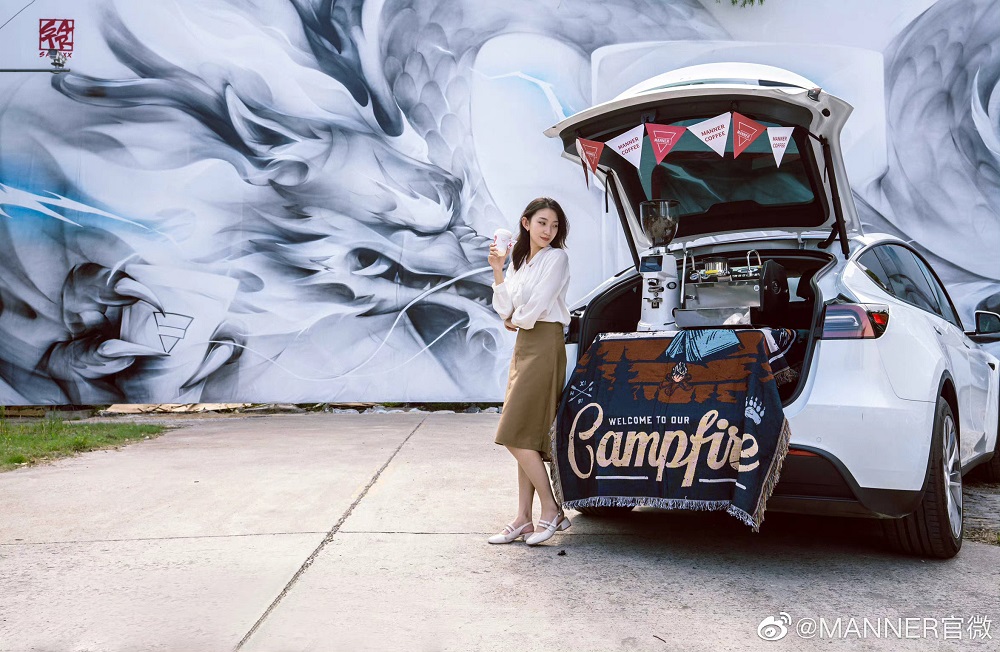 In addition, the two companies transformed the Tesla Model Y into mobile coffee shops in 8 different Tesla supercharging stations across 7 cities in China. Visitors were encouraged to publish photos under Xiaohongshu's hashtag "Charging only takes a cup of coffee" for a chance to redeem gifts such as Tesla's limited-edition lightning pillow.
At the same time, to further incentivise engagement, Tesla offered 10 custom gifts to those who participated in the discussion forum created by Manner's official social media accounts.
Additionally, the two brands released a short advertisement called "What can you do in 15 minutes?" linking the cup of joe to Tesla under the slogan "Recharge with just one cup of coffee". The short film shows that, in Shanghai, Manner stores are reachable within 15 minutes by foot to replenish one's "mental power". Likewise, Tesla charging stations are located within 15 minutes of driving. Moreover, the Tesla Supercharger can add up to 322 miles of driving range within a 15-minute charge.
From hole-in-the-wall to nationwide coffee star
Founded in 2015 with a single location in Shanghai's central business district, Manner Coffee has experienced tremendous growth in the Chinese market. What started out as a hole-in-the-wall coffee shop in Shanghai grew to 10 stores in Shanghai by 2019. As of January 2022, the coffee chain boasts a grand total of 300 stores throughout the nation and an incredible $4.5 billion valuation.
The coffee chain's rise in popularity can be attributed to the recent coffee boom in China's first-tier cities, as well as its high-quality yet affordable beverages. The local coffee chain keeps things interesting by launching seasonal drinks once a month, which not only quenches Chinese consumers' thirst for constant novelty but also prevents them from turning to other competing brands.
Moreover, Manner caters to young consumers' growing interest in sustainability. In fact, the coffee chain offers a 5 RMB ($0.70) discount to customers who bring their own cups to the shop, reducing both costs and unnecessary waste. The coffee shop also offers an 18 RMB ($2.51) discount to customers who purchase domestically-grown coffee beans from Yunnan province.
Given Manner Coffee's popularity among white-collar workers in top-tier cities, its locations are strategically placed either near or inside office buildings. As such, office workers can conveniently order on their phones and pick up a cup of joe on their way to work.
While business collaborations are nothing new, today's technology allows for them to happen on a much larger scale and faster than ever before. A well-chosen co-branding initiative can have a wide range of benefits for each of the brands involved and create a long-lasting impact beyond the co-branding partnership itself.
In China, co-branding presents an exciting opportunity for businesses to create synergies that go beyond the joining forces of the two brands. Such partnerships bring out fresh and creative products and services to Chinese consumers, who greatly value novelty. Through co-branding, brands can increase traffic, boost sales, and take their brand image in China to the next level.
Manner's collaboration with Tesla comes as no surprise, as in the past, Manner Coffee has joined hands with several top-notch companies to brand itself as a luxury item. In addition, Tesla's target market of aspiring middle and upper-class consumers perfectly overlaps with Manner Coffee's consumer base of white-collar workers and young people.
Overall, by co-branding with Manner Coffee, Tesla directly taps into their Chinese consumer base, leveraging elements found within the coffee chain in order to reel in new customers while bolstering brand loyalty. As the standard of living improves and young generations seek new experiences, China's fast-growing coffee shop market opens up endless opportunities for collaborations with foreign brands.