Key takeaways:
Lego's "Small World Creates Big Ideas" campaign creates an inspirational and immersive environment that makes participants feel part of what is being presented to them.
Beyond offering solutions, products or services of quality, brands seeking to take their Chinese marketing strategy to the next level can leverage immersive experiences to amaze and retain their audience.
The easily accessible urban nature of China's burgeoning surf skating trend makes it convenient for brands to market their products outdoors as well as form brand partnerships.
---
In September, Lego launched its immersive "Small World Creates Big Ideas" campaign to encourage children to unleash their creativity and use their imagination to make the world a better place.
As part of the campaign, the toy giant launched a short film showing children bringing their ideas to life using Lego bricks. From crafting a Lego sprinkler that can cool down city landscapers on a hot summer's day to building a brick ramp to helping the grandma next door climb the stairs with ease, the video highlights the infinite amount of creativity that can be unlocked with Legos.
Moreover, the Danish toy manufacturer leverages the quintessential Chinese concept of community to pull the heartstrings of parents, who will likely be more motivated to purchase Lego sets after seeing the acts of kindness demonstrated in the video.
In addition to the short film, Lego launched its Urban Micro-Renewal program, using its interlocking plastic bricks to transform areas around Shanghai. On Yuyuan Road, children's creative installations were put on display for all to see, and children were invited to build Legos on site. By bringing Legos right to the public's doorstep, Lego makes its products more accessible and therefore increases brand recognition. Moreover, such an initiative strengthens its relationships with its target audience.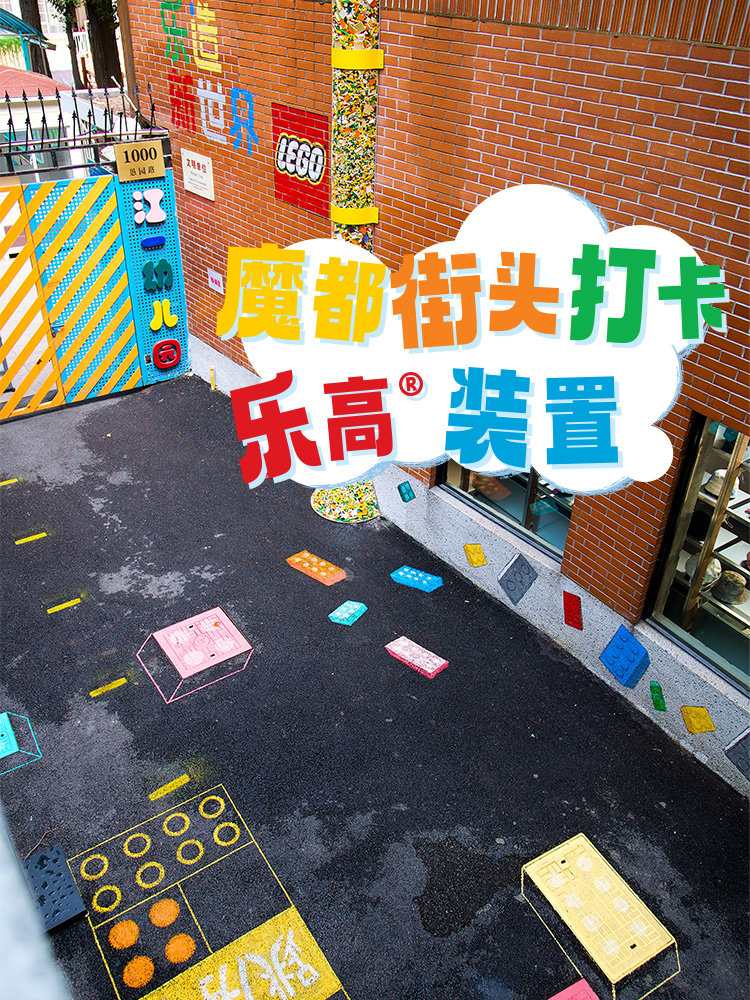 Meanwhile, the steps of Shanghai's Tianshan Road were transformed into an "urban surfing corner", created out of 7,000 Lego bricks. The initiative reflects the burgeoning surfing and surf skating trend in China, spurred as a result of the pandemic. Over the course of the campaign, the surf skating spot garnered heaps of attention on Weibo, with the hashtag "Create a New World" amassing a total of 89 million views.
Lego's China market strategy
In China, The Lego Group carries a history of constant innovation, winning over the market time and time again with its immersive, meaningful, and localised experiences. Since stepping up its exploration of the Chinese market in 2016, the toy manufacturer has launched the Lego Discovery Centre, started construction of China's first Legoland in Sichuan (expected to be the largest in the world) and opened a total of 291 stores in China as of 2021.
Lego's China market strategy offers several key takeaways for brands seeking to break into the Chinese market. Firstly, the company pushes for constant innovation and localisation which incorporates cultural elements into their products. Secondly, the company harnesses its offline channels to provide different purchase experiences from online purchases, from carefully designed stores to teaching sites. Furthermore, the toy brand protects its intellectual properties to give customers a uniform and high-quality experience.
A marketing trend in China that's here to stay
In the past few years, experiential marketing has been on the rise as brands vie for the attention and engagement of over a billion consumers in the Chinese market. From presenting brand culture to immersive AR, such events nurture a closer connection with participants. At the same time, offline events serve as a way for brands to reel in new customers while generating buzz in the online community.
Overall, Lego's latest campaign serves as a good example of immersive advertising of western products in China. Brands seeking to take their Chinese marketing strategy to the next level can similarly infuse hands-on experiences into their campaigns.