April saw a blossoming of pet marketing campaigns across multiple retail sectors in China. New pet-related products and services in food, fashion, and even beauty hit virtual shelves in a bid to capture the hearts of China's "officials in charge of cleaning poop".
This demographic, made up mostly of highly educated urban dwellers born after 1990, is growing. The scale of the pet product market grew 25% in 2016- 2021 to reach 51 billion RMB (7.3 billion USD), and is expected to grow a further 17% to reach 114 billion RMB (16.4 billion USD) in 2026.
These three recent pet marketing examples show that the pet economy isn't just for traditional pet products brands. Through brand collaborations and new services, brands across the spectrum can get involved.
Meituan: pet products on demand
Meituan is the food delivery service in China, but the company has its heart set on more. A short video function is now embedded within its main feed to stimulate a "seeding" (or peer-to-peer recommendation) ecosystem within the app, removing the need for users to first search for recommendations on Douyin, Kuaishou, or Xiaohongshu. In stepping up social commerce, Meituan has shown its intention to occupy a bigger portion of the lifestyle app market share.
With these lofty goals in mind, it would be remiss for Meituan not to take a slice of the pet economy pie. To launch the availability of pet products on the app with a bang, Meituan spoke directly to novice pet owners. The advert for the new service, which delivers pet essentials in 30 minutes, bills it as a life saver amid the chaos of the pet owner lifestyle. The advert shows pet owners acting bizarrely, taste-testing pet food, wearing chewed up shoes, hiding from their pets, and covered in pet hair, as the caption reads "With each additional pet, the world has one more weirdo in it".
The campaign hashtag on China's microblogging mecca Weibo, "novice pet owners need Meituan even more", garnered a whopping 125 million views on April 9 when the news dropped. Netizens praised the convenience of the service: "Finally I don't have to carry cat litter on my back up the stairs!"
SUPER PLANTS x Youkeshu: pet gear for the unrefined 
Quirky homeware company SUPER PLANTS is a relative newcomer, with only 8000 related notes so far on lifestyle-sharing app Xiaohongshu. But it has grown into a cult favourite for its "anti-refined" ethos, which connects to young Chinese consumers' affinity for relaxed forms of self-expression. Their easy to care for house plants and whimsical decorative items aim to "break the pretensions" of a certain kind of tasteful home. A pet care collaboration was a natural progression and SUPER PLANTS did it on their in terms with a touch of humour.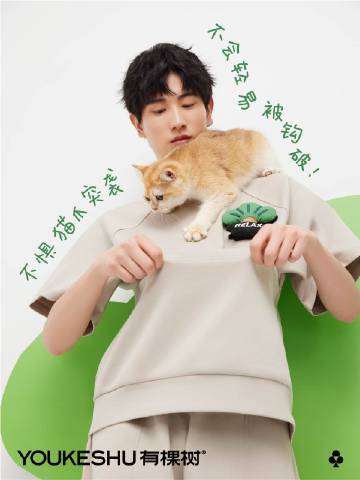 In partnership with sustainable clothing brand Youkeshu, they came up with cat-friendly t-shirts to wear to facilitate happy "parent-child interaction". No stone was left unturned in the design. Not only do the t-shirts feature a large front sack to pop your cat into for a portable snuggle fest, but they also come with a detachable cat toy and are made of anti-hook fabric that won't get torn up by cat's claws. This fits perfectly into SUPER PLANTS' emphasis on form rather than function. Their items are all about filling the home with items that remind us how to enjoy ourselves.
3CE x ZEZE: a new kind of cat lady
It's hard to find an obvious link between cosmetics and pet care. Whilst pet owners do dress up their fur babies in cute outfits or maybe even give them an indulgent bath, makeup may be one thing that can't be catered to animals. So K-beauty brand 3CE kept it simple.
Established in 2009 and well-known for their "blurred effect" lipstick, 3CE has been mentioned in over 350,000 notes on Xiaohongshu. To jump on the spring marketing trend, 3CE teamed up with pet care brand ZEZE to launch a suite of products for the woman who just wants to hang out with her cat – whilst looking fabulous.
The range includes a combination of cat-themed beauty products and products actually geared towards cats – all in delightful baby pink hues. An infographic H2 advert posted on 3CE's Weibo account breaks down each product in detail. Highlights include: the fluffy purse designed to perfectly fit a 3CE powder compact that also doubles as a cat toy, and a tiny tent for your cat to curl up in outside or at home. 3CE also had a prize draw on Weibo to hook shoppers into the quirky collab, with two lucky shoppers winning a free cat tent.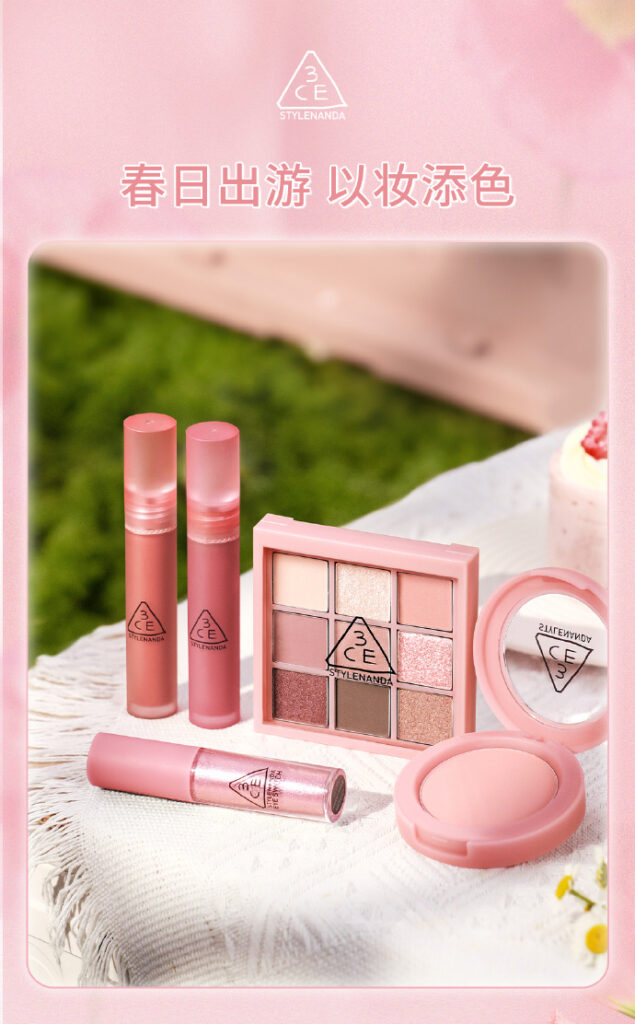 These campaigns play perfectly on the self-care trend that has hit the mainstream for China's Gen Z and millennials. Instead of offering anything aspirational, they recognise the contentment pets bring and encourage pet owners to be themselves.