China's pet economy has seen a boom in the last few years as more people are better off and fewer people are getting married. Besides food, toys, and other necessities, a niche trend has been gaining traction online – pet apparel.
The phrase brings to mind miniature windbreakers, fleece jackets, and even boots designed to keep dogs cosy and clean on long walks outside. But to Chinese pet owners – most of whom are under 30 and highly educated – pet apparel is about far more than just practicality. 
Hot trends in pet apparel
Searching for pet clothing on the e-commerce site Taobao reveals a bewildering variety of options. Users can choose from among 18 specialised brands with names like Dogbaby and Petstyle and filter for vests, onesies, bodysuits, matching couples' sets, dungarees and more.
The top searches are for Spring Festival-themed red jackets emblazoned with gold lettering, modelled by bichon frisés and corgis. At just 20 RMB (3 USD) a piece – and rarely ever over 100RMB (15 USD) – pet owners keen on dressing up their fur babies can easily afford to amass a considerable collection of items for all occasions and moods.
According to pet industry leader Yao Guan, the most notable trends are pet hanfu – imitation Han dynasty clothing – and pet 'JK' clothing – cutesy Japanese school uniforms. In the hanfu trend, dogs and cats are dressed up in flowing dresses in pastel colours, often paired with a bejewelled headdress with ribbons. For 'JK' clothing, pets sport plaid skirts and sailor neckline tops. These fashion subcultures most associated with young women and teenaged girls are clearly now fair game for furry friends. One article by CBN Data even called pet apparel a form of "street style".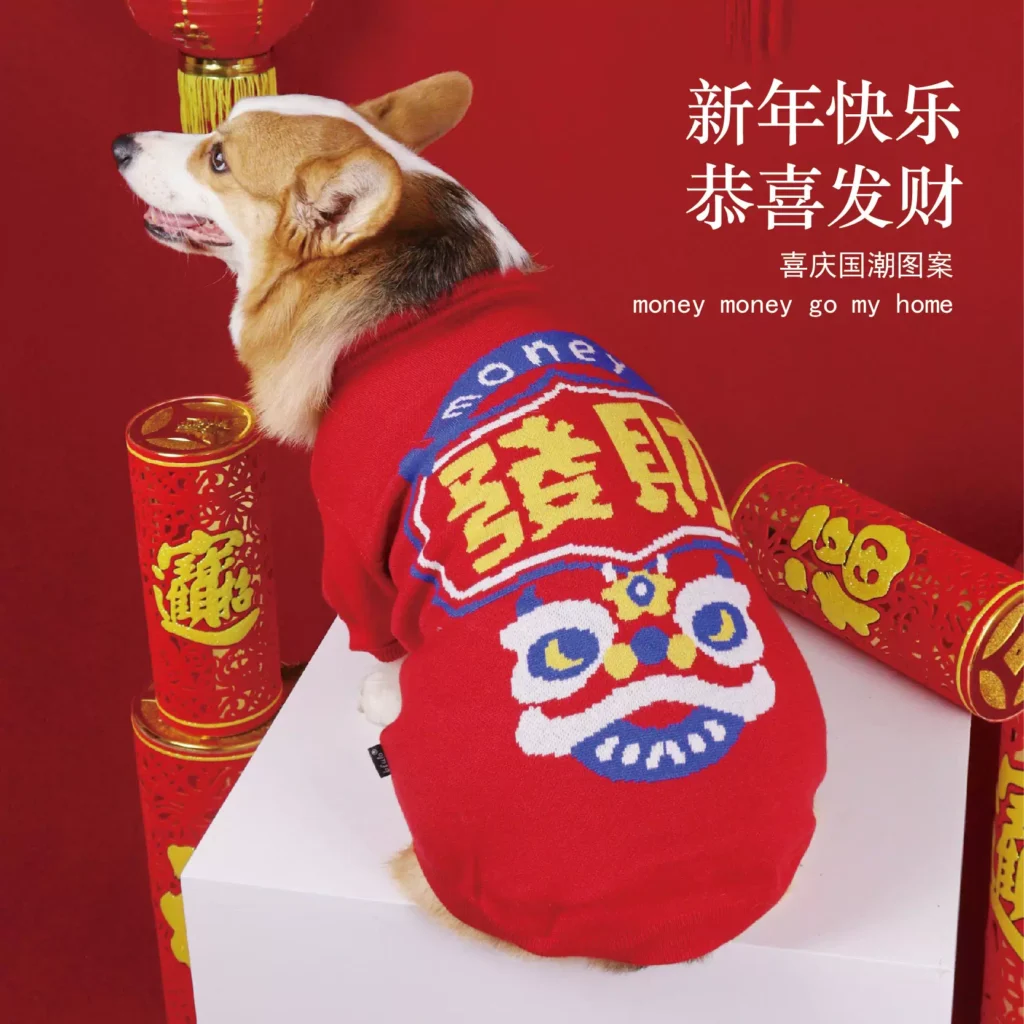 With around 500,000 pet apparel-related 'notes' currently posted on the lifestyle-sharing site, Xiaohongshu (or Little Red Book), the pet apparel trend has not yet hit a viral level. But it is showing a steady increase in popularity. The e-commerce platform Tmall saw a 50% year-on-year increase in pet clothing sales during this year's New Year Shopping Festival, and with the close tie between singledom and pet ownership, these figures are likely to increase in the years ahead as marriage rates decline.
Emergent femininity and the emotional value of pets
But sales figures and social media analytics don't tell the whole story. Searches for various pet clothing trends bring up photos of carefully composed pet photoshoots, portraying a world of care and imagination. It is easy to see how pet apparel, more than an item to keep their pet warm, encompasses something closer to a hobby, a way for owners to bond with their pets and express their own creativity at the same time. This is not surprising given that 59% of Chinese pet owners consider their pets as their children, with a further 27.8% seeing them as part of the family.
For young women in China, pets have an even greater significance. According to a study published in 2021 by three Urban studies researchers based in China, pet ownership is a crucial aspect of how some young women in China reject the pressure to marry and have children: "as professional Chinese women construct positive intimate relationships with their companions to preserve their autonomy as persons at work, they increasingly turn their backs on traditional marriage and family in an instantiation of 'emergent femininity'.
'Emergent femininity' was coined previously by social scientists in 2019 to argue that a new form of womanhood has appeared in China that is defined by confidence, outspokenness, media savvy, and consumerism. The pet apparel crazes fit clearly into this theory, showing how forms of consumerism that may be considered 'low-brow' and 'girly' pave new roads for self-expression and individuality among women.
Future directions in luxury and bespoke retail
The strong emotional appeal of pet apparel offers great marketing potential. Currently, 46% of pet owners were born after 1990 and these are likely the main consumers seeking items like hanfu for their cats and dogs. As this section of the consumer base matures, they are likely to earn higher incomes and develop an interest in more high-end options.
The Italian luxury retailer Moncler has already teamed up with Poldo Dog Couture to release high-end dog jackets, which have gained some attention in China. The rise of more homegrown luxury designers in China could offer an excellent chance for companies to carve out a niche in the pet apparel market by capitalising both on the popularity of consumer choices that reflect Chinese heritage (the guochao trend) as well as pet owners' desire to spoil their animals with the best quality items.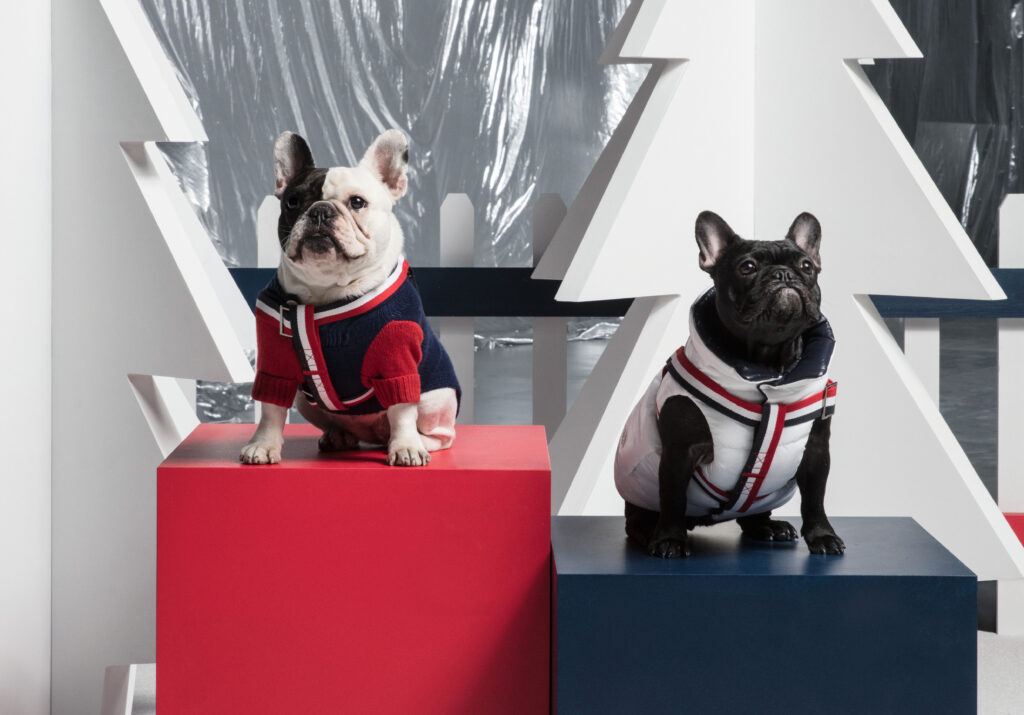 There is also space for design innovation in the field. One pet apparel designer, Qiu Qiao, from Hunan has gained a following through her lace-up pieces made to be adjustable to different neck circumferences, gaining her products rave reviews about pets that can still walk normally in their new swag. This principle can be applied across the board, with the potential for bespoke pet apparel tailored for animals with unusual proportions as well as clothing ranges specific to different dog breeds.
The last few years saw the birth of a "singles' rights" movement in urban China after marriage rates plummeted between 2013 and 2020, exemplifying the way single people's voices are becoming louder and more confident. The social significance of pet ownership and its resulting impact on business will only become more relevant for consumers of all genders as social attitudes toward marriage and relationships continue to shift.