Key takeaways:
American soft drink maker Pepsi has unveiled its first metaverse immersive digital space, which is built on the brand's "Play Pepsi Concept Store" WeChat mini program.
Following the concept of "extended experience and co-creation", the digital realm adopts an upside-down flip structure.
While introducing a series of games and interactive activities, it leverages the brand's music genes and taps into digital social networking to enhance its community building.
---
Having been an active Web3 marketing player who tapped into virtual fashion and virtual live music, Pepsi, the American carbonated soft drink maker has taken another stride and launched its first metaverse immersive digital experience space.
Unveiled on 10 April, the space is built on the "Play Pepsi Concept Store" mini program on WeChat. The brand's unique and youthful DNA is displayed with a series of playful digital activities that combine trendy culture, virtual and real interaction, and future imagination, all in a 360-degree user perspective.
Imaginative adventure in the metaverse
Designed to trigger the young generations' imagination about the future in the metaverse sphere, users have been given a new identity of "the new generation of Team Pepsi". The digital avatars have been readapted from microphones, giving a nod to Pepsi's musical genes.
Meanwhile, the concept of "extended experience and co-creation" is executed through a series of mixed reality visuals while an upside-down flip structure was adopted in an effort to break the limitations of gravity, also acting as an extension of the real world. This is coupled with features such as switching between first-person and third-person perspectives, affording a four-dimensional space. Therefore, it allows users to explore multiple themed spaces dedicated to the brands' classic offerings including Pepsi Cola and the sugar free version in an enhanced futuristic ambiance.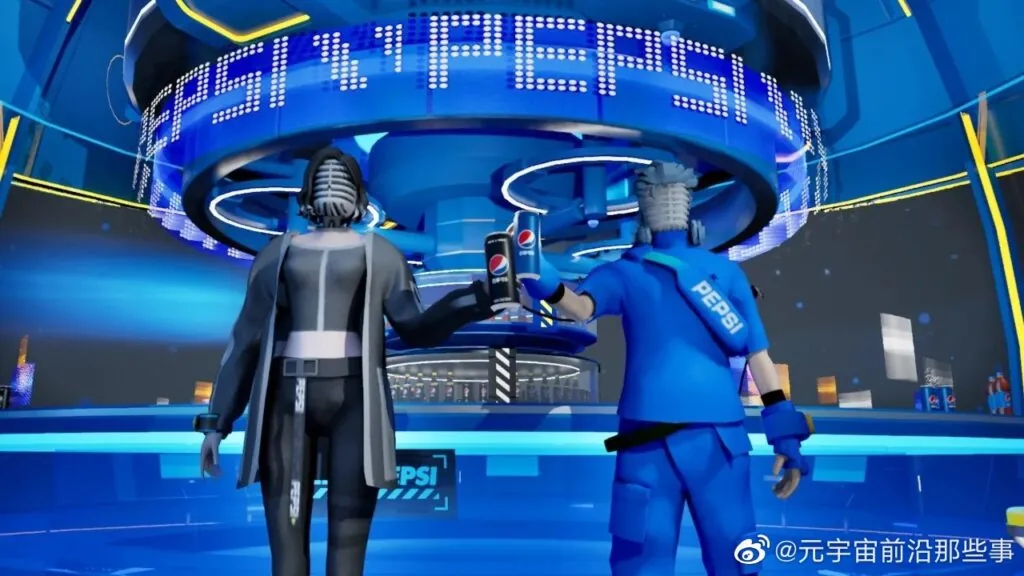 To further ignite the brand's heritage of music, the "Pepsi Music Stage" theme area has been specifically set up in the flipped space, with Pepsi's first metaverse theme song "PEPSI CYPHER" playing in the background, further enhancing the immersive atmosphere.
A spaceship-like device has also been installed, which can transport visitors to the live music space in just one click. Once having entered the party space, consumers can choose different dance moves performed by their avatars, fuelling the enthusiasm for music while unleashing the synergy of the shared interests and digital advancements.
More special experiences have been created in several three-dimensioned sections. For example, in the area known as the "Eco-friendly Zone with Blue," consumers can seamlessly jump from the Metaverse to the real world, participating in the brand's recycling initiatives and learning about Pepsi's efforts to establish a "zero plastic waste" world. While spreading the brand's voice in environment advocacy, this endeavour strengthens the connection between the virtual and real worlds.
Similarly, in the "Open to Win Another Bottle Gift Money Zone," lucky draws coupled with interactive activities have been employed to boost online engagement with gift vouchers offered as incentives. Meanwhile, consumers can collect Pepsi Zero Sugar coins to enter more lucky draws, while boosting their opportunity to win prizes ranging from Pepsi T-shirts and the brand's other merchandise to a Ukulele and travel suitcases.
By incorporating its signature offerings into the practice of gamification, the brand is able to bring about a seamless integration of physical product and digital experience in the metaverse.
The synergy of metaverse and social networking
Having been established to be a "Future Third Space" for Gen Z, it provides users with an integrated interactive experience of culture and entertainment, enabling diverse identities for visitors, which caters to the varied consumer demands amongst the target consumers.
In addition to curating an immersive ambiance, Pepsi's metaverse space allows consumers to connect with friends and other users with activities including toasting interactions, unlimited refills of cola, and dance battles. Visitors can share their virtual visiting experiences and create content together, therefore, contextualising the rather abstract concept of the metaverse with real life experiences. Such efforts will also benefit the brand in fostering a vibrant and dynamic community.
The launch of Pepsi's metaverse digital experience space not only provides a new social hub for the younger generation, but encourages them to follow their passions and express themselves freely. By doing so, the brand will increase its appeal to the shrewd generation of talents and draw them in to its metaverse space. This also paves the way for the brand's upcoming Pepsi Co-creation Gallery, which will be another avant-garde space under the brand for digital provisions including NFTs and other cross-industry collaborations, producing a comprehensive Web3 ecosystem.