Key takeaways:
NETALAND, is a pan-entertainment virtual space aimed at providing Metaverse marketing solutions for marketers to enhance their relationships with consumers and brands.
The virtual world includes five scenes, catering to diverse interests and the demand for rich digital experiences amongst the young generations.
Chinese beer maker Mars Green Beer and media platform SuperELLE have both jumped on the novel Meta space.
---
Amid the continued momentum of the Web3 evolution, NetEase Media, a content consumption arm under the Chinese Internet firm NetEase, has rushed into the race, giving birth to NETALAND, a pan-entertainment experience space. Launched on 9 April, the new virtual space is designed to provide "comprehensive and efficient" Metaverse marketing solutions for marketers and claims to "enable a more cemented relationship between consumers and brands and their products".
Embedded in NetEase's news app, NETALAND is available through the official WeChat account of the media platform. Under the tagline "Content Players and Brand Co-creation", the futuristic realm provides users with an explorative and entertaining content consumption experience, showing its intention to engage with the young demographics through the concept of gamification. Meanwhile, it offers a complete Metaverse solution for brand content marketing, as well as opportunities for brands to co-create a customised virtual space that demonstrates their brands' value.
Tempting young people's aesthetic tastes with five distinctive scenes
NETALAND encompasses five different scenes including the Surface World, the Inner World, Digital Museum, Parliament Pavilion, and Cycle World. While the "Surface World" showcases a sci-fi style, resembling a futuristic city in the sky, where users can embark on a journey through space and time with the help of a "Creation Pillar". The "Inner World" is a cyberpunk city in the polar night, with unconventional spatial stacking and dazzling neon lights, where magical parties are held.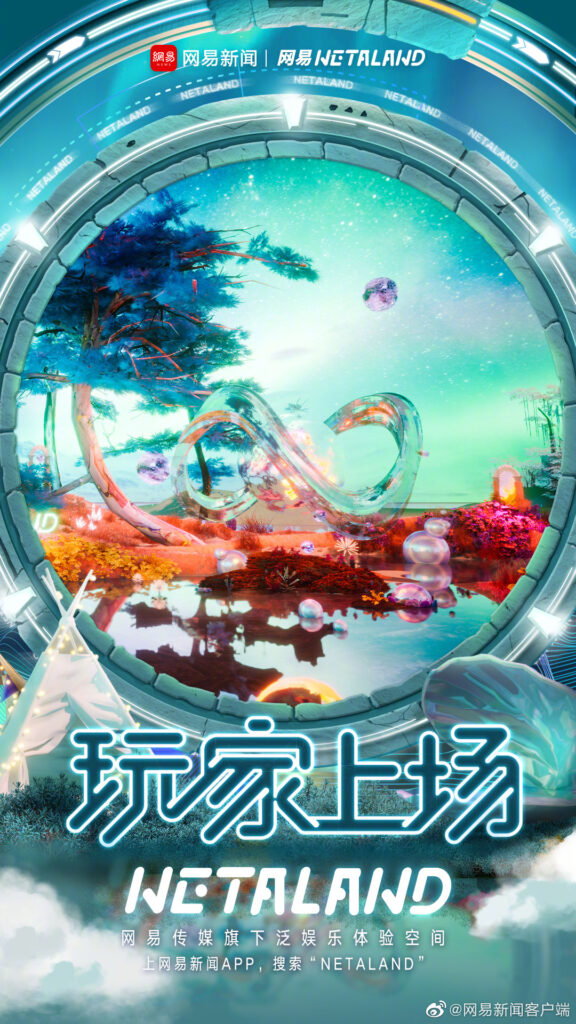 The "Digital Museum", as the name suggests, is where limited digital collections are displayed and there are also virtual fashion props that users can redeem with points. The "Parliament Pavilion" serves as a digital socialising space that can accommodate thousands of people. Unlike other sections, the "Cycle World" is designed to be an ever-changing space and is completely unpredictable, with the first edition featuring a dreamy archipelago with romantic auroras and flying whales, where users can enjoy a fantastic Spring journey. Such a diverse and immersive ambiance has built the foundation for a novel user experience.
How can users lose themselves in the digital world?
With the guideline of integrating aspects including "People, Products, Scenes and Events" in the digital space, a range of online events are set to take place in NETALAND throughout the year, including long-term programs such as treasure hunting gameplay as well as exclusive themed activities like virtual fashion shows, singing competitions, and cloud-based dancing parties. These activities cater to the entertainment needs of young people as well as various interests in the pursuit of individuality amongst these tech-savvy generations.
Meanwhile, it also introduces social interactions, where digital avatars are employed for activities such as the "awkward dance" and "crutch fighting," one-on-one chats, photo check-ins, and social sharing functions, therefore, enabling a hybrid social networking experience.
Following the unveiling of NETALAND's, "All-Member Rabbit Hunt", a limited treasure hunting activity was also launched. Users are guided by NPC Eassy, NetEase Media's own virtual influencer that once won the award for China's most valuable virtual idol, searching for clues, and collecting fragments, which can then be used to exchange for limited digital collections related to the Year of the Rabbit – a nod to this year's Chinese zodiac. This enriches the user experience by leveraging the influential virtual being and the concept of gamification.
This is coupled with another activity known as "Cloud Camping", which is a Spring-themed treasure hunting activity. It provides players with customised tents, including pyramid tents, cloud tents, and seashell tents, while users can also choose to set up camp and rest on islands, in the air, or on the water, or visit other people's tents and leave messages. Therefore, it enables a diverse game scenario.
Tapping into the Meta space for marketing
Swiftly jumping at the inventive space is Mars Green Beer, a high-end product line under China Resources Snow Breweries. Upon its landing, the brewer staged a "Snow Mountain Beer Mars Green M.SPACE Playful Party", which is dedicated to the brand's own M.SPACE, a creative lifestyle space IP that was introduced in 2019 in a bid to draw in the target audience of young adults aged between 25 and 35 years old.
The partnership saw multiple Metaverse-themed parties launched in the "Inner World" of NETALAND. These parties included livestreams by popular rappers and exclusive limited-time activities for digital collections, allowing the brand to enhance its brand's IP while strengthening their bond with target consumers through the assistance of novel technologies.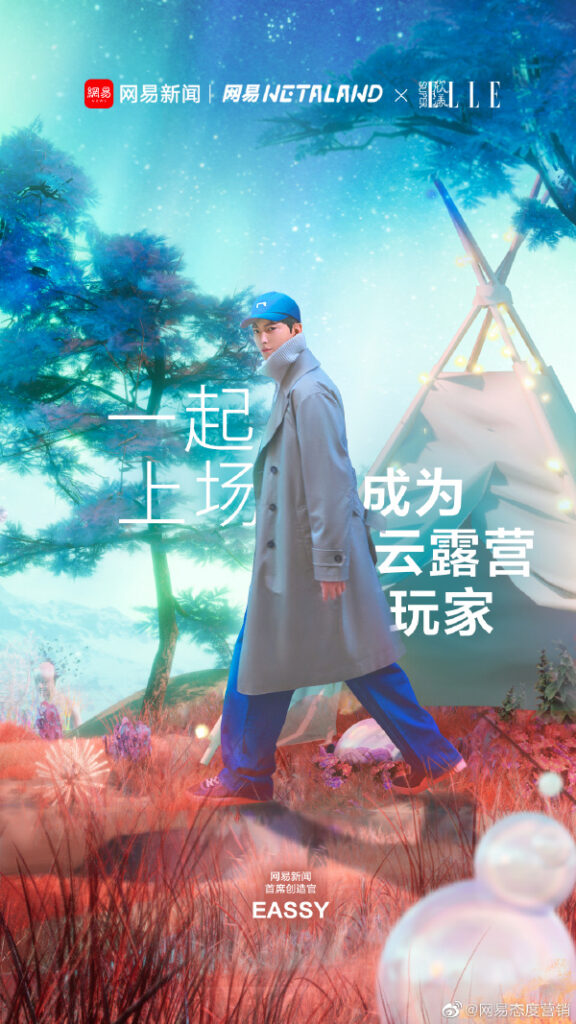 Also tapping into NETALAND, was SuperELLE, a media platform with a focus on China's youth culture. On the eve of the official launch, two of SuperELLE's virtual beings Sam and Liz teamed up with Eassy for a fashion video shoot in the space of NETALAND. With aligned aesthetics, SuperELLE landed in the "Cycle World · Cloud Camping" scene, where the media platform created its own brand island.
These examples demonstrate the establishment of NETALAND provides brands with more efficient and comprehensive Metaverse marketing solutions. While provisions such as games and virtual socialising enable a richer content consumption experience for ordinary users, the space also helps brands to build their own digital assets.
This not only allows brand users to integrate technological advancements with their existing specialities, facilitating brands' transition into the Web3, but creates opportunities for brand players to nourish their relationship with the young demographics of consumers and further drive online traffic, ultimately pulling off revenue growth.