This article is part of our weekly series shining the light on an influential Chinese brand.
Chicecream has reinvented ice cream in China with its memorable tile-shape form and unique flavours. Launched in March 2018, the brand has become well-established across China with 592 stores as of July 2020. Its rapid journey to success saw the brand sell 8 million ice creams in 2019, and become the top brand for ice cream sales on Tmall's 2020 Singles' Day.
Known as 'the Hermès of ice cream', Chicecream is top of the range in the market with one ice cream costing around 20 RMB ($3.07). However, despite its steep price tag, it has gained popularity due to its unique brand identity, creativity and clever combination of online and offline marketing.
China-focused brand identity
Chicecream's Chinese name is Zhong Xue Gao 钟薛高, a combination of three typical Chinese surnames. The grouping of well-known names was used to highlight the brand's attachment to its Chinese roots. In its aim of becoming the top Chinese ice cream brand, it has appealed to the 'guochao' (国潮) trend, in which consumers opt for domestic brands as part of a nationalistic surge. Indeed, its English name Chicecream is an abbreviation of 'Chinese ice cream', once again playing up its Chinese credentials.
The shape of Chicecream's ice creams also shows that the brand was formed with 'guochao' in mind as they are the shape of a traditional Chinese roof tile. The unusual curve design has helped them to distinguish themselves from other ice cream brands which commonly use a cone or rectangular ice lolly shape. Chicecream's unique brand name and product design have helped create brand equity and build a following among Chinese customers.
Changing consumers' attitudes towards ice cream
In the past, ice cream has been considered a product for summer, in part due to the influence of Traditional Chinese Medicine which links temperature with certain health properties. However, Chicecream has helped to break this association by marketing its ice cream for consumption all-year-round. As well as being brought as individual ice creams, they can also be purchased in multipacks for storage at home anytime.
It has also marketed its products throughout the year and has leveraged key festivals to ensure that Chicecream is not just considered a summer treat. For example, in a campaign for Christmas, the brand positioned eating ice cream with loved ones as a romantic gesture.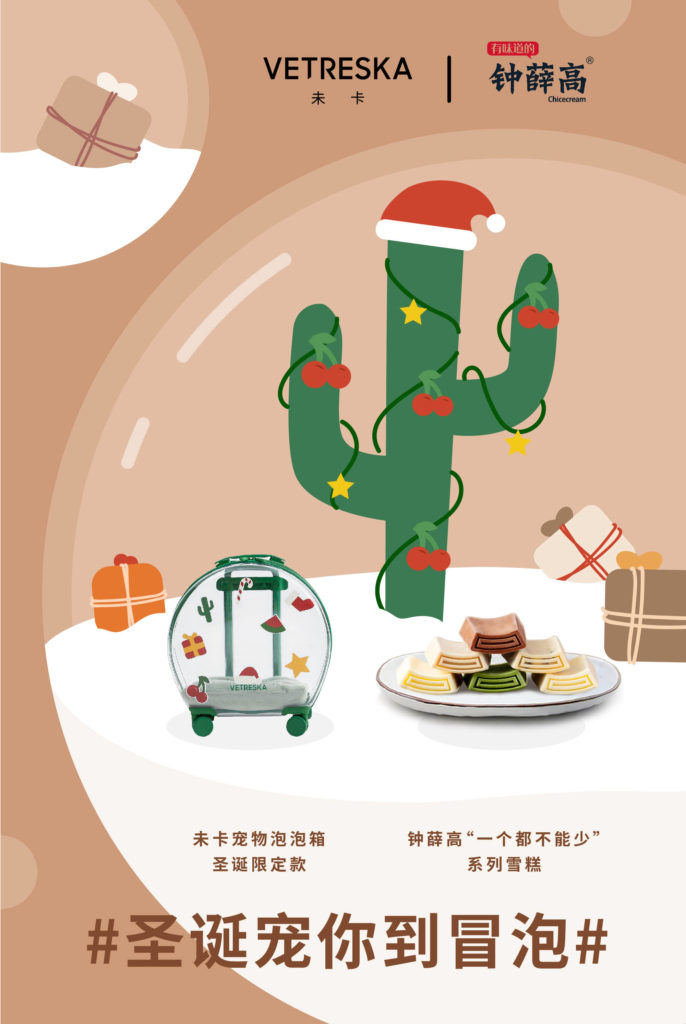 Online and offline integration
Chicecream has integrated its online and offline marketing to broaden its audience. It has combined its offline and pop-up stores with an expansive presence on social media and e-commerce channels with accounts on WeChat, WeChat Mini-Program, WeChat Channels, Xiaohongshu, Weibo, Douyin, Bilibili, Tmall and JD. Chicecream regularly works with KOLs and KOCs on social media and has launched over forty co-branding campaigns. Following its launch, it conducted many free ice cream giveaways to KOLs who shared their comments on Xiaohongshu.
In May 2018, just two months after opening, Chicecream set up a pop-up store at the trendy K11 art mall in Shanghai. Consumers who visited the store and shared a picture to their WeChat to 'daka' ('checking into' or tagging a location) could enjoy an ice cream for free.
The brand surrounded the store with 5,200 sunflowers to embody its philosophy that its ice creams are natural and don't use any sugar or additives. This clever marketing ploy also attracted many young Chinese to take photos with the sunflowers, increasing their visibility online. The campaign, which was shared widely, attracted many new consumers and spread the word about Chicecream soon after its launch.
Creative flavours sell out in a second
Similar to popular bubble tea brand HeyTea, Chicecream's consistent and creative design work has earned them a following among young Chinese consumers.
For Singles' Day in 2018, Chicecream launched a set of three ice cream flavours using natural flavourings:
'Pink chocolate crispy crust' made from the naturally pink ruby cocoa from Ecuador. The brand claimed that the natural pink cocoa bean had been discovered in the past 80 years, and its rarity meant that it was as expensive as diamonds.
'YUZU lemon pomelo puree' taken from Japan's Yuzu lemon pomelo and extracted naturally.
'Mellow Greek yoghurt' made from high-quality cow milk from the Sunshine Ranch and fermented with two kinds of bacteria.
Despite coming in at a pricy 66 RMB ($10.13), the limited-edition products flew off the shelves and 20,000 pieces were sold in 15 hours. The high-cost products appeal to Chinese consumers who want to show off their 'high-quality lifestyle' on social media.
Chicecream's distinct product and brand
Chicecream's creative campaigns, online and offline integration, and unique brand identity has earned them a top spot in China's ice cream market. Its effective marketing strategy has brought about wide-scale brand awareness and changed consumer's attitudes towards only eating ice cream seasonally.
---
In a recent interview with CGTV, the founder of Chicecream Lin Sheng spoke about what made the brand's products go viral among China's Gen-Z consumers, and about their plans to launch overseas.
---
Read more: