Karl Lagerfeld established himself as one of the most iconic designers of the 20th and 21st centuries through being creative director of high-profile luxury brands Chanel, Chloe and Fendi, as well as founding his own fashion brand of the same name in 1984. Lagerfeld's talent expanded beyond fashion and included illustration, photography, styling and publishing. As such, the Karl Lagerfeld brand tries to encapsulate the designer's personality and passion for the artistic process.
The luxury brand sells menswear, womenswear and children's clothes, as well as accessories, jewellery, shoes and perfume. It has expanded to own more than 200 stores across 96 countries worldwide, including metropolitan hubs Paris, London, Munich, Moscow, New York, Dubai and Shanghai.
Karl Lagerfeld's iconic status expands to China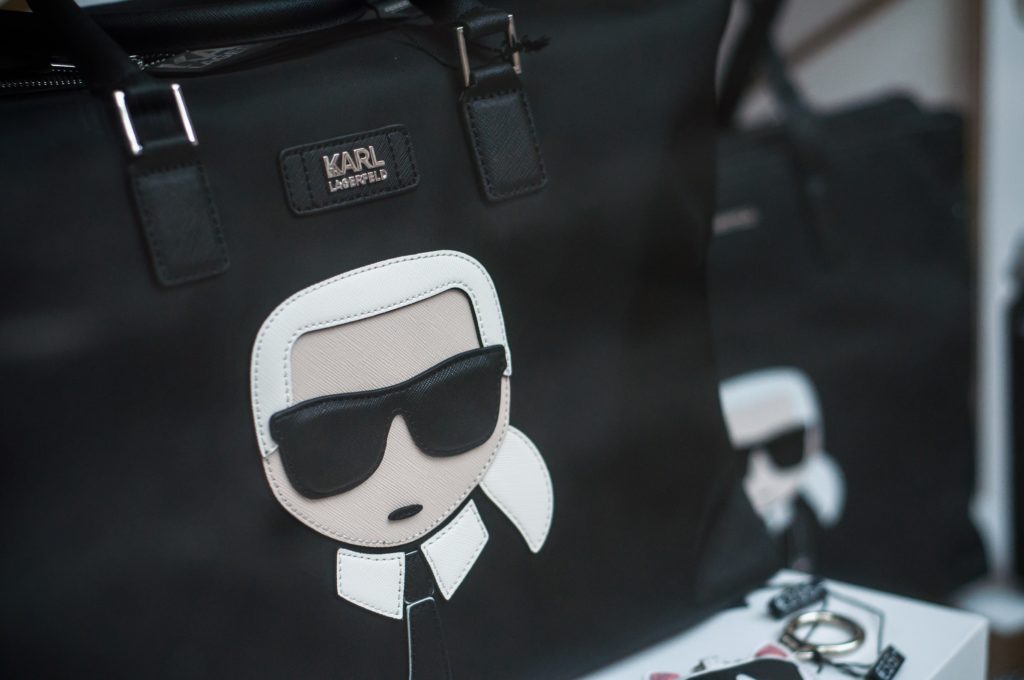 Karl Lagerfeld was given the honourable nickname of "lao fo ye"老佛爷, which was the title of the Emperor of the Qing dynasty, to compare him to the Emperor's unique social status in society. In the same vein, he is also known as the "Caesar of the fashion industry" in China because of his reputation and status within the fashion world.
When he passed away in 2019, many members of China's fashion industry joined the world in expressing their condolences. The model Liu Wen and actress Zhouxun shared their working experience with Karl Lagerfeld in their tributes.
The designer and company Karl Lagerfeld has had a long-standing connection with China. In 2013, the brand Karl Lagerfeld officially entered the Chinese market with stores in Shanghai, Beijing, Wuhan, Nanjing and Changchun, and it later extended its presence with online stores on JD and Tmall. Fendi held its fashion show at the Great Wall in Beijing in 2017 showcasing a collection which was partly designed by Lagerfeld. Furthermore, the brand has taken part in several co-branding campaigns in China with high-profile brands from other industries.
Pepsi imitates Karl Lagerfeld's style in tribute collection
In 2019, Pepsi China launched limited edition Karl Lagerfeld products in order to pay tribute to the designer following his death. The limited edition Pepsi cans were inscribed with one of Lagerfeld's most famous quotes (in Chinese) that depicts his attitude towards fashion:
"fashion is an attitude more than a clothing detail"
Inspired by Karl Lagerfeld's creative designs and passion for monochrome colours, the collection included a black Pepsi can, fan and handbag. The products were featured in the Chinese edition of BAZAAR magazine.
Karl Lagerfeld X KFC's unpopular collaboration
Earlier this year, Karl Lagerfeld worked with KFC to celebrate its 80th anniversary in a collaboration that may have been a little too bold and risqué for the designer himself. Karl Lagerfeld produced two limited edition bags which had been customised from their original design to feature "Kentucky Fried Chicken" in place of the Karl Lagerfeld logo and the signature branding "Paris" changed to "Kentucky". The top surface of the bags contained three red stripes in the trademark colour of KFC. One netizen commented that :
"This collaboration is bizarre and farcical to me. I don't know who would buy a chicken bag worth 2890 RMB (£300)."
This attitude seemed to be reflected among most Chinese consumers as only three "Kentucky Fried Chicken" bags were sold in October on KFC's Taobao official online store. However, the luxury label didn't stop at bags, it also designed specific KFC uniforms for its employees which it showcased in an exclusive fashion show.
The collaboration with a fast-food chain was certainly a bold move from Karl Lagerfeld and one that it didn't manage to pull off. KFC often partakes in co-branded campaigns (see its partnership with food giant Cargill and with Ant Group's sustainable finance initiative Ant Forest) to attract attention and demonstrate that KFC is more than a fast-food restaurant. However, in this case, the campaign's vision did clearly not resonate with the audience of either brand.
Tsingtao Beer pays homage to Karl Lagerfeld's muses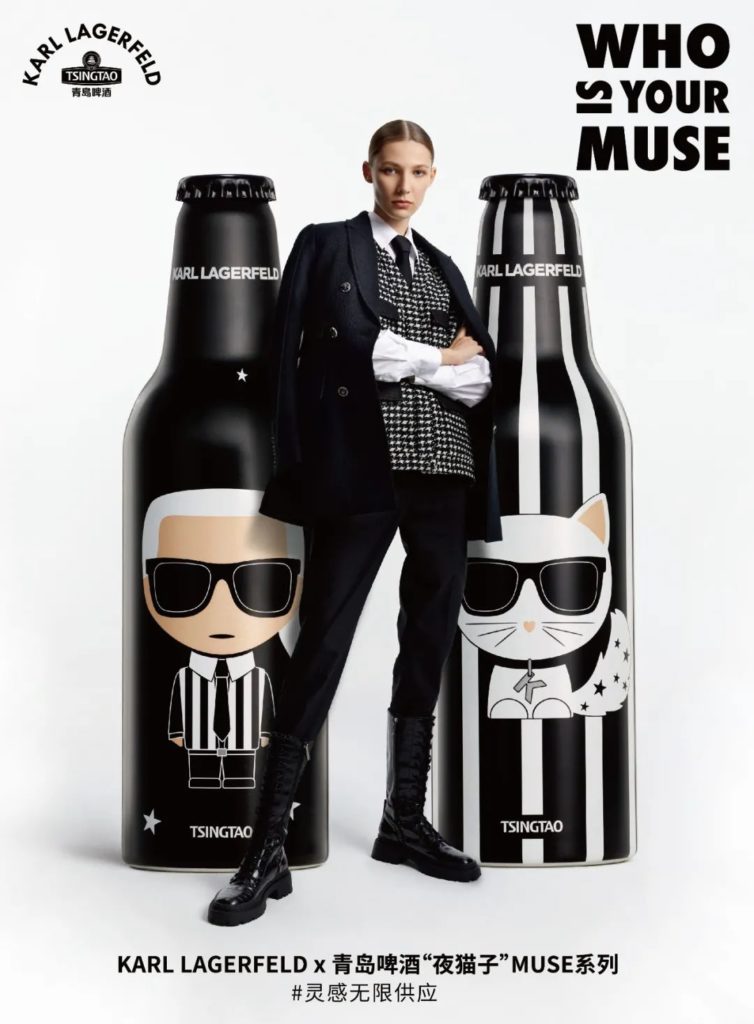 Karl Lagerfeld's latest collaboration in China was with another food and drinks supplier, but this time a Chinese brand… Tsingtao Beer.
The collaboration saw Tsingtao's "night cat" series, which features black cats on the beer bottle, get an upgrade. The "night cat MUSE series" collection featured a cartoon Lagerfeld and his famous cat Choupette Lagerfeld and was a homage to the muses which defined his career. The collection also included plates, handbags, blind boxes, bottle openers and wallets in a similar design.
Lagerfeld always cited his creative inspiration as being his muses – the famous models he worked closely with, which included Linda Evangelista, Claudia Schiffer and Kimora Lee Simmons, as well as his cat. As such, Tsingtao's campaign "who is your muse" was inspired by this idea. The design resonated with Chinese young people, many of whom feel that their creativity is compromised due to long working hours. The co-branded products also stuck to Karl Lagerfeld's iconic monochrome style, enabling the luxury brand to maintain its unique style within the partnership.
Tsingtao launched its Tsingtao Lab in Shanghai on November 4 which offered customers the chance to take part in games, cat shows, parties and purchase blind boxes while drinking the limited edition beers.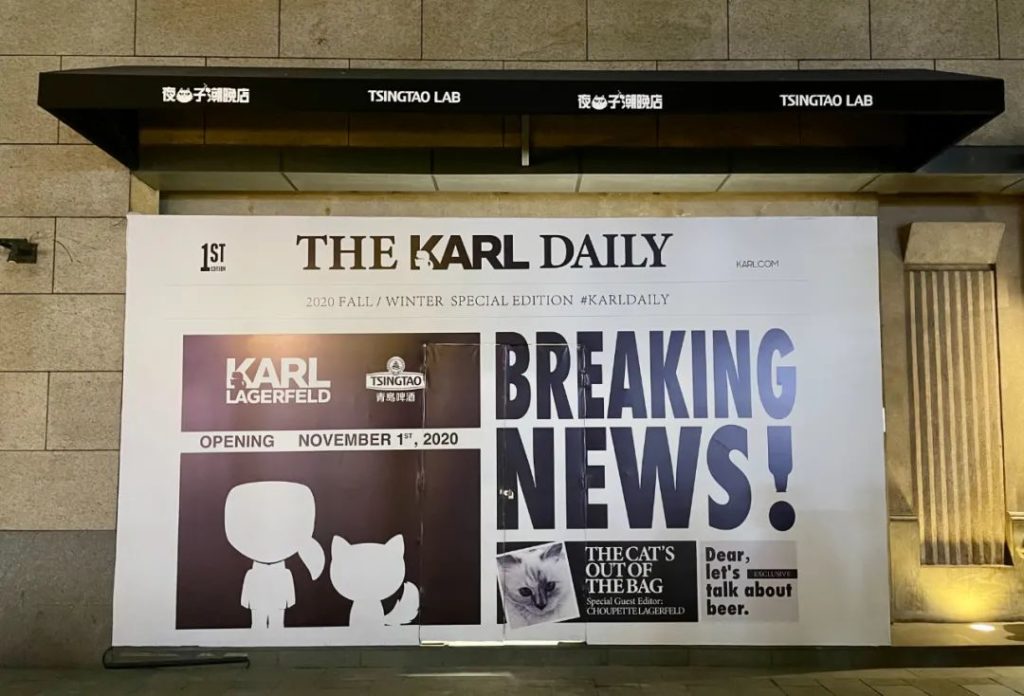 The campaign between two much-loved brands gained success through its combination of online and offline events. The hashtag #night cat inspiration support MUSE ON AIR hit 3.28 million views and 12,000 comments on Weibo.
Cross-industry collaborations require careful consideration
Through personal branding, Karl Lagerfeld's iconic status as a designer within the fashion industry helped his brand successfully enter, and build a following, in the Chinese market. Karl Lagerfeld's co-branding campaigns have managed to combine two topics that are popular among Chinese young people, fashion and nightlife.
While some of the luxury brand's cross-industry partnerships have been successful in promoting sales and expanding its audience, the collection with KFC shows that brands should carefully consider the nature of their collaboration and whether the individual brands share the same identity and values.