Over the last couple of years, China has witnessed a surge in young consumers' interest in domestic brands and clothes that incorporate Chinese traditional style and culture, a trend known as Guochao (domestic Chinese designer brands).
As the so called "post-90s" are becoming one of China's largest spending groups, many brands have quickly jumped at this opportunity to showcase their Guochao design. HEYTEA is one of these brands achieving staggering sales with its fashionable design and marketing strategies.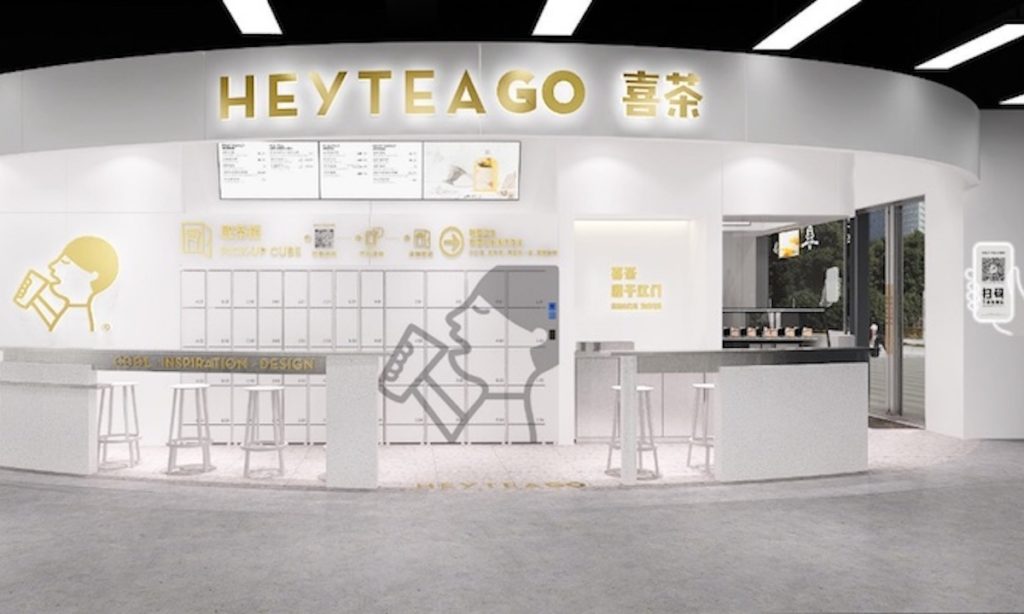 Most Chinese consumers know HEYTEA not because of its taste but because of its edgy design and creative marketing campaigns. HEYTEA's design styles include Guochao (domestic Chinese fashion), vintage and colour clash.
These styles are not "flash-in-the-pan fads", but long-term trends that reflect the changing preferences and fashion styles of Chinese consumers.
Guochao-style posters
Nowadays, especially with ongoing disruptions in international relations, Chinese youngsters consider Guochao as a badge of (national) pride – Chinese retro.
HEYTEA's Guochao style posters are extremely popular because of their display of "cultural self-confidence". China has followed Western fashion for a long time now, so it's time to embrace its own.
Co-branding
HEYTEA collaborated with many brands from the fashion, cosmetics, music and food industries, including AAPE, White Rabbit, QQ Music, and Fenty Beauty.
The milk tea brand has become extremely popular among Chinese youths due to its numerous product design collaborations with top brands.
White Rabbit Candy
Almost everyone born after 1990 has tried White Rabbit sweets and they are considered a key childhood memory. HEYTEA marketed its products to capitalise on the nostalgia of young consumers.
WONDERLAB
WONDERLAB is one of the most popular meal replacement shake brands in China. This collaboration instantly became a Weibo sensation as the two brands offered free products to their followers on Weibo, with 11.5k reposts, 5.4k comments and 3.8k likes.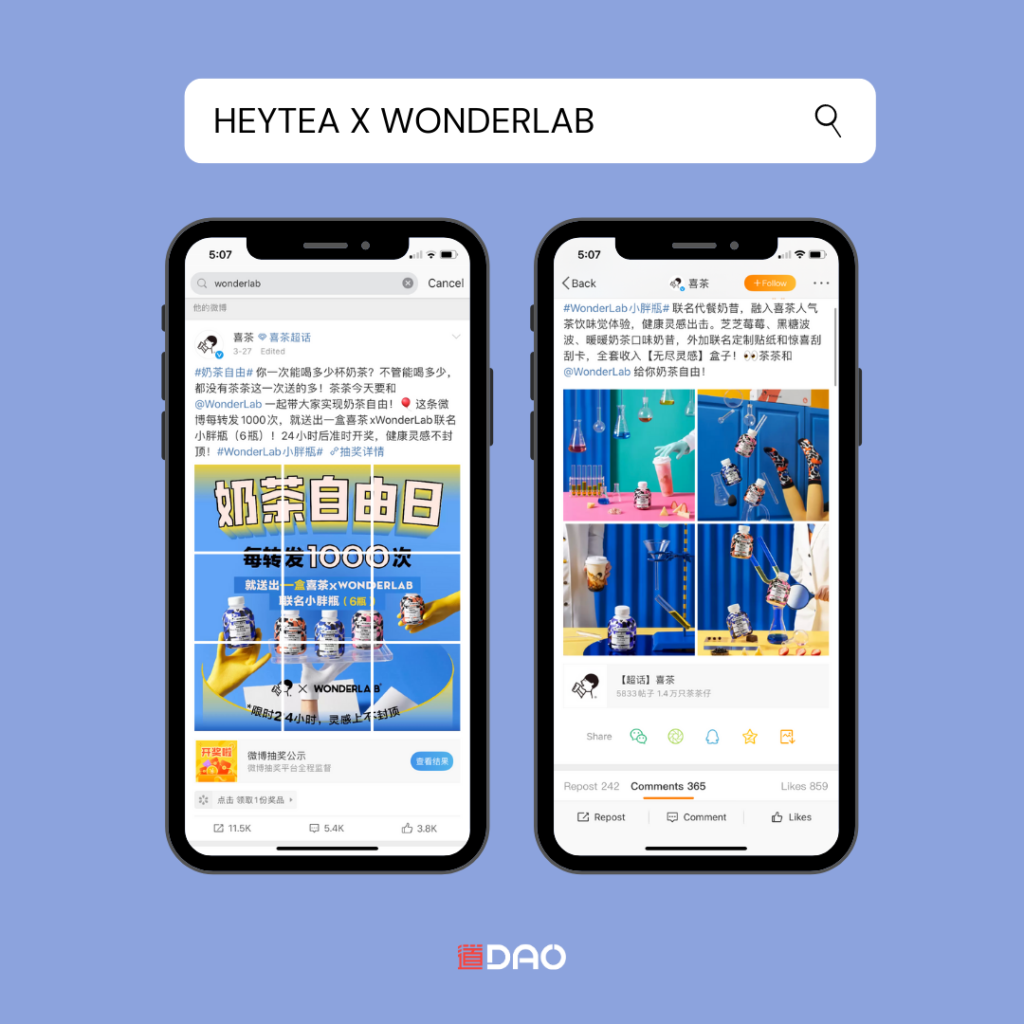 AAPE
HEYTEA teamed up with leading fashion brand Aape to offer limited-edition milk tea to attract young consumers. The company even established an Aape pop-up store in Shanghai which was announced on HEYTEA's WeChat official account.
The article gained over 100,000 views and 720 WOWs. After HEYTEA launched this campaign, a netizen commented: "Is there any brand that Hey Tea can't collaborate with? I don't think so."
FENTY BEAUTY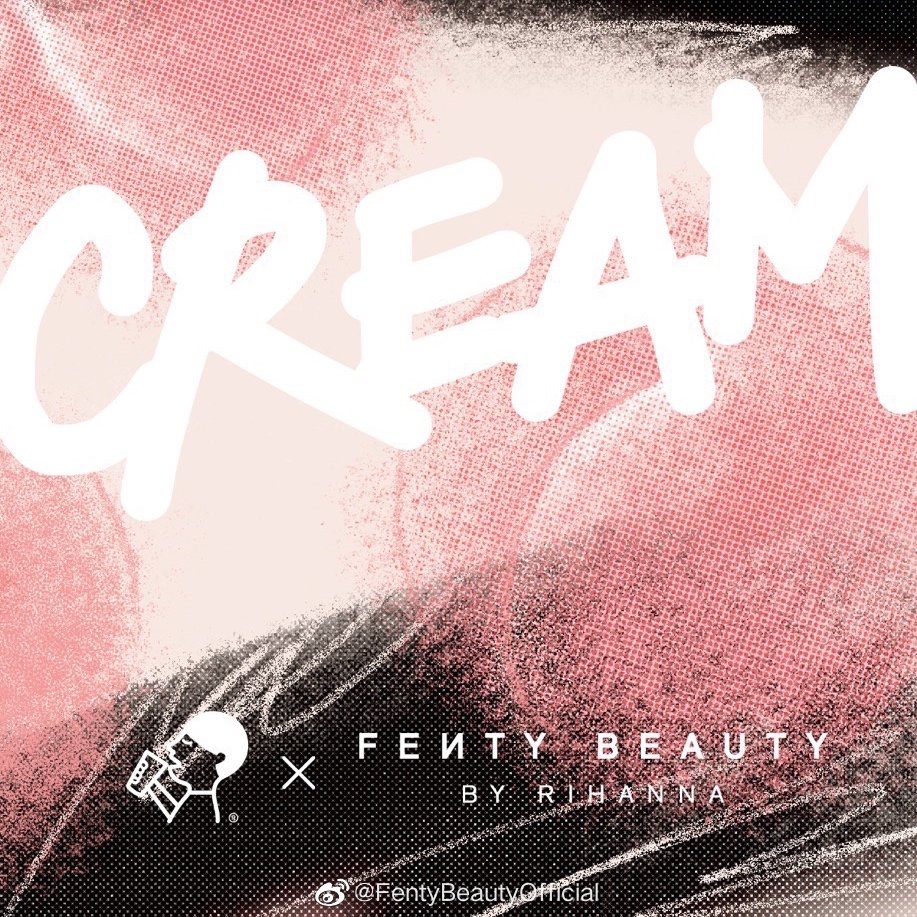 Fenty Beauty launched its Tmall flagship store in 2019, with the entry into China marking Fenty Beauty's presence in the world's second largest beauty market. To make Fenty Beauty more popular to its digitally savvy Chinese consumers, the brand partnered with HEYTEA – a mega-merger.
The two brands launched a hashtag #FentyFaceFresh on Weibo to engage with their audience, which hit 40.64 million views and 1 million discussions.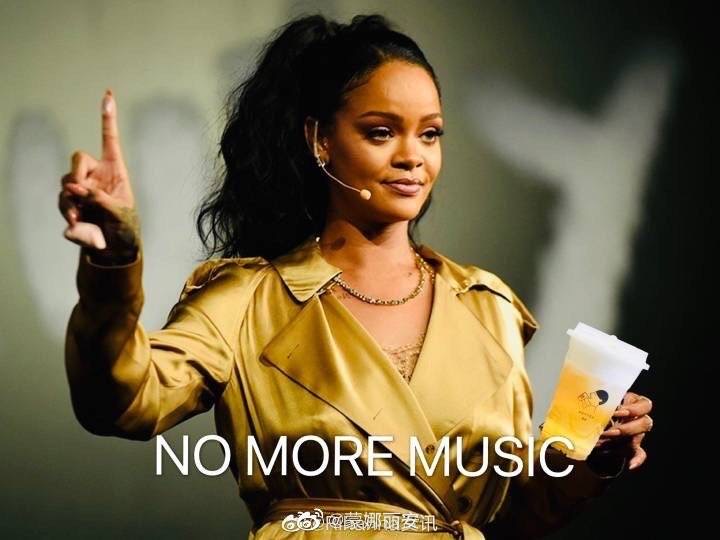 One of Rihanna's fans even created a sticker that features Rihanna holding a cup of HEYTEA.
HEYTEA Accessories
HEYTEA also produce their own branded accessories, such as bags, mugs, mobile phone covers, and brooches. These products also feature the Guochao style as it aims to increase brand awareness among young consumers. This demographic love the transformation of old heritage brands into "nostalgic chic".
HEYTEA X QQ Music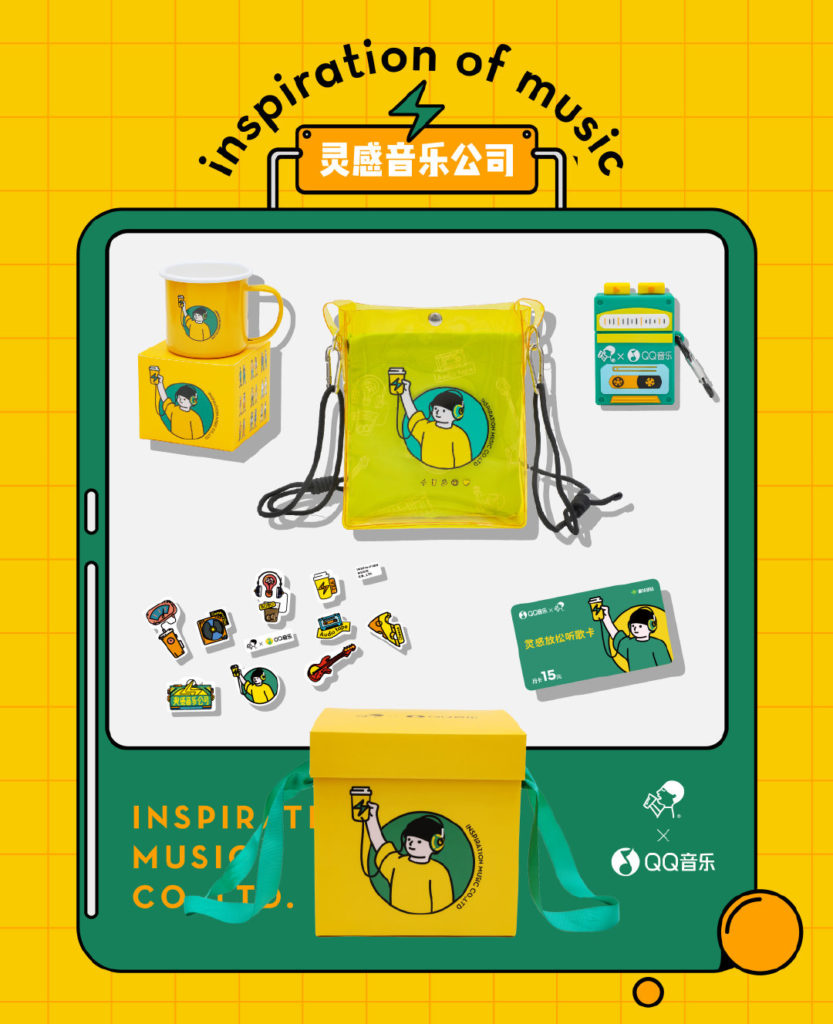 Apart from fashion and food brands, HEYTEA also collaborated with music platform QQ music who have 575 million users in total. These small products are portable and cute. Many netizens love the colour combinations.
"Love these accessories that can perfectly match my clothes!" one of HEYTEA's Weibo followers said.
Canvas bags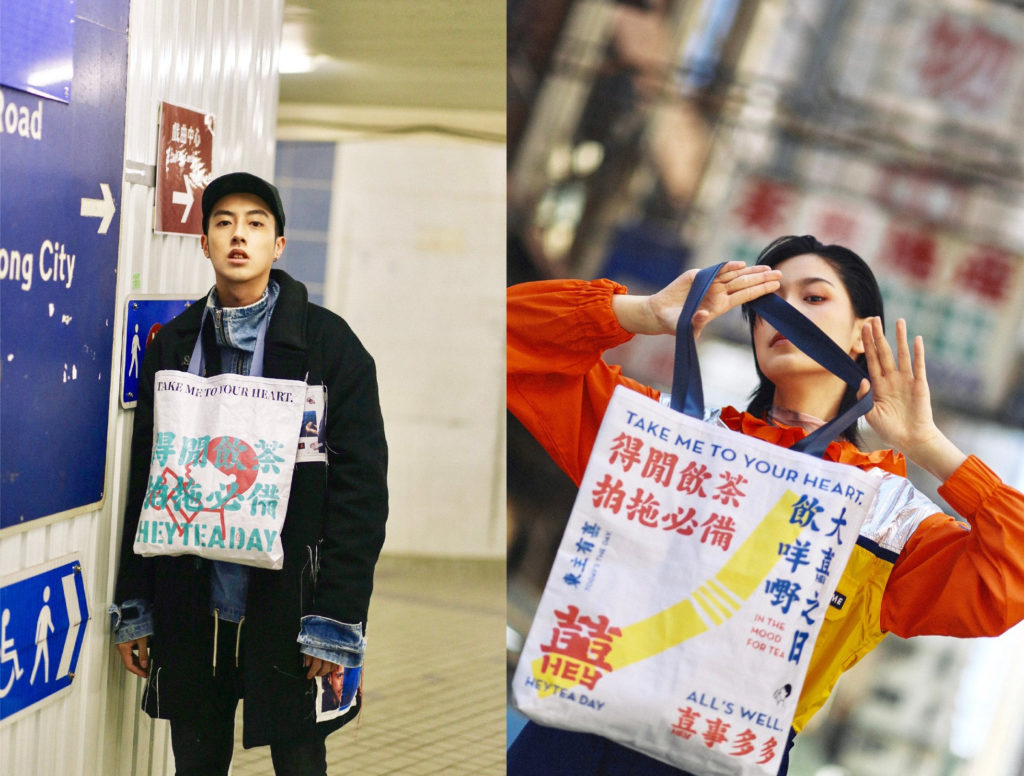 These canvas bags are a perfect example of the Guochao bandwagon – fashionable, stylish and innovative.
"Made in China" phone covers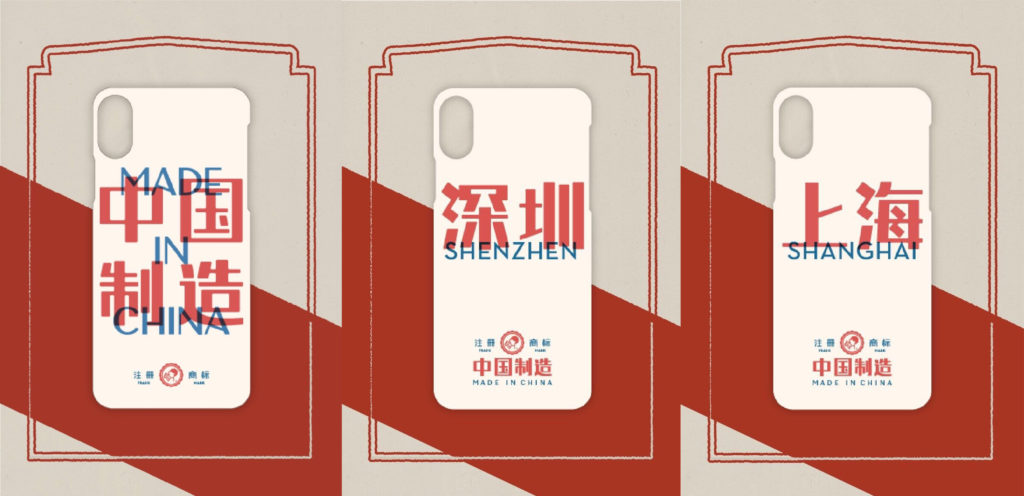 Today, "Made in China" has become a badge of pride for Chinese youths, and it is an empowered Chinese identity. China has been growing so fast and Chinese consumers no longer chase Western brands. They are proud of "made in China". Hey Tea provided an opportunity to consumers to express their patriotism.
HEYTEA, as one of China's largest tea beverage chains, pioneered the digitalisation of Chinese beverage chains by leveraging its social media presence on Weibo and WeChat.
Because of its innovative design and marketing campaigns, the company has amassed 21.5 million users as of 2019 on its WeChat mini-app and 710,000 followers on Weibo. Co-branding and Guochao style design are two powerful weapons for HEYTEA.
Brand: HEYTEA