Short video platform Kuaishou's second-hand e-commerce business has received more than 630,000 orders in three months. The company, which recently listed on the Hong Kong stock exchange, launched its second-hand retail platform at the end of December last year.
Earlier today (March 22), Zou Ji'an, the head of Kuaishou home and second-hand business operations, announced that the platform for used goods had already attracted more than 1,000 professional livestreamers. Other second-hand shopping platforms and retailers, including JD.com's Paipai and Feiyi, have also joined Kuaishou's second-hand business. They are able to promote their products in streams with direct links to their respective platforms.
Kuaishou also worked with Paipai to hold its first large-scale promotional event on March 19 at the Changzhou Testing Center of Paipai. Over 44 million orders were placed during the event which attracted 2.6 million viewers. The average transaction value exceeded 5,000 RMB ($768).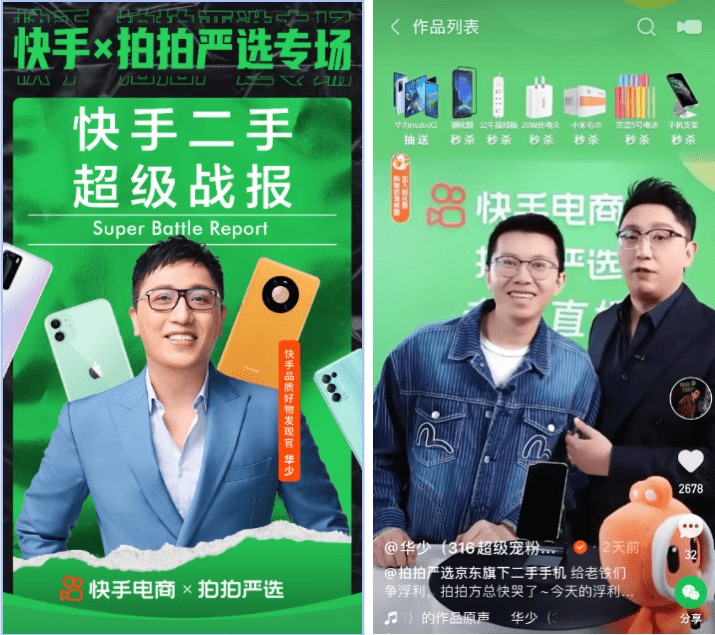 The following day, a representative from the second-hand luxury goods company Anjieli conducted a livestream on the platform in which a second-hand Hermès bag was sold for 168,000 RMB ($25,800).
The market for second-hand goods is growing in China, as documented in our case study on the rise of second-hand marketplace Xianyu. Young Chinese consumers are eager to save money by finding high-quality products at low prices, and China's vintage market has been booming as a result. In addition, the trend has been hastened by an increased consciousness about the environment and sustainability.
Indeed, Kuaishou's business expansion is a response to rising demand. Zou Ji'an stated that Kuaishou's e-commerce channel was seeing a lot of second-hand product transactions even before the launch of its second-hand business. Live commerce is popular within this market as consumers can learn more about the unique nature of the products, and streams are also a more efficient selling mechanism for retailers.
Read more:
Join our newsletter