Key Opinion Leaders (KOLs) have become a crucial part of marketing in China due to the boom in the country's livestreaming industry and the importance placed on recommendations (zhongcao). But, with Chinese consumers having an ever-growing demand for exciting new technology, a different kind of KOL has taken the spotlight in China… the virtual KOL.
The partnership between brands and virtual KOLs
China's virtual KOL industry is expected to grow to 1.5 billion RMB ($232 million) by 2023. Brands are snapping up virtual KOLs, and they have been used in campaigns by Dior, KFC and Vogue.
But how does the collaboration between the two actually work?
Brands can either work with an established virtual KOL and their 'agency', or create their own. Estée Lauder is one brand that has developed its own virtual idols so that it can be in complete control of the individual's actions. At the moment, the majority of China's virtual idols are in the two-dimensional AGCN style but technological development will change how they look and what functions they can carry out. The future possibilities for virtual KOLs are endless, and that is what is attracting brands and consumers alike.
​Chinese consumers' demand for the latest tech
In China's fan economy, consumers love to follow the lives and details of leading celebrities and KOLs, so what is it that attracts them to AI-powered influencers?
Chinese audiences expect the latest technology to be integrated into their consumer experience. Whether it's VR, AR, AI or 5G, consumers want to use China's rapid technological advances in their day-to-day lives. Hence, why virtual KOLs have become popular.
Ferdinando Verderi, the creative director of Vogue Italia said that the appeal of virtual is due to its ability to foster imagination:
A less risky alternative to 'real' KOLs
For brands, virtual KOLs are less risky. As more and more companies, especially international ones, face the wrath of Chinese consumers' 'cancel culture', they need to be extremely careful about which celebrities or KOLs they choose to partner with.
The virtual KOL can be controlled and will not cause negative attention due to their personal life or political comments. As well as acting 'correctly', virtual KOLs can also be controlled to look a certain way and will never be 'out of shape'. In addition, being powered by technology means that they can work all day, every day and don't need to be paid a salary… an attractive option for brands!
Virtual KOL Ling promotes Chinese identity and style
Brands are using virtual KOLs' Chinese appearance, identity and style to appeal directly to Chinese consumers, especially in the climate of growing consumer nationalism.
The first AI-powered Chinese virtual KOL, Ling 翎, has the appearance of a Chinese woman. Since being launched in May 2020, she has worked with well-known Chinese and international brands, including Tesla, Vogue and Nayuki. Her agency says that Lin is available to participate in business endorsements, livestreaming, online and offline events.
Netizens have praised Ling's traditional Chinese fashion style and makeup, and consumers feel like they are being represented by her. As such, global brands can use virtual KOLs to show their willingness to connect with Chinese identity and heritage.
Tmall Luxury Pavillion employs virtual KOL Noonoouri
Noonoouri is another virtual KOL who has taken China by storm, even representing the country's largest online marketplace. Created by Joerg Zuber, a graphic designer from Munich, Noonoouri's Instagram has over 374,000 followers and describes her as a "digital character. activist. vegan".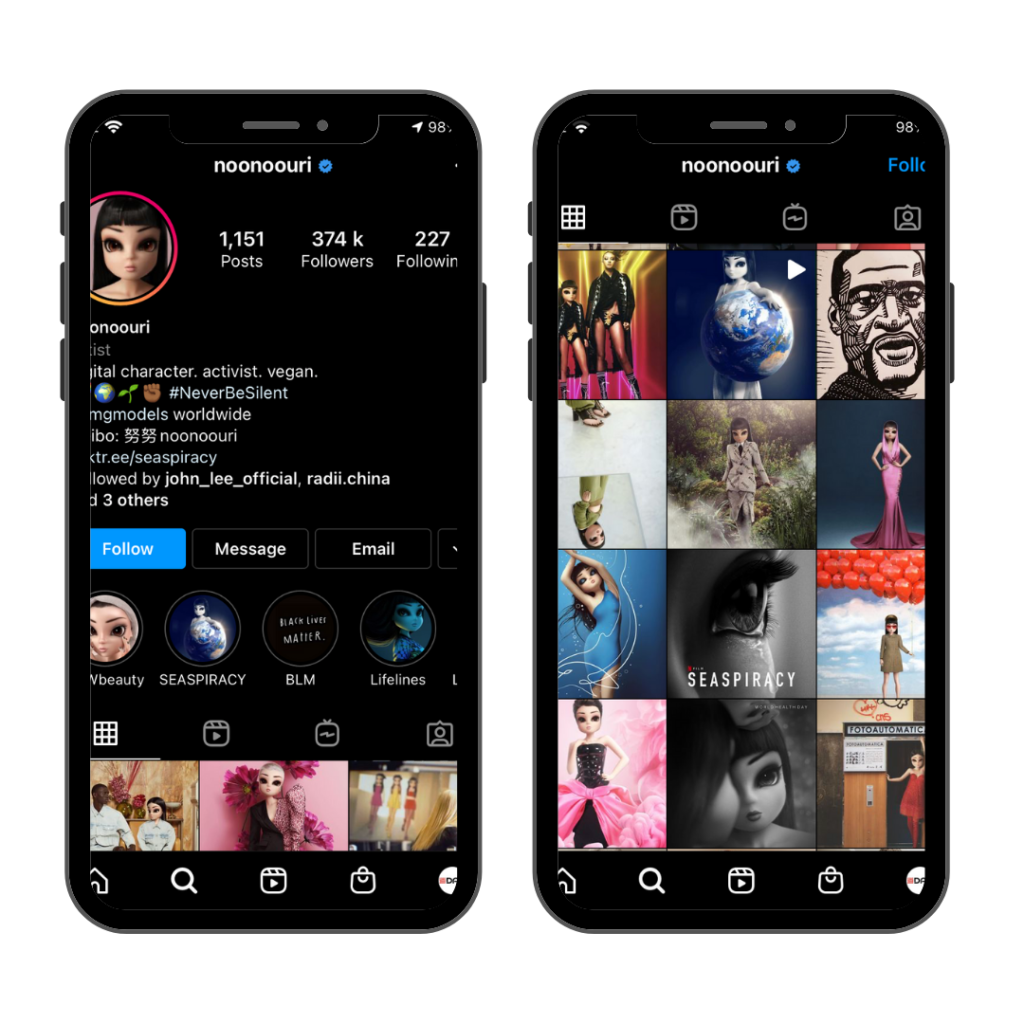 Although she is not from China, she has a huge Chinese fanbase and has worked with many local brands, alongside big global names, like Dior, Versace, and Balenciaga. She was hired by Tmall as an "official employee" to promote the e-commerce platform's Luxury Pavilion. Noonoouri's first event with the platform was to watch Valentino's 2019 fashion show live with her audience to celebrate the brand opening its first flagship store on Tmall and entering Luxury Pavilion.
According to her Instagram, Noonoouri is exclusively represented by Vogue China/ Vogue Me in Greater China, which allows them to control her "operation management, image management and creation, and all commercial management and negotiation".
Last month, she also worked with famous Chinese celebrity Li Xian to promote the Italian luxury brand Zegna's SS21 campaign 'What Makes My Man'. The collaboration appealed to both Chinese and Western audiences, and the post on Instagram attracted 11,400 likes. Li also shared the campaign video on his Weibo account which gained 23.8 million views, 1.2 million likes and 1 million reposts.
KOLs create a virtual self
In fact, the virtual KOL industry is doing so well that some existing KOLs are looking to create a virtual alter-ego. One of China's top influencers Angelababy debuted in virtual form at Dior's 2021 fall show at Shanghai Fashion Week on April 12. After the show, virtual Angelababy recommended the Dior lipstick she wore during the show on her newly created Weibo account. Many of Angelababy's followers commented that they liked the creative approach and thought that her outfit would also suit the real Angelababy.
The expansion of virtual marketing presents opportunities for existing KOLs who can develop their business through a virtual partner. This allows them to work with more brands and expand their audience.
China's rapidly expanding virtual KOL industry
Ling, Noonoouri and virtual Angelababy are just a few of the virtual KOLs that are popular among China's Gen-Z, also among the ranks are Luo Tianyi, KFC's Colonel Sanders, Tmall's Aimee, PokaPoka and L'Oréal's Mr. Ou.
The industry's full potential has not yet been unleashed and brands have a huge opportunity not just to partner with virtual KOLs, but also to model their own. As well as being a risk-free alternative to 'real' KOLs and celebrities, they can also gain the attention of Chinese consumers who are keen to engage with new technologies.
---
Read more: