Chinese New Year is one of the most important times of the year for Chinese people, and, for many, their only chance to reunite with family. As such, Chinese New Year campaigns are as crucial as Christmas ads in the West and provide an opportunity for brands to connect with their Chinese consumer base on a deeper level.
A successful campaign should invoke cultural sentiments surrounding the celebrations – the gifting of red envelopes filled with money, family reunion dinners, setting off fireworks, watching the Chinese New Year Gala, wearing red clothes and putting up decorations. Indeed, many of these traditions have evolved in the digital age and with China's rapid economic development, as shown by trends like "reversed celebration" which is a consequence of mass urbanisation. Brands should harness the way the festival is adapting in modern Chinese society and embrace traditions in a digital format, as shown by WeChat's digital red envelopes which launched in 2014 and Alipay's "scan fu" campaign which began in 2016.
Scanning and collecting "fu"
Alipay's "scan fu" campaign plays on a tradition at the heart of Chinese New Year – putting up posters of the character 福 (fú). Meaning good fortune and prosperity, the character poster is usually stuck upside down. The word for "arrive" (到 dào) sounds the same as "turn upside down" (倒 dào), therefore, signifying that good fortune and prosperity will arrive if you reverse "fu".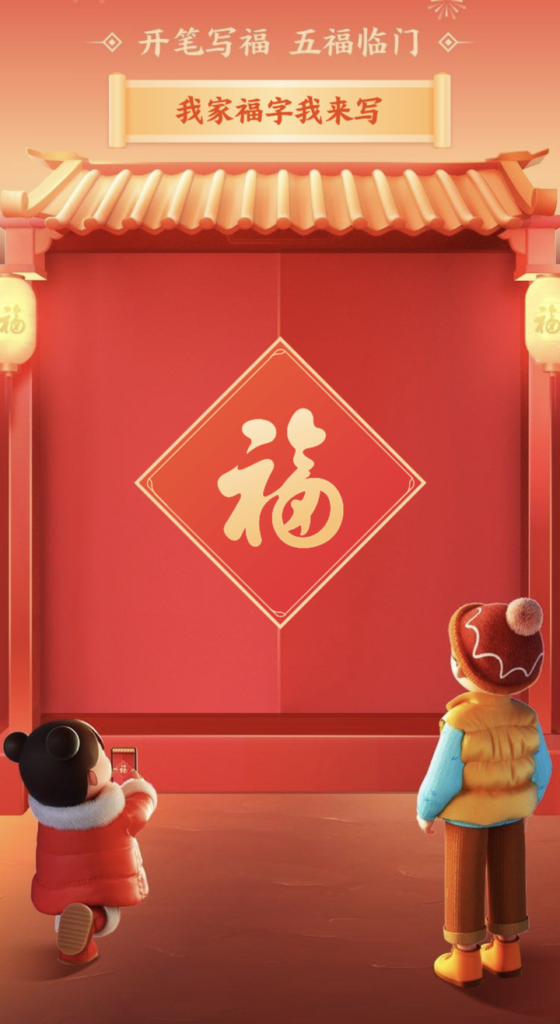 Alipay users can scan any "fu" character, regardless of whether it's handwritten or printed, to collect virtual "fu" cards on the platform. They represent five traditional Chinese blessings: dedication, harmony, patriotism, prosperity and friendship. Users must collect all five cards in order to obtain a digital red envelope with a random amount of money inside and enter into Alipay's raffle. To make the campaign more interactive, Alipay allowed users to send missing "fu" cards to their contacts, which has been effective in boosting the campaign's engagement.
Over 1.73 billion people have participated in the campaign over the last five years, including 327 million in 2019 and 318 million in 2020 (a reduction due to the impact of COVID-19 lockdowns). Over 300 million users are estimated to "scan fu" this year.
Handwritten "fu" posters for 2021
Launching on January 25, Alipay's 2021 "scan fu" campaign involves a new feature. Users can handwrite the "fu" character and customise it with stickers on Alipay's mini-program. The designs can be saved as phone wallpapers or printed and sent to users for free (Alipay is sending a maximum of 500,000 per day). The personalised "fu" can also be uploaded on the app for the chance to appear on one of Alipay's five blessing cards which users can start collecting from February 1.
The difficulties of celebrating from afar
Alipay's 2021 short film "Expectation", which promotes its "scan fu" campaign, focuses on the theme of family reunion during Chinese New Year. Being with family is at the crux of celebrations and for many, especially migrant workers living in cities, this wish has been hampered by COVID-19 for the last two years. As a result, the film plays on the emotional sentiment that many people have felt as they are unable to travel home and see family.
The video tells the story of a grandfather desperately trying to catch a glimpse of his astronaut grandson during the Chinese New Year period. The old man attempts many ways to reach his grandson and show him that he is missed. He seeks out a TV signal tower in the hope that his text message will send; builds a large telescope which falls apart; and creates a "fu" kite but the rope breaks. When all these attempts are futile, the grandfather is on the verge of giving up when he suddenly realises that his grandson will be able to see fireworks from space. His friends, touched by his dedication, help him to set off fireworks which are seen by his grandson who wishes him "Happy New Year, grandpa" from above.
The video appeals to several central parts of Chinese New Year celebrations – family, fireworks, Chinese New Year Eve dinner and wishing for luck as symbolised in the hidden coin in dumplings.
The hashtag "five 'fú'" hit 850 million views and the video gained 17.5 million views on Weibo, with 289,00 likes and 4,200 reposts. Netizens described it as a "touching story". The video was also posted on WeChat with 38,700 views and received 1,600 likes on Douyin.
"This video is very relatable for the people who can't return home this year. Thinking about each other is the best reunion."

Netizen's comment on Weibo
The campaign was shared internationally on Alipay's Western social media channels.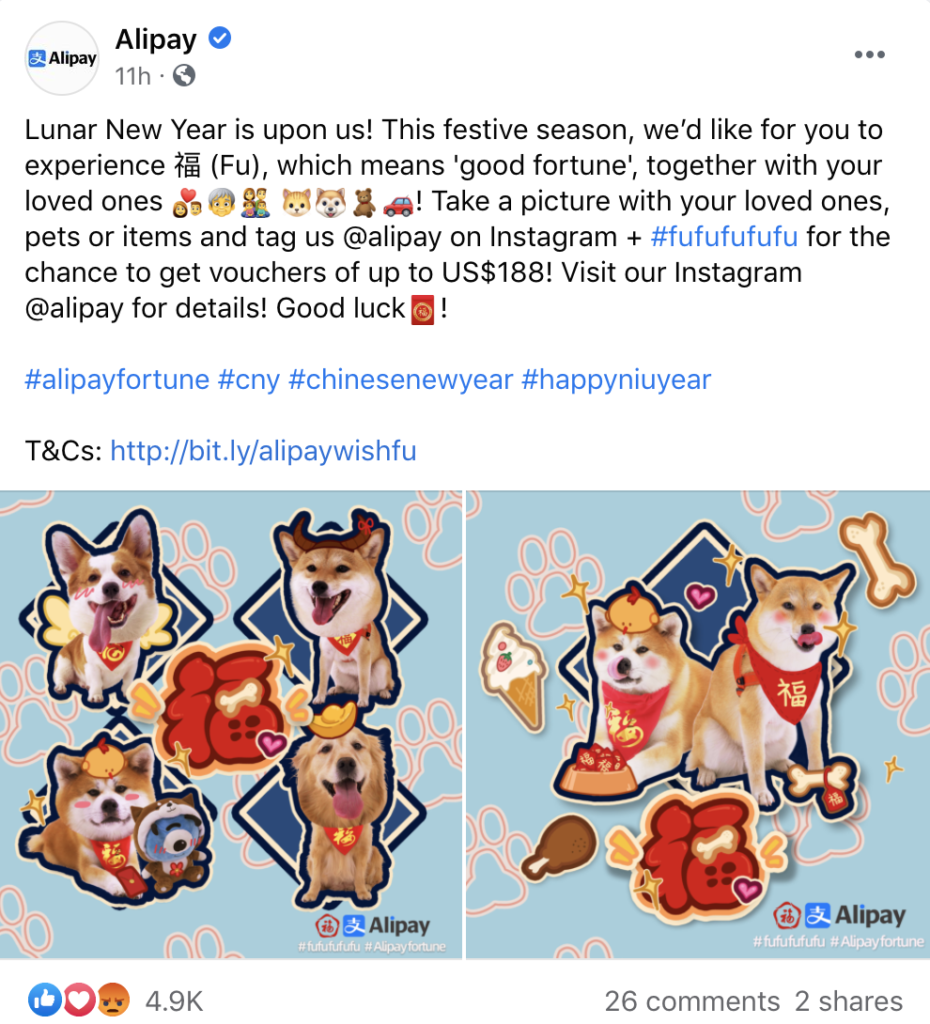 Adapting CNY traditions to a digital audience
Alipay triggered its audience's emotions with a story which showed the strong bond between grandparents and grandchildren. The short film played on the difficulties of being separated during Chinese New Year, a theme especially relevant this year due to the impact of COVID-19. Alipay's "scan fu" campaign has consistently gained high engagement as a result of its ability to combine old traditions with digital technology.
---
Want to join in a live discussion to watch and scrutinise the latest Chinese New Year campaigns? Register for Qumin's 2021 Chinese New Year Ads UNPACKED event which takes place on February 10 at 2 pm GMT.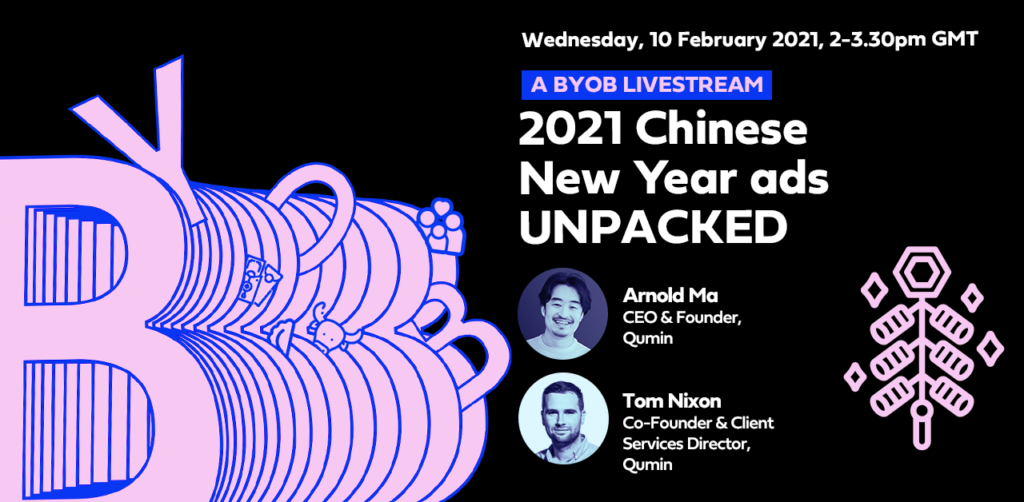 Read more: