The Chinese character 福 fú represents good fortune and prosperity and is posted upside down around the house during Chinese New Year to bring luck. As well as being a traditional celebration, it has also become synonymous with payment service Alipay's "scan fu" campaign which launched in 2016.
Alipay users can hold up their mobile phone to scan any fu character they see during the Chinese New Year period. After scanning, they will be presented with one of the five traditional Chinese blessings: dedication, harmony, patriotism, prosperity, and friendship. If a user opens all five, they can enter into Alipay's raffle and be in with the chance of winning a cash prize. Over 600 million people have participated in the "scan fu campaign" over the last five years.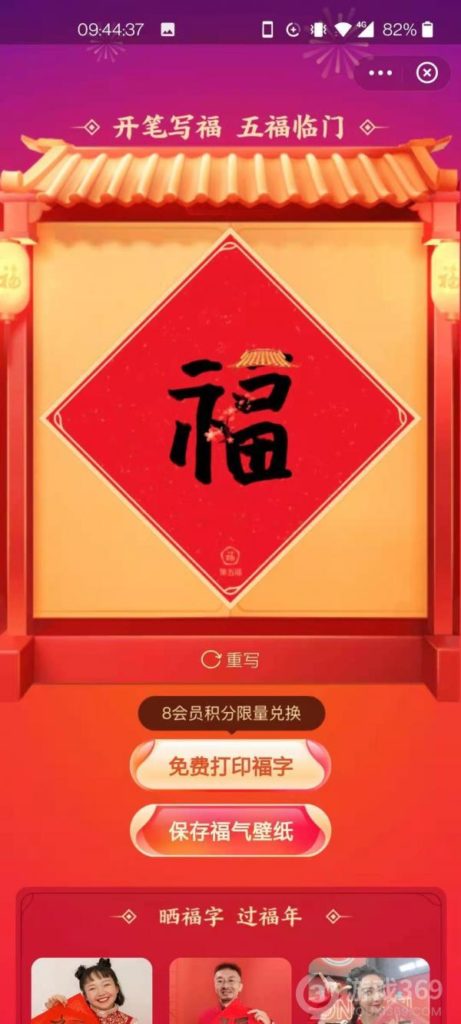 For this year's "scan fu" campaign, which will be launched on January 25, Alipay will add a new feature. Users can handwrite the fu character via Alipay's mini-program and design it using stickers. The designs can be saved as phone wallpapers or printed for free and sent to users' home addresses (Alipay will send a maximum of 500,000 per day). They can also be uploaded on the mini-program for the chance to appear on Alipay's five blessing cards.
According to a report in January 2020 by the China New Economic Research Institute, the collection of five fu on Alipay was one of the four new Chinese New Year customs in the 21st century. The others were voted as cloud greetings, grabbing red envelopes, and family travel.
Read more:
Join our newsletter