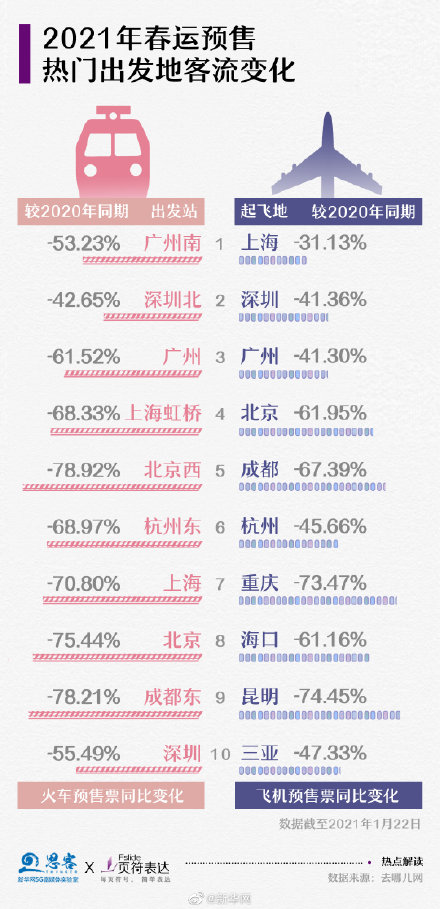 Today is the first day of chunyun 春运, the travel rush which takes place during Chinese New Year leading to the largest annual human migration. Chunyun lasts for a 40 day period surrounding the festival, which will take place between January 28 and March 8 this year.
However, chunyun will be very different from usual this year.
The Chinese government is trying to avoid a complete shutdown of celebrations, while still trying to prevent further spread of the virus. A series of outbreaks in northern China over the last month have caused serious concern about the travel predicted to take place during the festival. Areas with clusters of cases (southern Beijing and cities in Jilin and Heilongjiang provinces) are under severe lockdown but other areas are also facing travel restrictions.
Anyone wishing to travel must have certification of a negative nucleic acid test within the previous seven days, temperature checks are being carried out at all transportation hubs and masks must be worn during journeys. People returning home must carry out a fourteen-day "home observation" period in which they are regularly monitored and forbidden from taking part in large gatherings.
Some local governments and companies are even giving out financial compensation and other benefits to urge residents and employees to stay put. The government also introduced plans to vaccinate 50 million people before the festival begins.
Despite a reduction in passenger flow, China's Ministry of Transport expects that approximately 1.7 billion trips will be taken during Chinese New Year, equating to an average of 40 million per day. Nonetheless, this is a large drop from the 3 billion trips carried out in previous years. Weibo and Douyin users have posted videos showing train stations looking considerably emptier than usual for this time of year. Nonetheless, it is still likely to be the busiest month of the year for China's transportation services.
In a move to increase efficiency and convenience, Guangdong province has pioneered a new health code system which allows elderly residents to swipe their ID card rather than displaying the code on their mobile phone. By tapping their ID card on a reader connected to a computer, elderly residents can quickly pass through railway and bus stations. The system was trialled at a bus terminal in Guangzhou today and the hashtag "#elderly can swipe ID card to verify health code" gained 74.96 million views.
Read more:
Join our newsletter