Awareness about nutrition and healthy lifestyles has increased over the years within China, especially so since COVID-19. The pandemic has caused people to develop new indoor exercise habits and an acute awareness about health has resulted in a greater emphasis on diet and nutrition.
This trend has gone hand-in-hand with many residents in cities such as Shanghai turning to 'creative' land-intensive solutions, such as rooftop farming. By definition, this is the cultivation of food crops and gardens on the roofs of domestic, commercial, or municipal buildings.
Rooftop gardens promote sustainability and food awareness
Although the idea of rooftop gardening is nothing new globally speaking, in China, it has highlighted a novel way to grow food in urban areas with limited land resources. As well as allowing city residents to enjoy the benefits of agriculture, it has also provided farmers with the opportunity to use their skills and knowledge in a city setting. 
Rooftop gardens can be used as sustainable urban farms to help tackle environmental problems, such as air pollution, and promote sustainable development. Developing local produce has not only reduced the transport costs associated with moving agricultural products from rural areas to cities, but it has also helped to solve food safety issues as residents are aware of where and how their food is grown.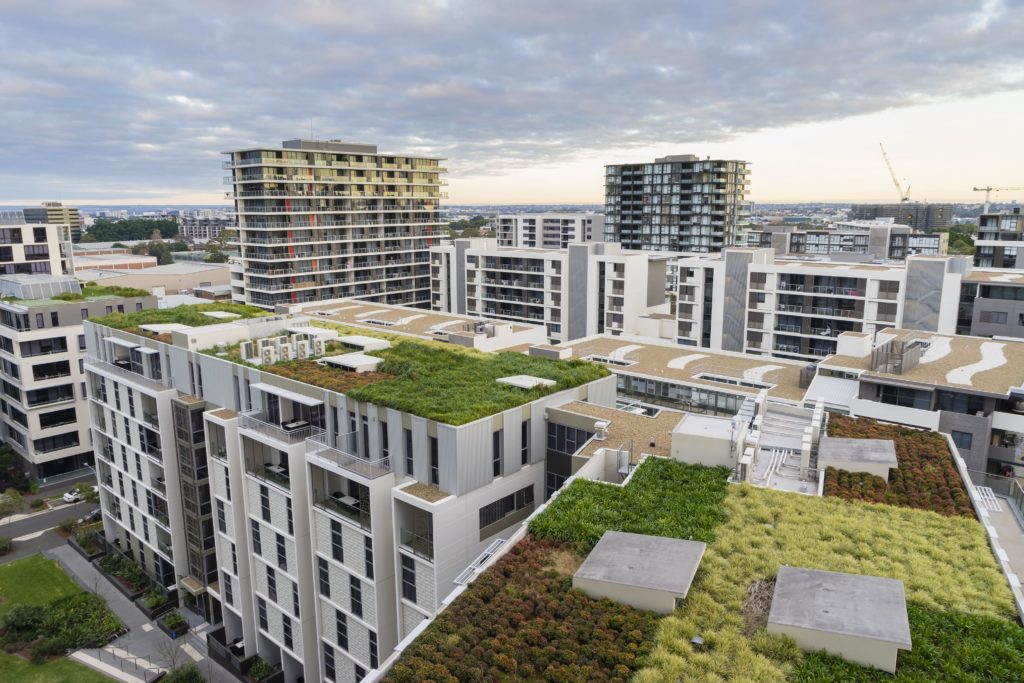 Rooftops gardens have educated many city dwellers about how vegetables and fruit are grown. The opportunity to learn about nature and agriculture has subsequently had an impact on people's healthy eating habits. As the trend of cultivating rooftop gardens has become more popular, it has also helped city dwellers meet their increasing demand for organic produce.
Aside from physical health, rooftop gardens can help promote better mental health for both children and adults. They provide a haven away from the bustling city and allow an escape to nature with the added benefit of being a place for residents to relax in relative peace.
Rooftop gardens receive government support and technology assistance
The gardens are also aesthetically pleasing and have provided a stimulus for architects to create elaborate designs and transform urban areas. The benefits of sky gardens are numerous and it seems that the government have recognised this too.
In 2016, Shanghai announced that they aimed to add two million square metres of greenery to the roofs and walls of the city's buildings by 2020. And, it seems that they are achieving this goal with around 20 farms filled with greenery, herb gardens, vegetable plots, and animal farms established in the city over the last year.
Other higher-tier cities, such as Beijing, Wuhan, Shenzhen, and Chengdu, have also undertaken plans to vigorously develop rooftop gardening. For example, in 2016, architects transformed a rooftop of a Chengdu shopping mall into a garden. It acted as a free space for the public to learn the science behind planting and cultivating agricultural produce.
In Beijing, technology has been aiding the development of rooftop gardening. Interested groups have been designing devices and methods which help to increase the effectiveness and crop yields of urban rooftop gardens. Furthermore, technology has helped citizens to take care of their plants through a mobile app in one rooftop garden in Shanghai. The app allows them to virtually monitor the development of their plants and even provide artificial sunlight and water when required.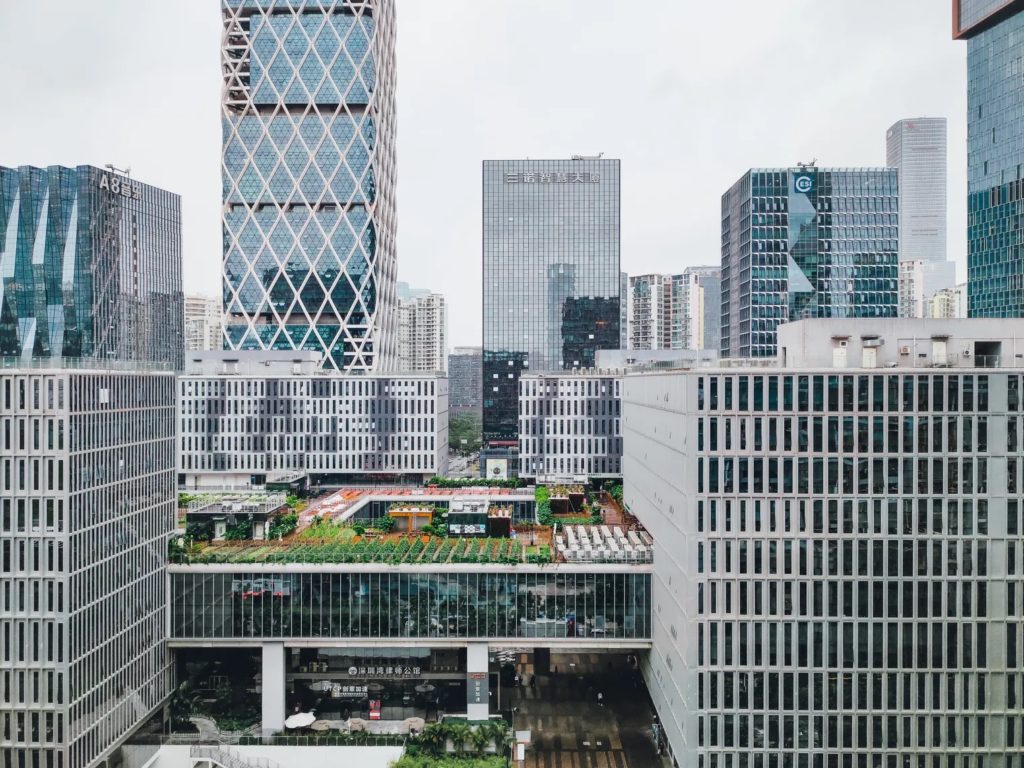 Subsidies and space restrict their expansion
Like all new initiatives, there are some downsides to rooftop gardens. For one, cost. On average, the construction of green roofs cost twice as much as traditional roofs, and this tends to put off private building developers. With few government subsidies available, urban farms can be difficult to sustain; although subsidies are available for sustainable projects, currently none target urban agriculture.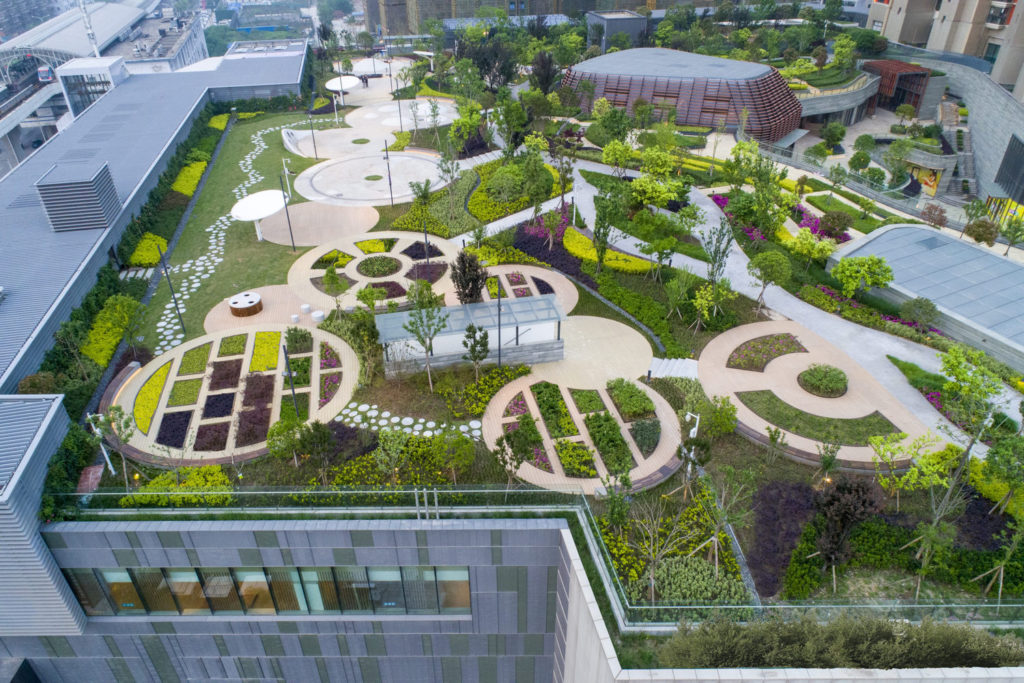 There is also an ongoing debate about the environmental impact, both positive and negative, of rooftop gardens. Whilst they are more eco-friendly than mass farming, they have a limited environmental impact considering their small scale. Nevertheless, they are still an innovative way to cultivate healthy sustainable living in densely populated cities.
Will rooftop gardens be an area of global collaboration?
There is no doubt that rooftop gardens will continue to develop, not only in mainland China but globally. Cities such as Hong Kong, Singapore, Paris, Germany, New York and London have also seen the number of rooftop gardens increase notably. Indeed, urban farming has led to a number of joint ventures between the EU and China, including a collaborative project called SiEUGreen which promotes the use of rooftops and green public spaces for sustainable urban agriculture.
Such initiatives will hopefully continue to flourish with a growing number of environmental non-for-profit groups encouraging residents to establish rooftop farming and the continuation of China's healthy-living trend.
---
Read more from Juliette: