Mascots aren't just for kids' brands in China. From Burberry's cute critter WeChat stickers to the time-honoured KFC Colonel, having a cartoon representative may be more valuable than you realise.
A relatable and recognisable connection with brands
M&M's, Michelin, Monopoly, Nintendo, KFC and Pringles – all household names, all with mascots that are synonymous with their brands. What helps these brands connect with their customers is a relatable, recognisable and memorable character that creates an empathic reaction in a glimpse.
Those familiar with Chinese giants Tencent will immediately recognise the QQ penguin. Similarly, Meituan (the largest home delivery app) brings to mind delivery drivers on the streets of Shanghai dressed in yellow with kangaroo ears on their helmets, while the video game controller-shaped cat head from e-commerce megalith Tmall's advertisements are plastered throughout Chinese subway stations.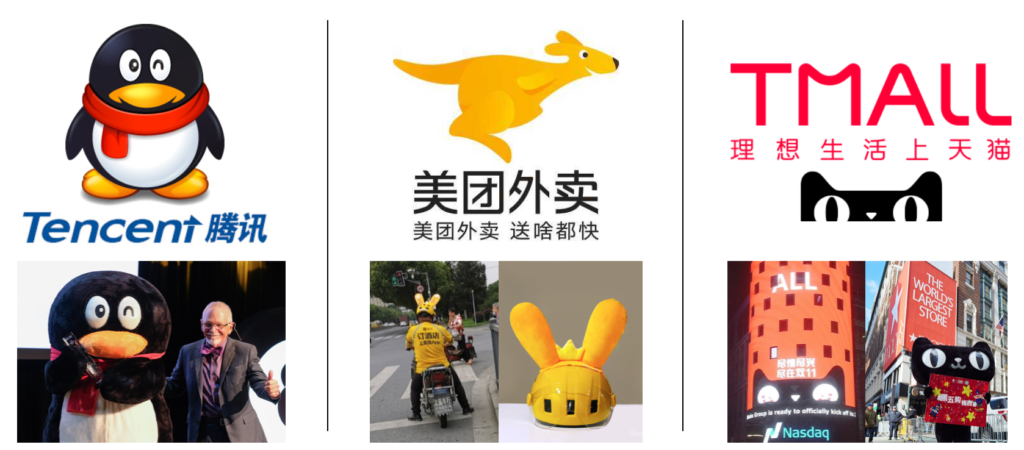 Both in the west and in China, companies use mascots to differentiate themselves from their competitors and convey their brand personalities, but the key difference is their ubiquity in China.
Engaging customers and increasing the likelihood of purchase
Mascots, traditionally anthropomorphic cartoon characters, help companies build a more powerful brand image and persona. They elicit a direct intuitive response in consumers, and broaden the scope of a company's customer engagement that takes the relationship beyond the purely transactional nature of purchasing.
Research by Proud Arunrangsiwed and Isari Pairoa showed that brand mascots significantly increase a customer's willingness to purchase products, create a more positive attitude toward the products, and heighten the possibility of purchase. Furthermore, in 2020, Ipsos found that brand characters are 5 times more effective than logos on customers' brand linkage and recall.
In China, using 'ke ai' (Mandarin for 'cute') characters and cartoons to convey messages is appreciably more common than in the west, and far more acceptable to the adult cultural palette. Even the CCP uses cartoons to make public announcements and recommends television broadcasters give priority to animated series. Floob Creative, a Shanghai-based design agency that specialises in creating brand mascots and associated consumer products, has recently seen a strong boost in interest from companies looking to add brand mascots to their marketing efforts.
An effective social media and marketing tool
Brand mascots are able to function as influencers on social media platforms and build a following around their stories. According to Dunho Marketing, a Shanghai-based mascot marketing company, mascots notably outperform celebrity endorsers.
Most companies in China have official WeChat accounts, and those with mascots periodically create animated stickers for their followers to download, share and pepper into their chats, tapping into the 1.2 billion monthly users on the platform. Similarly, Chinese companies' marketing departments will release seasonal posters depicting their mascots celebrating major Chinese and western holidays, as well as downloadable phone wallpapers for followers to decorate their home screens.
The licensing potential of mascots
After applying for the appropriate trademarks, a company's mascot can itself become a licensed intellectual property. Using the image and personality of a popular character can help the sales of consumer product lines, such as apparel and toys, video games and animated media, and generate licensing revenue for the IP owner.
One example in China is B.Duck, which began as a company selling waterproof radios, and now has a successful line of products based solely on their character, including their own fashion apparel lines, as well as a long list of licensing awards.
A strong future for brand mascots in China
China accounted for more than half of global trademark filing activity in 2019 with 7.8 million trademark applications, and is now the fifth-largest licensing market in the world, with no signs of slowing down. Despite brand mascot usage already having strong roots in the marketing industry in China, an increasing number of companies are beginning to implement mascots in their branding and messaging to capitalise on their competitive advantages.
---
If you enjoyed this article and want to contribute a piece to Dao, please get in touch with the team at [email protected]
---
Read more: