The landing of Billboard Live
On 30 March, Billboard, the Ohio-born music and entertainment magazine that has become the world's most influential music media brand, unveiled its first livehouse in China at Old Harbour Loft in the city of Shanghai. Also serving as the brand's flagship store, the new installation, Billboard Live, is believed to arrive in other Chinese cities, bringing an integrated space combining music and art with entertainment and food.
While capitalising on its existing global resources, the label is set to curate a highly localised music space, incorporating the characteristics of the Chinese language and local rhythm, while providing offline performances as well as the latest trends in music. Upon the launch ceremony, it also revealed Road to Billboard (RTB), a music program designed to help discover local up-and-coming musicians.
It is understood that the livehouse has teamed up with Weibo, China's biggest microblogging site, which will see the exclusive release of the first season of RTB. While recruitment has kicked off, selected candidates will have the opportunity to debut on the stage curated by Billboard.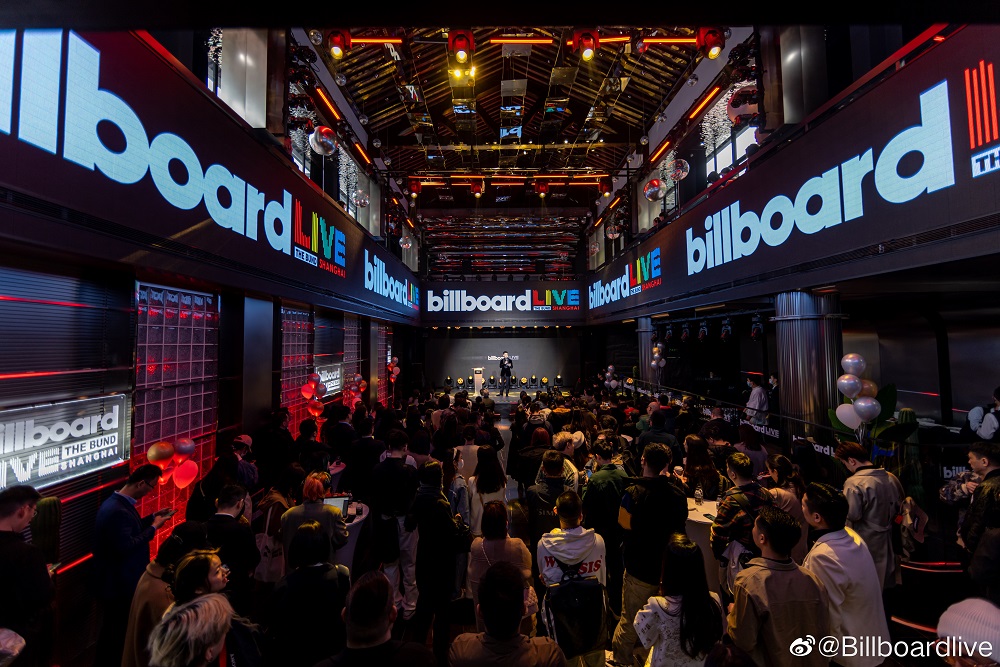 Thriving amid the growing Night Economy
Behind the opening is China's emerging livehouse phenomenon. The rise comes hand in hand with the growth of the "Night Economy", which refers to consumption during evening hours. A 2021 report by the Ministry of Commerce found 60% of consumption takes place after 6 PM, with post-90s and post-00s accounting for the majority of the night owl consumers. This led the Night Economy market scale to reach 40 trillion RMB (5.81 trillion USD) as of 2022, as per the industry research institute iiMedia.
Livehouse, in the meantime, appears to be an ideal companion of nightlife as the sector continues to gain steam amid the Night Economy momentum. While seemingly in an infant stage, taking up only 6% of the 500 billion RMB (72.62 billion USD) generated annually from the nightlife and entertainment sector, livehouse is expected to expand its foothold to hit 200 billion RMB (29.05 billion USD) by 2025.
As such, the country has seen long-established musical institutions such as Modern Sky, MAO Livehouse and VOX Livehouse increase in popularity. Meanwhile, new market players have also hopped onto the bandwagon, including Pepsi and its Chinese counterpart Yuanqi Forest.
Tapping into the livehouse fever
The American carbonated soft drink brand Pepsi threw a virtual musical party in July 2022 when offline events were still a luxury due to China's stringent COVID protocols. Known as "Pepsi Live House", the online event was curated in collaboration with TMELAND, China's first virtual festival developed by Tencent's music arm.
Four virtual idols were created based on Pepsi's four classic drinks Pepsi original, sugar-free, 7UP and Mirinda, while the digital replicas of two beloved Chinese rappers further fuelled the enthusiasm, drawing in a total view of 4 million, showing the synergy between the technological advances and the livehouse sensation.
Such enthusiasm has only continued to grow with China now fully reopened and offline activities resumed. Music festivals and livehouses have been in demand over the past three months, with the number of in-person musical events listed for sale surpassing 1,000 in the first quarter, according to Beijing Business News.
Having established its first branded music festival in 2021 in Chengdu, another hotbed of creative music culture, Yuanqi Forest has also since shown an active presence in the music scene with an official account set up on Weibo, continuing its engagement with China's musical talents and local fans.
The endeavour has been doubled down with Yuanqi Forest Live, the entertainment sub-brand under Yuanqi Forest who recently rushed into the race by releasing a teaser on its WeChat Video Channels in mid-March, introducing its upcoming livehouse at the Wujiaochang Wanda Plaza in Shanghai Yangpu district that neighbours two of the country's most prestigious universities Fudan and Tongji University.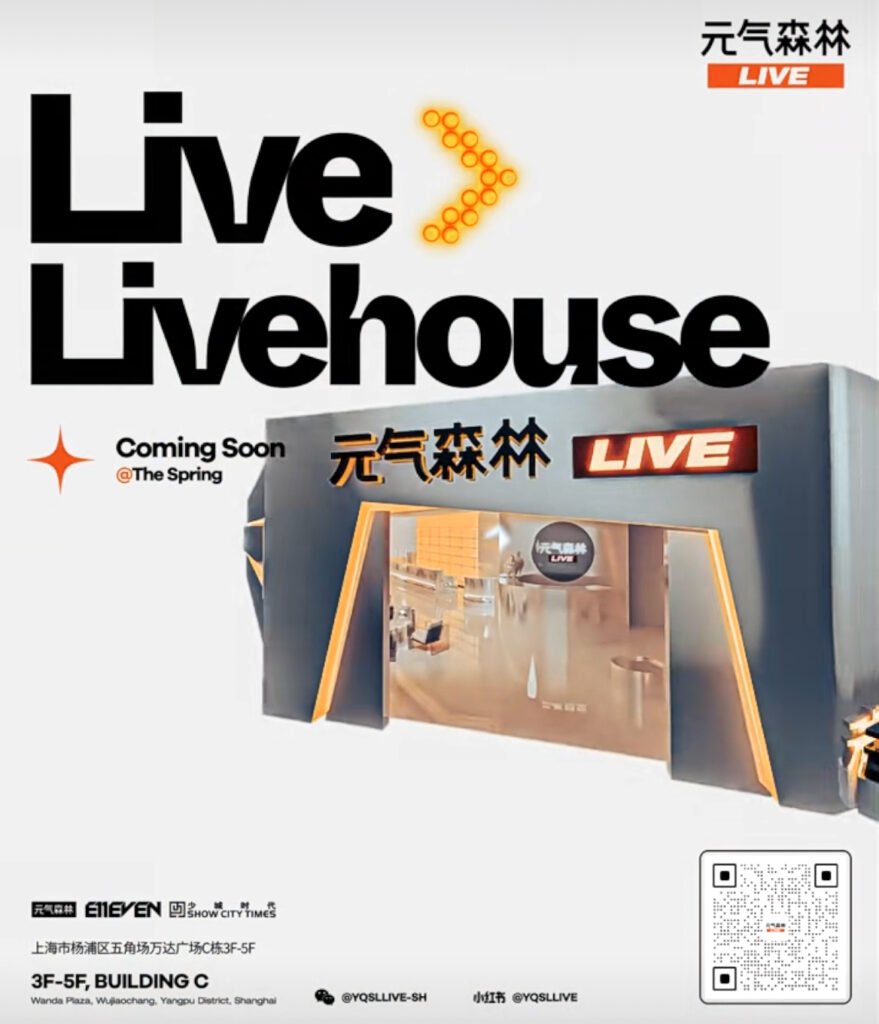 Such a strategic choice of location lays the foundation for the store space to draw in footfall from university students who are the main visitors of live music establishments.
The livehouse is launched in partnership with E11even Music Show City Times, a Chinese music company established by the Chinese singer and songwriter Jane Zhang and her ex-partner. It aims to refashion traditional livehouse music in a "Light Party" format, with the storefront giving a nod to the brand's concept of a healthy lifestyle, which is highly valued by the more health-conscious young demographics of Chinese consumers.
These examples have shown the potential of the livehouse subculture in acting as an effective marketing tool for brands to connect with their target audience in China. It also creates another avenue for brands' community building, strengthening their bond with consumers while delivering their brand values through immersive and interactive experiences.