The scale and scope of augmented reality (AR) and virtual reality (VR) in China are rapidly expanding. China was predicted to account for 55% of the world's AR/VR spending in 2020, a 72.1% increase from 2019. These technologies have been applied to almost every industry in China, among them entertainment, gaming, education, shopping and tourism.
To appeal to China's tech-savvy millennial and Gen-Z audience, KFC worked with short-form video platform Kuaishou to launch an AR filter to promote its latest product.
KFC's history of co-branding
KFC regularly works with other brands from a range of industries to gain more exposure for its campaigns and products. Cross-industry collaborations have become increasingly popular both among brands as it enables them to tap into other audiences and among consumers who enjoy buying one-of-a-kind products and engaging with the "fun side" of brands. Among its partnerships in 2020, KFC worked with Beyond Meat to launch plant-based meat burgers and with fashion brand Karl Lagerfeld to produce limited-edition bags.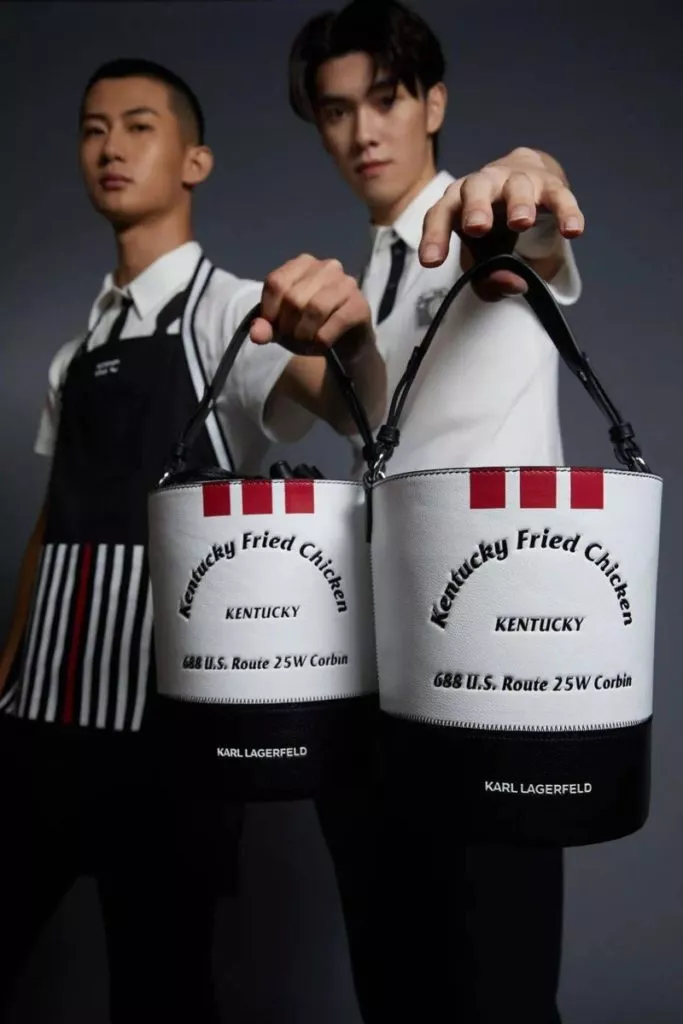 KFC X Kuaishou "subvert time and space"
This is a common thought among many young Chinese as a form of escapism from the pressures of everyday life and as they consider the possibilities of China's fast-changing technological environment.
One of China's most popular video platforms Kuaishou is committed to integrating the virtual and real-world, creating a new visual experience, and bringing users a more realistic, immersive and interactive experience through the latest technologies.
Therefore, marketing agency MZ DIGITAL combined KFC's "subversion" concept with this notion to enable consumers to "open a door" to "subvert the world". KFC launched a AR filter on Kuaishou which aimed to promote its new product "Chinzza" – a chicken base topped with cheese, pineapples and corn, similar to a pizza. The AR engine and real-time rendering tools were developed by Kuaishou's own technology team Y-tech.
Users can produce a video with the filter and participate in the campaign by searching "subvert time and space" on Kuaishou. The filter enables users to escape to a different universe: it gives them a helmet and they can enter a virtual world with aircraft, futuristic buildings and a star-filled sky. As such, the campaign allows people to "subvert life" from a first-person perspective, breaking the boundaries between reality and virtuality.  
KFC has encouraged participation in the campaign by offering 100 creators with the highest engagement the prize of a free Chinzza. A total of 124,000 people have used the AR filter (as of January 5 2020) and the "subvert time and space" hashtag reached over 7 million views on Kuaishou.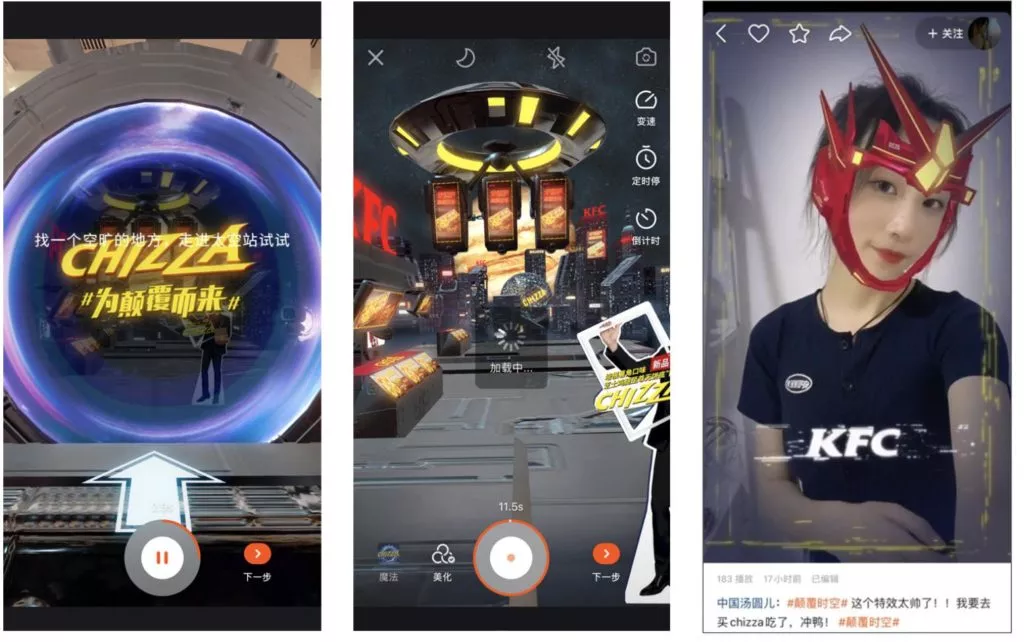 Due to the innovative technology and creative concept which appeals to Kuaishou's young users, the campaign has been successful among consumers. Participation in the user-generated campaign enables users to experience a cut-of-the-edge AR immersive interactive experience and win free KFC products. For KFC, it has resulted in a high conversion rate and huge exposure.
Consumers are eager to engage with AR tech
Thanks to the nature of modern technology, AR is accessible to anyone who owns a smartphone and has become integrated into young people's entertainment channels. As a result, more and more brands have begun applying AR technology into their campaigns to increase engagement with young consumers. The success of KFC and Kuaishou's AR magic filter shows that Chinese consumers are keen to engage with the latest technologies, such as immersive AR-powered experiences.
---
Read more about China's AR/VR industry: