Key takeaways:
With the digital economy advancing, the future of work will be more digital-centric and decentralised, and agile with workplace communication tools becoming outdated.
ByteDance is aiming to fill the market vacancy through their next-gen work tool called Lark. Its podcast channel has amplified its brand vision perfectly by honoring innovators who are shaping the future of work rather than talking about products.
In addition to the domestic market, Lark plans to grow globally and speed up expansion in 2022. With their mature globalisation experience, Lark has the potential to be adopted worldwide in the future.
---
Creating the future of work
According to Statista, revenue in the Chinese collaboration software market is predicted to reach $0.61 billion in 2022. The annual growth rate is expected to touch 13.46% (CAGR 2022-2027), which is 244% faster than the worldwide average growth rate forecast.
Lark, an enterprise collaboration platform owned by ByteDance officially launched to the public in 2019. Prior to the publicity, Lark was exclusively used by internal teams and some selected partners of ByteDance. There is also a China-only equivalent known as Feishu, which is operated independently in China and stores user data separately.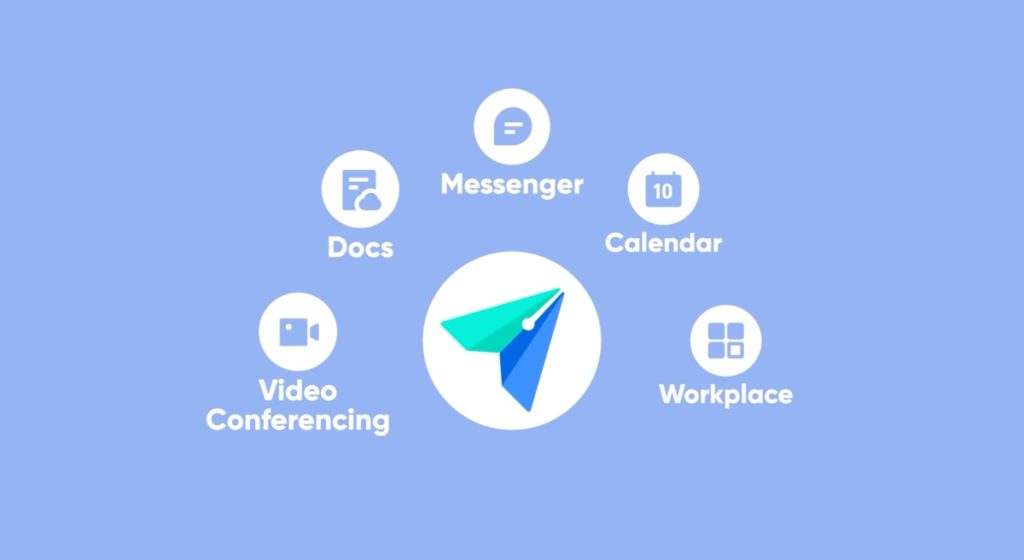 Office tools have been evolving slowly and cannot meet the demands of new and emerging requests from users. Prior to Lark's birth, most companies were using more than 3 apps and service providers, which increased switching costs and caused interoperability problems. Unlike those legacy tools, Lark carries most functions, such as calendars, documents on Cloud, messages, auto-translations, and video conferencing features, in a single platform to empower teams and maximise their efficiency, therefore, redefining the future of work.
As the world becomes more digital and decentralised, more enterprises have gradually been adopting an agile work-mode: a flexible, intelligent, and collaborative environment to improve employee experience and encourage innovative thinking. Lark aims to maximise the output from this trendy dynamic in a bold way and not stick to the top-down logic which empowers traditional authorities, instead of inspiring and assisting individuals with a bottom-up management philosophy.
Lark believes that the modern organisation should be led by "context, not control", which is rooted in the grounded working experience of the entire ByteDance Group. From their experience, context-driven leadership can lead the organisation to become more advanced: respond quickly, be highly engaged with cross-borders and make decisions in a visible and candid environment. One of the best practices of context leadership in ByteDance should be the 'flying message meeting' which was inspired by Amazon's meeting rules.
Specifically, to improve critical thinking and the visibility of communication flow, every attendee must write down notes in Lark according to the meeting topic before it starts. At the beginning of the meeting, everyone sits silently together and reads other attendees' notes while providing comments directly. When the discussion starts, attendees are requested to present their work using Lark documents instead of PowerPoint, and answer the questions proposed by their colleagues.
As the influence of ByteDance has increased dramatically in China, 'flying message meeting' mode and the philosophy behind it have been widely adopted by local enterprises, especially innovative start-ups that are strongly against the old rules. Lark looks to be a proactive game-changer challenging pedantic work culture, such as formalism and bureaucracy, empowering customers through a unique concept as well as providing useful product features.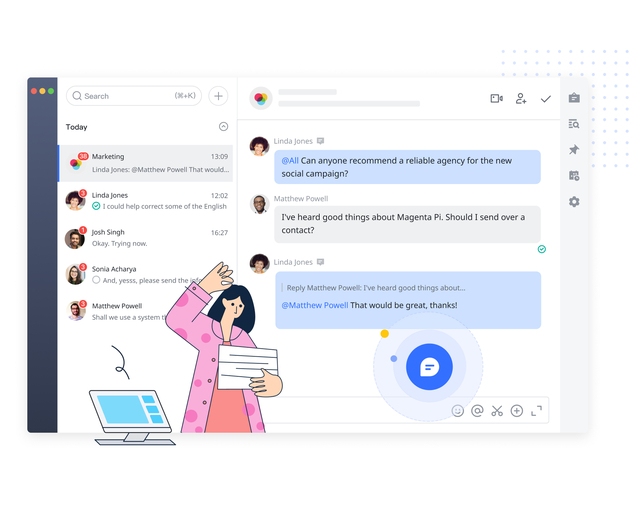 Branded podcast pioneer in China
Besides visionary philosophy and efficient all-in-one features, Lark's communication strategy is perceived as unique and more adventurous. In early 2021, very few brands recognised the potential value of podcasts in China but Lark proceeded to invest without any hesitation.
In the West, podcasts have been widely adopted. According to research, more than 70% of Americans are aware of podcasts and 40% of US citizens listen to podcasts monthly. On the other hand, podcasts in China have been underestimated for too long but started to gain popularity since 2020. In 2020, more than 7,000 new podcasts joined the game. The number of listeners in the country is estimated to reach 102.4 million with almost 20% annual growth rate in 2022,even though the monthly listeners penetration remains low (est. 7.3%) compared with their counterparts in the US.
Due to continued growth and a high-quality range of podcasts in China, Lark chose to kick off with a brand owned podcast "Organisation Evolution". Just like other branded content which shows up in film, apps and articles, branded podcasts are a type of content marketing which amplifies awareness and creates brand affinity by delivering valuable content to audiences.
Some of the most successful branded podcasts are not talking about products or services, which are often delivered in an extremely restrained way. The "no product" strategy seems unconventional, but it is the secret to brand success.
For example, beyond selling shoes, in each episode of Nike's branded podcast "Trained", one great athlete is invited to reveal the latest updates in cutting-edge training. The show wants to bring pro-athlete training tools to the table that can help the audience stay happy and healthy. Nike does not talk about shoes in the podcast but instead honors the people and their experiences, behind the product.
Lark is following in Nike's footsteps. The podcast focuses on organisation evolution topics, aiming to foster listeners to understand and adapt to the future work mode. Pioneers with different backgrounds have been invited to share their evolution stories which vary from career path, and teamwork to organisation development. However, conservative organisation owners or employees are not on the invite list. In short, Lark is honoring future innovators who are shaping the future of organisations. It is not just about the product anymore, it is about celebrating the people that Lark wants to be associated with and who the audience wants to connect with.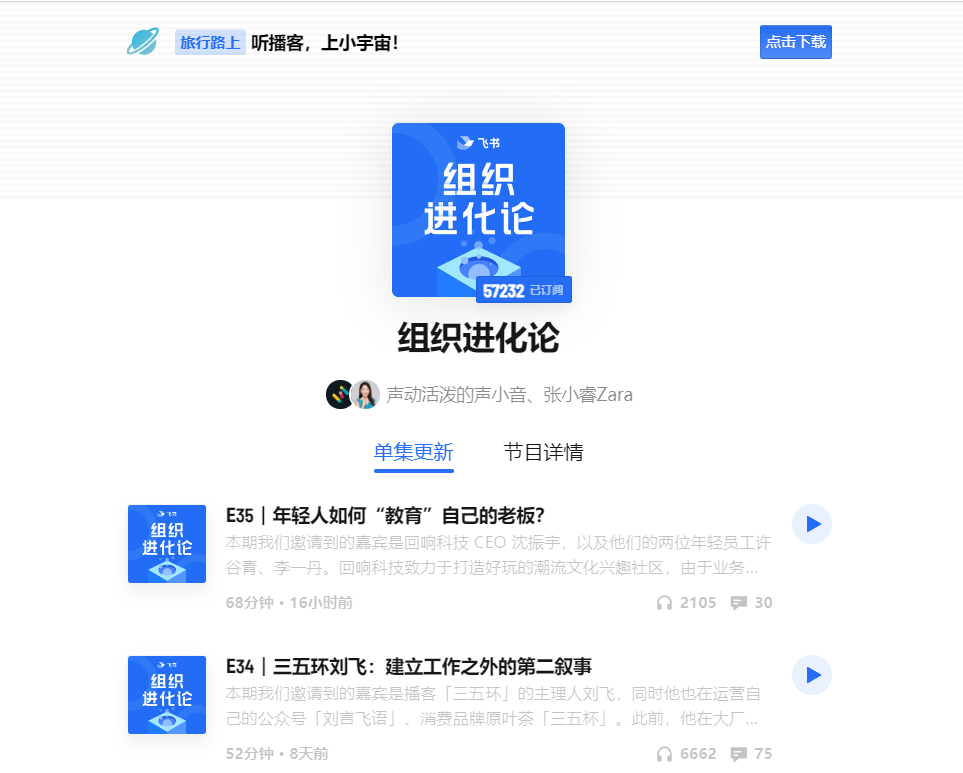 Compared to traditional sponsorship deals with existing shows, one benefit of branded podcasts is that you can have full control of your content, allowing brands to not only produce whatever content is needed but also engage listeners directly. Along with the insightful and genuine conversations, "Organisation Evolution" has successfully resonated with audiences. Listeners have started interacting with the host and guests by asking questions or sharing their opinions on the topic in the review area. Hereby, establishing an intimate relationship between the brand and the audience.
As their audience base increased, Lark started to build up communities to strengthen the bond with listeners. The community offers Lark fans extra incentives, such as resource exchange, exclusive information, and even opportunities to meet Lark teams. Simply put, this is an effective strategy to make members feel distinct from broader listeners, and a good filter for a brand to recognise loyal listeners who might have a higher possibility of adopting Lark and even recommend them to their friends.
To summarise, Lark is trying to build an entire system that accompanies the growth of native innovators, not only by their product but also by the knowledge in the podcast and its corresponding communities, to reimagine the future of work. Meanwhile, it is noteworthy that Lark is a chance taken by ByteDance, which was developed with a global mindset. At present, Lark has been launched in the US, and India and is expected to enter Africa. Just like TikTok, Lark also has huge potential to become an advanced international platform based on its strong globalisation experience.