Key takeaways:
Through their short film "An Underwear of my Choice", lingerie brand Enweis gives a voice to all Chinese women through a unique set of stories made by women for women and encourages them to redefine beauty based on their own values.
Collaborating with relatable and well-known figures like actress Guo Keyu and poet Yu Xiuhua significantly increased their brand visibility and allowed their audience to connect to the brand on a deeper level.
Short films are a powerful marketing tool as brands can use their platform to explore social issues while connecting them back to their product.
---
Faced with immense pressure to achieve the "perfect" face and body, many women in China are struggling to feel beautiful in their own skin. From face-tuning to face-tweaking, women of all ages, shapes, and sizes continue to fall prey to the unrealistic (and even borderline unhealthy) beauty standards as seen on Chinese social media. Some have even gone as far as choosing to go under the knife – to the detriment of their health – in order to keep up with viral trends.
While the body positivity movement has made great strides in the West over the past few years, body-positive discourse in Chinese media still remains few and far between. There is a chance, however, that this could change as women's rights gradually gain traction in the nation. The past few years bore witness to a rising tide of female activists calling for more gender equality, albeit not without its own struggles. Much progress is yet to be made in order for us to see any of these changes reflected in the beauty and advertising world.
Personal stories that help redefine beauty
A short film entitled "An Underwear of My Choice" released by Enweis, a Chinese intimate apparel brand, has shed light on the status quo of beauty as well as gained the respect of female consumers by the thousands. How did they manage to pull off such a powerful ad campaign?
The video kicks off with the faint sound of footsteps as the silhouette of a woman elegantly slips into an empty room with soft light filtering in through the curtains. This woman is Guo Keyu, an actress who had previously retired but recently made a comeback at the "ripe old" age of 40. A plaque labeled "I choose my identity" is briefly displayed on the wall as she shares how the self-love she gained from taking a break from acting was what allowed her to come back ten times stronger.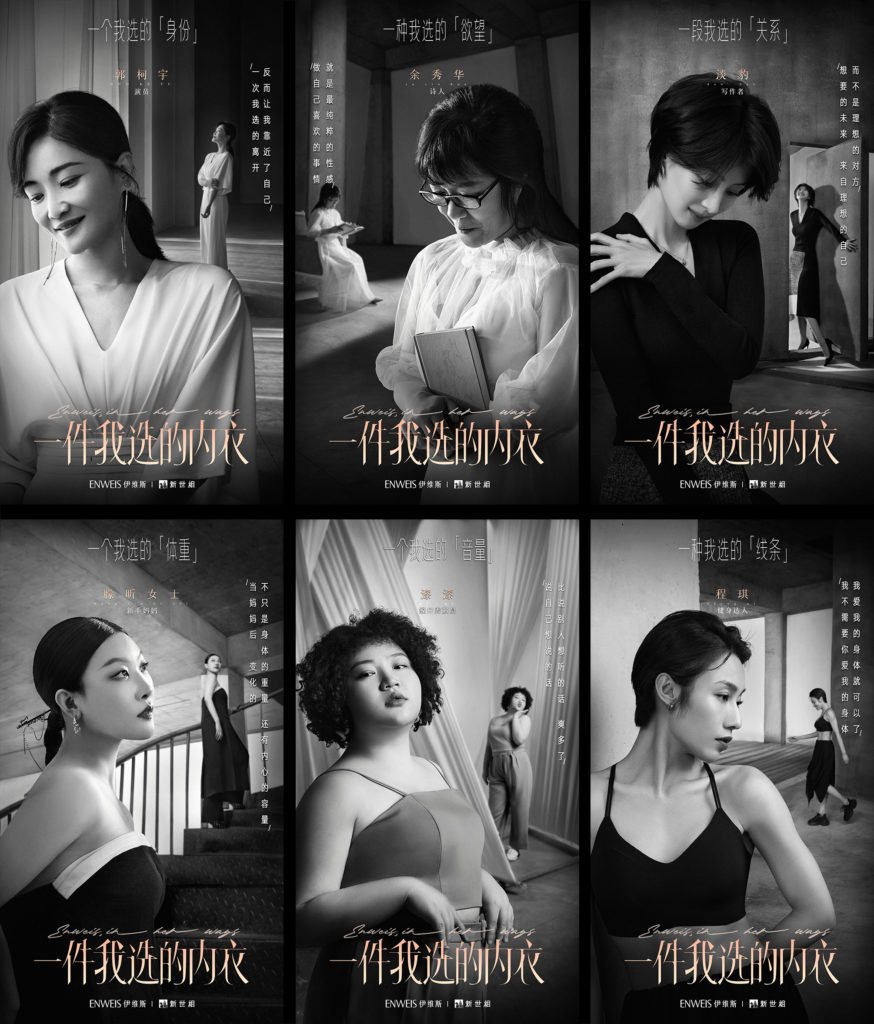 Keyu is followed by five other incredible women, who each tell their unique story while gracefully shutting down traditional views of women and beauty imposed by society. By carrying a theme of "choose and let your beauty be free", Enweis gives a voice to all women from mothers to entrepreneurs to "leftover" women and allows them to redefine beauty based on their own values.
Poet Yu Xiuhua's pivotal role in the campaign
Another monumental figure highlighted in the video was Yu Xiuhua, the most talked about and best-selling poet in China. Though she was born with cerebral palsy, she did not let it hold her back from writing the vivid love poems that turned her into a literary sensation. In the film, she expresses her thoughts on beauty through her poem "Back From the Underwear Store", while the frame flits to her designated plaque reading "I choose my desires". She stresses how the concept of "feeling sexy" should not be limited to looks only and how women should feel free to dress how they wish.
Unconventional as it may be, it is incredibly fitting that Yu Xiuhua was chosen to endorse this underwear brand alongside the five other talents. While lingerie brands have always been linked to outward "sexiness", this is not the message that Enweis is seeking to convey. Yu Xiuhua may not fit traditional beauty standards, but she is proof that beauty is more than skin deep. Both her presence and poem managed to attract heaps of attention from the media and industry professionals as well as touch the hearts of many.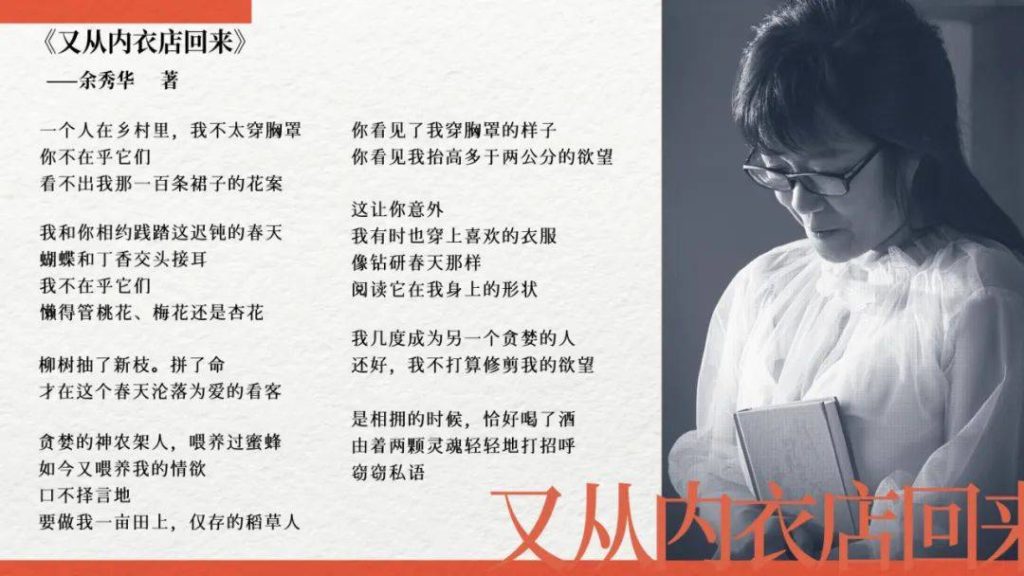 Capturing the hearts of Chinese women
Enweis managed to pull off this short film with flying colours because they used their platform to shed light on a social issue that is relatable to Chinese women from all walks of life and explored it in a poignant way. Collaborating with relatable and well-known figures like Guo Keyu and Yu Xiuhua increased their brand visibility, and the range of individual stories additionally allowed a wider audience to connect with the brand on a deeper level.
The visuals are not captured in a typically polished and glossy manner, but rather are captured in a very authentic way that matches the message they are aiming to bring across. In this way, engaging short films such as this one can get social media users wrapped around a brand's finger as it is not produced in a typical fashion. It also pushes trending hashtags and shares in a more organic way, thus making this a rather discreet and sophisticated marketing strategy.
Overall, Enweis' short film campaign is deeply moving because it truly goes against the grain of the beauty and intimate apparel industries in China. Contrary to what one might expect from a lingerie brand, there were no Victoria's Secret-style models flaunting their long legs or hourglass figures. Instead, there were six women standing comfortably and confidently in their own skin. Not only does this short film serve as a brilliant marketing initiative, but it also acts as a beacon of hope for a world of diversity and inclusivity.