Key takeaways:
Episodes have been surfacing recently as a marketing treasure trove, especially on the Chinese TikTok Douyin, as short videos remain a crucial battleground for marketers in China.
Xpeng, a Chinese EV carmaker, became one of the first to test the waters of episode marketing by collaborating with China's hit virtual beauty influencer, Liu Yexi.
Douyin has seen the practice of episodes integrated into brands' marketing efforts on its platform increase by 53% as of March.
---
Having been through a rapid industry rise in the past few years, with the CARG (Compound Annual Rate of Growth) increasing by 33.46% with the expectation to hit $134.3 billion by the end of 2025, China's short video platforms have become a packed marketing battleground for brand players to penetrate their target audience in the lucrative market. While promotion videos, collaborating with KOLs, and live streaming have been commonplace, episodes have been surfacing recently as a marketing treasure trove, especially on the viral short video app Douyin (Chinese TikTok). 
Renovating commercial storytelling through playlets
Amongst those who have already rushed into the new game is Xpeng, an emerging Chinese electric vehicle manufacturer, that has knocked out more than 80 million views with one episode from a series featuring China's hit virtual beauty influencer, Liu Yexi, who swelled millions of follows overnight following her Douyin debut last Halloween.
Under the hashtag "When Liu Yexi meets her new Xpeng friend", the four-minute mini fantasy leverages the hyped concept of a virtual being who rescues a group of friends from the ancient times and is stuck in the futuristic world as a result of the strong curiosity to see their future selves. It also taps into the buzzword of Metaverse with the idea being incorporated into the story, creating a compatible virtual ambiance for Xpeng's Cyberpunk style release P7 670 Black Label Edition.
A complimentary tool to traditional digital marketing
The video product fuelled enthusiasm after Xpeng took the initiative of live streaming on Douyin to the world of Meta in early April, inviting viewers to explore the imaginative "Punk Planet" through a range of interactive games where participants' reactions would decide the direction of the virtual experience and random lucky draws naturally became a booster for online engagement.
The innovative live streaming session was followed by the release of a user-co-created digital collectible powered by another craved technology NFT (non-fungible token). With a global limit of 10,000 units, a nod to Xpeng's P7 series pulling off 10,000 productions, the digital collectible has now sold out on the Alibaba-owned digital collection platform Topnod.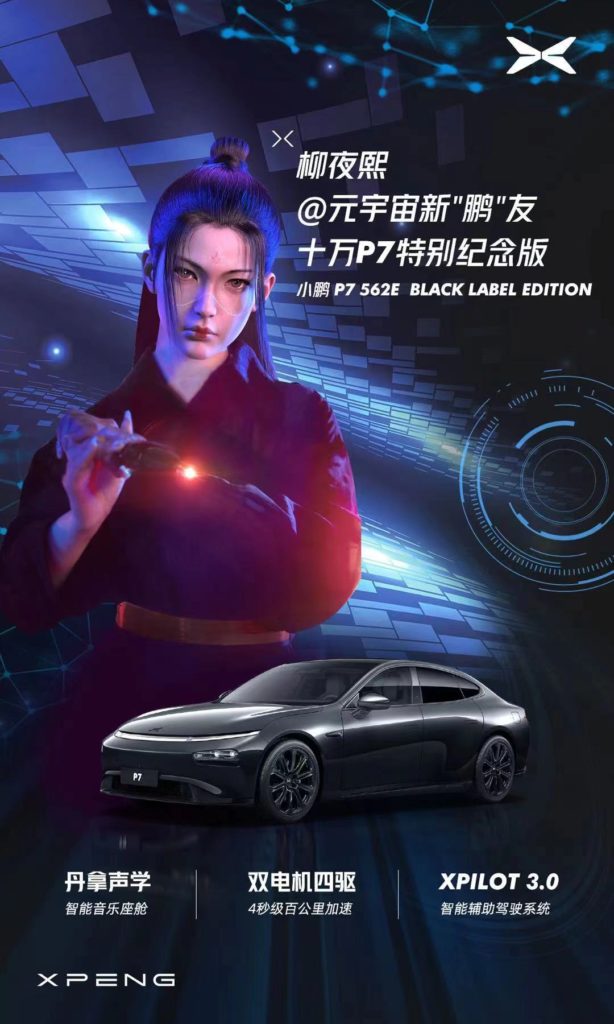 Moreover, following the broadcast of the playlet, content creators have been drawn in to join the conversation under the brand's tagline, recreating the story with their own niche, and bringing more user-generated content. Together with the platform's promotions such as search recommendations and open screen adverts, the campaign's hashtag jumped to 6th position on the hot search ranking on Douyin while the brand also saw these efforts come to fruition, with deliveries up by 75% in April reaching 9,002, adding up to a total deliverable of 43,563 in the first quarter of this year, and a 136% year-on-year increase.
A key to unlocking a new territory in China's digital battlefield?
Douyin has seen the practice of episodes integrated into brands' marketing efforts on its platform increase by 53% as of March. And the virtual being, Liu Yexi has been a protagonist in the serial production known as Di Zhi Mi Zhen (or The Maze), which has seen participating brands count the Chinese smartphone maker Vivo and homegrown jeweller Darry Ring, together with Xpeng the latest to follow suit.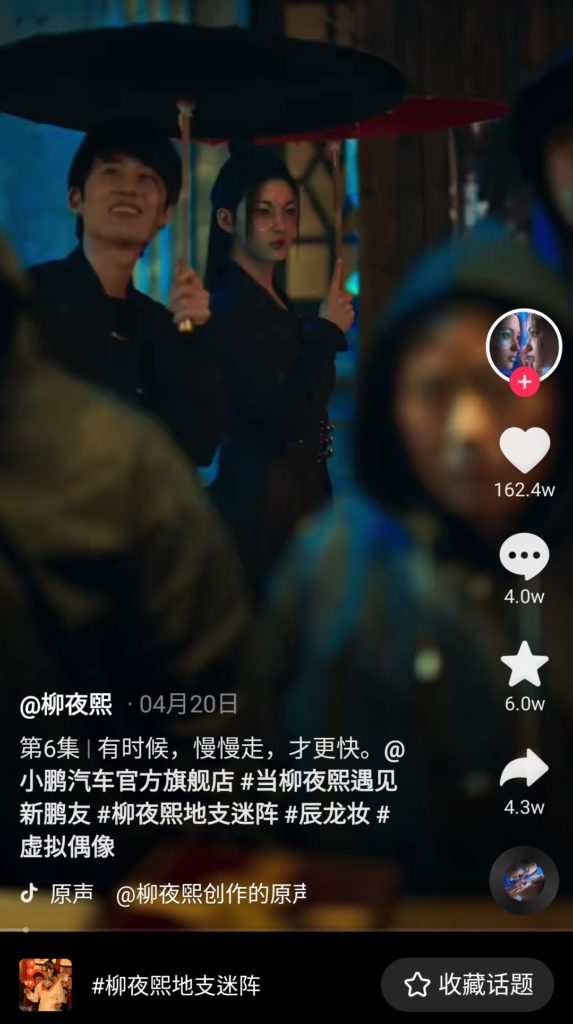 Each of the episodes has an independent storyline that has garnered tens of millions of views with some millions of likes, on top of tens of thousands of comments and shares on the virtual influencer's official Douyin account which is followed by nearly 9 million.
The approach has been well-received so far and is believed to have opened another door for brands to further penetrate China's digital landscape in a more effective way compared to leveraging traditional series. These bite-size dramas are more digestible for audiences and self-standing episodes provide more space for brands to include promotional content, something that has been highly restricted in collaboration with ordinary long-form videos.
As a result, it has been observed that more brands have been embracing the new idea with collaborations with these web miniseries picking up by 2% to 35% in the first quarter of 2022,  whereas traditional dramas saw their percentage of brand partners dip by 2% compared to 67% in the same period last year, according to Endata. Therefore, it can be seen that episodes are emerging as innovations within the short video in China with the industry remaining a crucial battleground for marketers who want to win over China's savvy social media users.