Key Takeaways
Lululemon made a wise choice in picking a growing category and successfully retained the loyalty of an influx of customers by reinforcing its value proposition and brand distinction.
Many domestic Chinese brands kept their eyes on both the market trends and practices launched by large brands, Lululemon being a good example.
While strategies taken by growing domestic brands in China featuring the old pack of marketing channels have been blasted for losing young customers, "feelings" turn out to be a new selling point appealing to the young generations.
---
In August 2021, Lululemon launched its largest, fully integrated global advertising campaign to date, entitled "Feel". The campaign sought to feed people with positive emotional value devoted to a comfortable state physically and mentally, especially in the post-pandemic era.
"Feel" includes a suite of product films: short, visually engaging odes to specific products and the not-so-ordinary feelings they unlock. "Feel Embrace" brings to life the hugging sensation of the Instill Tight infused with surreal natural imagery. "Feel Space" explores the 'ABC jogger' series and visualises freedom of movement through a cosmic drift across a subway station. And "Feel Charge" focuses on the energised, electric feelings during training through the License to Train short. The film stars Lululemon's brand ambassadors Haily Langfield, Manoj Diaz, and Akin Akman.
Aggressive move into the post-pandemic market – risky but profitable
The label consciously expanded its market share beyond its core group during the pandemic period. By the end of 31 March 2022, Lululemon attained a market value of US $47.222 billion, becoming the second-largest sportswear brand in the world, following NIKE (US$212.779 billion). Moreover, after the Canadian team's clothes caught extremely high attention at the opening ceremony of the 2022 Beijing Winter Olympics, many sponsors took swift action after seeing the high traffic to Lululemon's official website.
Sustaining loyalty with products being "good enough not to switch"
To keep pace with the shifting Chinese market in the sportswear industry, Lululemon adapted a localised marketing strategy by launching more than 50 offline stores across China. By regularly holding dances, HIIT, yoga, pilates, and other activities, Lululemon not only offers places for gathering like-minded sports lovers but has also put a stake in the ground for developing its own brand culture in Chinese communities.
Sales of Lululemon's signature pair of thin high waisted tights are in the four figures, riding the wave of the exercise and yoga pants trend (over 50 thousand note recommendations for yoga pants and videos played 1.73 billion times under the topic of yoga pants on Xiaohongshu) that accelerated during the pandemic with Chinese consumers under lockdown buying more Lululemon activewear online.
Many domestic rivals also tried staying on the upswing, such as Molyvivi, PARTICLE FEVER, Doverist, and Maia Active. However, even large local brands like Li Ning did not see an outstanding performance with their monthly sales of yoga pants (499 RMB, or US$74.88) which remained in the single digits across flagship online stores. For Chinese customers to select more domestic and emerging brands over their strong alternative-Lululemon, Lululemon's campaign is a good example they can take into serious consideration.
Lululemon tackles both the retention and acquisition of customers in a wider range. While other brands are designed to retain their existing sports-loving customers, Lululemon distinguished itself from the over-saturated activewear market by focusing more on feelings through a series of campaign videos that engaged individuals of different ages, gender and occupation. Additionally, putting the young customer group at the centre of the campaign reminded people that the brand existed to keep developing itself in the long run.
While the purchasing power of luxury brands amongst young customers has been widely expected, Gen Z is not the same as Millennials. Their limited incomes restrict most of them from excessive consumption and whilst being well-educated, they are also suffering from collective aesthetic fatigue from the marketing of online celebrities.
They no longer follow the outdated footsteps of brands doing advertisements with boastful luxury styles and even withdraw themselves intentionally from following the iconic styles commonly worn. For the new Gen Z, marketing strategies are packed full of brand culture and life philosophy, while for Lululemon, the highlight of buying their products is equal to embracing a new lifestyle, and simply invites people to focus on themselves and feel their best in any given moment.
A more purposeful and thoughtful look at wellness
For many domestic Chinese brands who plan to kick off their campaigns, supporting potential customers' desire to embrace a better self mentally and physically, through a mix of strategies, such as the scientifically designed products Lululemon created and its community connections, is a shift that we believe consumers and the category will benefit from.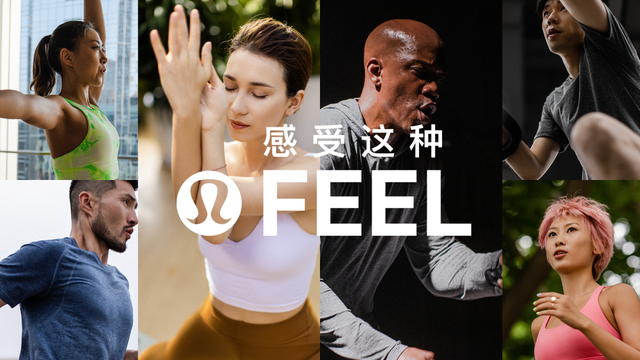 While many sports brands are still following the old path of sponsoring sports equipment, signing up star athletes and top sports teams, and integrating their own brands with the national spirit, Lululemon's cultural values and emotional marketing have unleashed the shackle of the marketing techniques utilised amongst many domestic brands who have a tight grip on the old pattern of "community + KOL + offline stores".
A brand association with more holistic wellbeing may benefit Lululemon as being more attractive to those who buy athleisure to feel better, but maybe not "perform" better. Viewed through this lens, the Lululemon campaign is a ready-made case study for many domestic brands to refer to.