Key takeaways:
For the first time, Taobao brought its Maker Festival to 10 different cities, which was run simultaneously during this year's May Day holiday.
Three themed exhibitions were staged in Chongqing, Shenzhen and Hangzhou while the other seven saw the opening of an "Inspiration Market".
The festival fuelled travel enthusiasm during the "hottest May Day holiday on record" with "bizarre" innovations such as AI BUY, 3D printed steak and more.
---
The Alibaba-owned e-commerce giant Taobao made an offline splash by bringing a Maker Festival to 10 Chinese cities that attracted the most tourist footfall. Dubbed "the hottest May Day holiday on record", the five-day break saw over 274 million tourists travelling across the country, surpassing the level reported during the same period in 2019, according to estimates by the Ministry of Culture and Tourism.
Fanning the travel fever with "weird" innovations
Kickstarting on 29 April and concluding on 1 May, and tapping into the travel frenzy, it was the first time Taobao brought this 7-year-old initiative to 10 different cities and ran it simultaneously. Three themed exhibitions were staged in Chongqing, Shenzhen and Hangzhou, while an "Inspiration Market" was dropped across Tier-1 and New Tier-1 cities including Shanghai, Xi'an, Chengdu, Xiamen, Wuhan, Nanjing and Changsha.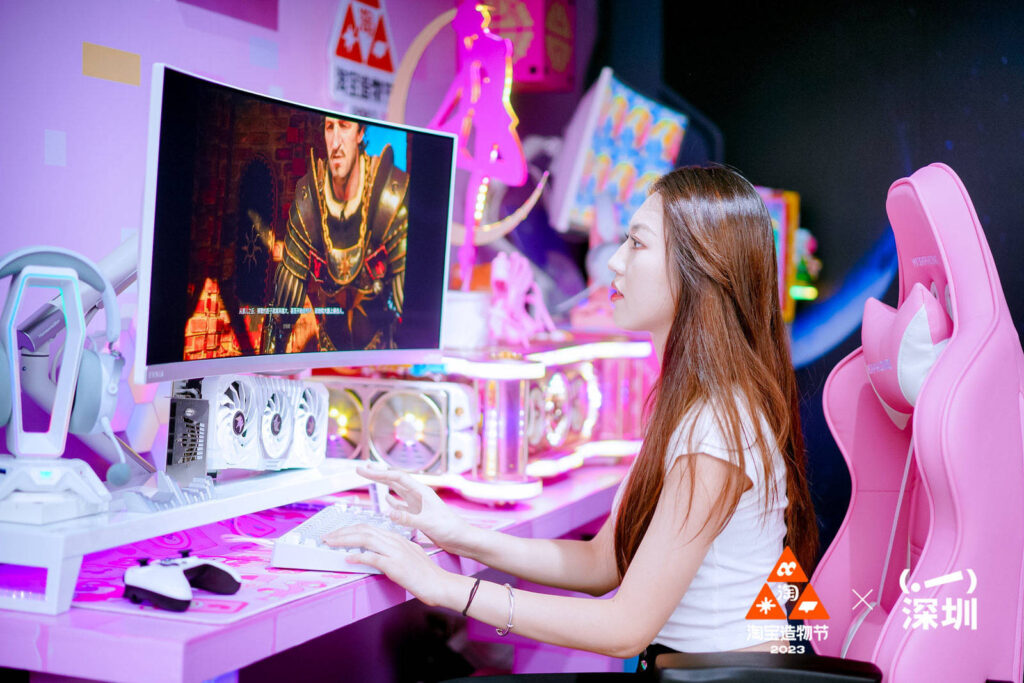 From AI-themed consumer experience events to a kite festival and a nostalgic fashion show, the festival was designed to fuel the travel sensation with its innovative creations. All offline events were free for all to snap some check-in photos as well as discover some "bizarre inventions" such as a 3D-printed steak, AI Lolita and a sports Han costume.
Creating local buzz with themed exhibits
Shenzhen, a city synonymous with technology saw a futuristic-themed exhibition. Known as "Future Exploration Bay", it showcased 3D printing technologies alongside other consumer electronics. A space named "AI BUY" was also installed. With the assistance of artificial intelligence who can "read consumers' minds", the inventive machine could generate simulated designs of products imagined by consumers within a matter of seconds, such as a skateboard with wings and backpacks in the future.
In Hangzhou, the Wushan Square that is situated in the city's southwestern side of West Lake was turned into an "Unorthodox Square" where unusual creations related to food, culture and pets were exhibited. It recreated a spin-off of the International Kite Festival that was first launched in Weifang, a city in Shangdong province that is also known as the "birthplace of kites", which became a photo opportunity hotspot.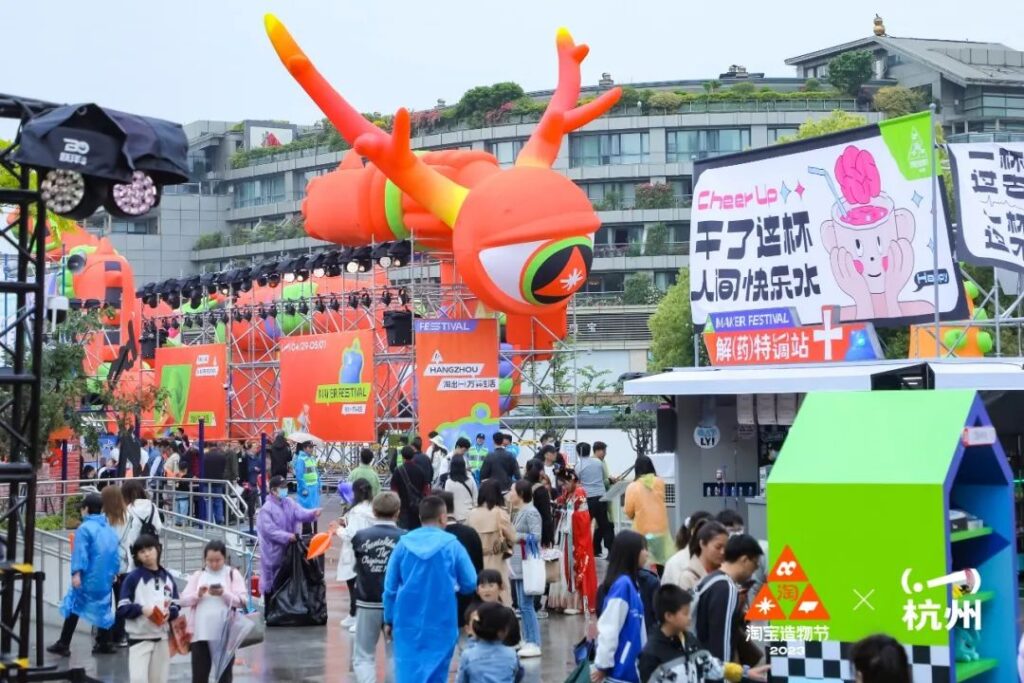 Meanwhile, several inheritors of the Intangible Cultural Heritage were invited, including Guo Hongli, a heritage bearer of Weifang kites, Wang Danqing and founder of Wang De Shou Chuang (or King's Handicrafts, a traditional embroidery maker). With these craftsmen interacting with visitors on-site, it allowed the visiting experience to be more participatory, and therefore, more engaging, while also giving a nod to the nature of creating which is at the heart of this festival.
Such cultural activities also created a compatible and immersive environment for the parallel Han Costume Show. As such, it encouraged visitors, especially those of the Gen Z cohorts to dress up in the ancient attire while wandering with either a kite or other traditional handicrafts, effectively leveraging the Guochao phenomenon.
Also striking a chord was the "Good Look in 20 Years" fashion show staged at the Guanyin Bridge, the second-largest commercial area in the Jiangbei district of Chongqing. In collaboration with the Beijing Institute of Fashion Technology, designs presented at the showcase were created based on the fashion trends and consumer insights in clothing collected by Taobao between 2003 and 2023.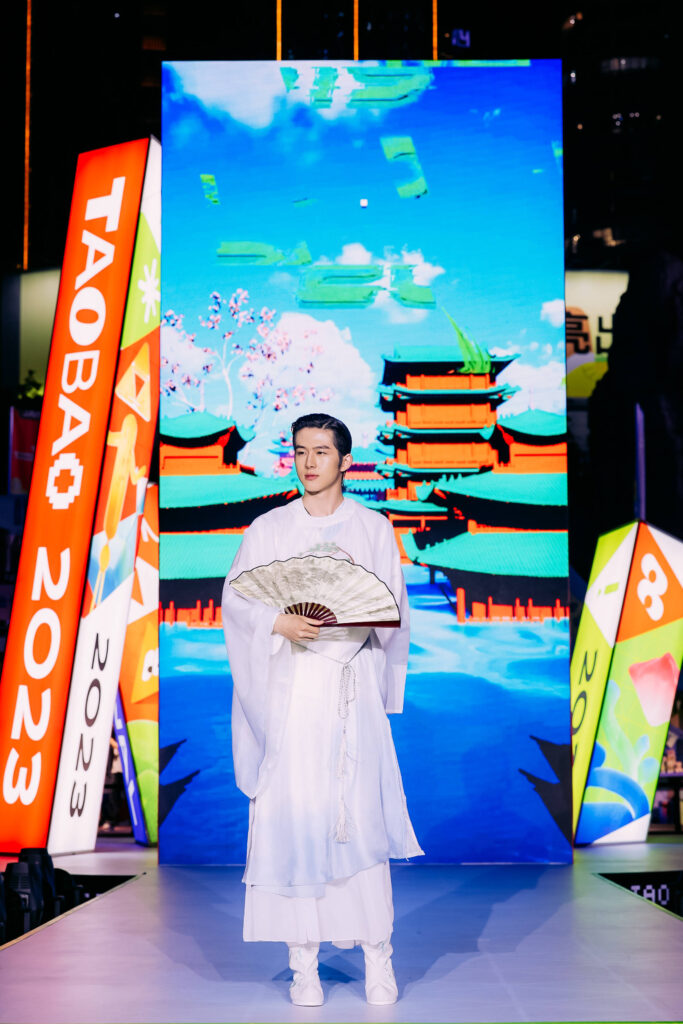 It brought back some of the fashion styles that had made a wave in China over the past 20 years, from outfits seen in the early 2000s hit TV show Meteor Garden to those featured in the 2013 Korean drama My Love from the Star.
Those nostalgic designs were coupled with some of the latest fashion styles including Forest Style, which refers to a natural and rural dressing style and New Chinese Style, which is a sub-category of the Guochao trend that has reshaped the fashion industry in China since 2018.
While providing a picture of the evolution of Chinese fashion, the show also intended to exhibit the rise of China's fashion sector and homegrown apparel brands. It also serves as a record of the changing consumer demands especially the consumer journey in pursuing individuality from the way they dress and a stronger cultural confidence amongst today's young Chinese.
Alongside the showcase, a range of experiential activities tapping into some of the popular Gen Z subcultures, such as designer toys, animations, outdoor sports and pets were also introduced to flavour up the festivities while further enhancing the event's appeal to the city's shrewd young demographics.