Key Takeaways:
With the increase of health awareness among Chinese Gen Z, "new-style tea" brands like Tea'stone that serve pure tea drinks are expected to have a huge potential market in China.
Tea'stone innovates its product by blending western alcohol-drinking culture into the eastern tea-drinking culture by creating products like "Mini Champagne," serving pure jasmine tea in a wine-vessel like bottle.
Tea'stone rejuvenates the traditional Chinese Tea houses by extending its operational hours to 1:00 am, creating a "Midnight Tea Bar" to target the needs of Millennials and Gen Z consumers who look for a place to chat after work.
---
Tea'stone is a "new-style tea" brand serving pure tea drinks, raw tea leaves, desserts, and tea sets to the customers. It's founded in 2018 and now has both an online sales channel and four retail stores in Shenzhen. In 2021, it earned its seed round and Series A fundings with more than a million dollars within two months, adding financings for store expansion, supply chain upgrade, recruiting, etc.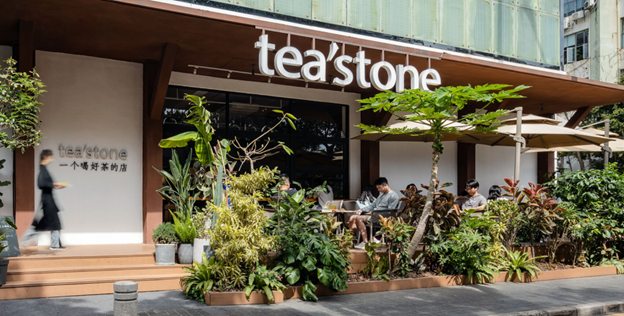 The Chinese new-style tea market
The Chinese "new-style tea" market includes products like pure tea, milk tea, and fruity-flavored teas. Indeed, Research stats showed that 87% of new-style tea consumers are in their 20s to 40s, with 39% located in major cities. Therefore, Tea'stone chose its target audience as consumers between 20-35 in major cities.
As a subcategory of the new-style tea, milk tea, which usually blends ingredients like boba and milk cap into pure tea, is currently the most popular drink among the younger Chinese consumers. According to the survey, 93% of Chinese citizens say they consume milk tea at least once every week, with 51% would once every 2-3 days. Unlike milk tea, Tea'stone's pure tea drinks maintain the flavor and aroma of traditional tea, without the added sugar and extra ingredients.
Embedding Western culture into tea products' innovation
Product-wise, Tea'stone has innovated around 108 types of tea in total, including yellow tea, white tea, oolong tea, black tea, and green tea, all selected from the major tea production area in China. In addition, Tea'stone blends western alcohol culture with eastern tea culture by creating products like "mini champagne", serving pure jasmine tea in a wine-vessel-like bottle. To consume, guests pour the tea into a glass teacup with a crystal ice ball, similar to the process of drinking an upscale whisky, for example.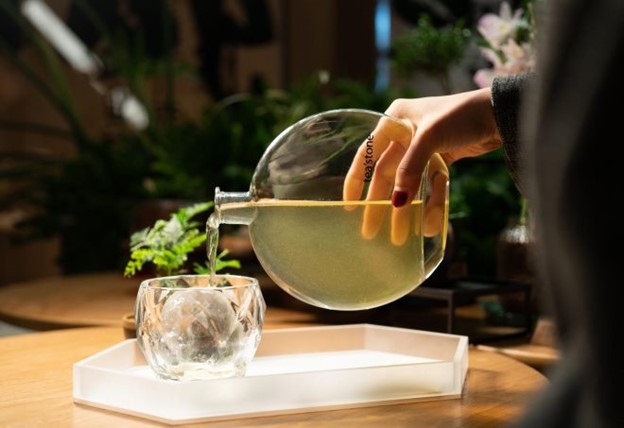 In addition to tea drinks, Tea'stone also serves creative desserts. For example, the Chinese afternoon tea set "tixiang", is designed for young professionals with more leisure time.
Tea'stone innovation extends to their sales of teapots and cups as well —- "moon bottle," "slim cup," "joy cup," and "Waterway classic" (水经注) are all teapots highlighted by the streamlined shape and glass material, with a design tracing back to ancient China. Tea'stone also suggests their customers get creative in using their teapots: drinking tea, coffee, or as a flower vase.
Rejuvenating the conventional tea house: In-store design and operations
Tea'stone designs its retail stores with cross-cultural, and "instagrammable" features, to fit the social needs of Millennials and Gen Z. The stores combine the architectural features of the Tang Dynasty with modern minimalism design with clean lights and wooden furniture. Customers will be attracted to the store in the wake of visits from influencers and key opinion leaders posting about their experiences on social platforms.
Unlike the traditional tea house which requires servers to stand next to the tables to provide service, Tea'stone's teamakers brew tea at the bar and then bring it to the customer's table as in an eastern-style modern coffee shop. With a 2,300-4,300 square feet seating area, Tea'stone customers' average staying time could reach 40 minutes.
Except for the seating area, Tea'stone retail stores also have a "mini-museum" area to display and sell the tea leaves. Unlike the sales model in traditional Chinese tea houses, Tea'stone sets the minimum sale portion as 50g, targeting younger consumers' spending habits.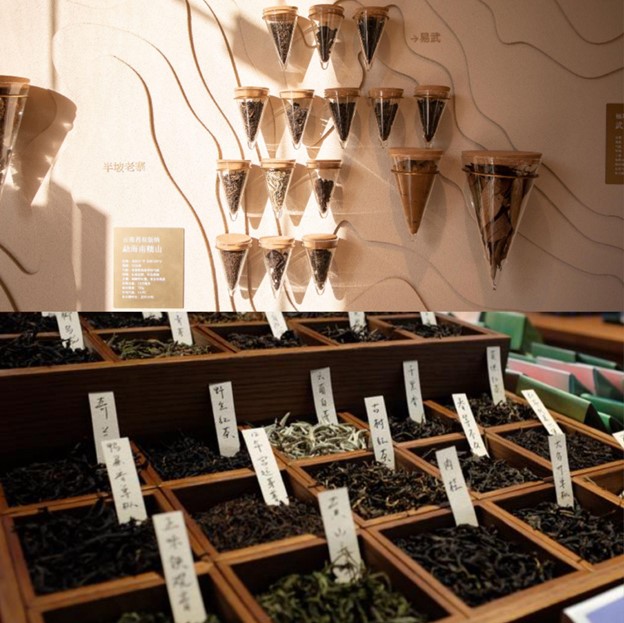 Tea'stone has extended its operational hours to 1:00 am, creating a "Midnight Tea Bar" to target the needs of young people who look for a place to chat after work but are reluctant to go to bars. During its daily operation hours, the shop also provides unlimited refill options for its customers.
The leadership team and outlook of the brand
All businesses' success is linked to an outstanding team. Tea'stone CEO, Shu Li, graduated from Tsing Hua College of Art; Zhuoheng Gu, the Chief Product Officer, graduated from the Communication University of China with a concentration in tea industry research. With 80% of Tea'stone's core leadership team carrying a professional background in art, the team is dedicated to combining eastern and western cultures into their brand.
According to Tea'stone's Operation Director Hu Yue, Tea'stone is all about having authentic conversations and personalised services for the younger Chinese generation. By embracing local Chinese culture and the overall increase of health awareness among Chinese Gen Z, Tea'stone, along with other pure tea brands, is expected to have a huge potential market.