The North Face (TNF) is an American outerwear apparel company, and when it comes to the winter season, the brand's iconic logo can be spotted everywhere without fail on the streets of China amongst the younger generations. The phenomenon first occurred in 2017 and has shown no signs of cooling down yet, which has fanned the buzzword "全员北面" (Everyone is Wearing TNF Jacket) on Chinese social media, with netizens commenting that the brand's classic puffer jacket has now become school uniform for university students at home.
During this year's shopping extravaganza Double 11, the North Face topped the category for outdoor sportswear on China's e-commerce giant Tmall, as well as scooping the bestseller in both pre-sale and online shopping product charts on Douyin, the Chinese version of TikTok.
Chinese Gen Z's obsession with the brand can also be witnessed in the country's largest lifestyle-sharing community Xiaohongshu, with topics related to the TNF puffer jackets garnering over 24.49 million views. Lively discussions of the products vary from outfit ideas to functionality and price-setting, indicating that the brand is dominating amongst different consumption groups for being both stylish and technical.
How did the North Face win over the hearts of Chinese Gen Z?
Its high performance in battling the winter chill whilst looking chic is the two main factors as to why the TNF frenzy has come to be, as a puffer jacket has long been considered unfashionable. On one hand, founded in 1966 by two hiking enthusiasts with the aim of helping adventurers deal with extreme outdoor conditions, the brand has taken advantage of the industry by providing adequate protection from wind, cold, and moisture.
On the other hand, through consistent collaborations with the latest on-trend artists, fashion labels, and influencers, TNF has effectively heightened its awareness amongst younger demographics as well as resonated with consumers who want to showcase their personalities while remaining fashionable. For example, by inviting edgy players like KAWS, GUCCI, Supreme, Comme Des Garçons and Vans, etc. on board, TNF has taken a big stride in the streetwear sphere by demonstrating its uniqueness and creativity in the outdoor apparel arena and gaining traction from young fashion-lovers.
Of all the partnerships, however, the one with Supreme has been widely considered as a turning point for the brand's development. Since 2007, dozens of classic down jackets in a range of patterns, colours, and shapes have been created, fused with both Supreme's identity and TNF's heritage, which successfully caught the attention of many celebrities in China thus scaling up sales at home. Many netizens expressed that their interest in TNF was ignited when world-famous celebrities were pictured wearing the TNF puffer jackets.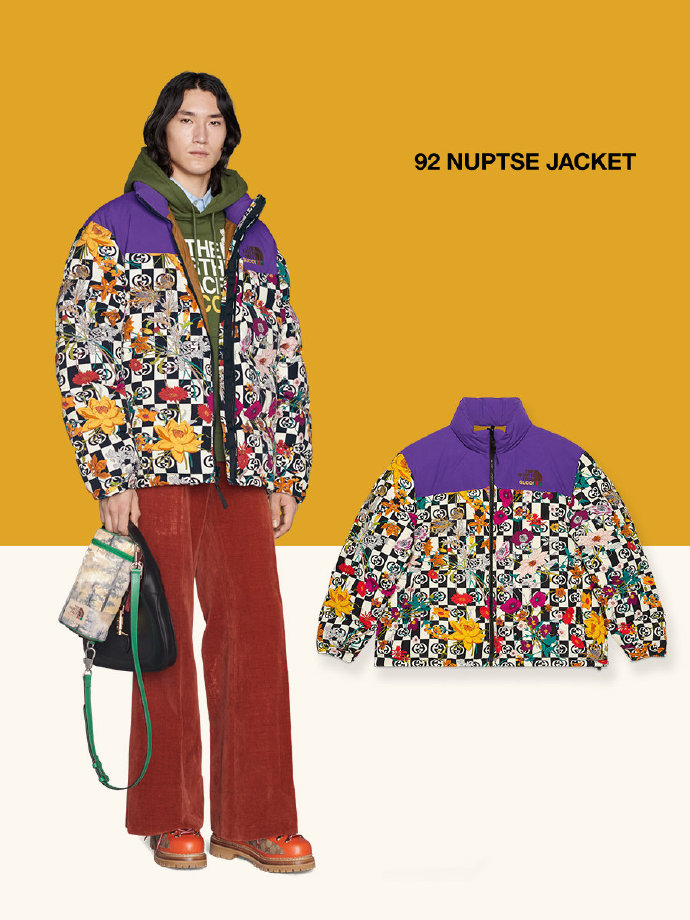 Elsewhere, the music show "The Rap of China" swept the country in 2017 with a national hip-hop craze, especially amongst the Gen Z and Millennial cohort, enabling the brand to rise to prominence on a nationwide scale, during which the TNF jackets became the outer garment of choice for rappers and with a huge fanbase from the show, thus triggering the "全员北面" phenomenon.
In 2016, in order to better capture the Chinese market, TNF released the fourth brand domain "Urban Exploration" with its label in black. Participating in outdoor activities has become the modern lifestyle for the younger generation which has resulted in the rapid growth of outdoor equipment purchases. By infusing the brand's innovative technology with a street-style aesthetic, TNF has produced a fresh approach to outdoor apparel whilst staying on course with the booming open-air recreation trend at home.
Moreover, TNF's rival Canada Goose has been embroiled in controversy in China due to several social issues which have resulted in its products facing backlash from consumers at home. This in turn has indirectly contributed to TNF's rise in popularity as Chinese shoppers believe it is a more worthy option than Canada Goose in terms of price fixing as well as product quality.
What are the ongoing consumption preferences amongst Chinese Gen Z?
As the majority of TNF puffer jacket chasers are sitting in the Gen Z cohort, which makes up 30% of China's consumption, a few key findings related to the group's consumption habits can be summarised based on TNF's continued mania.
As per statistics disclosed by Tmall, up to 65% of TNF puffer jackets purchased on the e-commerce platform were priced between 2,001 RMB ($297.2) to 3,000 RMB ($445.5), and as for the bestseller the "1996 Nuptse" this sold for 2,998 RMB ($445.2) per piece. With an increasing number of down jacket foreign players like Canada Goose and Moncler dipping their toes into the Chinese marketplace, alongside domestic labels such as Bosideng, Xue Zhong Fei, and Yaya gradually taking off, local consumers' appetites for premium puffer jackets have increased in recent years and go hand in hand with newfound expectations.
Gen Z is now focused on brands that can convey an elevated sense of aesthetics with unique qualities and character, rather than just high price points. Furthermore, as digital native beings, celebrities, Key Opinion Leaders (KOLs) and Cultural Opinion Leaders (COLs) continue to influence Gen Z's purchase decisions, Xiaohongshu has become the new battlefield for KOLs to resonate with youngsters. Out of all the puffer jacket categories from the brand, the Nuptse Jacket has been favoured the most by fashion-chasers after making its debut in 1992. Apart from its appealing design and shape, many Chinese celebrities were photographed wearing Nuptse puffers during the winter season.
More sophisticated promotional activities mixed with brand stories, such as art and history will help TNF stand out amongst all the dazzling marketing campaigns and catch the eyes of distracted Gen Z shoppers. For example, last November, in celebration of the iconic series turning 30 years old, TNF launched an event in Shanghai showcasing its history of evolution through a set of immersive displays and unveiled a special '92 Nuptse collection designed with retro vibes to make an impact.
However, this winter many consumers have embraced other puffer labels to avoid wearing the same outfit as others on the street. With the country's growing sense of confidence, Chinese Gen Z nowadays is consciously choosing domestic brands and taking note of Chinese designers, leading to homegrown puffer jacket brands snapping up market share from their international competitors.
Arguably, local down jacket brand Bosideng has seen a 15% yearly increase in its online sales and up to 46.9% of products sold for over 1,800 RMB ($265.73). Another domestic label, SKYPEOPLE also attempted to take over the premium puffer jacket sector with prices ranging between 3,000 RMB ($442.88) to 7,000 RMB ($1,033.39).
On top of that, capitalising on crossover collaborations to leverage consumer sensation is a commonly used marketing tactic by brands. Even though the "全员北面" phenomenon is still ongoing, how long the consumers' passion will continue remains unknown. By way of illustration, domestic outdoor apparel Bosideng has surprisingly collaborated with legendary French designer Jean Paul Gaultier, which offered unique spins on their winter products and made waves in both the fashion and the winter apparel industry.
Inspired by young people's increasing favourability in open-air recreation, a buzz-worthy fashion trend has emerged called "山系穿搭" (mountain chic attire). While this is happening, many in-house outdoor clothing brands are rushing into the new landscape, creating a rather aggressive market for TNF.
All in all, despite the continuing "全员北面" phenomenon, TNF needs to overcome hurdles such as the overwhelming NFT craze, an increasingly competitive marketplace, a massively-used collaboration strategy, and emerging new fashion styles and maturing domestic brands, so as to achieve greater progress. The brand also needs to figure out questions such as how to stay relevant to the younger generations and keep up with their changing consumer tastes as well as being associated with emerging buzzwords.