From yogis to daily joggers and frisbee players, the Lululemon logo resembling the Greek letter Omega has become commonplace amongst China's workout enthusiasts, reflecting the rise of the brand in the lucrative athleisure market – but what exactly makes Lululemon stand out from the rest of its sportswear peers in China?
Reaching into China's digital cornucopia
Since its entry into the Chinese market in 2013, Lululemon has built a solid following among Chinese fitness lovers through digital penetration on Tmall and offline footprints across top-tier cities. Building on this organic growth over the past nine years, it officially unveiled a digital flagship store on J Shop — JD's upgrade of its fashion and lifestyle business — in July 2022. The brand also operates a WeChat mini program and has employed live streaming and extended reality to offer immersive shopping experiences.
Even before the "Healthy China 2030" initiative created by the government in 2019, Lululemon had been dedicating itself to building local communities and ambassador groups by organising sports gatherings and workshops in China. From signature yoga classes to pilates, cycling, and even frisbee lessons, the Canadian sportswear brand regularly provides guests with a wide range of activities through the network app, with frequent guest appearances of high-profile coaches. 
Additionally, Lululemon has a so-called ambassador group typically made up of yoga instructors, social media influencers, and elite athletes, to lead complimentary in-store classes, hence adding to customers' emotional connection with the brand.
Different from clubs of other brands, the success of Lululemon's activities lies in its three core values: connection, growth, and sweat. Since the debut of its footwear line, the brand has initiated a series of in-person and virtual running events and hosted panel discussions in cities with retail footprints.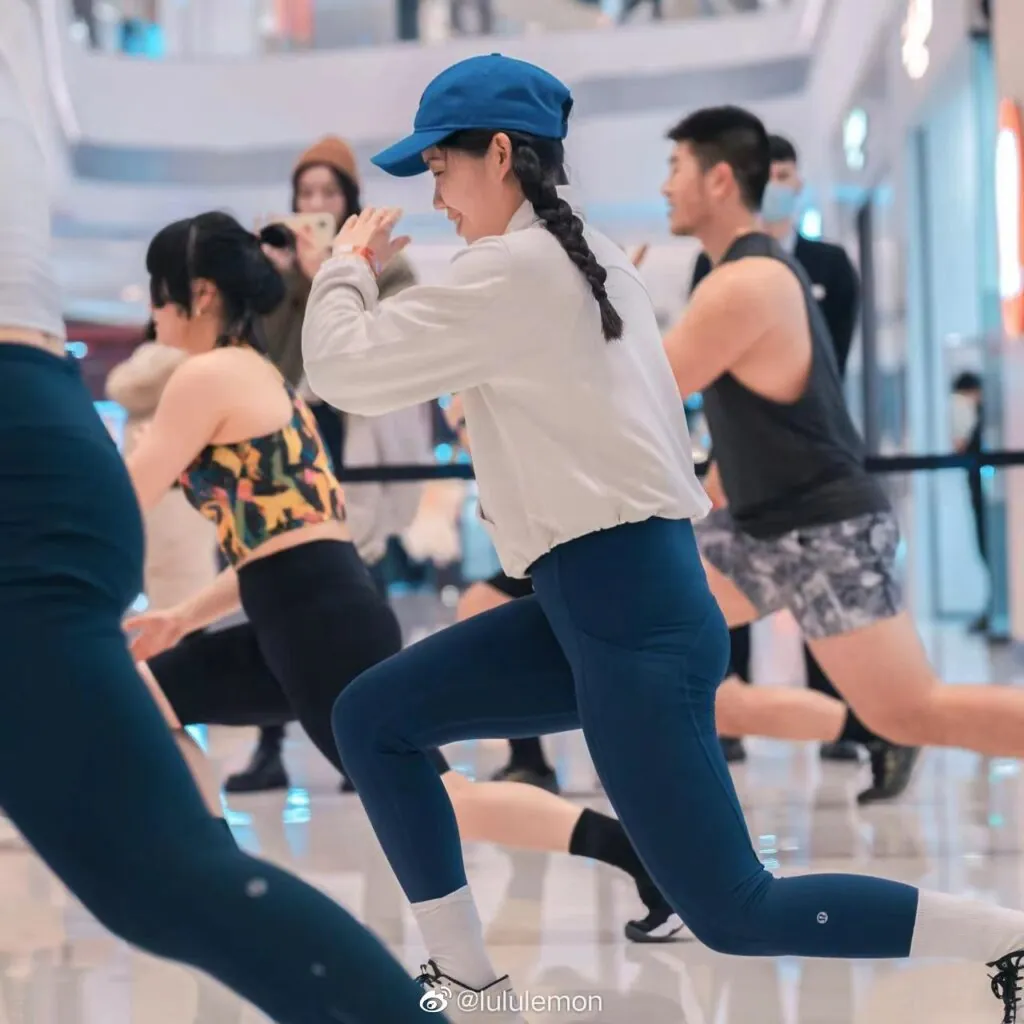 It even rolls out online workout classes with local ambassadors for those who cannot join in. Thanks to these well-served communities in major cities, the company has consolidated connections with local yogis, runners, and many other sports practitioners; this allows it to leverage word-of-mouth marketing both online and offline.
Moreover, in celebration of World Mental Health Day 2022, Lululemon China launched its month-long "Wellbeing for All" campaign with the aim to inspire people to take steps towards a healthier lifestyle alongside the brand's ambassadors and community members.
The initiative ended up being a hit among Chinese citizens, as not only did it feature brand ambassadors from both the sports and entertainment industries, but the program itself offered a way for Chinese workers struggling against the ongoing "996 burnout culture" reflected in the recent shift to "lying flat 躺平", or the desire for a slower lifestyle.
Marketing the self-improvement 'Supergirl' persona
Beyond its exclusive fabrics and tailoring, Lululemon has worked diligently to market a lifestyle that allows customers to feel like a part of the brand community because they identify with a particular aspirational image. The founder and creator of Lululemon himself dubbed this target customer as the 'Supergirl' persona – "young, educated, working, perhaps not yet married or with a family, vibrant, and health-conscious".
Now, with the aftermath of stringent COVID lockdowns fuelling the trendy rise of sports and overall health-conscious activities in China, the Canadian brand has the opportunity to soar to even greater heights in the Chinese market.
Where does Lululemon stand compared to its peers?
Compared to its athleisure peers such as Nike or Under Armour, Lululemon's style is sportswear that is simple yet fashionable for daily life. High levels of stress and competition have led women to love yoga, a sport that focuses on relaxation and stretching thereby increasing the demand for corresponding apparel brands. 
Both Lululemon and Chinese homegrown sportswear brand Maia Active tap into Xiaohongshu, a must-do platform in China's content marketing space. Even though Maia Active has tripled its sales revenue in two years, it still has a long way to catch up with the Canadian brand Lululemon, which remains unchallenged as the number one yoga brand. As of July 2022, Lululemon has 96 offline stores in China and aims to have 220 stores in China by 2026.
The brand is very much aware of its burgeoning success. In fact, in April 2022, the company announced its new Power of Three ×2 growth strategy. This includes a plan to double men's and digital revenue, and quadruple international revenue by 2026 (compared to 2021), at which point China Mainland would become its second-largest market worldwide. New store openings, an expanding product portfolio, and enhanced omnichannel community engagement will all contribute to the brand's growth.
Moreover, the Vancouver-based sportswear producer Lululemon Athletica Inc has posted a strong fiscal third quarter, with a net revenue increase of 28% year-on-year to 1.9 billion USD (13.2 billion RMB), of which, those from the international market including the Chinese market have soared by 41%.
According to Lululemon's current CEO Calvin McDonald, its Chinese customers are typically mid to high-income earners who are generally younger than those in North America. He believed one key focus of business success is through resonating with the Healthy China initiative, a government-led agenda to advance health and development as the prerequisite for economic and social growth.
When life gives you Lululemons, cater to the trends
At first, Lululemon was designed for women to wear while doing yoga. After continuous expansion, it began to expand the field of menswear and even footwear. Now, it is also designed for running, cycling, training and most other sweat-inducing sports.
The athleisure brand is also beginning to see the value of catering to local trends. In fact, for its winter 2022 collection, Lululemon is also capitalising on the latest down jacket trend currently all the rage in China.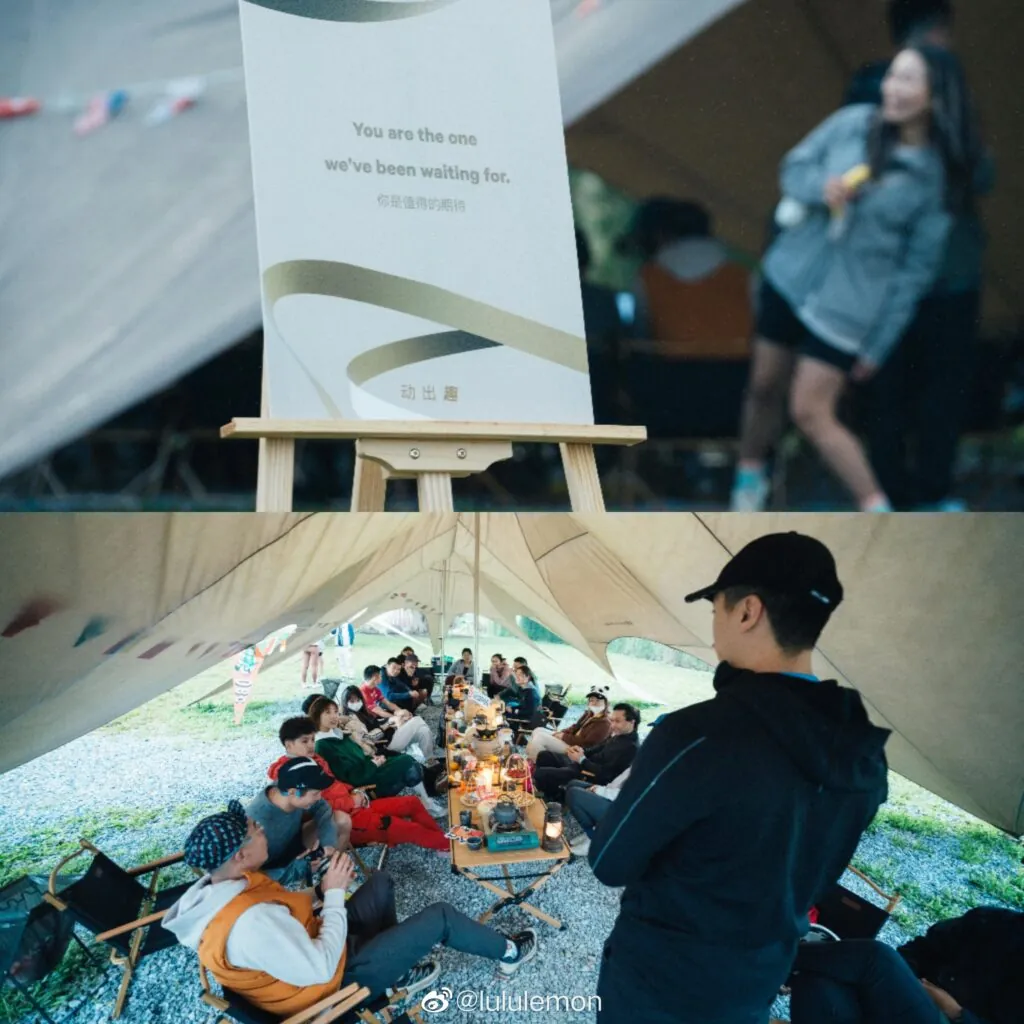 According to Jing Daily, the average retail price of a puffer jacket now exceeds 140 USD (1,000 RMB), and items priced 280 USD (2,000 RMB) or above account for nearly 70% of overall sales. The Canadian team's maple-red Lululemon jackets went viral on the Chinese social media platform Weibo over the weekend, and the Lululemon website reportedly crashed several times due to the influx of Chinese buyers.
All in all, Lululemon has managed to climb to the top of China's athleisure industry by instilling a culture of creativity, curiosity, and transformational development both online and offline. With the momentum and community Lululemon has built in China, competing brands will have to bend over backward to achieve the same status.