围炉煮茶, a rather old-fashioned activity involving a group of people roasting tea drinks by a stove, has seen a renaissance amongst China's post-95s and post-00s in the run-up to this year's winter season. Having first started picking up steam in Beijing, Shanghai, and Hangzhou, the emerging trend has now taken off in new Tier-1 cities including Nanjing, Suzhou and Yangzhou in the eastern coastal province of Jiangsu while also sweeping across the northeast in regions like Harbin and Daqing in Heilongjiang.
Video content under the hashtag of Wei Lu Zhu Cha on the viral short video-sharing platform Douyin (Chinese TikTok) has garnered a whopping 980 million views as of last count, while Xiaohongshu, the largest lifestyle-sharing community has seen more than 1.1 million notes recording Gen Z users' tea roasting experiences at various venues ranging from high-end new-style tea houses to their own balcony or backyards, with some flavouring the nostalgia with traditional Chinese Opera.
Costs of such experiences at a designated venue are reported to range from approximately 20 RMB ($2.82) per head and 100 RMB ($14.11) for a pair or 500 RMB ($70.53) at an upper end establishment, while group customers can expect prices to be somewhere between 1,000 ($141.07) to 5,000 RMB ($705.34).
The new trend has naturally brought out a refashion amongst local tea houses, gearing up to welcome the younger generations of tea drinkers, whilst driving up demand for equipment such as tea pots, induction cookers and charcoal fire tables. Store interiors have been renovated with wooden garden shelters, oiled paper umbrellas and Chinese calligraphy and ceramics decoration in the background, with some going the extra mile by replicating the tea shop which appeared in Menghualu (or A Dream of Splendor), a hit Chinese historical drama that took the country by storm this summer.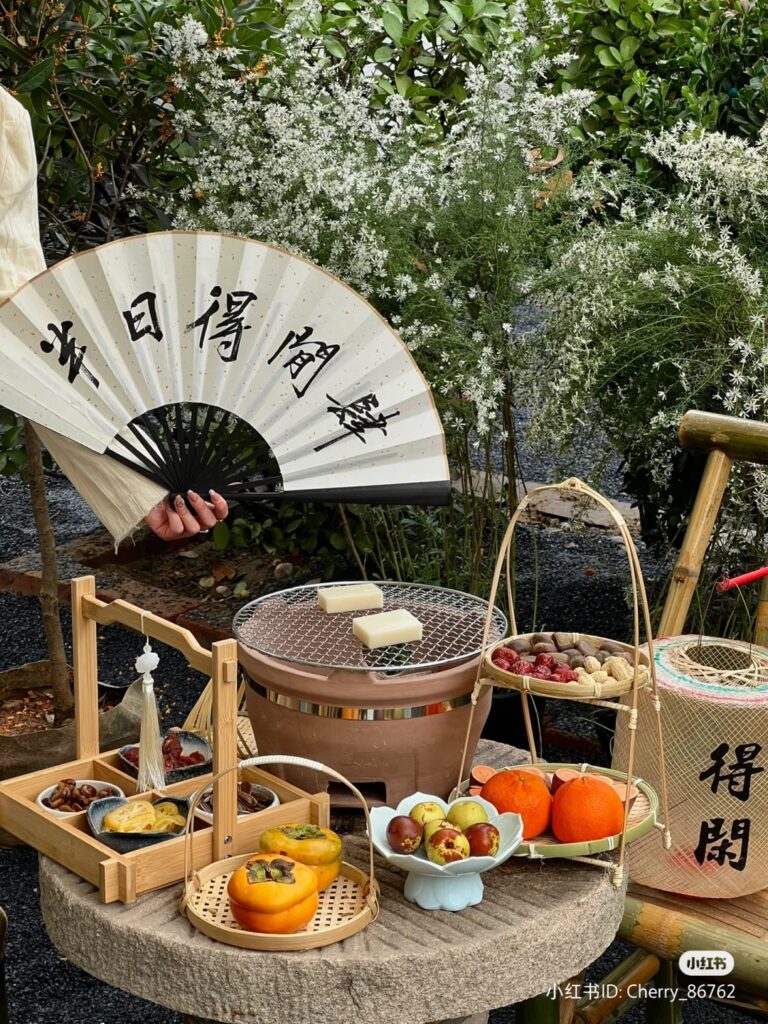 The immersive ambiance is enhanced with a diverse choice of desserts, mostly traditional Chinese delicacies made of ingredients that are seasonal and healthy, such as persimmons, jujubes, longan, and Osmanthus fragrans as well as crops like corn and sweet potatoes – all common foods bearing an autumnal flavour and is consumed in China for their nutritional value, as these ingredients are deemed to be rich in Yang (heat energy) the opposite to Yin (cold energy). These are two fundamental concepts in traditional Chinese medicine, which help people prevent the cold.
Having been regarded as a spin-off subculture of China's glamping and wider outdoor activity cravings that were observed in the summer, the practice of Wei Lu Zhu Cha is also believed to be due to the country's endless local COVID lockdowns, taking a toll on people's mental health, especially amongst the Gen Z demographic, resulting in a growing number of Chinese young people seeking mental health remedies.
This is coupled with the country's notorious overwork culture, which has seen an increased awareness of both mental and physical wellness, leading to a strong desire towards having a laidback and slow lifestyle amongst the young working class, and the Chinese tea culture provides the answer.
While acting as a mental shelter for young Chinese to escape the harshness of reality, the practice also responds to their emotional demands for bonding and socialising with their friends and families. It creates a more flexible and convenient way for these young consumers to unwind over DIY (Do it Yourself) tea drinks while enjoying some healthy snacks.
And capturing the moments of themselves engaging in those activities in photos is also believed to further the joy while also catering to the needs of "marking the ushering of a new season". These "ceremonial practices" are growing in value for China's savvy young generations as they are appreciating more mental returns from consumer experience over materialistic gains; Wei Lu Zhu Cha warms them up not only physically but also psychologically.